There was a programme I watched as a child and the opening sequence was an airboat gliding through the Everglades – I always thought it looked like an amazing experience and I wasn't wrong.
If you are looking for something other than the obvious Disney or Universal parks in Orlando then make sure you stop off at Boggy Creek and take an airboat ride … an absolute must on a family trip to Florida!
Our captain was both skilled and knowledgeable and our boat ride was informative, invigorating and exciting. We had a blast! The beauty of the airboat rides is that anyone can take part, they have life jackets to fit even the smallest passengers. This meant that at the time our eight month old didn't miss out on any of the action, although he wasn't over keen on the ear defenders as you can tell!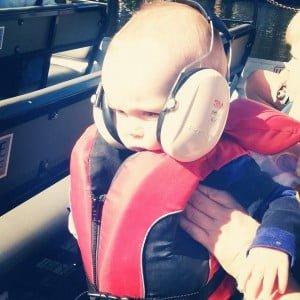 We felt very lucky to see four alligators and two gorgeous turtles during our boat ride. We also loved the part of the trip where you are out in the open water, with the sun shining it was majestic! This was the perfect end to an amazing holiday and one we absolutely recommend!
If you are thinking of taking an airboat ride, book before you go as these get really busy in peak season and you don't want to miss out.
After the spectacular boat ride we attended an information session about the alligators and there was an opportunity to hold one of the babies … this was utterly incredible and something I will never forget! She was called Fluffy which we found quite funny and she was very accommodating whilst three of us had a cuddle.