In Wales we are now nearing the end of our 'firebreak' lockdown, right at the point that England are beginning a month long lockdown of their own. Having seen the proposed changes here in Wales from next week, life for us won't be hugely different. Our eldest will be allowed to return to school which is wonderful and swimming club and lessons will resume for all the dolphins in our family, but other than that not much will change.
The clocks have changed now and it's so dark so early, this morning we had our first frost of Autumn and I had to start the car 20 minutes before we left for school just to get it warmed up in time. All of this calls for a little Autumn beauty and well-being boost.
There are tons of products out there, but here are a few to consider.
1. The Hair Boss Overnight Repair Serum (£14.99, www.asos.com )
An oil and moisture-rich serum that replenishes hair and replaces essential vitamins that offers a deep, moisturised hair treatment. Argan, Sunflower, Chia Seed, Macadamia and Soya Bean oils help all hair types to remain smooth and strong. This Serum can be used as an overnight treatment to reduce signs of damaged and split ends.
This has been a saviour for my hair recently. After doing so much in the garden and also getting dusty with stripping old plaster my hair has become much drier than normal and my scalp itchy. I love the fact that this is an overnight treatment, as it feels as if it really is nourishing my hair for a decent amount of time.
2. Beverly Hills Formula Perfect White Toothpaste Range (Superdrug, £4.99).
This toothpaste range comes in five different formulas which work to whiten teeth with each use and the Sodium Fluoride ingredient keeps your tooth enamel strong and healthy, and effectively helps prevent decay.
If you've been hammering the tea and coffee working from home, this is the ideal boost for your teeth.
3. The St. Moriz Advanced Pro Formula exfoliating Primer (£4.99, Superdrug), Spray Tan In A Can (£12.99, Superdrug)
The St. Moriz Advanced Pro Formula collection, will revolutionise and 'lock down' your perfect tan. Personally, I am terrified of fake tan having seen so many disasters on other people over the years. Having said that I love the idea of having a golden glow all year around.
The Exfoliating Skin Primer is thought to be the secret to achieving the perfect, most professional, natural looking tan. It will remove dead skin cells and even out the skin's surface. After using the Primer, your tan will have a flat, even base to develop on and will last for longer. Worth a go if you struggle to get an even tan.
4.The Jolen Facial Hair Remover Kit (£4.99, Boots.com)
A unique two step hair removal system that delivers beautifully silky, hair-free skin, in as little as 5 minutes! This is an easy and pain free alternative to salon treatments such as threading and waxing. The kit includes a Skin Guarding Balm and a Hair Removal Cream. This is ideal for sensitive skin and suitable for all hair types, will leave your skin hair free, silky smooth.
Jolen is a brand that has been around for years and years. So if this is something you want to address, they are certainly a brand you can trust. I remember my mum using Jolen to lighten my leg hair as a tween when she thought I was too young to shave my legs.
5. Dentemp Loose Cap and Lost Filling Repair (£6.00, Lloyds) and Refil It (£5.99, Lloyds)
With a lack of or reduced access to things like dental care this year, you may find yourself with a range of dental issues. Dentemp offers solutions to common issues in dental health such as repairing cracks, temporary fillings, and relining dentures. These are perfect for temporarily fixing painful dental problems until you manage to see a dentist. Possibly a lockdown must have for your bathroom cupboard?
6. ColdZyme® (£17.50) available from Amazon, independent pharmacies and Boots stores nationwide
With COVID-19 raging on across the world many people are rather paranoid about not only COVID, but also things like flu and the common cold. Within so many overlapping symptoms there has been confusion among people about what is what – which of course is totally understandable.
With ColdZyme®, it is possible to help protect against a cold before the virus is able to take hold. The over the counter mouth spray works by forming a fast acting protective barrier on the mucous membrane of the mouth and throat (where cold germs first take hold and multiply), making it more difficult for the cold virus to cause illness. It is the first cold protective treatment to contain the enzyme Trypsin, found in arctic deep-sea cod. Trypsin becomes highly active when it reaches to temperatures above 37 degrees (the temperature on the oral cavity), and can help protect against, or can shorten the duration of a cold if used an early stage, by acting on the virus itself (deactivating the viruses ability to multiply in the throat and oral cavity) instead of just helping to relieve the symptoms.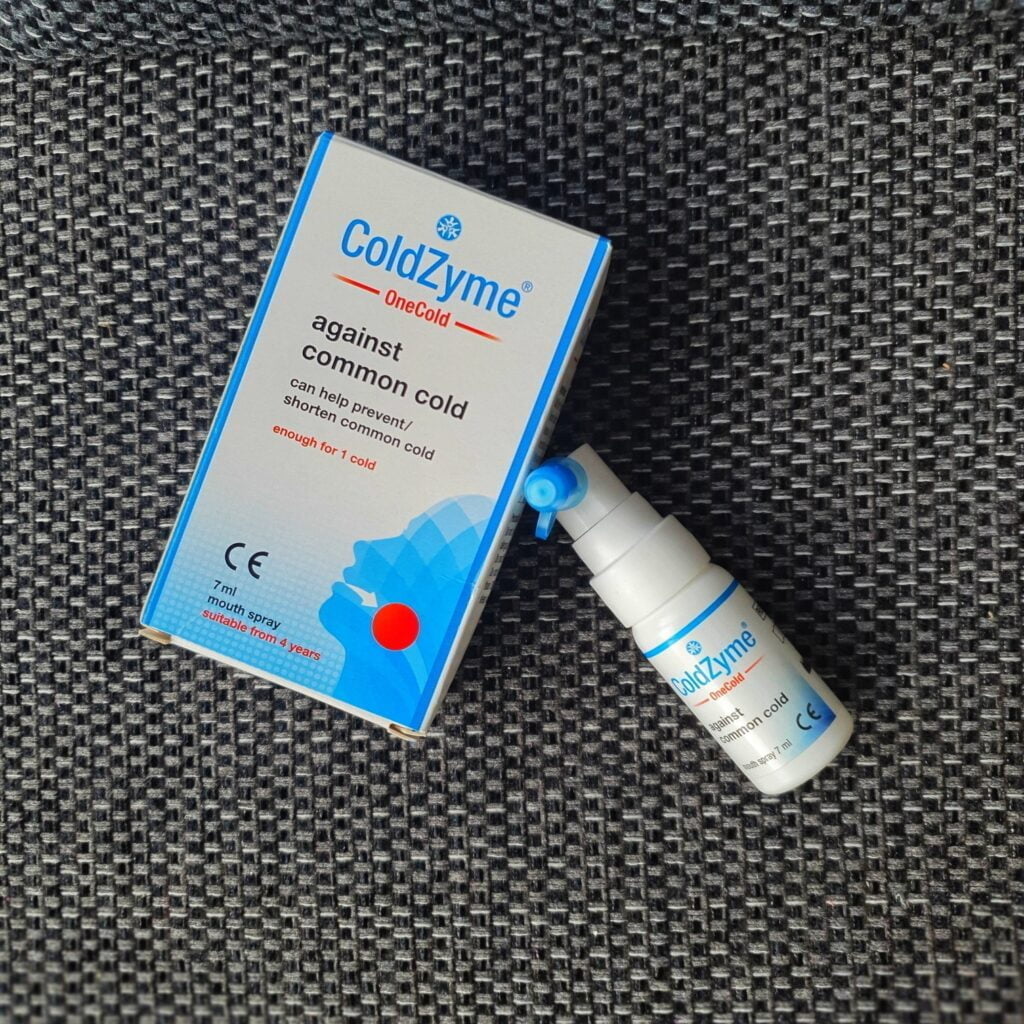 The best bit about this is that anyone over the age of 4 years can use it, so it's a great addition to your medical cabinet. One bottle of ColdZyme® 20ml is enough to treat three common cold episodes.