Do you have a 'Bingster' in your midst?! Do your little ones love watching Bing?
Bing and his friends are going on tour in the first ever Bing stage show! Kicking off in St Albans at the Alban Arena, Bing Live will visit 50 venues over 25 weeks from 20th June 2018. My two youngest asked me ages ago if Bing was on the stage, so this is very welcome.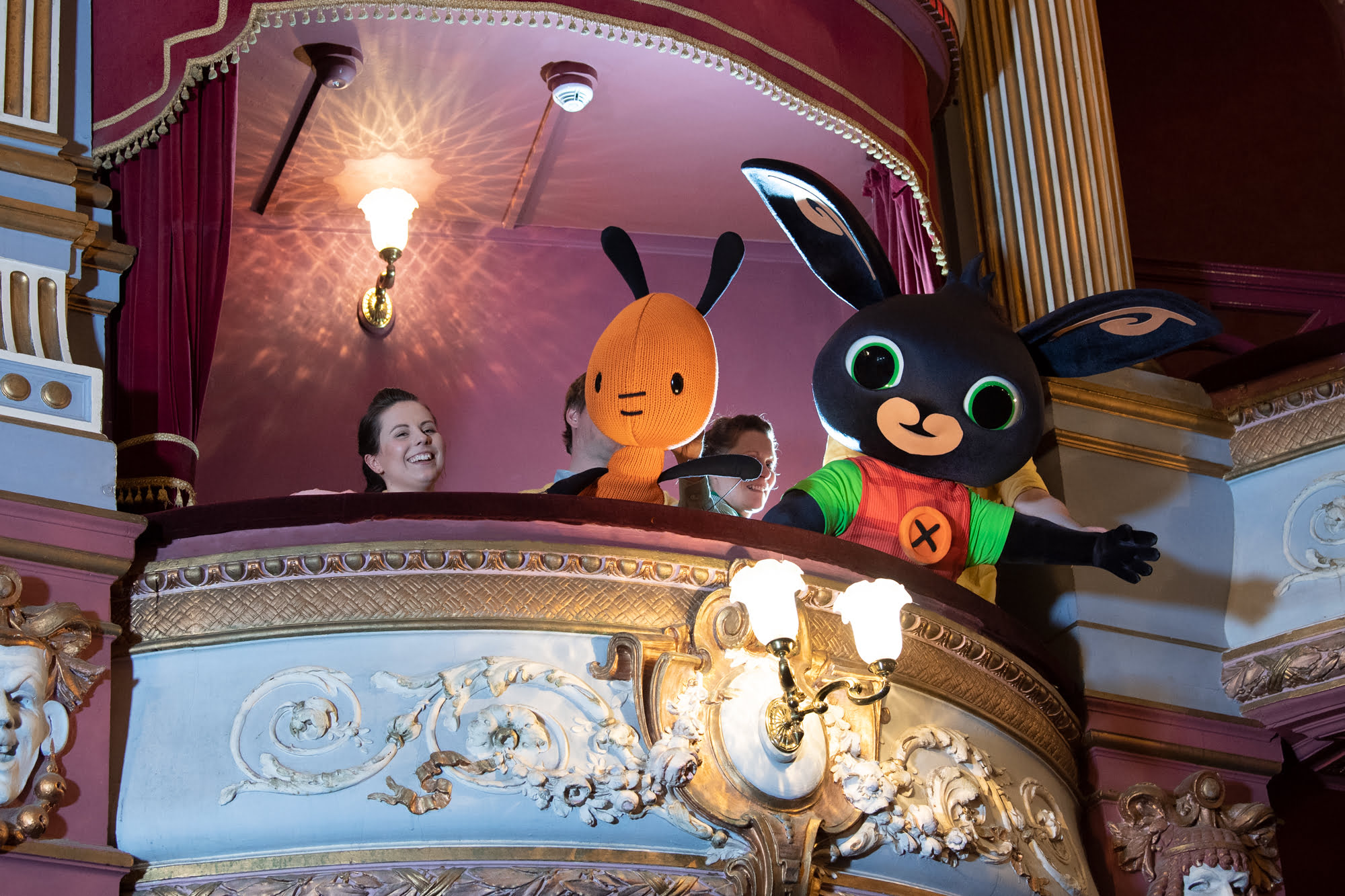 Join Bing, Sula, Coco and Pando as they learn how to tell stories by pretending, dressing-up and singing songs. Flop and Amma are there to help, but in this magical world of make-believe things don't always go according to plan…
The CBeebies favourites are brought to life in a brand new stage production full of fun, laughter, music and magical puppetry. Bing Live is the perfect first theatre trip for pre-schoolers and their families. Going to the theatre… it's a Bing thing!
Bing Live is produced by Minor Entertainment (In the Night Garden Live) and directed by Will Tuckett, guest principal character artist of the Royal Ballet, whose production of Wind in the Willows won an Olivier Award for Best Entertainment in 2014. If you've seen INTG Live, you will know just how impressive it is, so this is set to be a great show for little ones!
The show will also bring together a first-class creative team. Bing Live is adapted for the stage by Helen Eastman with costumes and puppet design by Tahra Zafar. As Head of Costume, Hair and Make-up for the Olympic and Paralympic Opening and Closing Ceremonies staged in London, 2012, Tahra managed the production of 23,000 costumes for all four Ceremonies. Her film projects include: Star Wars VII The Force Awakens, X Men-First Class, Harry Potter and the Philosopher's Stone and The Fifth Element and for television: In the Night Garden, Zingzillas and The Adventures of Abney and Teal – pretty impressive as a line up!
Since its launch on CBeebies, Bing has been a huge ratings hit and is the number one pre-school show on BBC iPlayer. Celebrating the joyful, messy, reality of preschool life, Bing finds the big stories in the smallest moments that little ones and the grown-ups in their lives will recognise…whether it's dropping your ice-cream or losing your favourite toy.
The series has won an International Emmy Award in the Kids' Pre-School category in 2016, a Writer's Guild Award and a BAFTA nomination for Best Pre-School Series. The animated series, which saw Mark Rylance make his children's television debut voicing Flop, is produced by Acamar Films. There are some great messages for little ones that come out of each show and I'm sure that will also be true of the stage show.
Bing Live Confirmed Dates
20-24 June – St Albans, Alban Arena
26 & 27 June – Telford, Oakengates Theatre
30 June & 1 July – Harrogate, Harrogate Theatre
4 & 5 July – Derry, Millennium Forum
7 & 8 July – Belfast Waterfront
10 & 11 July – Bradford, Alhambra Theatre
18 & 19 July – Preston, Charter Theatre
21 & 22 July – Hull, New Theatre
25 July – Dartford, Orchard Theatre
28 & 29 July – Poole, Lighthouse Theatre
31 July – Cardiff, St David's Hall
2 August – Chesterfield, Pomegranate Theatre
4 August – Carlisle, Sands Centre
7 & 8 August – Aberdeen, His Majesty's Theatre
10 & 11 August – Inverness, Eden Court Theatre
14 & 15 August – New Brighton, Floral Pavilion Theatre
20 & 21 August – Southend, Cliffs Pavilion
24 & 25 August – Birmingham, Town Hall
28 & 29 August – Nottingham, Royal Concert Hall
31 August & 1 September – Guildford, G Live
5 & 6 September – Chester, Story House
8 & 9 September – Leamington Spa, Royal Spa Centre
11 & 12 September – Tunbridge Wells, Assembly Theatre
18 & 19 September – St Helens, Theatre Royal
23 & 23 September – Dorking Halls
26 & 27 September – Winchester, Theatre Royal
29 & 30 September – Cambridge, Corn Exchange
3 & 4 October – Clacton, West Cliff Theatre
5 & 6 October – Lichfield Garrick
9 & 10 October – Maidstone, Hazlitt Theatre
17 & 18 October – Greenwich Theatre
24 & 25 October – Beck Theatre Hayes
27 & 28 October – Reading Hexagon
30 & 31 October – Dunstable, Grove Theatre
3 & 4 November – Billingham. Forum Theatre
7 & 8 November – Crewe Lyceum Theatre
10 & 11 November – Halifax, Victoria Theatre
24 & 25 November – Portsmouth, Kings Theatre
Is there one near you? More dates are likely to be added so keep an eye out online!