We've collected tons of board games over the years. We always take a couple when we go away, but generally speaking 'real life' is so manic that there is rarely any time to just sit down and play a game.
We've been taking advantage of the time at home to make sure we play at least one board game every day. The children have also been doing tons of jigsaws and other puzzles.
Lock down is the perfect time to play games together. Take the time to learn a new game that you can all enjoy together.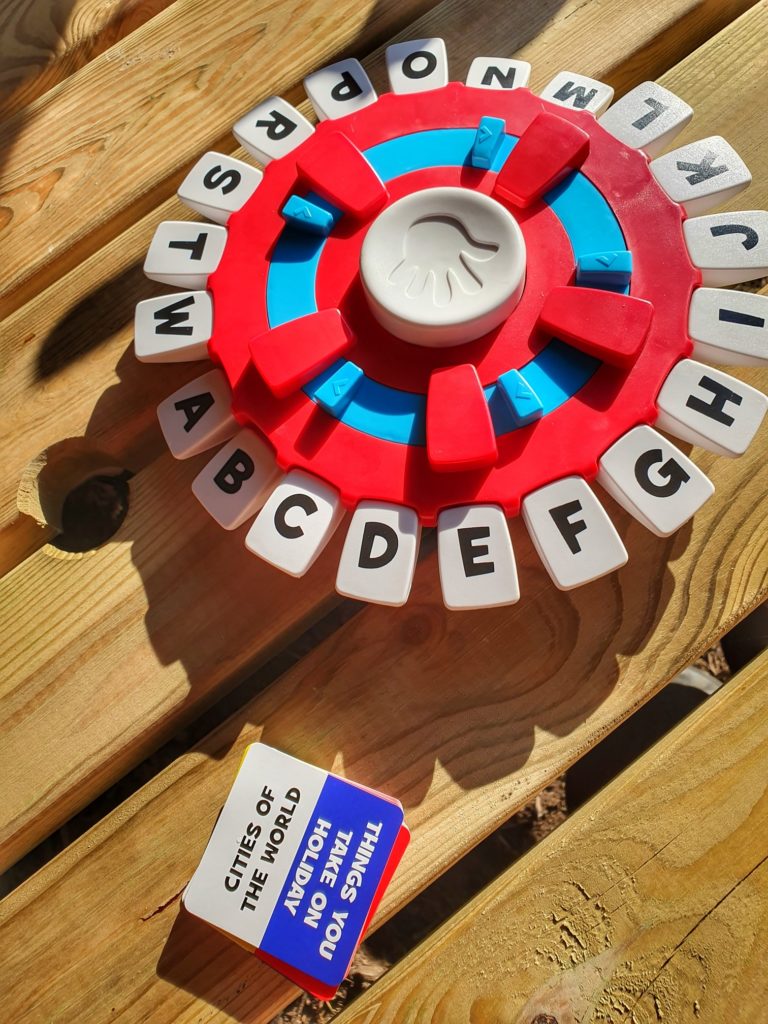 I wanted to share a few of the games we have been playing with you:
Othello
I had never played this game before, I hadn't even heard of it before. To me Othello was the tragedy by William Shakespeare I covered at school.
Othello is a game where not all is Black and White. The lead can change hands from play to play and strategy is everything. Play is simple. Players are represented by either Black or White discs on the board. On each turn, players flank the discs of the opposing player between two of their own.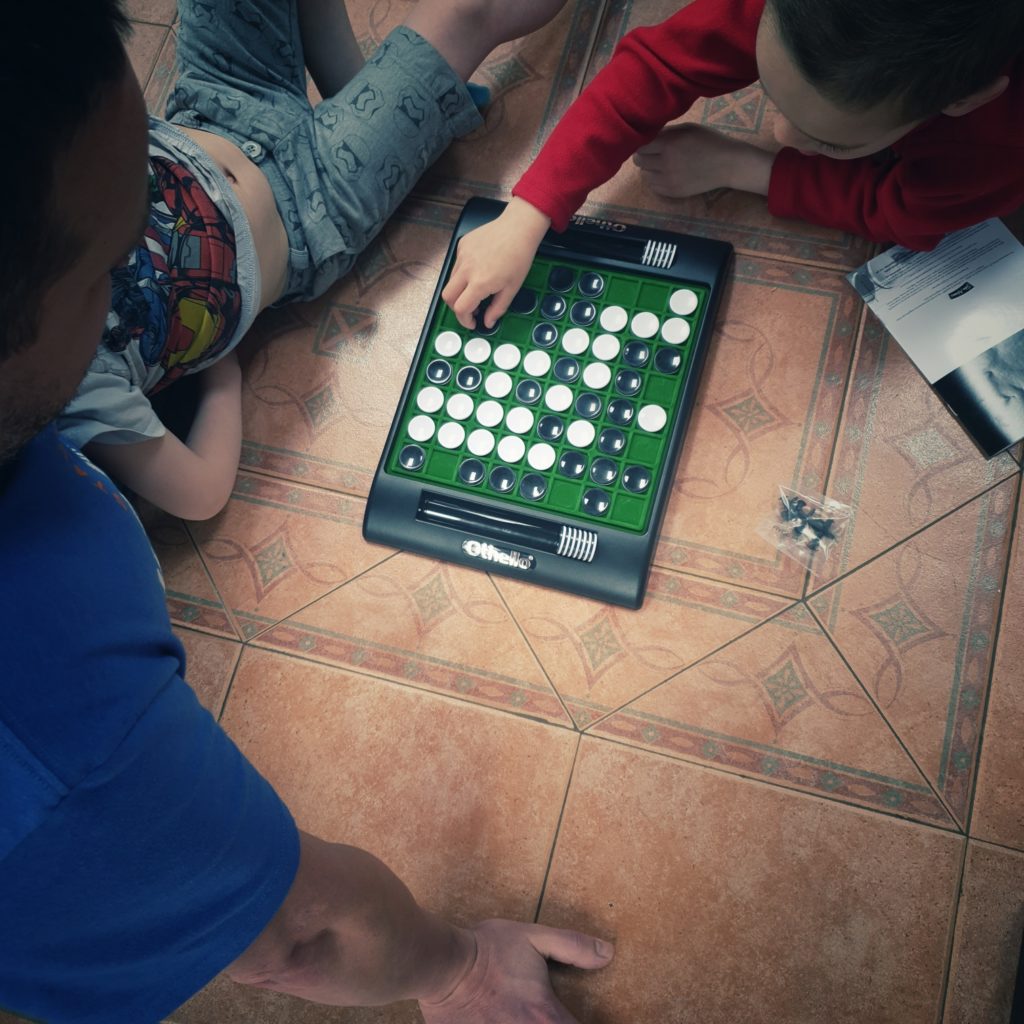 Othello (SRP: £22.99)
Othello takes a minute to learn and a lifetime to master! The internationally acclaimed two player strategy game, the object is to trap and capture your opponent by placing your disks on the board.  "Sandwich" at least one of your opponent's pieces to turn their disk to your colour….but look out, your opponent will do the same to you. The lead can change with the flip of a disk in this classic fast-paced strategy game.
This is a two player game, so all the children can't play together at the same time, but when they've played in twos they have really enjoyed it.
Triominos
I loved playing Dominos with my grandfather as a child and our children have enjoyed playing this for a few years now, so we loved the idea of Triominos.
Triominos is the fascinating game variation of dominoes but with triangular pieces. Every Triomino is unique because it only occurs once in the game so it must be used wisely to gain you extra points.
The winner is the one who can score the highest number of points. The pack features sturdy plastic Triomino tiles with big, easy-to-read numbers and large print.
You score points by matching numbers on the three-sided playing pieces to pieces already in play. Triominos combines strategy, luck and new challenges every time you play, making it a perfect game to play during lock down as it supports home learning in multiple ways.
We loved this game and it come sin a really handy pouch that's perfect for travelling!
Rubik's
The Rubik's Cube is one of those iconic games I remember from my childhood. I could never do them. I once peeled off some stickers so it looked like I'd done the entire green side! Anyone else?
I had a few friends who could do them but I could never figure them out myself. Having said that, I remember sitting quite happily for a few hours giving it a go anyway.
Fast forward 30 + years and Rubik's are cooler than ever, with not only a new look cube, but a ton of other games which are a variation on a theme. All of these have given our tribe so much fun over the lockdown weeks.
Rummikub
Rummikub is not a game I had played before, but it is brilliantly simple and can provide hours of amusement. Each game is as different as the combinations of moves you choose to play. Be the first player to go 'Rummikub' by using all your tiles in 'runs or 'group'. Outwit your opponents with cool strategy and sharp moves. Be the first to lay down all your tiles and shout 'Rummikub! Outwite your opponents with cool strategy and sharp moves!
Use the joker with caution. He can fire up the game but if he is smiling on your rack at the end of the round, you lose 30 points!
All the children really loved this game and we played for ages – bonus. This is a game we keep coming back to, over and over again.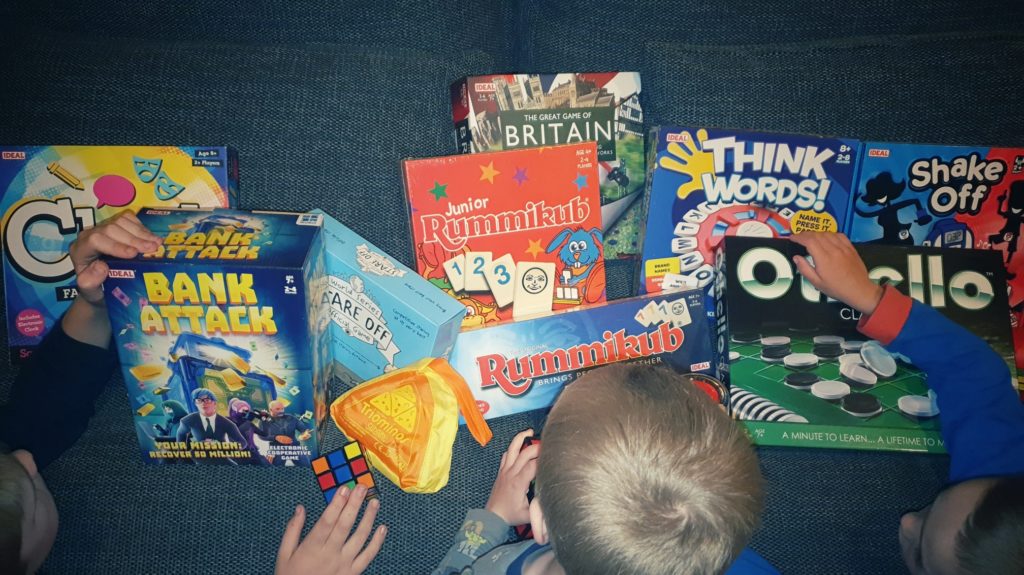 We've also been playing Bank Attack, which is one of the boys' favourite games, Think Words and Shake Off, which was lots of fun. Board games have been a huge part of homeschooling and lock down for us so far. There are so many things that the children can learn from playing games together, it's been really worthwhile to include these in our daily schedule.
This is a collaborative article