Have you heard of the Geronimo Festival? If not, listen up because this is a top family festival. There are tons of great festivals around for families these days, but for us, nothing tops Geronimo.
This year the festival was held at two locations, Knebworth House and Arley Hall. We headed to Arley Hall, a venue we've been to before. It's a great site for a family festival, everything is fairly compact, without the feeling of being packed in.
There is plenty of space for children to just have a good run, yet little legs don't get too tired getting from one attraction to the next. It's a day out with a great balance.
Everywhere you look the trees have eyes! Simple, yet so effective, things like this bring everything to life and make it a true spectacle.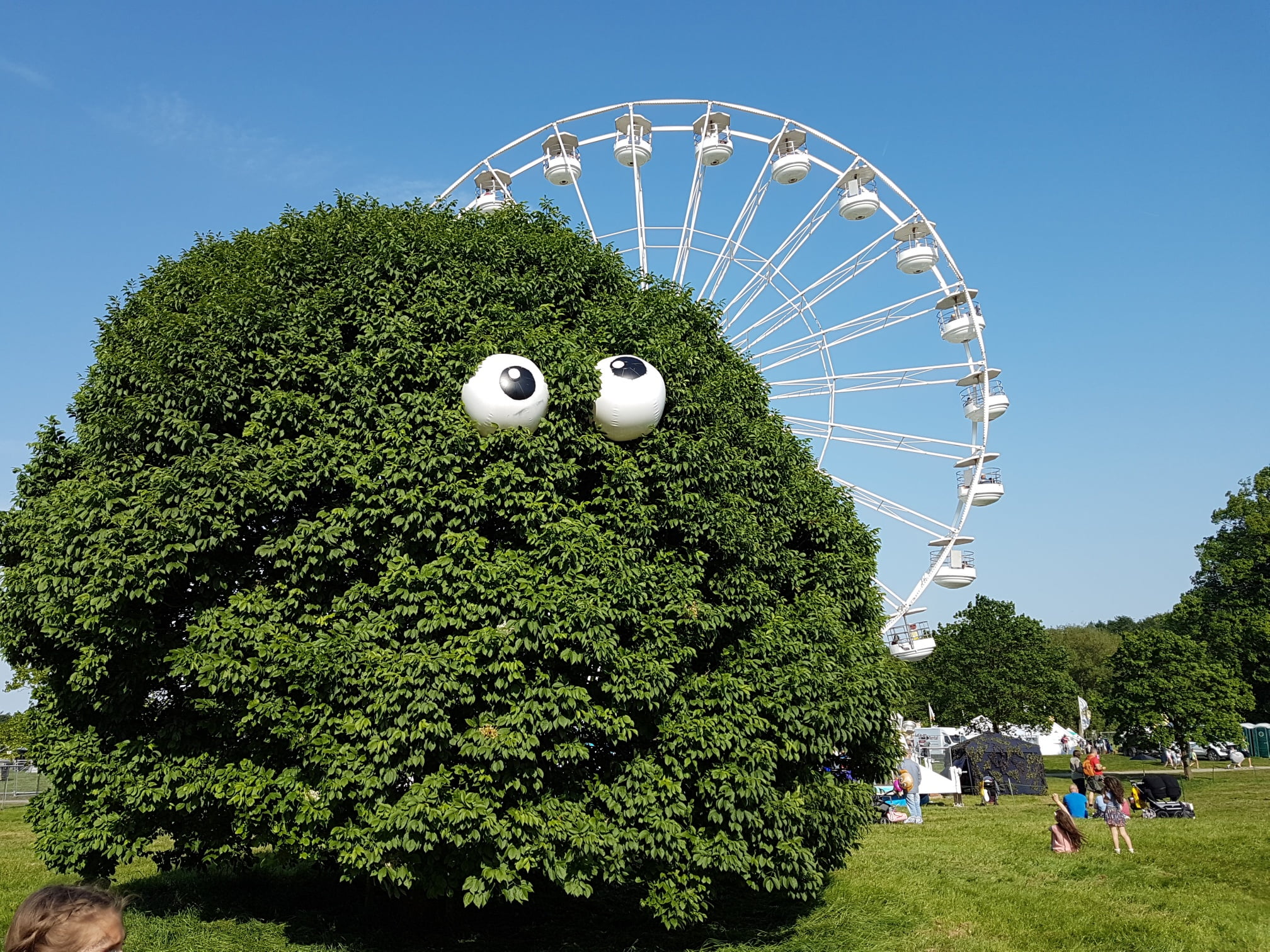 One the areas all of the children really enjoyed this year was the transformers van. They spent quite a while inside and then managed to come out in perfect time to meet Bumblebee who was seriously impressive. We were all rather captivated by him and he was very patient waiting to have photos taken with all the children who were waiting.
The NERF area was popular with all our children, so they also spent a bit of time in there.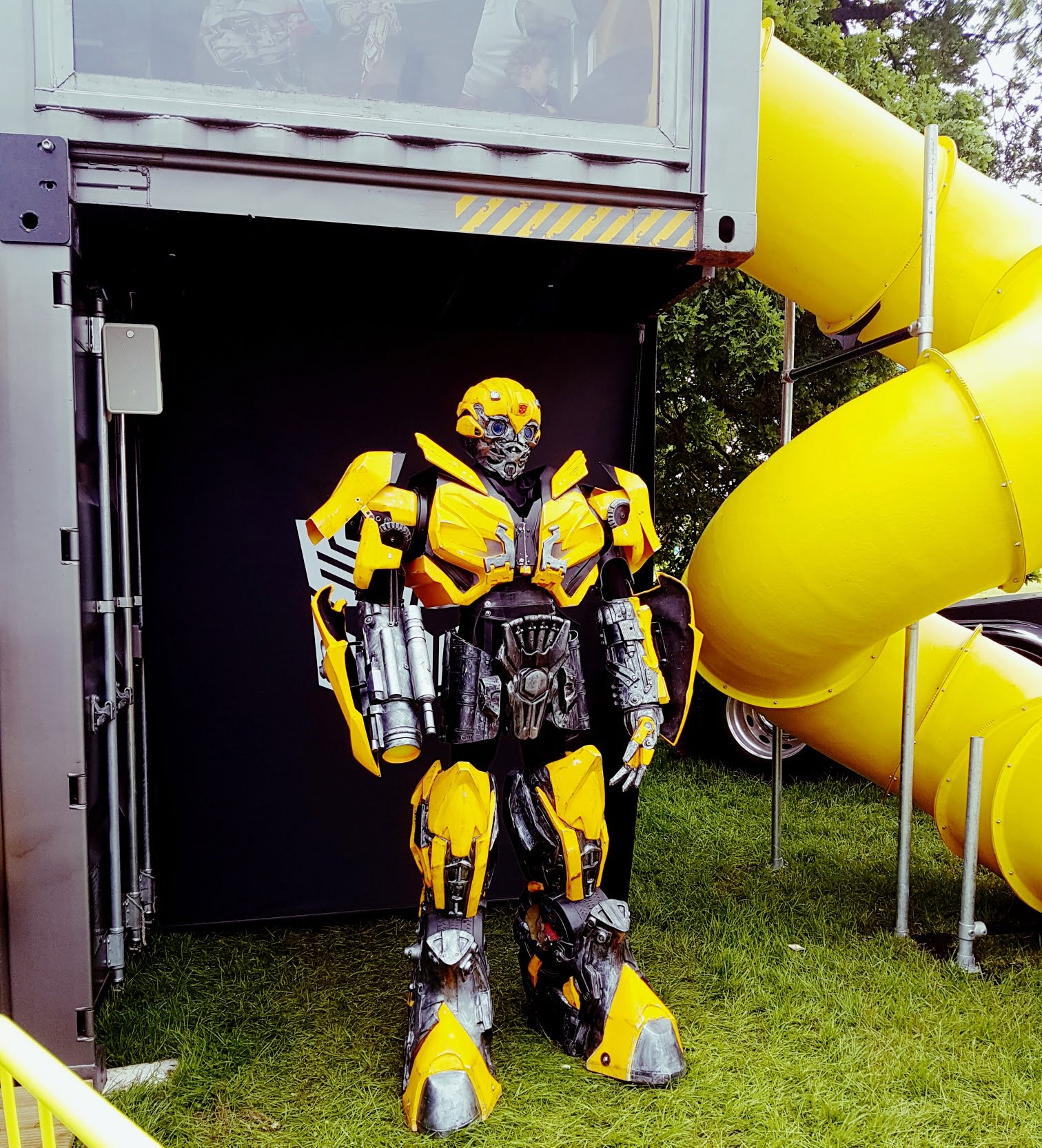 The donkeys are always a big hit with the children and Mikes Donkeys are lovely. They come to Geronimo every year and the children love them. The staff are great, the donkeys look well looked after and the equipment is good quality.
This happy little face says it all to be honest! He loves riding these donkeys, we were in trouble we didn't get back to them in time for a second go!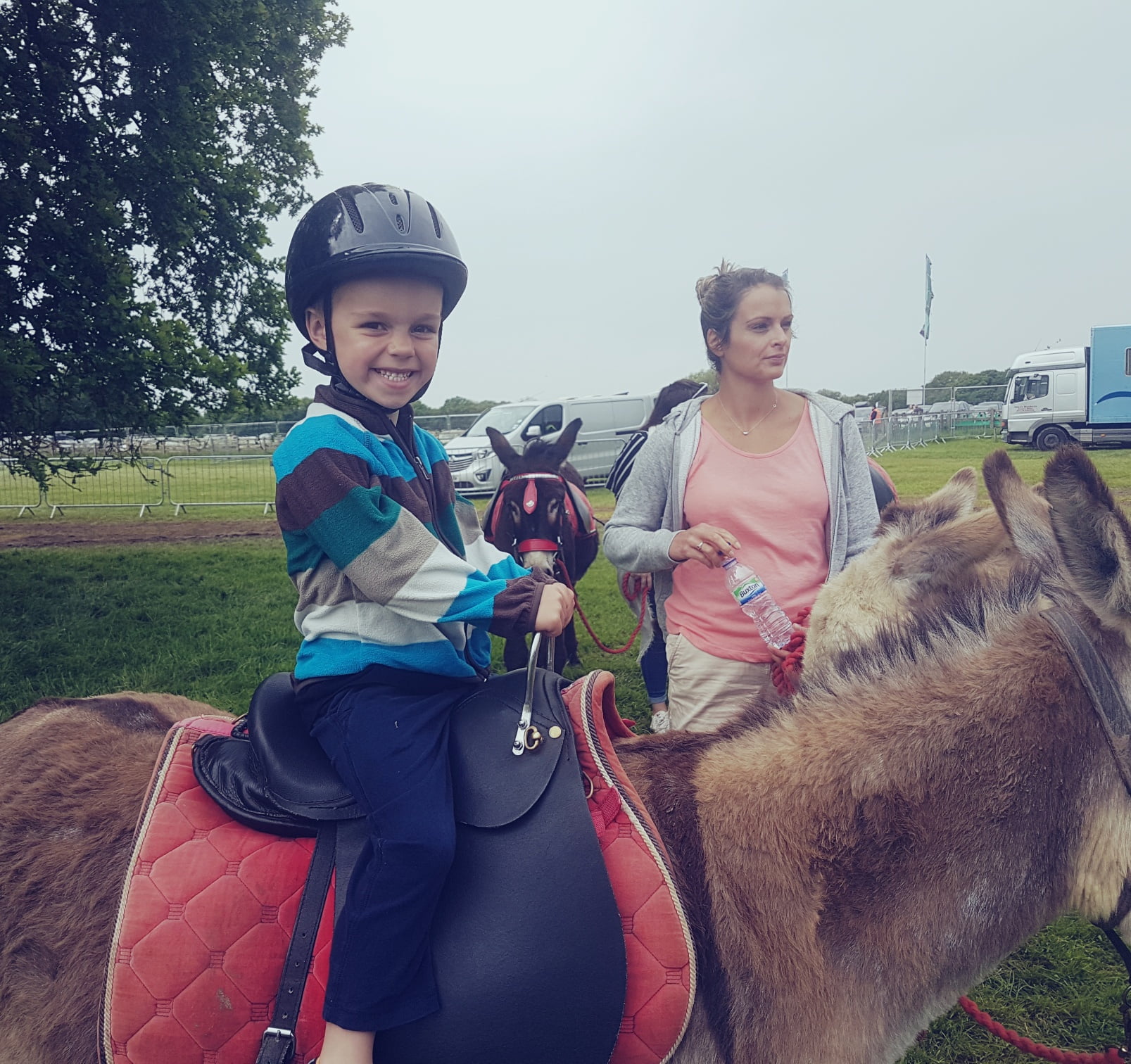 Other things that always go down well are the trampoline brought by Oxygen Freejumping and the giant inflatable assault course brought by Military Style Education. The children really enjoy both of these and all four of them are now old enough to go on without too much trouble. The staff on both of these activities are always really good too. We spent ages at both attractions this time.
Something new the children tried this time was the caving. The staff assured us they'd had an entire rugby team go through the cave before – it looked a little tight to me. You get all kitted out, have a quick briefing and away you go. Parents can take part or watch on a screen. The children really enjoyed the challenge of this and it's hard to imagine everything inside when you are watching.
The football area was simple yet fun and there were quite a few activities there for the children to enjoy, including beanbag throwing and a seeing what speed they could kick a football into the goal.
There were tons of yummy food and drink outlets as usual. You could pretty much find whatever you could think of and lots of things you wouldn't have thought of. The children are all big fans of slush so they tried out the rainbow slush refills. They loved walking the length of the van adding all the colours to their slush cups and trying new flavours they hadn't tried before.
They also tried the waffles, chips, snow cones and ice creams of course (between them) and there was a lovely fruit cart selling fruit by the item, fruit salads, smoothies and fresh juices which they also tried. Is there anything nicer than eating yummy strawberries in the sunshine?
We got stopped a lot this year and asked about our cart. We bought it from eBay a couple of years ago, the little boys used to ride in it and I'd end up carrying the picnic but these days apart from the odd little leg rest we can pretty much shove everything we need into it and everyone walks – yay!
You often see these for rent at festivals – there were quite a lot of people saying they would have rented one, so perhaps it's something Geronimo could think about next year?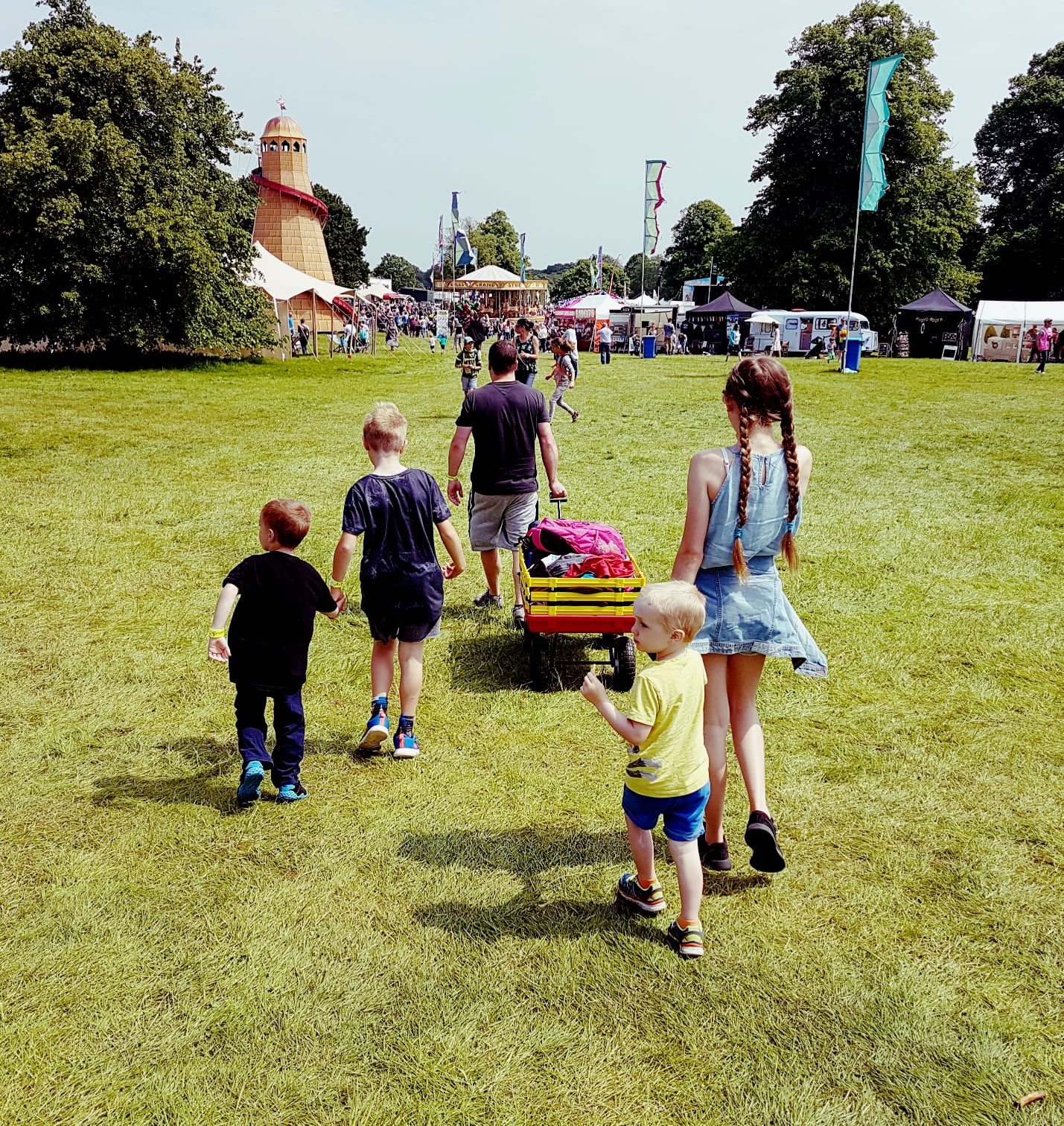 We didn't watch as much on the stage this year as we have done in previous years, although our big girl really enjoyed Chloe Rose on stage, getting right up to the front. She got to meet her in person afterwards as well, which made her day! All the children really enjoyed watching Max and Harvey as well, whilst sampling the waffles – nothing like a spot of multi-tasking.
We did head over to the Star Kidz tent at one point, and all four of the children joined in with the Force Academy. They grabbed their trainee light saber and battled the dark side.
The oversized gaming area was one of the last things we did and the children would have stayed her for longer as there were loads of fun things to do.
The climbing wall is always a must for our children, although they did miss the zip line this year. The staff on the climbing wall are really good and because it wasn't too busy at the time we went over, the children got to go on a few different walls, gradually getting more and more difficult.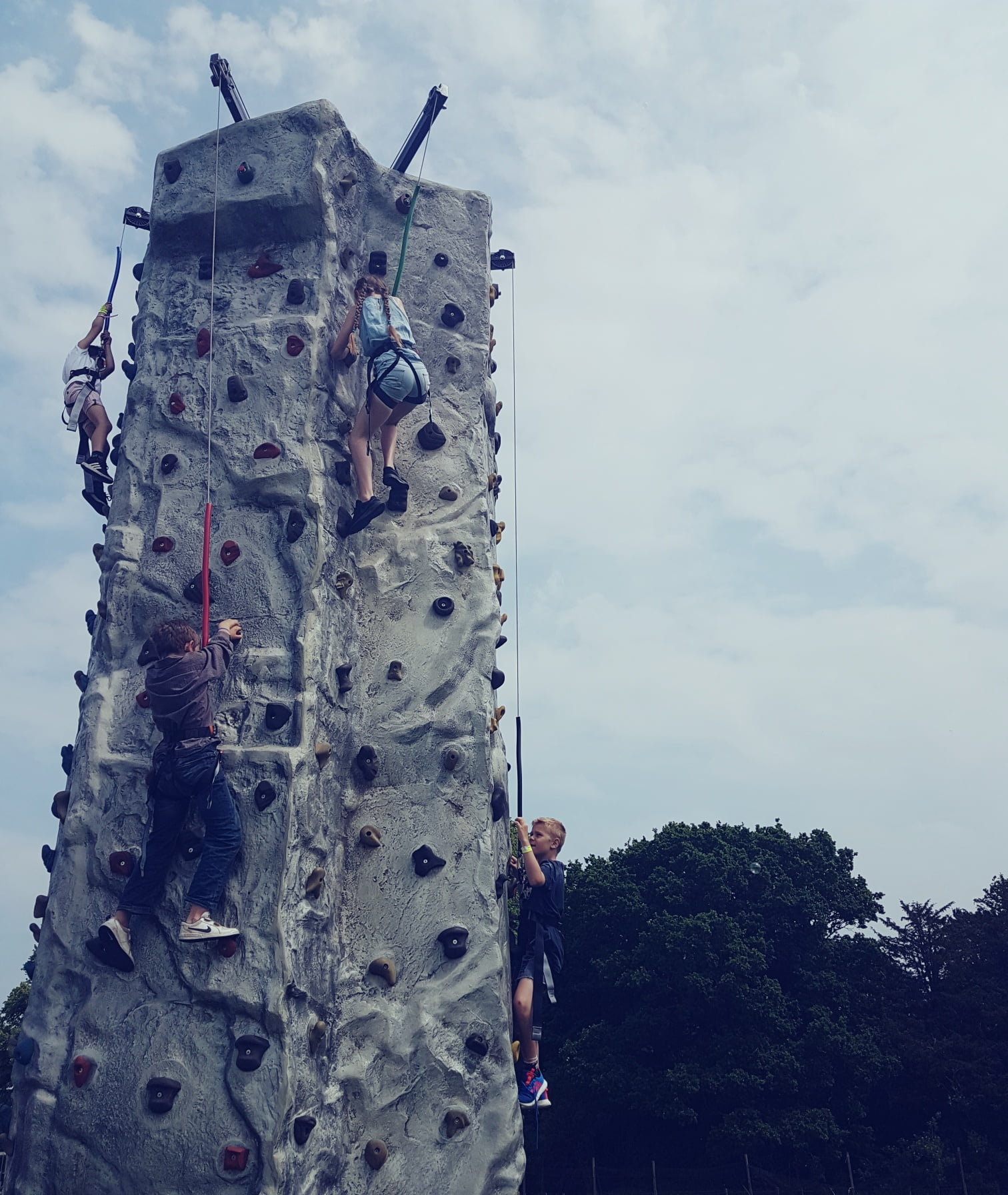 As always Geronimo was a blast. We only probably covered about half of what was there this year, we just ran out of time.
We always leave Geronimo feeling like we've had a great day and we can't wait for the next one!
Tickets are already on sale for next years' festival, you can grab them here.