Skiing with my family is my favourite thing to do. As a child, skiing with my family was also my favourite thing to do – in particular, my dad, who was always up for an adventure, a harder, more technical run, or just intent on getting to the top, so we could take in the magical view and then ski down into it.
It's hard to explain the feeling skiing in the mountains gives me. I guess it's a sense of peace and calm, combined with overwhelming joy and exhilaration. Anyone out there who loves to ski will know what I mean. If you know, you know.
The biggest barrier to skiing with a large family is the cost. Skiing is a hugely expensive sport, but skiing with four children, that's crazy money, especially when you have to go in school holidays – that can literally add thousands of pounds onto the cost of your trip.
With this in mind, for our last family ski holiday, we set about trying to see if it was possible to find a more cost-friendly ski holiday for a family of six, by going skiing in Bulgaria.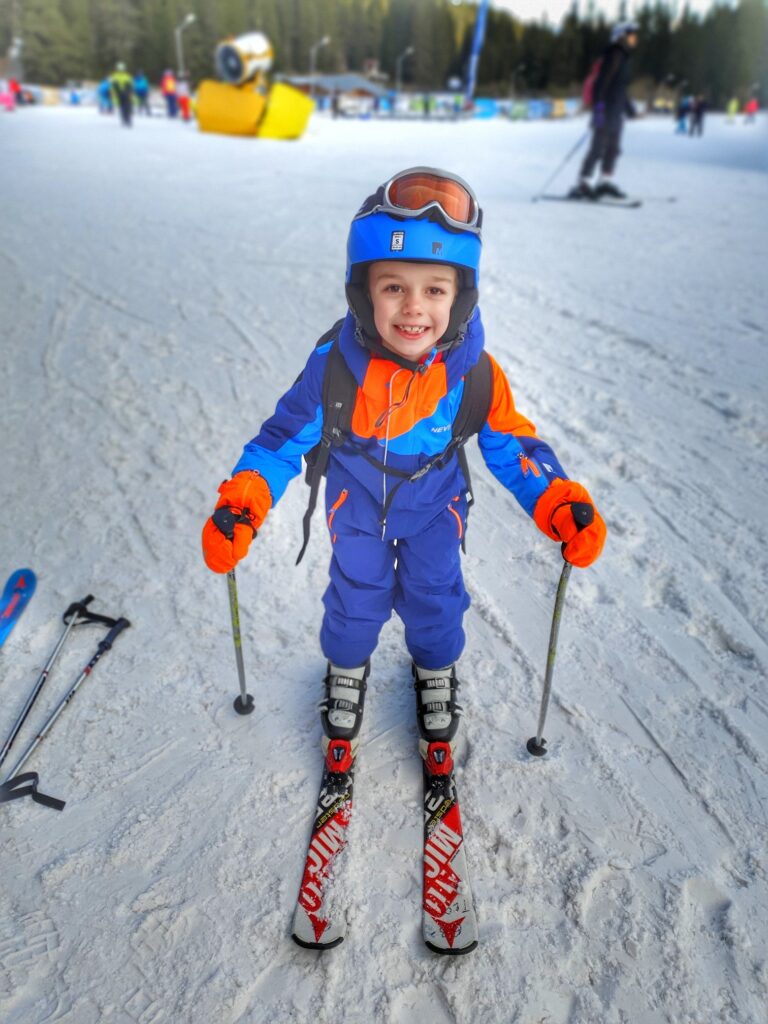 Skiing in Bulgaria: the advantages
The cost is by far the biggest advantage of skiing in Bulgaria. We went out there for the second half of the Christmas holidays, over New Year, and when I compared a similar hotel for the same week in France, the cost was £4,000 more! I mean, that's the cost of another holiday right there!
You can stay in better accommodation than you perhaps normally would, because prices are lower. So we stayed in a 4* place with a lovely large pool, sauna, steam room etc, which is wonderful after a day on the slopes.
The kids nursery and ski school was well set up. When we found out what the actual system was and where to go this worked quite well. The staff there spoke English to the boys and were very kind. The boys were well fed at ski school. They would have a ski, then go in for a play and something like sausage and chips, then more skiing and some snow play. The only issue we had with ski school was that the boys found it a bit boring by the end of the week as they were skiing so well the lessons were a bit basic. We made up for this by them skiing with us every afternoon though.
Food and drink was good value. We are used to paying a small fortune for a mulled wine and a beer in the mountains in France, so it was really nice to be able to enjoy a mountain drink and get some warm snacks for the kids without needing to re-mortgage! We had some lovely meals out in the resort and the food and drink at the hotel was also really good.
There was a small supermarket about a ten minute walk away from our hotel, which, again was well priced and had most things we needed whilst we we there.
The mountains were still beautiful – it wasn't The Alps but it was still stunning, especially on those glorious blue sky days.
Skiing in Bulgaria: the disadvantages
If you, like me have spent a number of years skiing in France and enjoying the vast slopes, thousands of ski runs for all abilities, and been spoilt by largely door-to-door skiing, I guarantee you will be disappointed with Bulgaria as a ski destination.
If however, skiing is a new thing for you and you have no real expectations or knowledge of other ski resorts in the world, then I'm pretty sure you'd be quite happy skiing in Bulgaria.
The transfers were not ideal, which was problematic with young children. We arrived late, around midnight at our hotel, then obviously needed to get lift passes and find out all the info about the children's ski school the next day.
Communication from the holiday company was really poor and no one seemed to know anything, we really had to hassle people to find out what we needed to know and the language was a problem. I'm used to speaking French to people, understanding the set up and knowing where we need to go and when – this was much harder. If you were just travelling as a couple this would be fine, but with four kids in tow, all with different needs and at varying stages of their skiing, this part was hard. My basic Bulgarian that I'd learnt via Duolingo before our trip didn't seem to go down very well, so there was lots of pointing and signalling to get by.
We booked with Balkan Holidays and stayed at St. Georges Palace in Bansko. We really liked the accommodation, but on the whole, we weren't very impressed with the travel company, as they didn't seem to have any local knowledge, or be particularly interested in helping you find the information needed.
It's not door-to-door skiing, far from it. You have to get in a shuttle bus at the hotel, which was a bit haphazard in terms of times, that drops you near the gondola, where you then have a big queue to get the the actual slopes. This is hard with children and all the skis and poles – this was a real bottle neck.
There were very few ski runs, so not much variety and the snow wasn't amazing whilst we were there, which was a bit restrictive some days. However, we skied so much as a family, which was amazing. I hadn't thought that this would be possible just yet, but the four children all made such fantastic progress that we could all ski together everyday – and really, that's the thing that brings me the most joy!
It's a tricky one. Overall I'd always take skiing over not skiing. So, if skiing in Bulgaria was the only affordable option, I'd much rather go than not, but that doesn't stop me longing for the wide open slopes of the French Alps and wondering if we should have just saved up a bit longer and gone there instead.