How much did you love the first Paddington movie? We were huge fans. That bathroom scene had us all in absolute stitches and each time we watch it we still laugh just as hard.
We didn't get to see Paddington 2 in the cinema so we've really looked forward to the release of the DVD. The cast is so amazing and it's one of those movies that really draws you in.
It's a wonderful watch as a family, ideal viewing for a family movie night. So grab the popcorn and snuggle up for Paddington 2, said to be the family film of the year!
ON DIGITAL DOWNLOAD 5 MARCH 2018
ON DVD, BLU-RAY, 4K UHD + BLU-RAY & BLU-RAY STEELBOOK 12 MARCH 2018
The much-anticipated sequel to the worldwide hit family film finds Paddington happily settled with the Brown family in Windsor Gardens, where he has become a popular member of the community, spreading joy and marmalade wherever he goes. While searching for the perfect present for his beloved Aunt Lucy's 100th birthday, Paddington spots a unique pop-up book in Mr. Gruber's antique shop, and embarks upon a series of odd jobs to buy it, but when the book is stolen, it's up to Paddington and the Browns to unmask the thief.
Paddington's biggest adventure yet sees Hugh Grant and Brendan Gleeson joining the all-star returning cast of Hugh Bonneville, Sally Hawkins, Julie Walters, Jim Broadbent, Peter Capaldi and Ben Whishaw as the voice of the beloved bear.
A Heyday Films and STUDIOCANAL production, Paddington's return to our screens is helmed by BAFTA nominated director Paul King (PADDINGTON, COME FLY WITH ME, THE MIGHTY BOOSH) written by Paul King and Simon Farnaby  (YONDERLAND and MINDHORN).    
PADDINGTON 2 is produced by multi award-winning David Heyman (producer of all eight of the HARRY POTTER films, GRAVITY, THE BOY IN THE STRIPED PYJAMAS, FANTASTIC BEASTS AND WHERE TO FIND THEM).
The PADDINGTON 2 Blu-Ray and DVD Extras include a director's commentary, 'Rain on the Roof' with Phoenix Buchanan (Full Screen), Paddington 2: The Challenges of Making the Film & a BAFTA Q&A with David Heyman, Paul King, Simon Farnaby, Hugh Grant and Pablo Grillo. iTunes Extras include exclusive junket interviews with Cast & Crew.
PADDINGTON 2 is nominated for three 2018 British Academy Film Awards: 'Best British Film', 'Best Actor in a Supporting Role': Hugh Grant, and 'Best Adapted Screenplay': Simon Farnaby and Paul King.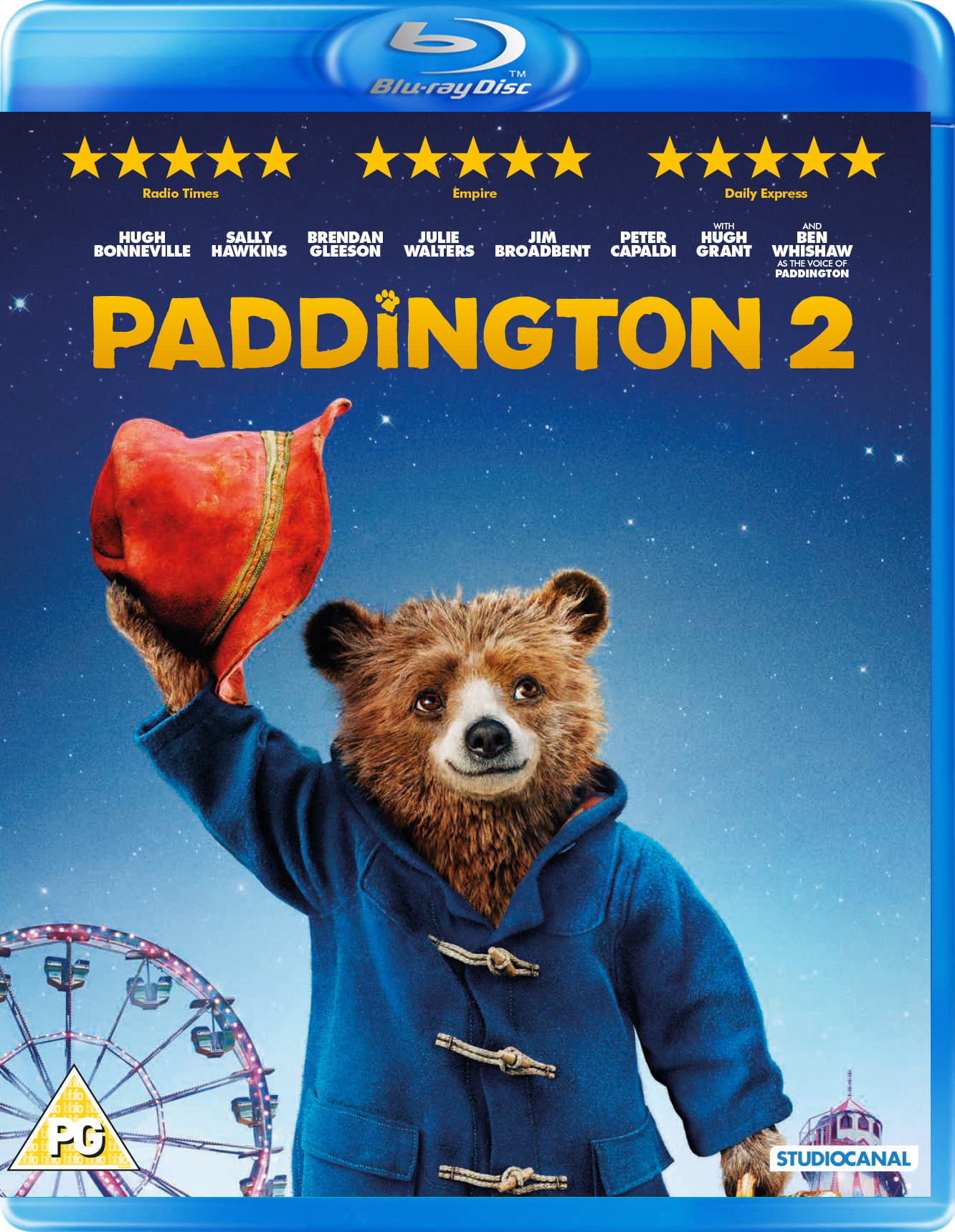 If you didn't catch this at the cinema – now is the time to relax with the family and prepare to laugh.
Certificate: PG
Running Time: 103 minutes
facebook.com/PaddingtonBear    @Paddingtonbear @Paddingtonbear
© P&Co.Ltd./SC 2018. Licenced on behalf of Studiocanal S.A.S by Copyrights Group.