Busy weekends?
Are your weekends sometimes as busy as your weekdays? As much as we try to carve out time to relax at the weekends, it doesn't always happen. We might have a swimming gala, children's parties to attend, we might be visiting friends or having them visit us. We normally have a mountain of homework to tackle and jobs to do at home too. Sometimes, suddenly it can be Sunday night and you wonder where that 'relaxing' weekend went – anybody else?
Even if we don't slow down physically much at the weekends, we do try and differentiate the time from the week. Food is a good way to do this. Perhaps it's a carpet picnic and a movie? Perhaps it's family taco night or family curry night? Perhaps it's Raclette night or maybe the children have a chocolate fondue for pudding? Something a bit different from the norm.
Quick and easy
If you are looking for something quick and easy and a bit of a 'treat' meal one weekend you could try Rustlers Southern Fried Chicken Burger twin packs. They are a perfect quick fix when time just isn't on your side but when you want to offer something 'fun' and a bit different from your weekday meals. Smaller than the average burger (at just 140g each) and in convenient packs of two, they are ideal for little hands and mouths. Just 90 seconds in the microwave and then ready to add your favourite toppings.
Of course, you can add what you like to your Rustlers to make it your own as part of a balanced meal.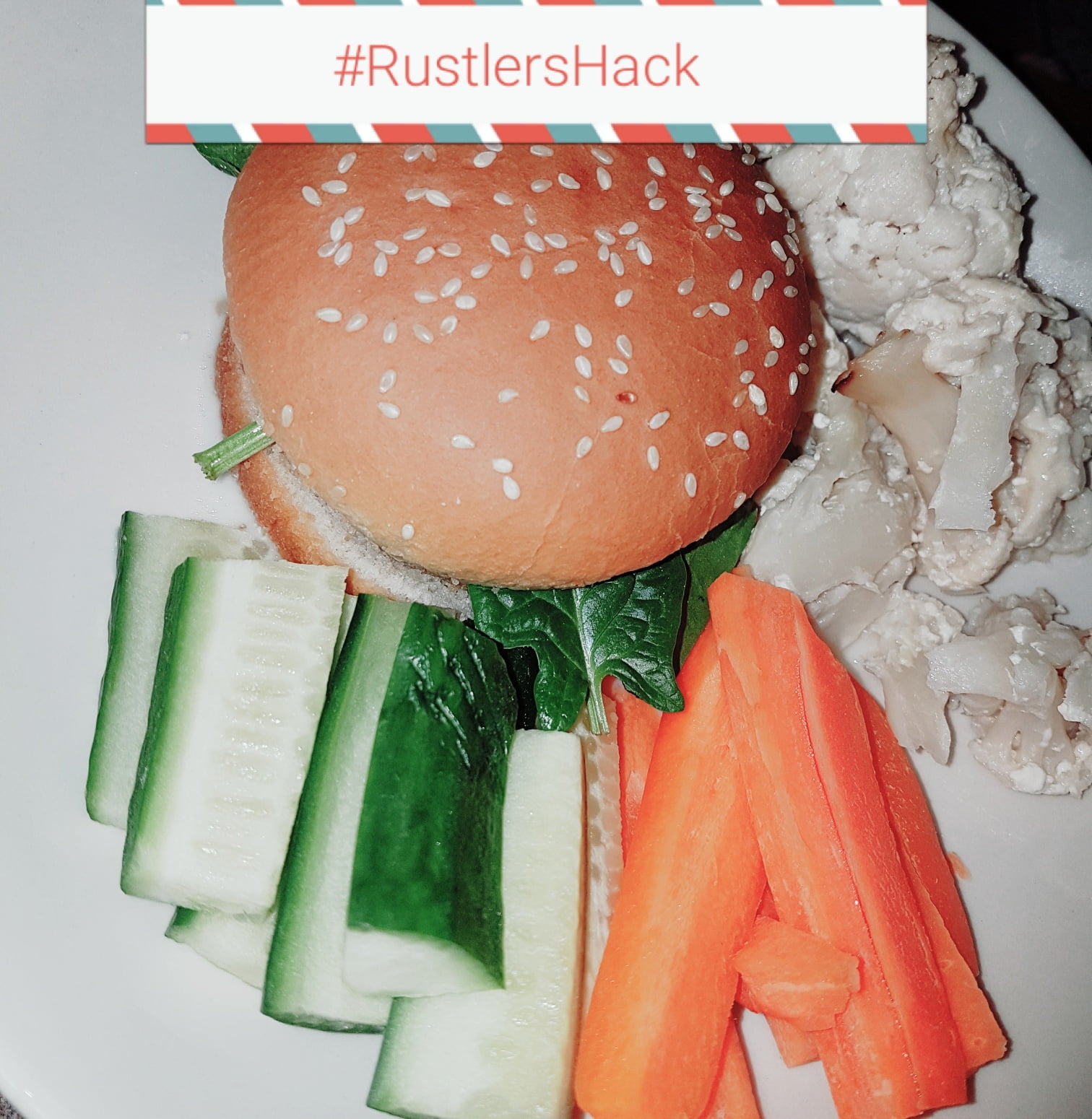 What's your hack?
My tribe love things like cucumber and carrot sticks. We get through so many cucumbers in a week it's crazy. These are of course easy to prepare in advance to. So when I have a few minutes in the kitchen I will chop up a few carrots and cucumbers and pop them in tubs in the fridge for when we need them.
If you want a bit more crunch and can get greens into your children you could add lettuce or spinach. My big girl loves crunchy spinach leaves so she teamed her burger with spinach and her favourite….cauliflower cheese!
If you want to get more creative you could toast the bun with a pretty pattern, add a side of carrots and hummus or some vegetable crisps or even create your own special sauce. Rustlers Burger Hacking Challenge is the opportunity to get the kids involved with their own 'hack'.
One of my boys wanted the carrot and cucumber sticks but also spaghetti hoops on the side. These weren't allowed to 'soak' the burger though so he put them in a separate bowl as a side portion – a good 'hack' in itself!
Rustlers brings families the ultimate tasty and quick burgers. Rustlers Southern Fried Chicken Burgers Twin Pack contain quality marinated chicken with a southern fried breadcrumb bringing out an authentic taste but your family can create unique, tasty burgers dressed up with all sorts of ingredients you choose! They have other products as well – have you seen them in the chilled isle in Tesco?
How would you hack your burger? Let us know in a comment below.
This post is an entry for BritMums Rustlers Burger Hacking Challenge, sponsored by Rustlers