Are you in the process of weaning your baby? How is it going?
I am going through this with my fourth baby at the moment and I have found it really interesting to see how much better he eats when he is sat with his siblings or indeed the whole family. This applies to all the children actually.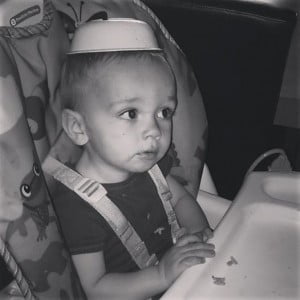 Babies who lunch together are more likely to try new foods. Sharing experiences and getting social makes a positive difference for parents and babies.
Holly Bell, finalist in the Great British Bake Off and author of Recipes from a Normal Mum, has launched the 'Babies Who Lunch' campaign with Organix, the baby and toddler food brand. The campaign encourages parents to get together and share their weaning experiences.
To support families on their baby's food journey, the 'Babies Who Lunch' campaign looks at the benefits of sharing experiences and getting together at mealtimes with other parents and their little ones. Both psychologists and parents say social experiences have had a positive impact on their little ones being more open to trying new foods.
Here are some top tips:
1. Better together – it's great for babies to be sociable and eat together, and for parents to share experiences and ideas with each other. Eating with your little one allows baby to copy how you eat and seeing other babies eating makes them curious and interested in what they are enjoying.
2. Trust your instincts – every baby is different and your experience will be your own, you'll know what's right for your baby.
3. Try lots of different tastes and textures – prepare and share food in different ways. It can take between 10 and 15 times before a baby accepts a new taste or flavour, so don't be afraid to try, try and try again! Peaches were refused by Noah five times but now he is eating them!
4. Play games and get messy – encourage little ones to lick, mash, squash and squeeze the food so they get used to different shapes, textures and tastes – playing with food is fun!
5. Let baby have some control – try giving them a spoon, or some soft finger foods that they can pick up or start to dip into their puree.
Mums say babies who lunch learn through experience. According to the Organix survey:
• 75% believe that eating together with their baby makes a difference to their interest in food.
• 91% say their baby loves to watch them eating and enjoys the time together.
• 81% say they regularly try to sit down and eat together as a family.
Weaning foods from Organix
For little ones at the start of their journey Organix offers a variety of simple and natural first tastes in baby cereals and fruit pots to more challenging textures for baby to get to grips with as they move on. Organix finger foods come in lots of different shapes and sizes to encourage little ones to pick them up and learn to feed themselves, and with lots of delicious flavours to choose from you'll soon find your little one's favourites!
Weaning is an exciting time for everyone so for lots more weaning advice, weaning recipes, and to download your free copy of the Organix Little Book of Weaning please visit here.