Have you heard about microneedling treatments? If you follow social media you might recall that picture of Kim Kardashian or the Snapchat that Kourtney Kardashian did during a microneedling treatment.
There is always a new beauty fad that celebrities are endorsing and something out there promising to make you look younger, but microneedling does deserve a bit of our attention.
What is microneedling?
Microneedling is a beauty treatment whereby a device with small needles is pushed or rolled over your face and neck area to create controlled punctures, which force your skin into 'repair mode'. The needles themselves are tiny, so don't freak out before you've sussed it out.
These devices are gentle enough to be used around the delicate eye area, so you can imagine from that we aren't talking about a whopper of a needle. There are special after microneedling products that can help as well.
In the past, these treatments were reserved for celebrities in expensive clinics with the doctors to the stars.
More recently however, treatments like this have been made much more accessible by companies like Swiss Clinic, who offer the ability for you to experience innovative beauty treatments in the comfort of your own home.
Here's how it works:
The benefits of microneedling
So why should we care about microneedling? Why should we spend time and money looking into this over any other beauty treatment that claims to make a difference?
I personally feel like the whole microneedling thing is a bit of a revelation. A bit like when I discovered coconut oil and all the benefits it has – I wished I'd been using it for years. I feel the same about microneedling and most of that is because it just makes sense.
If you follow the treatment plan you may experience the following benefits of mironeedling:
Microneedling can improve sun damage, fine lines and wrinkles
Microneedling can improve the appearance of scars and stretchmarks
Microneedling can improve the appearance of age spots and acne
Microneedling can improve the appearance of large pores and rosacea
Is it just for the face?
So is this wonder treatment just for the face?
NO!
One of the very exciting things for us mums is that this is a great treatment for things like stretch marks, cellulite, and even unsightly veins. The skin resculpting treatment is the one recommend to treat the rest of the body, and it comes with a Cryogel Body Serum which you apply after using the roller.
By improving blood circulation and reducing the size of the fat cells, cellulite and stretchmarks are reduced, resulting in visibly firmer and smoother looking skin.
Containing, amongst other ingredients, Corallina, that has properties that inhibit the growth of fat cells whilst you sleep and encourages fat burning whilst you are awake. The non-sticky formula leaves you with a refreshing and cooling sensation.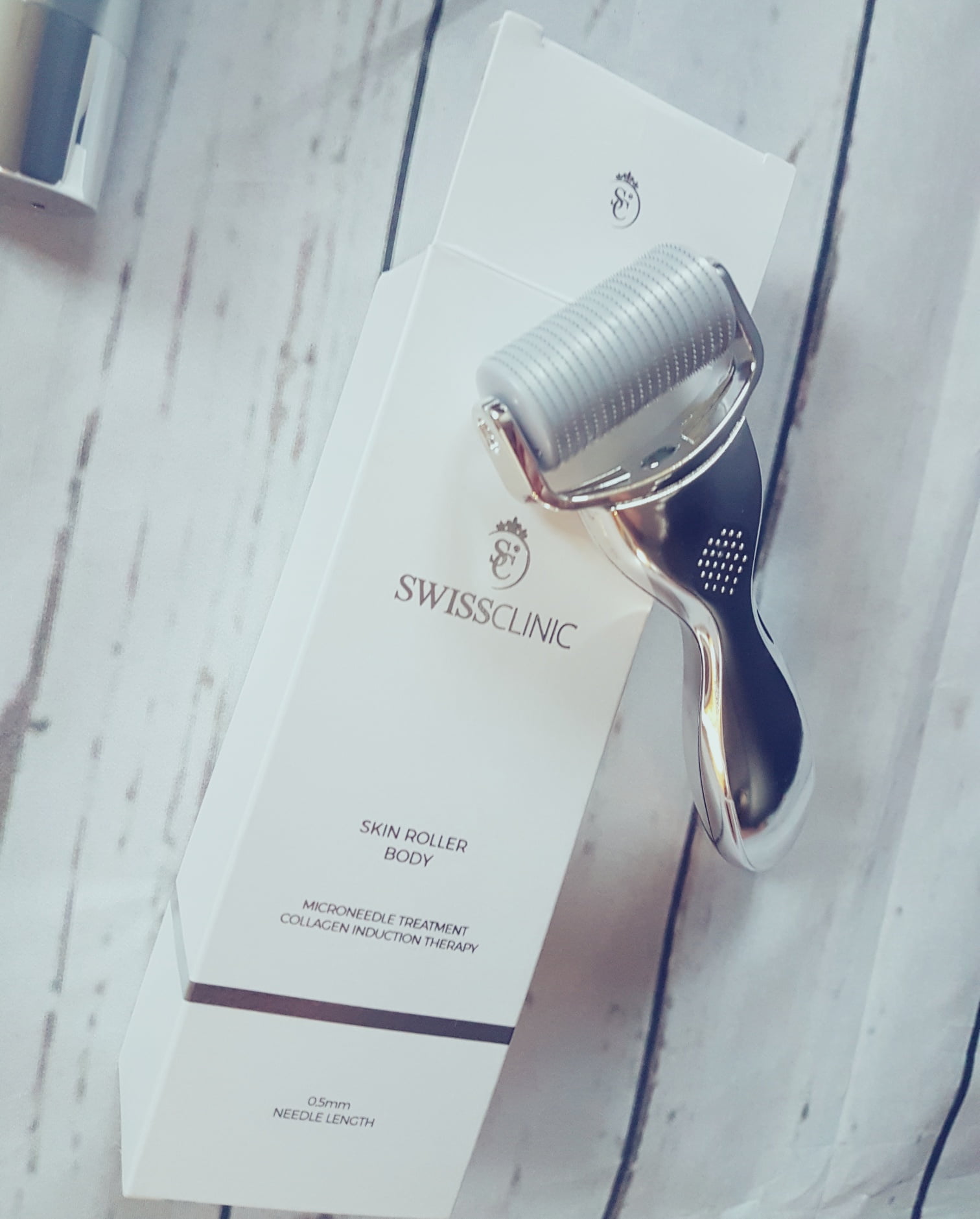 So does it work?
Only time will tell just how effective this treatment is, but it certainly feels as if it is doing something. I do feel as if this could be a bit of a game changer and as I approach 40, I need a game changer.
I'll be updating you on the effectiveness of this treatment over time, but for now, the treatment feels satisfying and invigorating.
Competition time
Now the REALLY exciting part. Hold onto your seats, we are giving one lucky Mummy Fever reader the chance to win the Skin Renewal Treatment – are you excited? You should be.
Just fill in the widget below.
UK entrants only please.
Win Skin Renewal Treatment from The Swiss Clinic
As seen on SuperLucky Me