Welcome to part three of our series of articles looking at ideal second cars for families.
As much as many families could do without the expense of running a second car, and as much as many families really try to manage without, sometimes that just isn't manageable. Work and schooling arrangements can make it impossible to only manage with one car.
Once you've accepted you need a second car though what are your options?
In this series we will be looking at some of the cars often pitched as 'second' cars and seeing just how practical they are. If you are looking for technical reviews on these cars, your're in the wrong place, but if you want to know whether any of these cars will work for your family stay tuned.
The first car we looked at was the Volvo V40, you can read about that here. After that, we tried the Volkswagen Polo Match, you can catch up with that here.
What to consider when looking for a second car:
When you decide to take the plunge and go for that second car, what do you really need to think about? The main thing to consider is what you will need to MAINLY use the car for. Here's a few things to ask yourself:
Will the car be used to commute on a long journey?
Will the car need to carry baby or toddler seats?
Will the car need to carry older children?
Will the boot need to hold a pushchair? If so will it fit?
Will you need to carry sports or music equipment for family members?
Will you ever need to fit the whole family in the car?
Will the car JUST be used for the school run and general running around?
Will you be driving the car into a city?
The third car we are looking at in this series is the Citroen Grand C4 Picasso. When you travel as a family, everyone wants their own space and that's exactly what New Citroën Grand C4 Picasso provides. Elegantly designed, beautifully trimmed and bright, this is a place to relax and enjoy the ride, with innovative, practical details and a place for everything.  A happy balance of versatility and premium quality.
Now this to me isn't what I would think of as a 'second car' – however, it really depends what your specific needs are as a family and what you need that 'second car' for.

One of the best features that we found was the versatility of the middle row of seats. Three full seats across the back and all with Isofix fittings meant that we could really play around with who sat where. As we have two littles ones, we currently use two Isofix bases. In lots of cars the only way to have this would be one on either side and then an older child squashed in the middle. Like the Sharan, and the Alhambra however, this car has three across the back, meaning that you can have the two babies next to each other if you need to. This makes things like getting in and out at school much easier for older children. Also with the older child sat on the outside you have easy access to getting the other children out of the boot. If you have the Isofix bases on the outside seats, the only access out of the car for those in the rear of the car is via the boot, which,if you have things in the boot is awkward.
The tray tables, complete with reading light are a great feature for older children who might like to read, craft or draw in the car on a long journey. The built in window blinds make life much easier for parents, no more fighting with the blinds you attach yourself, these are specifically made to maximise the amount of sun blockage, keeping sun out of babies and toddlers eyes. This feature is also really beneficial for older children who are affected by the light flickering through the trees. Children with epilepsy or those prone to seizures may especially benefit from this feature.  This also helps children see the screens of tablets or DVD players when using them in the car as well, making for a stress-free journey for all!
I have to comment on the turning circle of this car – it is BRILLIANT. For what is essentially quite a large family car, the turning circle is superb and much better than the likes of the Sharan and Alhambra. It makes quite a difference if you are using the car for the school run where you are limited on turning space.
The other really great thing about this car is the enormous windscreen, this means the visibility is superb and you get the 'cockpit effect' whilst driving.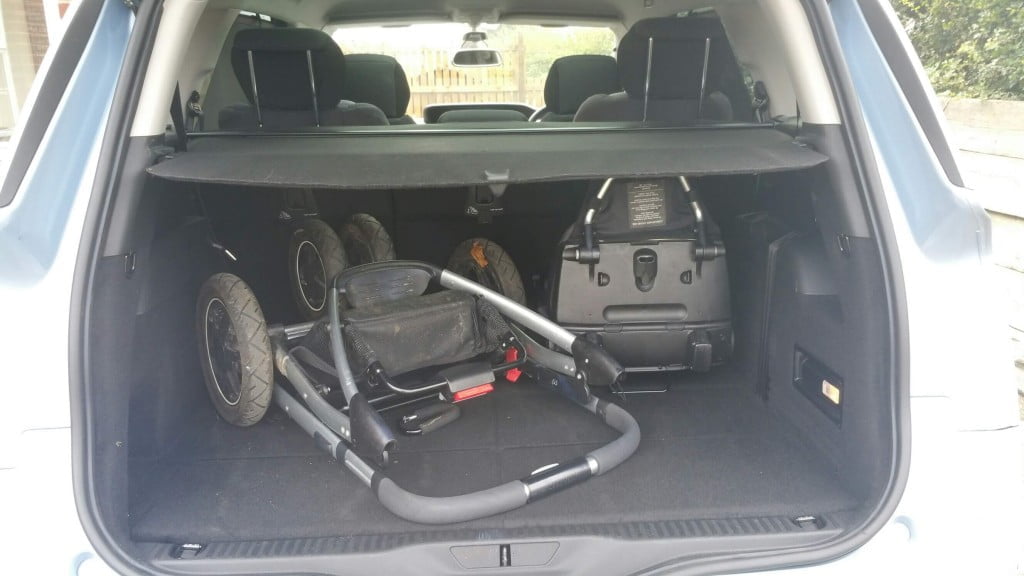 Why it makes a great second car:
Feels solid
Great turning circle
Well built sturdy construction
Isofix in rear across all three seats
Nice shape, looks smart
Sat nav reasonably accurate
Very comfy, good back support, super snug seats – great if you have a sore back or find driving uncomfortable
Foot rest in passenger seat makes for a comfy journey
In-built chair massaging was a welcome luxury and would be wonderful when stuck in traffic on a commute
Easy to park and manoeuvre
Large enough boot for big sports bags, golf clubs etc
Huge boot when back seats are down – would be great for transporting older children to and from university
Even when rear seats are in use, a large pushchair can fit in the boot
Family-friendly features such as tray tables with lights and window blinds
Fairly powerful even when fully loaded
Good visibility – like being in the cockpit of a plane!
Good display
Can have two family fix bases side by side so there is still access to the boot seats
Auto boot is a good feature when hands are full
Arm rests in front seats make it comfortable to travel long distances and for when stuck in traffic
Lane departure system of tugging at your seat belt is a good safety feature
The facility to move the seats forward and back in the rear of the car means that you can create more legroom or space in the boot
Still plenty of legroom for children on the middle row with the seats all the way forward
What you might want to think about: 
Not great fuel economy, averaged 34 MPG, we get around 56 MPG out of our Alhambra
Depending on your height, there is quite a bad blindspot on the front wings which means if you are pulling out of places frequently it might be a tad frustrating.
We weren't fans of the automatic
It would be a very pricey choice for a second car, but that would depend what else you had I guess.
Overall we really like the Citroen Grand C4 Picasso, we've been fans of the car for a while and the children always seen very comfortable in it. It might not be your ideal 'second car' but if you need something to transport lots of people short distances, this is the car for you.
Here's a little tour of the car:
If you missed our 'what the kids think' vlog on the car then you can catch that here.