We love spending time in Liverpool and the Albert Dock in particular. Every year they seem to add more and more, making it a lovely place to spend a few hours as a family.
If you are coming from further a field though, don't worry as you could always spend the night at the Premier Inn in the Albert Dock and spend a couple of days exploring.
There is so much to see and do. Maybe a trip on the big wheel? Although, having been up there on a windy day, perhaps save that for when the weather is really good.
There are tons of lovely places to eat and drink and it's a great place to have a 'mooch' if that's your thing. Perhaps fish and chips watching the boats is more your thing? You can do that in the Albert Dock too. Also there are a couple of fabulous traditional sweet shops if you are looking for a 'treat'.
There are often special events on during the summer months and you can check what's on by checking the Albert Dock website.
If you like museums, there are a few to choose from. If your little ones are fans of Bob the Builder, Thomas and Friends or Fireman Sam, then try out Mattel Play. It's a wonderful interactive playcentre, which can be enjoyed in a two-hour time slot which can be pre-booked. Mattel Play welcomes children with autism, with special autism-friendly sessions which can be tailored to suit your needs and preferences.
You can try a coach tour, or even the Victorian carousel – always a favourite with our children.
New for this year is The Adventure Dock. The Adventure Dock Co is Liverpool's newest waterfront attraction, which launched in May. With jumps, slides and plenty of water based fun, the Adventure Dock is the place to be this summer.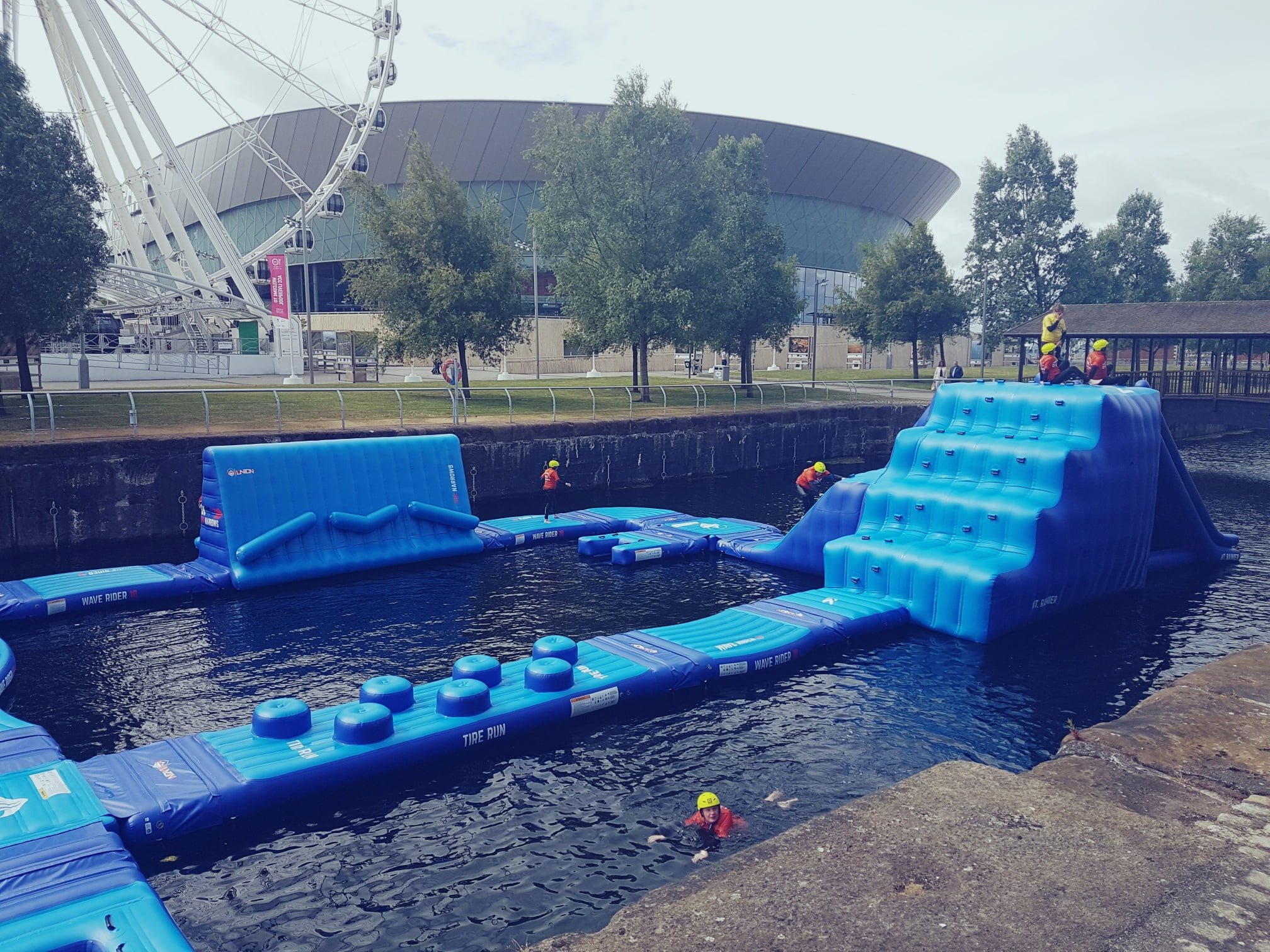 It's located right in front of the big wheel, with car parking adjacent. Whether you are looking for a fun activity as a family, or a team-building exercise to do with colleagues, or even an option for a stag or hen do, it's an adrenaline-fueled hour in the water.
You'll be welcomed by friendly staff, who will give you a safety briefing and get you kitted out in a wet-suit, life jacket and helmet. You can book online in advance and time slots are every hour.
You then get to enjoy the inflatables for a whole hour, which might not sound long, but by the looks of everyone coming off, an hour is plenty. You'll get a full body workout whilst you bounce, jump and climb around.
You can throw yourself down slides, spin around or even free jump off the highest point into the Albert Dock. Don't worry, there are ladders to climb back onto the equipment and these are far better than we've seen before. At other aqua parks we've been to, people have to haul themselves out, whereas at Adventure Dock, the ladders make life that little bit easier and give you longer to enjoy the equipment.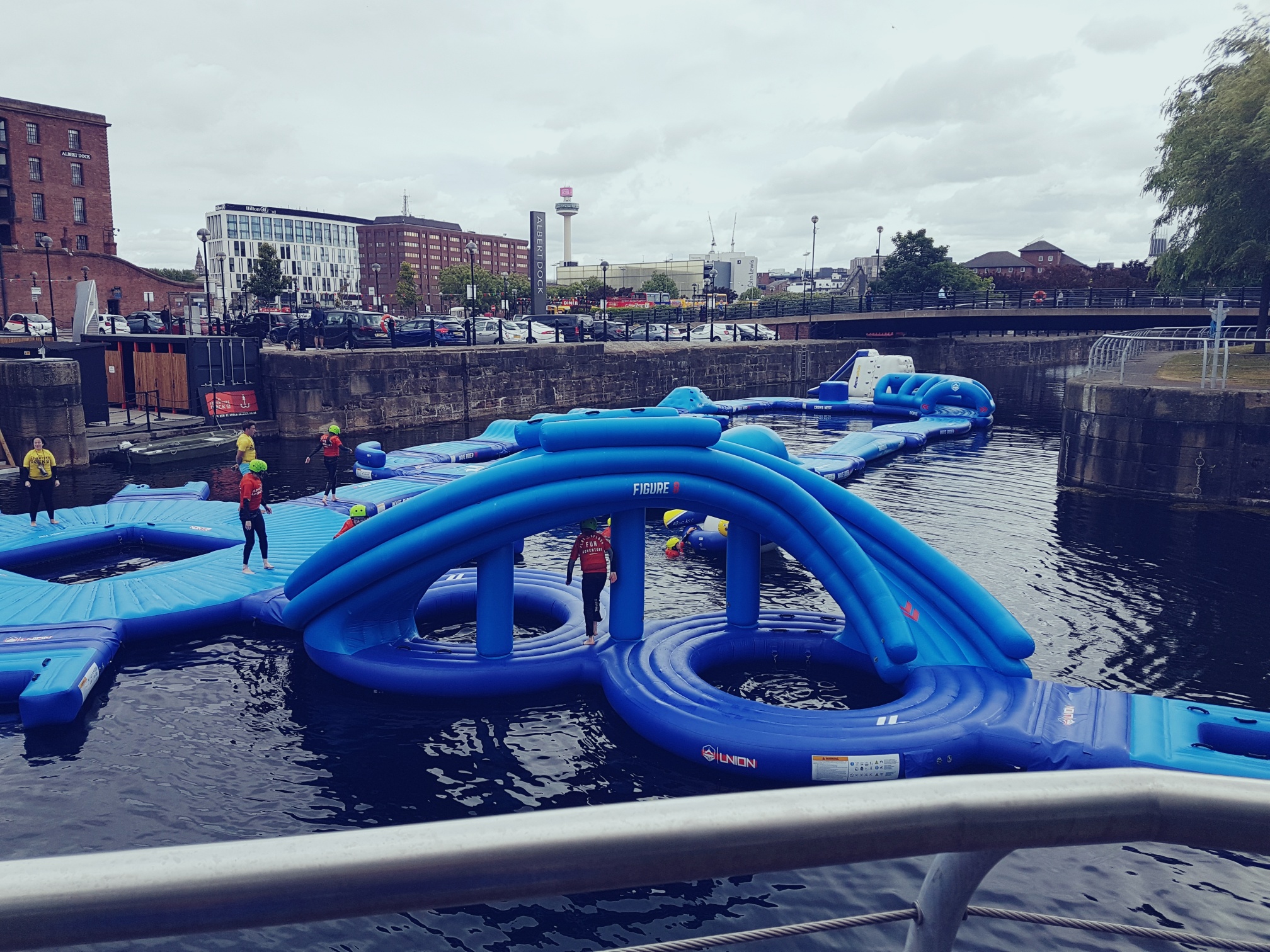 This course has been designed specifically for Liverpool, it boasts free-fall slides (some reaching heights of almost 4 metres for the bravest of souls), rafts and barriers, while other features, such as the Moon Balls and Overpass, are aimed at beginners – making an attraction to suit all levels.
The course is made up of over 50 joined-up inflatable obstacles, including the Tire Run, Ninja Jump and Dragon Tail, Adventure Dock is set to be the must-visit attraction in Liverpool this summer! Also it doesn't really matter what the weather is doing as you get wet anyway!
Do you fancy it? Anyone aged eight or above can give it a go.