Hand washing, like never before, is super important. We've all seen and heard the message loud and clear…WASH YOUR HANDS!
It does mean that many of us, are now experiencing dry and chapped skin, which can be both irritating and painful. Not to mention that hands that get too dry and 'cracked' can allow infection and bacteria to get in. So basically, it pays to look after your hands.
Childs Farm know a thing or two about hand washing. Indeed, Joanna Jensen founded the company out of necessity as both she and her daughters were experiencing issues with dry skin. So, to support their new WASH-DRY-MOISTURISE campaign, they've created a Childs Farm styled fun hand wash song and guidance to help support the nation in keeping hands safe and soft!
Here's Joanna's advice to keep hands safe and soft:
WASH-DRY-MOISTURISE
WASH for 20 seconds (at least)
We sing, mumble (or mutter!) Humpty Dumpty or Happy birthday twice and follow the WHO guidelines on how to wash your hands: the goal is to make as many bubbles as possible all over your hands and wash every nook and cranny, even the backs of hands.
DRY for 20 seconds
As vital as a good wash, a clean, dry towel is essential to make sure that hands are fully dried, removing any remaining bacteria. Be prepared to wash towels more. And give everyone their own towel too – this gives little ones more responsibility and ownership of their cleanliness.
MOISTURISE for 20 seconds
Once clean and dry, moisturise hands all over with a quick-absorbing moisturiser or hand cream to make sure that skin cells are hydrated and plumped up to fight infection and to prevent irritation. Cracked and sore hands can allow bacteria to get in and cause infection, hands that are moisturised will allow cells to knit together and keep bacteria out.
What you can do
Use the hashtag #WDM202020 to share your support for this method! Follow the tips and let us know if your hands feel better for it. If you check out our COVID-19 Highlights on Instagram you'll see what we've been up to!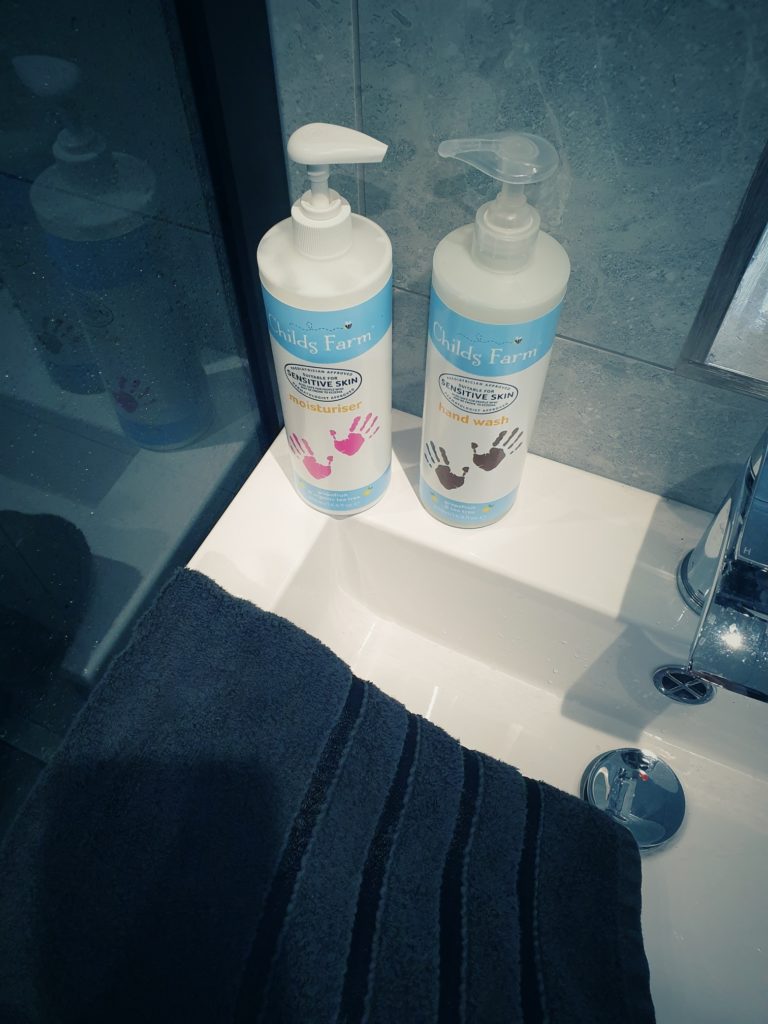 We found the hand washing version of 'baby shark' to wash, dry and moisturise along to, but if that doesn't do it for you – here is the Childs Farm version of "if you're happy and you know it".
If you're happy and you know it, wash your hands, If you're happy and you know it, dry your hands
If you're happy and you know it and you really want to show it, don't forget to wash, dry and moisturise your hands!
Supporting NHS and care worker heroes
In addition to getting everyone washing, drying and moisturising to protect our beautiful skin, Childs Farm is donating 25,000 bottles of moisturiser and handwash to our incredible NHS heroes. And as many long term sick in hospital are unable to have visitors and bring in washing supplies, Childs Farm is sending 10,000 hair and body care parcels to young patients in hospitals and hospices, as well as for our hard-working medical stars.
Childs Farm donated 75,000 bottles for filling with hand sanitiser for hospitals.
This is a collaborative post.