Whether you're a train enthusiast, looking for a fun day out with the family or just looking for an adventure for two, jump aboard and experience the magic of Churnet Valley Railway as they celebrate 2019 with an exciting range of both returning and new events.
Events kicked off in February this year and have seen a Mad Hatter's Tea party and special Mother's Day and Father's Day events too.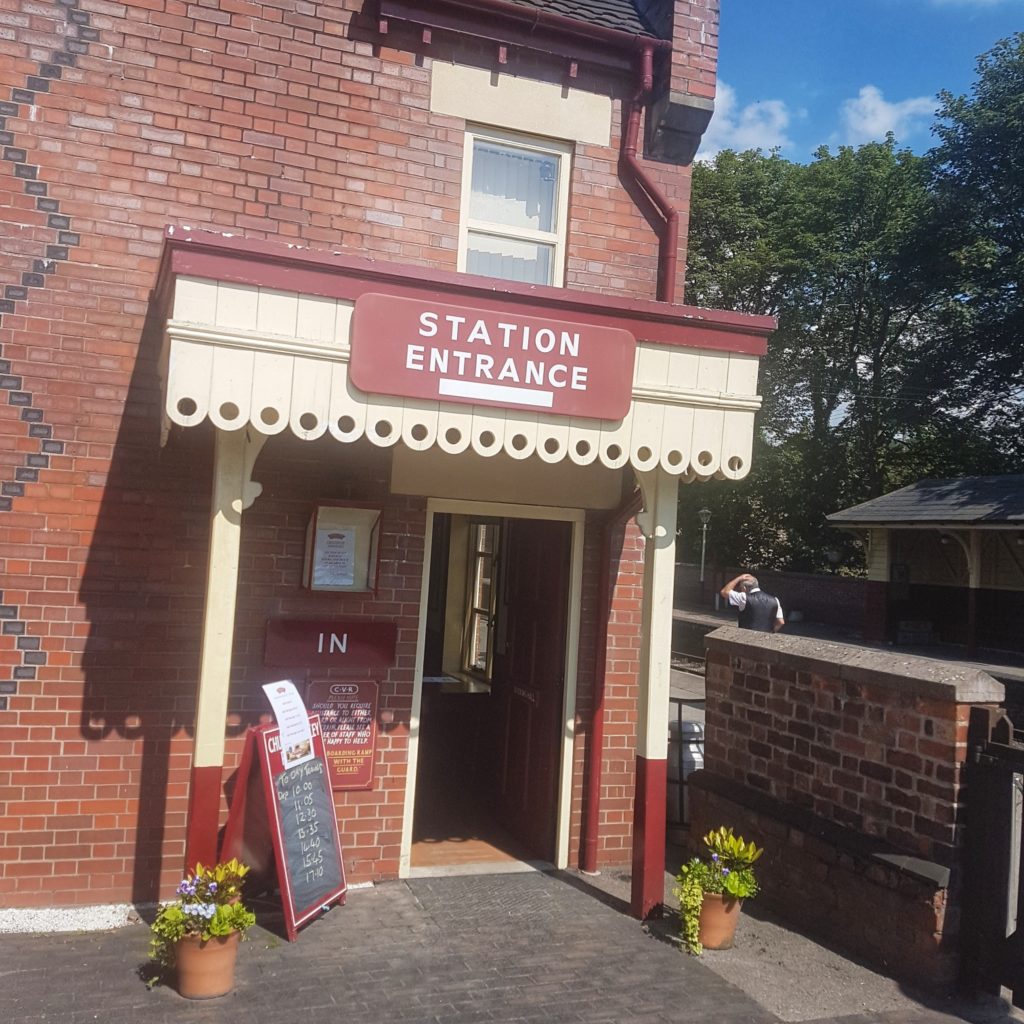 Catering for both young and old, Churnet Valley Railway has something for all to experience, from an elegant Moorlander lunch, to a steam footplate ride, to a train driving course to a calendar packed full of fun family days out. 
There's plenty for the children – they can meet some of their favourite characters at one of the many themed events and for all who wish to learn of the history of the railway they can visit the onsite museum. Those who like the leisurely pace of steam train travel can also visit the fully functioning bar with its wide range of drinks including cocktails and the railway's very own ale.
We visited the railway last weekend during their Paw Patrol Themed Event. We've been to something similar before with Thomas the Tank Engine at another railway, so the children were really excited.
After making our way along the platform to the train, we climbed aboard for a round trip from Kingsley and Froghall Station.
It was bliss to sit on a train with comfortable seating, large seats and plenty of space – not what you get these days at all!
It was lovely to see so many families enjoying time together. Lots of grandparents with children educating them about the railway – how lovely!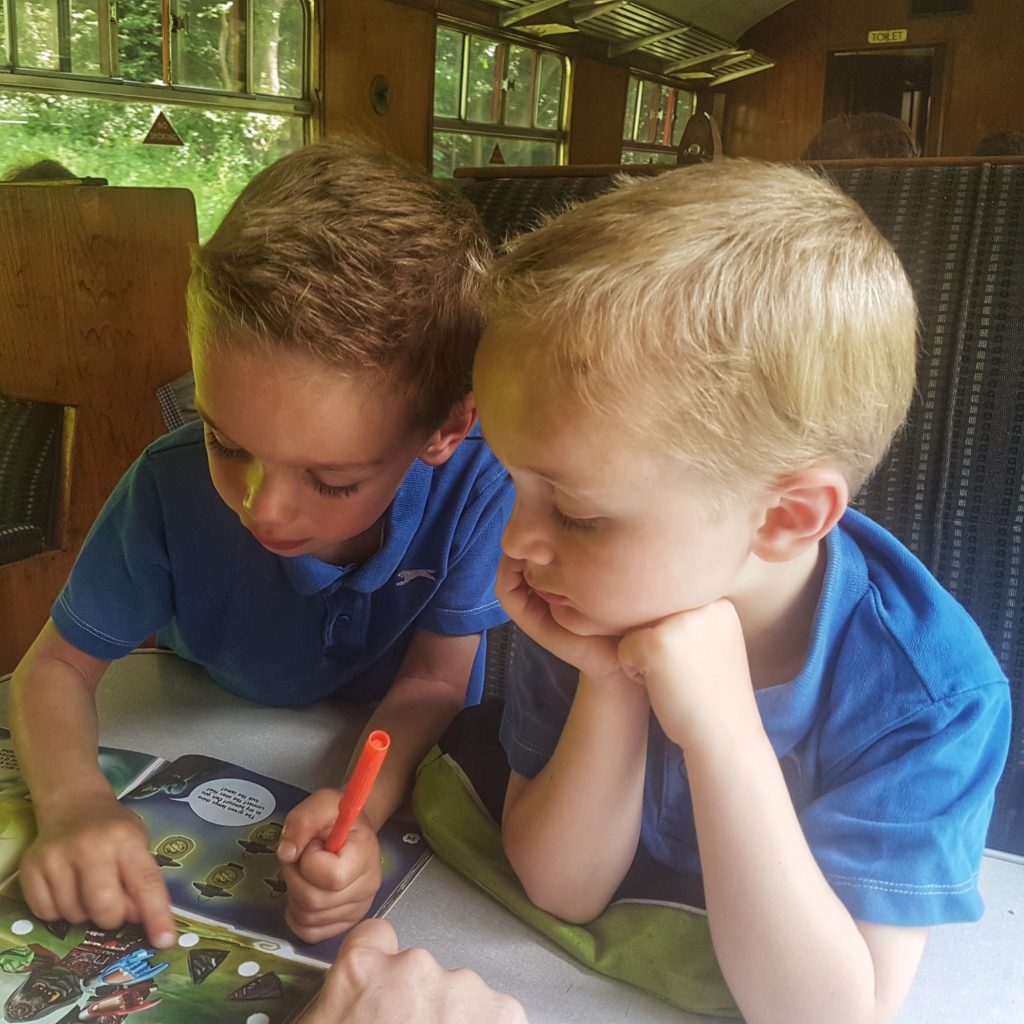 It was a gorgeous sunny day. The children enjoyed doing puzzles on the train and spotting things out of the window.
The countryside was glorious and there were lots of canal boats and animals to spot along the way, as well as a friendly conductor to chat to.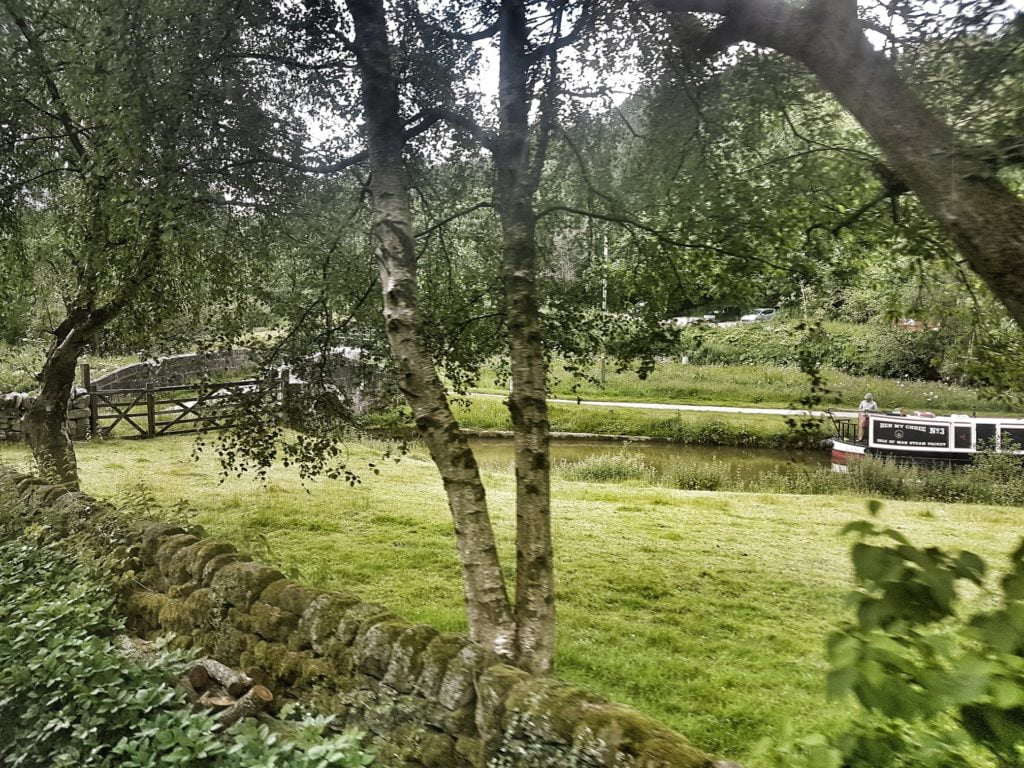 The round trip took about an hour. The train takes you to Cheddleton Station where you will remain on the train before returning to Froghall.
After our train journey we followed the crowds to a large story tent where we waited to meet Chase and Skye from the Paw Patrol.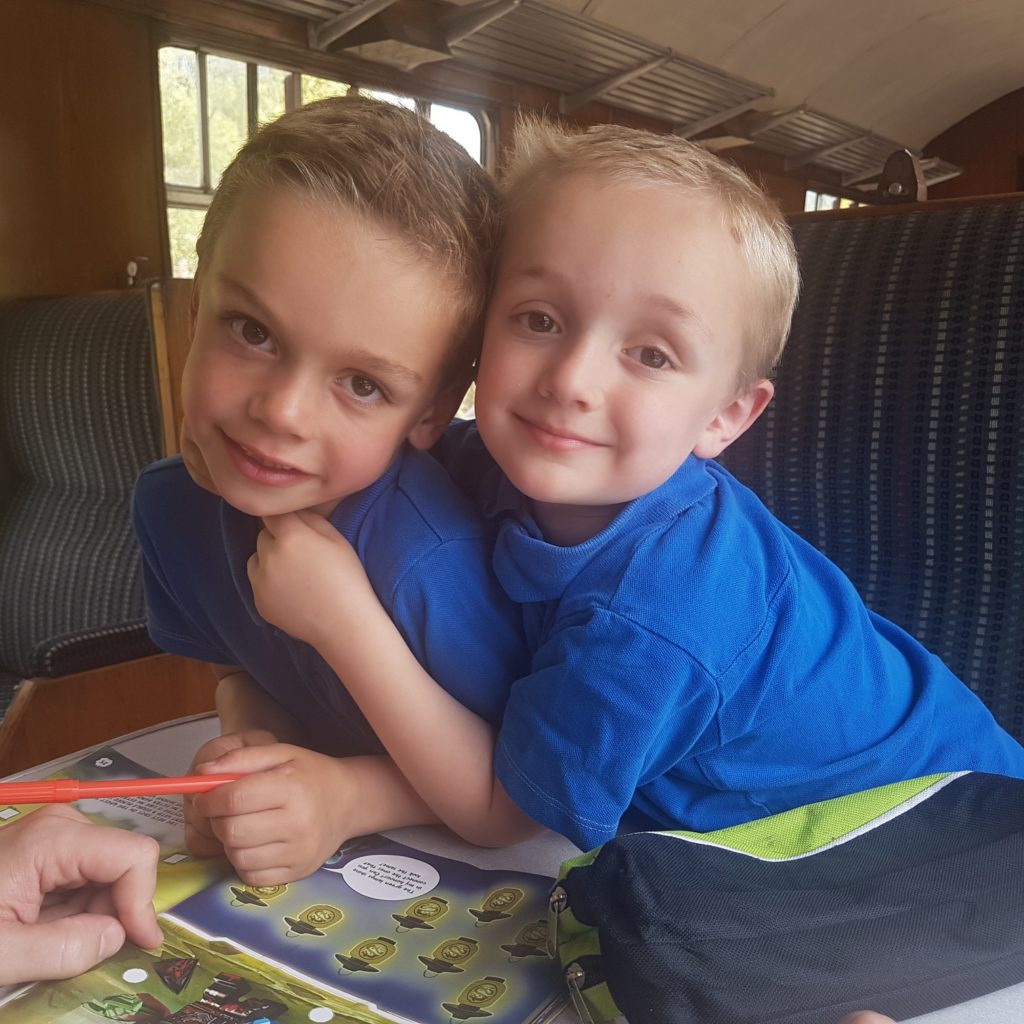 We listened to an interactive story about the Paw Patrol, where Chase and Skye acted out parts from the book to really bring the story to life.
This was followed by a chance to meet the characters, which, as you can see was very popular with our smallest little chap.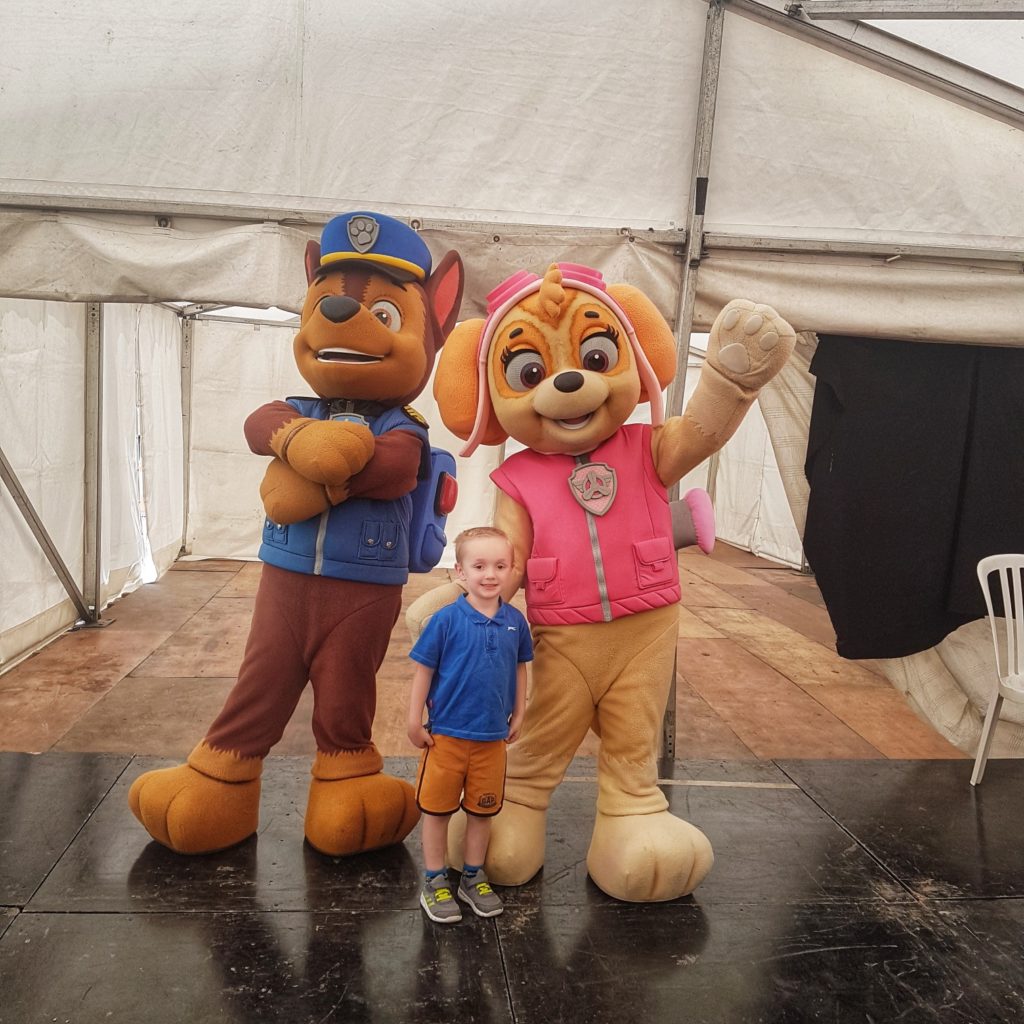 Face painting was available for a cost of £2 per child. This was really popular and the quality of the face painting was first class. There were tons of glittery butterflies and unicorns around.
The boys opted for Batman and Spiderman and they really enjoyed the whole process. There were clowns making balloon models for any children who wanted them and even replacing them quickly when one popped – much to every parents' relief.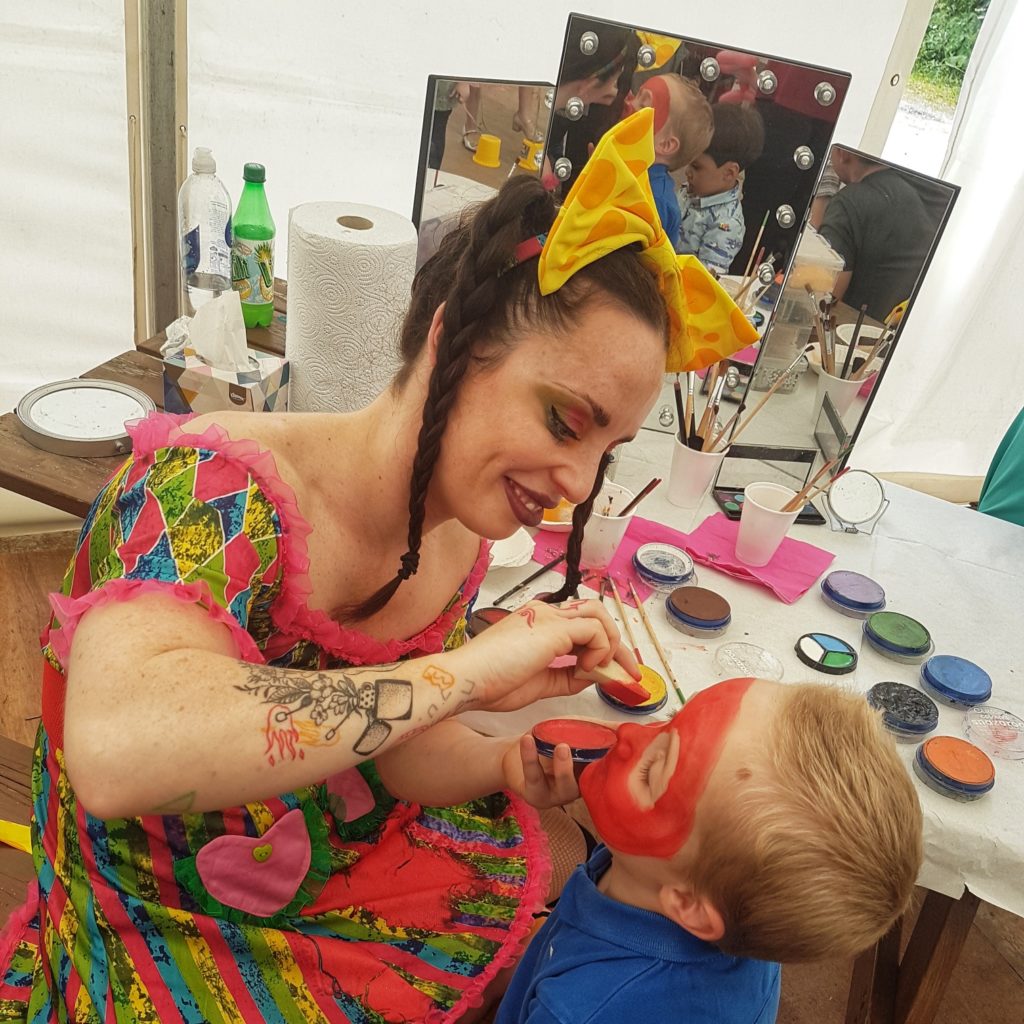 Circus skills were on offer too and these were really popular. Some very patient and friendly clowns were on hand to help with juggling, stilt walking and so on, and they were even racing some of the children – adding to the excitement.
Overall we were probably there around 3 hours. The boys enjoyed an ice cream from the cute traditional station cafe before we headed home.
This event has finished now but there are still tons of things on the station calendar this year!
Rail Ale Trail :Dates: 5th – 7th July 2019 
The Rail Ale Trail is one of the most attractive events in the Churnet Valley Railway calendar and will therefore return on the first weekend in July. Each of the three stations has its own bar as well as a neighboring pub, giving a grand total of six watering holes connected by a 12-mile return journey hauled by a combination of steam and heritage diesel locomotives. With over 100 real ales available which is a joint effort with the Titanic Brewery and the Staffordshire Brewery Company, a BBQ and range of food on offer, live music acts and a DJ you really can see why the Rail Ale Trail is so popular.
Spirits of the Railway: Dates: 23rd – 26th August 2019 
Welcome to the new ultimate railway drinking experience with 30 Gins, 10 Rums, 5 Vodkas and 5 Whiskies, Spirits of the Railway is sure to appeal to all who enjoy a tipple or two. The selection of spirits, provided by the local company Wine and Whiskey Leek, will be perfectly matched with the mixer of your choice and fresh garnish to complement your tipple. Churnet Valley Railway also has its own in-house range of real ales, which will be available across the railway throughout the weekend, and a small Prosecco bar will also be open at Froghall Station. Sit back and relax on the train and travel in style to the next bar, or you can simply order your next drink on board, all of this while enjoying an 11-mile round trip on Staffordshire's premier heritage railway.
Yankee Weekend:Dates: 7th – 8th September 2019 
Join Churnet Valley Railway for this spectacular themed event. This will be a fun-packed weekend celebrating all things American. Froghall and Cheddleton stations will be decked in star-spangled banners, bales of hay and some good old-fashioned bunting.
The evening event includes a showing of an American classic movie – title to be decided by their Facebook followers – on a giant outdoor screen and so pull up your deckchair or picnic blanket to watch the movie and enjoy some traditional Yankee delights grilled on the BBQ.  Sample a milkshake or try some American beer from the bar. With the all-American Diner at Froghall or the American Steam Engine pulling the train you will be sure to find something that makes the day that bit more special.
Anything Goes Gala:Dates: 28th – 29th September 2019 
Froghall station will be hosting a Volunteer Recruitment day, ideal for rail enthusiasts or anybody seeking a new and fascinating hobby. A range of roles are available for volunteers of all ages, from greeting visitors on stations and helping in the bars and tearooms to driving and maintaining the trains.  So why not pop along with friends or family and chat to the dedicated volunteers who continuously make the railway a unique and special place. During the gala, Churnet Valley will be operating a two-train service, which will include the rare opportunity to ride on trains over the steeply-graded line up the Cauldon Lowe branch to Ipstones Loop. A must for all who love locomotives.
Ghost Train/Carnival of Doom:Dates: 25th – 26th October 2019 
TRICK OR TREAT… Join Churnet Valley Railway for a thrilling, chilling and spook-tactular evening full of frights, scary sights, fun and entertainment.  As the sun goes down, each station will be filled with creepy creatures, monsters and zombies. With a vintage funfair circus on offer, a disco, BBQ and outside bar and a train journey which passes through the said to be haunted Consall, this is one exciting and busy event where you see whole families join in with the spirit of dressing up.  Each ticket enables you to take one round trip on the railway which includes the pitch-black haunted Cheddleton tunnel.
Santa and Steam / Santa by Star Light
Dates: Santa and Steam 30th November 2019, 1st, 2nd, 7th, 8th, 14th, 15th, 21st, 22nd, 23rd and 24th December 2019; Santa by Star Light 4th, 11th, 18th and 20th December 2019
Get your Christmas off to a magic start and experience Santa and Steam as your train steams through the Staffordshire Moorlands. Each station will be decorated with a beautiful array of Christmas lights while Santa strolls through your train carriage bearing wonderful gifts for each boy and girl.  Mums, Dads, Grandmas and Grandpas can relax and enjoy a snack and a drink in garland filled coaches which will be a delight for all.  
New for 2019 is Santa by Star Light, allowing the Christmas experience to become even more magical as on selected dates, Santa commands the Santa Express to steam its way through Staffordshire at night.
Churnet Valley Railway really does have an event for all, whether you crave the excitement or wish for a quiet day, there are many options available. So, grab a timetable, open your calendar and they look forward to seeing you there.
Do you fancy any of these? I think the Santa events sound lovely!