What's it all about?
Walt Disney Animation Studios' "Moana," the sweeping story of a spirited teenager who sets sail on a daring adventure to save her people, starring newcomer Auli'i Cravalho as the voice of brave and tenacious Moana and Dwayne "The Rock" Johnson (HBO's "Ballers," "Central Intelligence") as the larger-than-life demigod Maui, has dazzled both critics and audiences. The film earned a 95% critics' consensus on Rotten Tomatoes and has been nominated for Best Animated Film and Original Song at the 89th Academy Awards; it also received a BAFTA nomination at the 2017 awards. Now, "Moana" sets a new course, arriving to homes on Digital Download on 27th March and on DVD, Blu-ray™ and 3D Blu-ray™ on 3rd April.
Continuing the fun-filled adventure, families can continue their journey, filled with hours of extensive and entertaining bonus offerings including: a new, hilarious mini-movie featuring Moana and Maui; an in-depth look at how the people, cultures and heritage of the Pacific Islands shaped the story of "Moana;" revealing Q&A with co-stars Auli'i Cravalho and Dwayne Johnson, and famed animation directors Ron Clements and John Musker; insider access to Lin-Manuel Miranda, Mark Mancina and Opetaia Foaʻi, the trio behind the film's moving music; four mini-documentaries highlighting the movie's groundbreaking effects; deleted scenes; a deleted song; hidden Easter Eggs; music video; "Inner Workings," the theatrical short film directed by Leo Matsuda that spotlights the internal struggle between a man's Brain and Heart; and much, much more.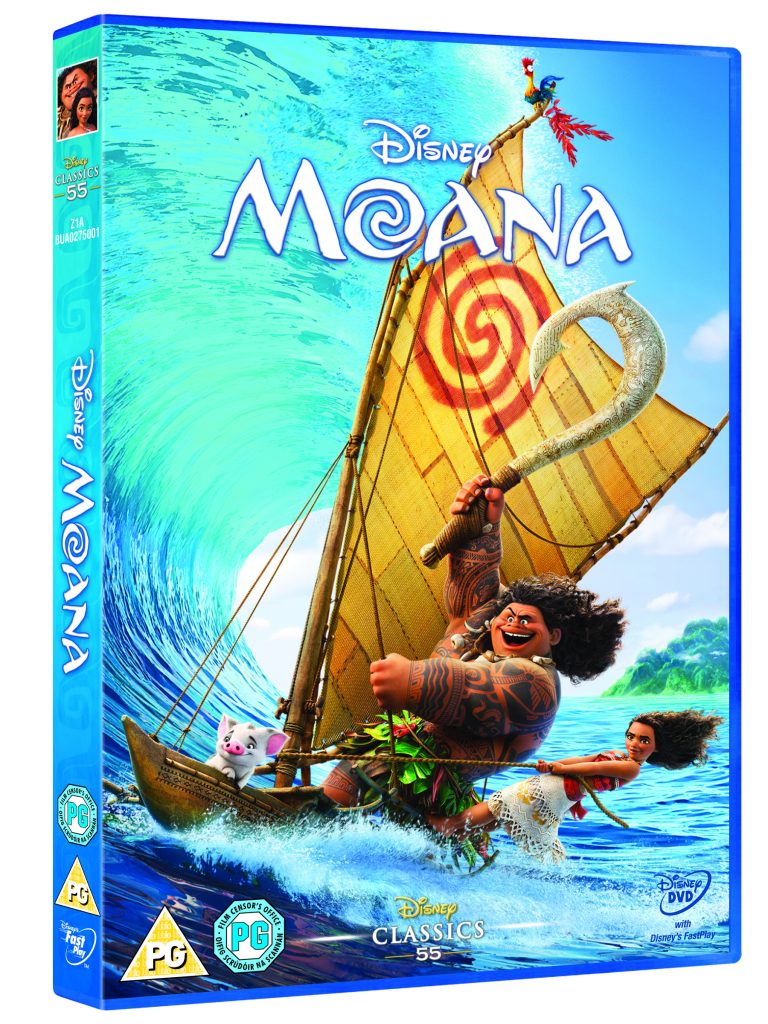 What the directors say
According to directors Ron Clements and John Musker, the story of "Moana" was inspired by the great explorers who masterfully navigated the vast Pacific, discovering the many islands of Oceania. "Voyaging is a real source of pride for many Pacific Islanders, a part of their identity," says Clements. Many experts believe that about 3,000 years ago, those deep-sea exploratory voyages halted for about a millennium before resuming. This rebirth of exploration sparked the filmmakers' imaginations, and the heroine at the heart of the story. "The idea of a teenage girl who dreamed of becoming a navigator—considering the abilities of her ancestors—was so appealing," explains Musker. Moana's quest to become a wayfinder also serves as a journey of self-discovery, empowering her to find her own identity – a beautiful and powerful message for audiences of all ages and genders.
Your chance to win
The really exciting part is that we have one of these DVDs to give away to a lucky Mummy Fever reader. Just follow and RT below. Ends 3rd April 2017, UK entrants only.
Want to #Win a copy of #Moana on DVD? Just RT and Follow us and @Disney_UK ends 3rd April 17 (UK entries only) pic.twitter.com/3USDRIYK9m

— Mummy Fever (@MummyFever) March 2, 2017
As featured on Superluckyme