We love birthday parties. I love organising them and the children love to party with their friends.
We've had a range of parties over the years, different themes, locations and so on and I'm sure there are loads more to come.
Our big girl turns double figures this week, so a big birthday had to be marked with a big adventure.
This year she chose one of her favourite places as the venue for her birthday party – The Crocky Trail.
The Crocky Trail is open 7 days a week until the end of October. It is described as the brainchild of Cheshire farmer, Edward Walley who designed the trail to give kids of today a slice of the magic he enjoyed in his childhood.
Ed says that when he was growing up there were neither the video games nor the worry that parents of today face when letting their children outdoors, so he was allowed to run free in the fields that surrounded his house and play games in the woods, using his imagination to have fun and play with his friends. That was the inspiration for the Crocky Trail.
The Crocky Trail provides children with good old fashioned fun and allows them to play in a way that many children simply do not have the opportunity to do so today.
It's somewhere we enjoy spending time as a family and she wanted to share that with her friends, who are all game for a good adventure and challenging themselves.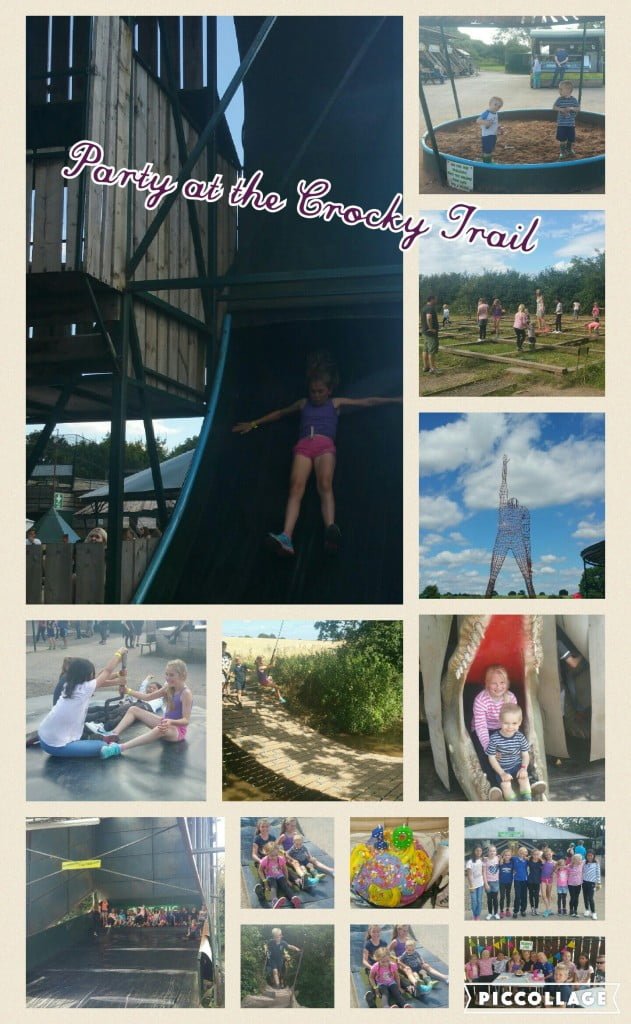 You can pre-book a party online and then just take your confirmation on the day to collect your wristbands.
They do a food option, or you can take your own food, which is what we did. If it's a hot day, don't forget extra drinks for everyone and plenty of cool packs in your picnic.
The helpful team looked after the birthday cake for us and for an additional £15 decorated a picnic area for us, which was superb and made sure everyone could have a sit down in the shade whilst they re-fuelled.
It's a real party with a difference. Lot's of parties are over after a couple of hours, but you can have the whole day at the Crocky Trail, and that way children can enjoy both the rides and the trail around the edge of the field.
Don't forget to remind all your guests to bring spare clothes and a towel for the end. They WILL get messy…and love it!