Do you want your home to look beautiful but with a little extra something that sets it apart? Adding new flooring is an easy, inexpensive way to spruce up any living area. Invictus has created the perfect solution for busy parents who want luxury and affordability – LVT (Luxury Vinyl Tile) flooring!
With their signature range of products, you can find the very best quality in affordable and child/pet friendly vinyl tiles. Say goodbye to dull wooden floors and update your home's decor instantly!
Advantages of choosing Invictus Flooring
If you're on the lookout for new flooring, you'll want to consider the benefits of choosing Invictus Flooring. This brand offers a variety of styles and materials to choose from, each with their own unique advantages. One of the biggest perks of Invictus flooring is its durability – it's designed to handle high traffic areas and is resistant to wear and tear. Additionally, many of their options are also waterproof, making them perfect for homes with pets or children. Another benefit of Invictus is their commitment to sustainability. Their products are often made from recycled or eco-friendly materials, meaning you can feel good about your purchase. Plus, the expert team at Invictus can help you choose the best flooring for your needs, ensuring a seamless and stress-free installation process. Overall, choosing Invictus flooring could be just the upgrade your home needs.
Get Affordable, Durable, and Child/Pet Friendly Floors
When it comes to choosing flooring for your home, there are plenty of options out there. However, it can be a challenge to find a floor that is affordable, durable, and suitable for both children and pets. Luckily, there are some fantastic options available. Vinyl is a popular choice due to its affordability, easy maintenance, and resistance to scratches and spills. Laminate flooring is also a great choice, as it has a tough wear layer that can withstand plenty of foot traffic. Another option to consider is cork flooring, which is not only durable but also eco-friendly and soft underfoot, making it ideal for families with children or pets. With so many options available, there's no need to compromise on style or practicality when it comes to your flooring choice.
LVT is Easy to Maintain and Clean
LVT, or luxury vinyl tile, is quickly becoming a popular flooring choice for homeowners and business owners alike. One of the main reasons for this is because LVT is incredibly easy to maintain and clean. Unlike hardwood or tile floors, LVT does not require any special cleaning products or techniques. Simply sweeping or vacuuming followed by a quick mop with warm water and a mild cleaner is all that is needed to keep your LVT floors looking like new. Plus, LVT is resistant to scratches and stains, making it a great option for high traffic areas or homes with pets and children. With LVT, you can have the beautiful look of hardwood or tile without any of the hassle.
Discover the Variety of Designs and Finishes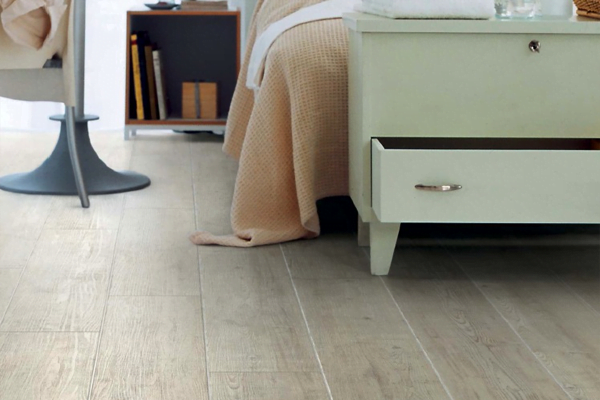 When it comes to designing a space, choosing the right finishes and designs can make all the difference. From sleek and modern such as, herringbone flooring, to rustic and natural, the variety of designs available ensures that you can create a unique look that suits your personal style. But finishes aren't just for aesthetics – they also serve functional purposes. For example, a gloss finish can make a room feel brighter and larger, while a matte finish can create a cosy and inviting atmosphere. Whatever your preferences and needs may be, exploring the range of designs and finishes available can lead to exciting new possibilities for your space.
Why Invictus flooring is the correct flooring choice for you.
As you have discovered, Invictus Flooring provides endless advantages when it comes to brightening up your home. Whether you are interested in LVT, which is perfect for those wanting extra durability with low maintenance included, or something far more traditional such as hardwood flooring, Invictus aims to meet the needs of even the most particular homeowner.
Additionally, their commitment to offering child and pet friendly flooring that is both affordable and stylish is unmatched. So what are you waiting for? Discover why Invictus should be your destination for luxury flooring by visiting Floorbay.co.uk