Playing dressing up has been a favourite pastime of children for the longest time. We were all kids once so we all know the delight of being able to let your imagination run free. You could be whomever you wanted to be and do whatever you pleased. There were no limitations to where your imagination could take you! The joy of being a child is exactly this, being free. They'll spend long enough being restricted when they are older, let them be free as long as they can.
There are so many characters out there between Disney, Pixar, Marvel and DC that it's hard to know where to begin to look for the most realistic costume and, let's be honest, the best quality one. You need a costume that can handle the rough and tumble of kids playing superheroes or the twirling princess that gets their dress caught on everything.
M&S have a collection of children's character clothes that will keep even the fussiest Queen or the angriest Hulk satisfied. Their bestsellers are the Spiderman and Iron Man outfits, complete with masks and made with 100% polyester so easy to wipe clean leaving them to save as many imaginary villains as they like. You can even save money while they save lives with M&S vouchers online.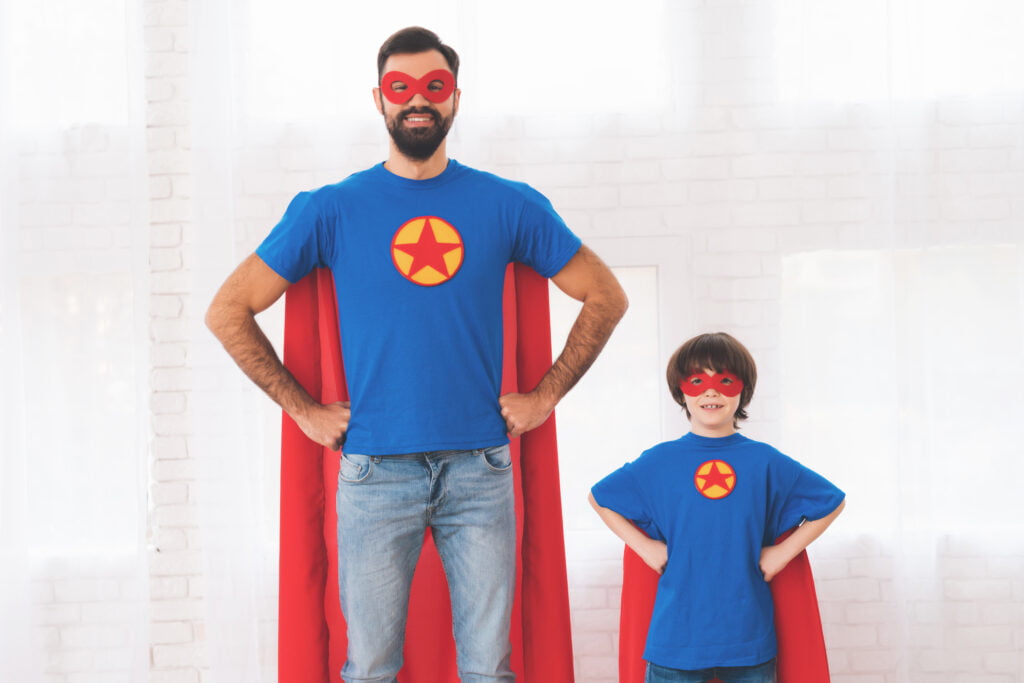 If you would like them to actually take the costume off to sleep at night and they refuse, perhaps you could entice them with the selection of superhero pyjamas. They come in 100% velour or cotton to keep them warm and cosy at night but still in superhero mode. Even Batman has to sleep at some point.
One store that won't let you down in its collection of superhero costumes is the Disney Store. They have everything from the essential Elsa costume from Frozen to the classic Spiderman. Spiderman's costume is made of polyester so it's easily wiped down and we all know how important a feature that is! This costume comes with the classic mask and gloves.
If you really want to help them channel their inner spidey senses, there is a Spider-Man talking feature mask. The moulded mask features a 3D web detail, mesh eyes and plays Spidey sounds. There are also gloves that light up to mimic the famous webs that shoot from his wrists. The Hulk and Captain America and his famous shield are available too.
Matalan of course has the necessary Spiderman costume, which is a firm favourite with all. It's amazing really considering how many children are afraid of spiders yet have no problem dressing as a human with giant spider skills! They also have one of the newest and most powerful of superheroes, Black Panther. Captain America is ever present in their collection too. Their costumes are for superheroes from the ages of 3 to 9 and are a bargain price of just £16.99. The costumes are 100% polyester and sponge clean only. Why not throw in a pair of Spiderman wellies too so even if it's raining, they can still be superheroes.
Tu at Sainsburys has a fantastic collection of costumes. Spiderman features heavily as is the trend. They also stock Captain America and The Hulk in the classic 100% polyester material that we know and love. Their range of Marvel costumes starts at a fantastic £15 and is suitable for ages 2 or 3 up to 10. Marvel's Guardians of the Galaxy Rocket Racoon and Groot Green are there to mix it up. Not everyone wants to be an arachnid!
H&M were not to be left out when it came to superhero costumes. They have our dear friends Spiderman and The Hulk. Flash Gordon and Legos's Ninjago Green Ninja are also available. These costumes are available for kids from ages 3 to 10 and are all polyester so (you guessed it!) easily wiped clean.
George at Asda has an impressive collection of superheroes. They actually don't have Spiderman but we don't think you will have trouble finding that one… They have convincing Iron Man, Captain America and Black Panther costumes along with so many other beloved characters. The one that impressed us the most, however, was the DC Comics Wonder Woman. For many other shops, they may just have girls dressed as superheroes or else just princesses but this was the only female superhero around. So, hats off to Asda! If that's not their thing perhaps a Batgirl costume for every hero at heart.
Playing dressing up isn't all just fun and games. Rudolf Steiner, the founder of Waldorf Education, always stressed the importance of allowing children to be imaginative as he believed that it was the key to creative thinking in adults. They develop various skills from this seemingly simple act including problem solving and empathy as they have to put themselves in the characters' shoes, literally. In addition to that, it helps with physical and cognitive development as they have to try and close small buttons or use a wand or sword. So, it's good, clean and educational fun!