The rise of the trampoline parks
The rise in trampoline parks in the UK seems to have happened almost overnight. They are everywhere. More and more seemed to have popped up near us in the last 12-18 months.
More recently, many have been plagued by bad press, following accidents and incidents with people being injured. We've heard stories of broken backs and broken legs and trampoline parks being sued left, right and centred.
Safety first
Obviously there are safety considerations with these things, so make sure if you do head to a trampoline park, that they have the correct safety features in place and don't bounce without listening to the safety briefing.
Just being sensible and aware of other people goes a long way to staying safe, but obviously if you have big reservations about it, the solution is simple – don't bounce!
Family fun
Trampoline parks are a great way to spend an hour of active fun time with the family. We love it because it is something that the six of us can do together. There are so many other things where either someone is too big or too small and we can't all join in.
It's a great way to get some exercise, if it's a bit grim outside and you don't fancy a family walk or bike ride, this is a great alternative.
Oxygen Free Jumping
Oxygen Freejumping is the UK's number one trampoline park operator with 6 parks across the UK and many more planned for the future.
The parks are fitted with the latest and best in trampoline technology to ensure that every visitor leaves with a spring in their step. They pride themselves on the diversity of features and activities that they offer at the parks, with 10+ different jump zones for visitors to explore and enjoy.
They host a range of activities, from Freejumping, Parties with a dedicated host, the School of Trampolining with British Gymnastic qualified instructors to take your moves to the next level and Fitness Classes, so you can exercise with a smile. They also have special parent and toddler sessions (although little ones can still attend the main free jumping sessions with other family members).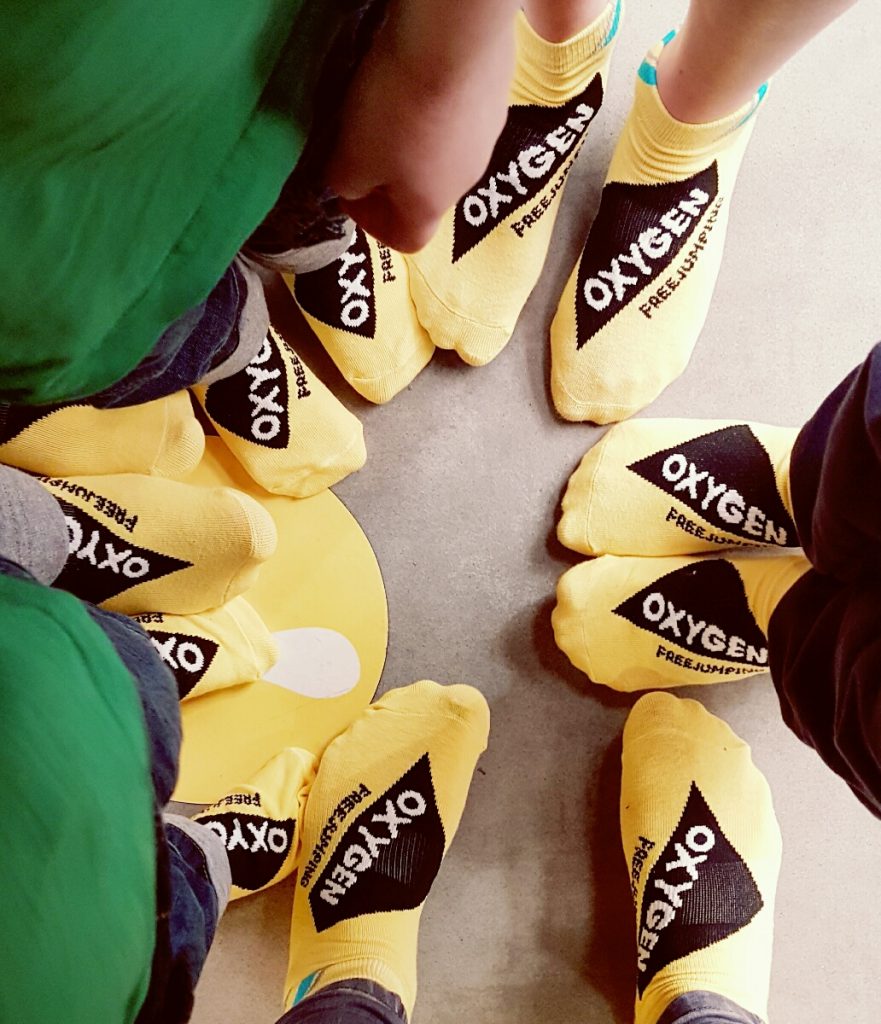 Of the trampoline parks we have tried out, Oxygen is the the park we have been the most impressed with by far. The Manchester park was spotless, the staff on site were efficient, attentive, helpful and friendly and the range of areas was impressive, with lots of different jump areas.
It was at around 50% capacity when we were there. There seemed to be lots of space, it did not feel crowded and much of the time you could bounce without being even close to anyone, despite a number of parties taking place that day.
Free lockers and free parking assist with the overall experience as things like that simply remove the hassle factor away from parents. There is a lovely cafe on site and it has a great view of the trampolines.
Our only real criticism of the park was that the safety briefing was a little half-hearted, most people in the room weren't listening and you couldn't really hear the video over people talking. This should really be improved to ensure everyone is aware of the rules before they bounce.
Have you visited a trampoline park? Did you have fun?