I keep seeing countdowns to Christmas everywhere, so I've finally given in and started to put together a Christmas gift guide. I don't know about you, but there are always some people I find it really easy to buy for and others I struggle with each year. I've put together a bit of a round up of some ideas to get you started if you are struggling this year.
Before we get into buying gifts, how do you set the scene for Christmas and gift giving with your children? You no doubt have Christmas traditions unique to your family, like many families do. Have you considered a personalised letter from Santa? How would your child react if one landed on the doorstep during December?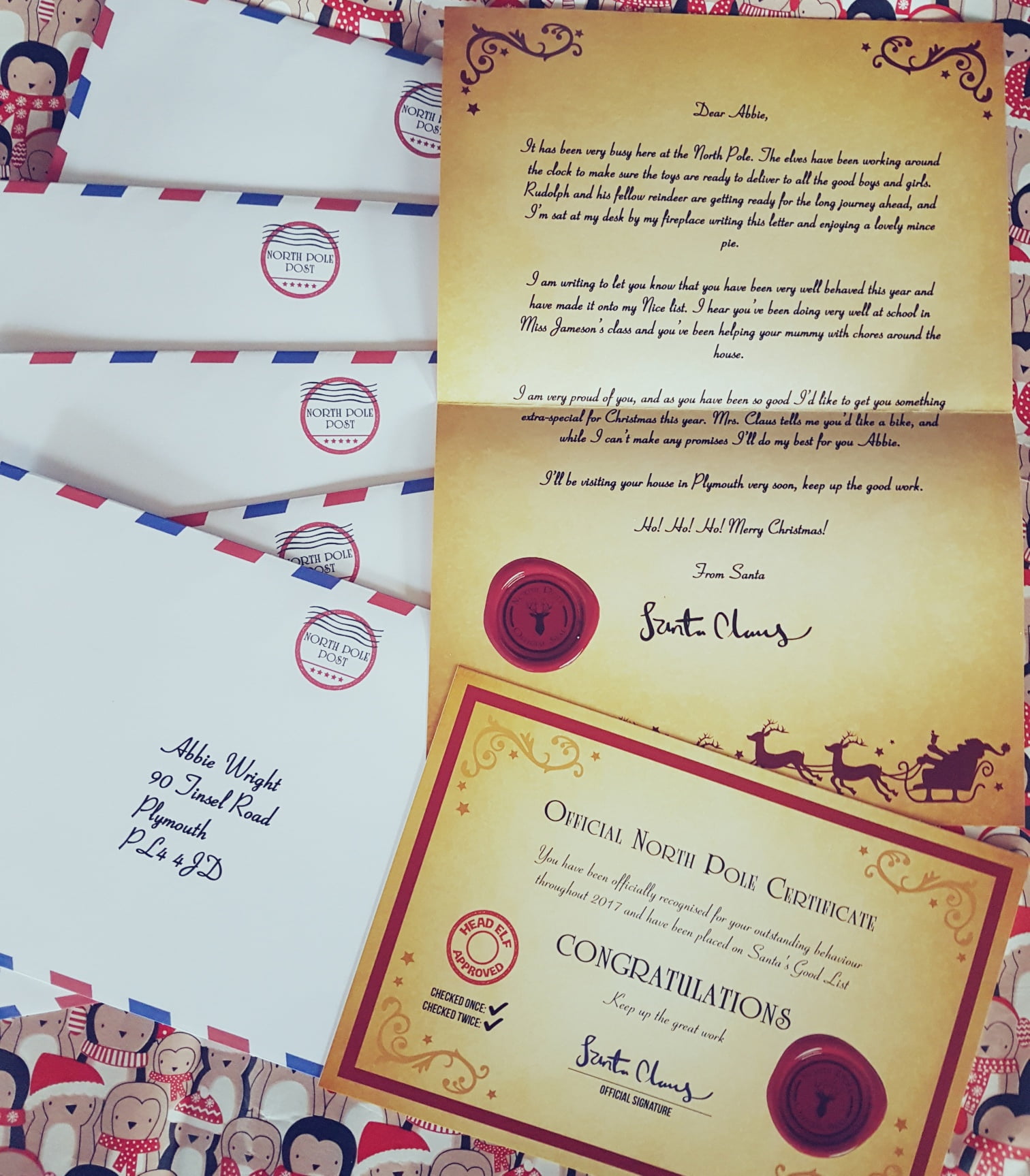 Real Santa Letters is the place where the magic begins. Just pop over to their website and in a few minutes you can create a fully personalised letter from Santa for your children. It's the little things like this with that personal touch that can really make Christmas special I think.
The letters arrive in a special envelope addressed to your child. Inside they will find their letters and a certificate informing them they are on the good list. You might want to delay giving it to them of course if you are debating their place on the good list!
You can add the child's name, age, and a whole host of special things about them, or perhaps mention achievements for the year or things they have overcome. This facility makes the letter so much more meaningful.
For a parent or grandparent
If you know a parent or grandparent who travels a lot then why not get them one of these gorgeous travel pouches with matching eye pillow? One of these would make a stunning gift and the eye pillows smell divine!  These are by Laura Felicity Design.
If they aren't into travelling, check out the products anyway as these bags make great make up bags.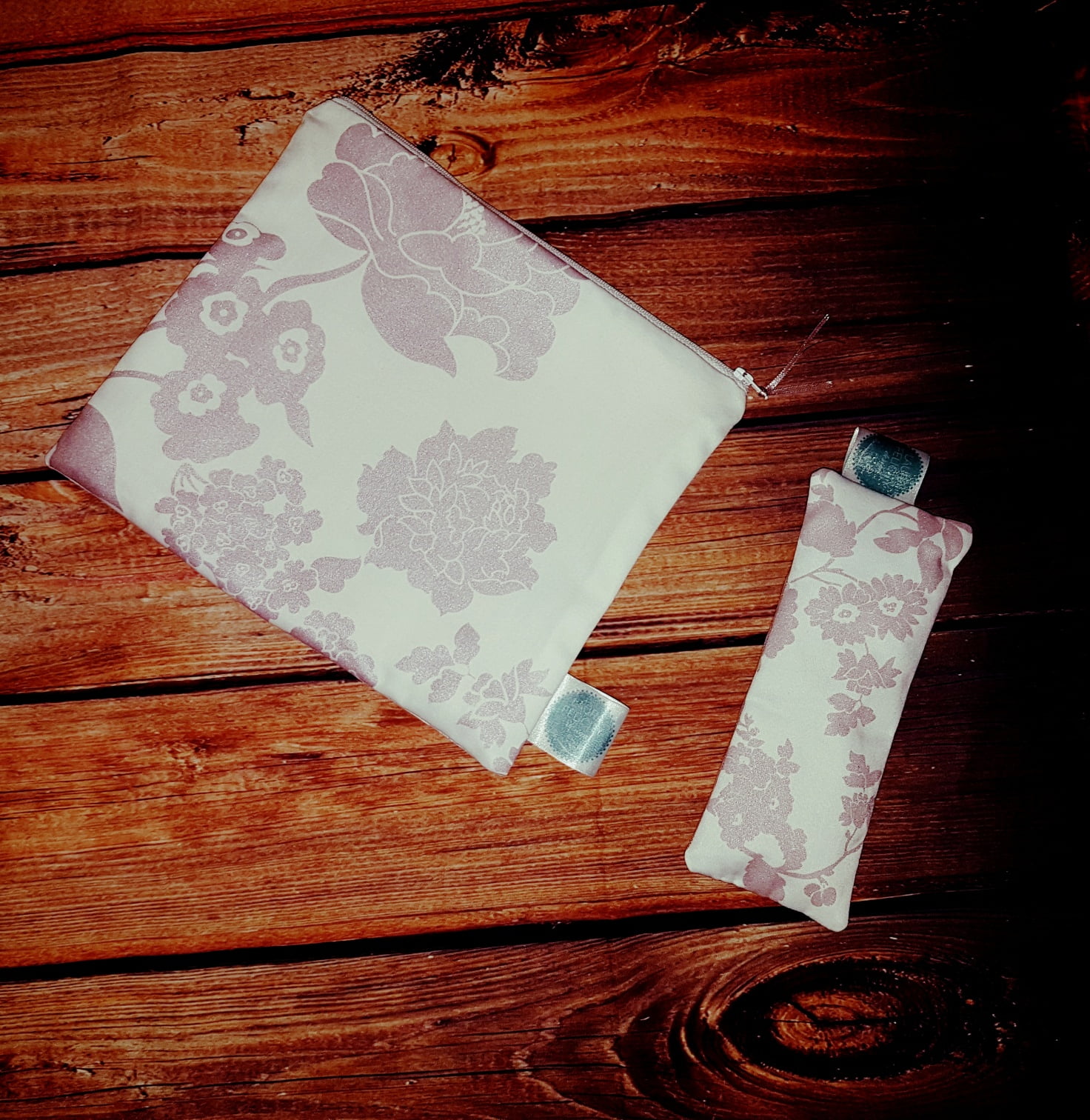 Do you know someone who likes their feet being cosy? Do you have a relative that is always cold and can never seem to get warm? What about getting them a pair of Woolenstocks? Each pair of Woolenstocks brings unique stories from all over the world. Every pair is crafted with love, time and skill to give you comfort and restore you – ready to dance again. Each pair of Woolenstocks also means a valuable income for the female artisans who make them.
Most of the designs are a little bit 'out there' but that's sort of what makes them unique and if you know someone who likes bold designs they will be right at home in a pair of these.
There are even a few children's designs as well if you want to get something 'different' for your little one.
Perhaps you know someone who loves gardening and who is a little green-fingered? If so, you could consider buying them the Woods of Windsor Gardeners Hand Collection that has just launched.
The collection consists of a hand scrub, hand cream, hand balm and hand wash. The range is infused with the refreshing fragrance of Blackberry & Thyme, combining green tea and ripe blackberry with a heart of rosemary, thyme, mimosa and white jasmine enhanced with musk and amber – it's lush!
Even the most green-fingered, hard-working of hands will be restored after this!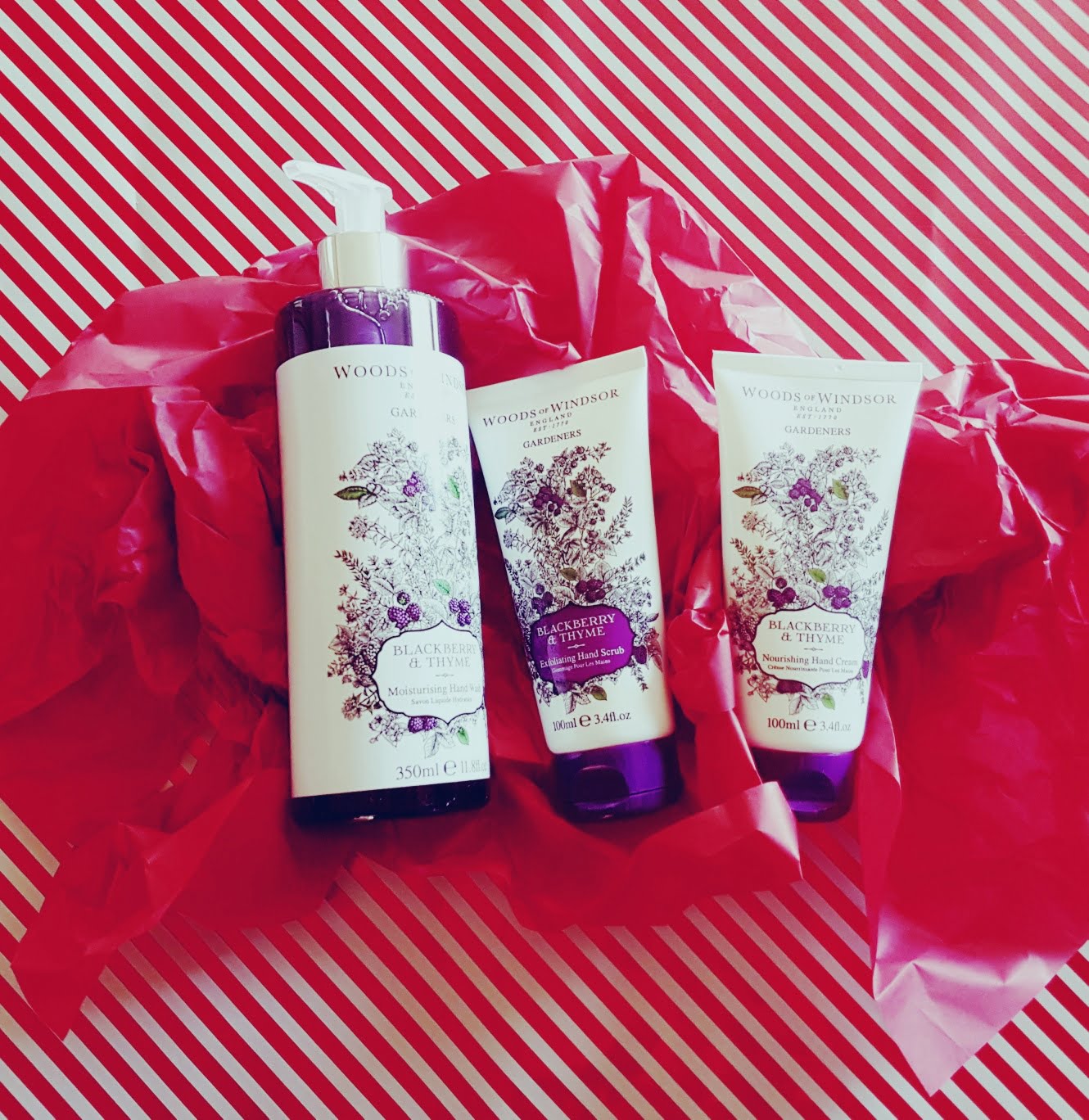 If you know a parent or grandparent who likes being in the kitchen and who is trying to encourage the children, you could give them a copy of this charming new book.
The co-creators of CBBC's I Can Cook have come up with 'The World In My Kitchen', a fun and engaging way to get your kids involved in the kitchen whilst broadening their minds as they explore countries and cuisines to try for themselves. This cookery book offers a whistle stop tour of the world as it transports kids thousands of miles away with the fresh, healthy dishes of different lands.
With charming maps, interesting facts, health benefits of various foods and glorious photos that put the dishes in their home contexts, e.g. Spain makes almost half of all the olive oil used in the world as you learn to cook a baked prawn paella which originates from Valencia! Each recipe has step by step instructions that children can follow easily, and simple serving suggestions to make the meal look fantastic.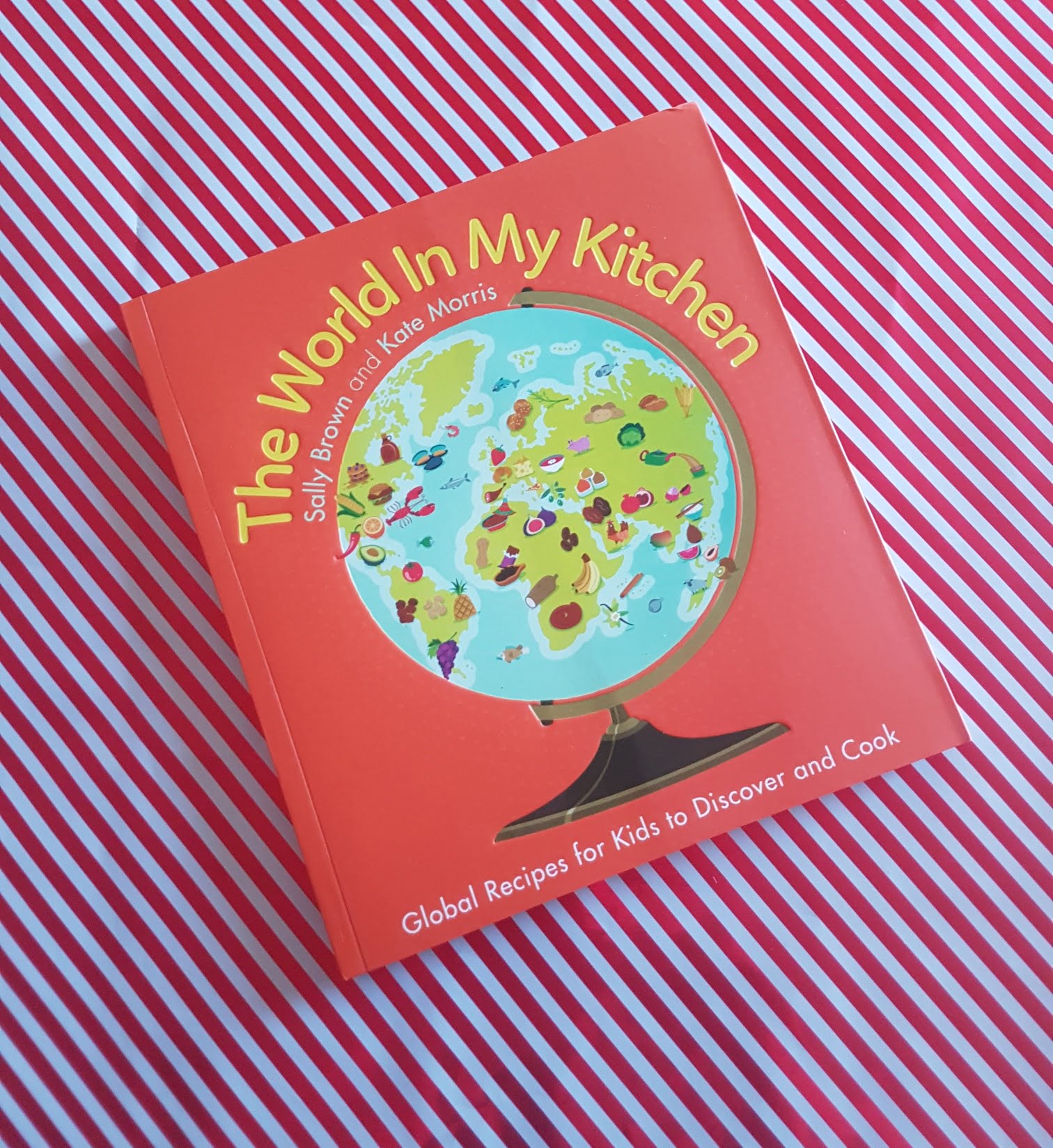 For a mum-to-be or new mum
When you are expecting, or a new mum it's lovely to get nice things that can help to restore you a little on those extra tired days. Mums often don't get much time to pamper themselves, so when they do, it's nice to have some really good products to hand.
Mama Mio was a brand I came across during my first pregnancy. It hadn't been out long at the time. The products seemed very expensive but when I did treat myself to a couple, I loved them.
The brand seems to have had quite a re-vamp since then, and of course added lots of new products as well.
If you do have a mum-to-be or new mum to buy for this Christmas and you want something a bit special, I would really recommend you look at the range. There is something for every mum as there are products for sore boobs, stretch marks, tired legs, the face and so on. These can be used during and after pregnancy. There are also gift packs of things if you want something pre-made.
Their lucky legs product is one of the best I think, it really helps deal with all the extra blood and fluid that builds up during pregnancy. The spearmint in it is really uplifting as well.
No mum is going to turn down the tummy rub and a good facial spritz can be really handy, especially if you are pregnant during the summer months. Try popping this in the fridge, it will be extra refreshing.
Every new mummy likes to smell nice and in the early days there can be a lingering smell of milk and sick in the air. Most of the time that's your signature scent, so why not treat her to some of these nice body mist bottles from Yardley? Easy to use at home or pop in a change bag when out and about – she will love you for it!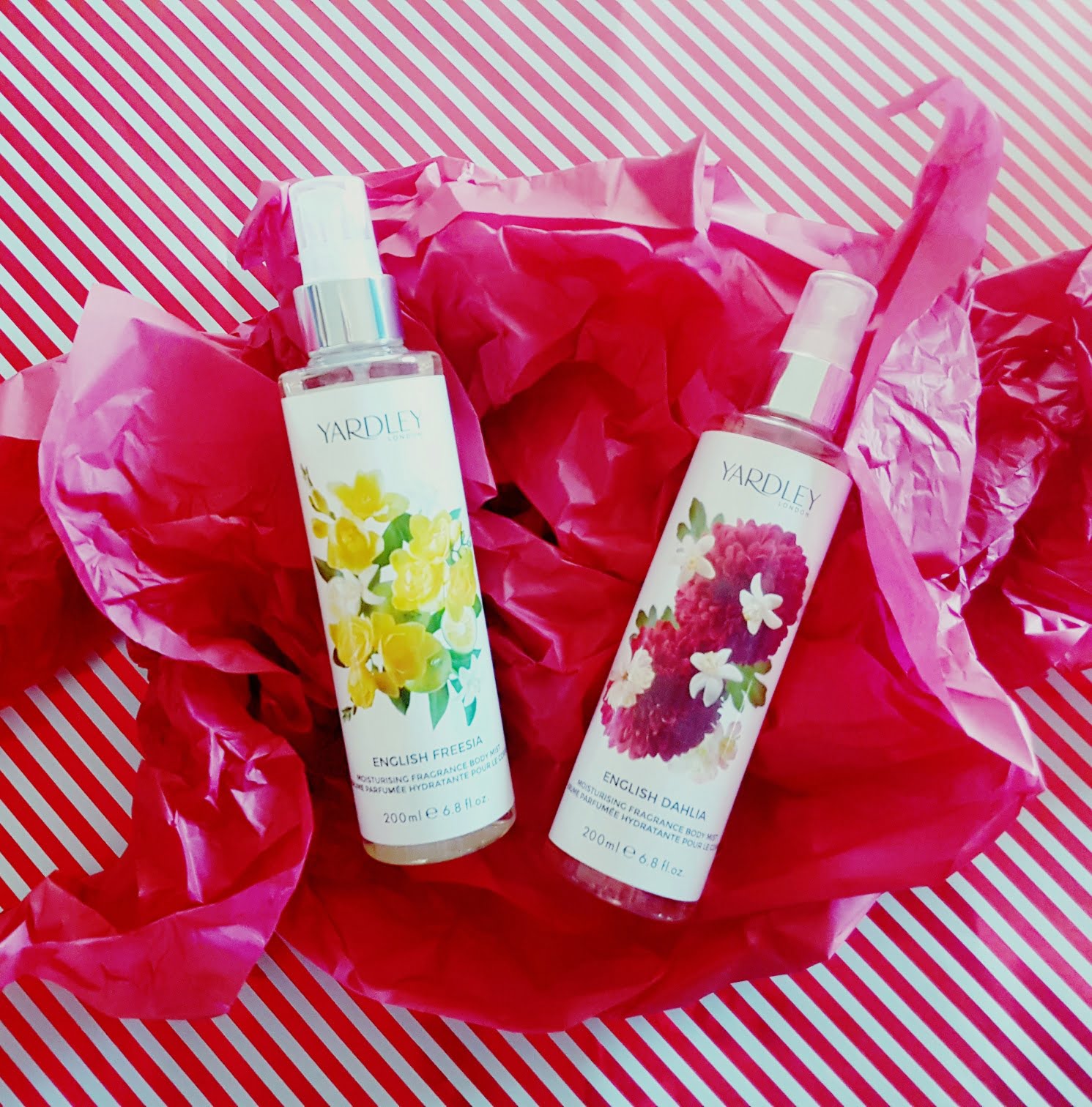 Yardley also have some lovely Christmas sets ideal for a new mum or mum to be. Hand cream is a great gift for a new mum as you spend so much time washing your hands they can get sore and dry. You could get them the English Rose Hand Cream Cracker perhaps?  Or maybe a Moisturising Fragrance Mist Set, which will leave their skin soft and scented.
If you want them to feel really pampered you could give them a lovely Quenching Mineral Mask from Vichy. This will leave skin feeling soft and refreshed and banish any dehydration.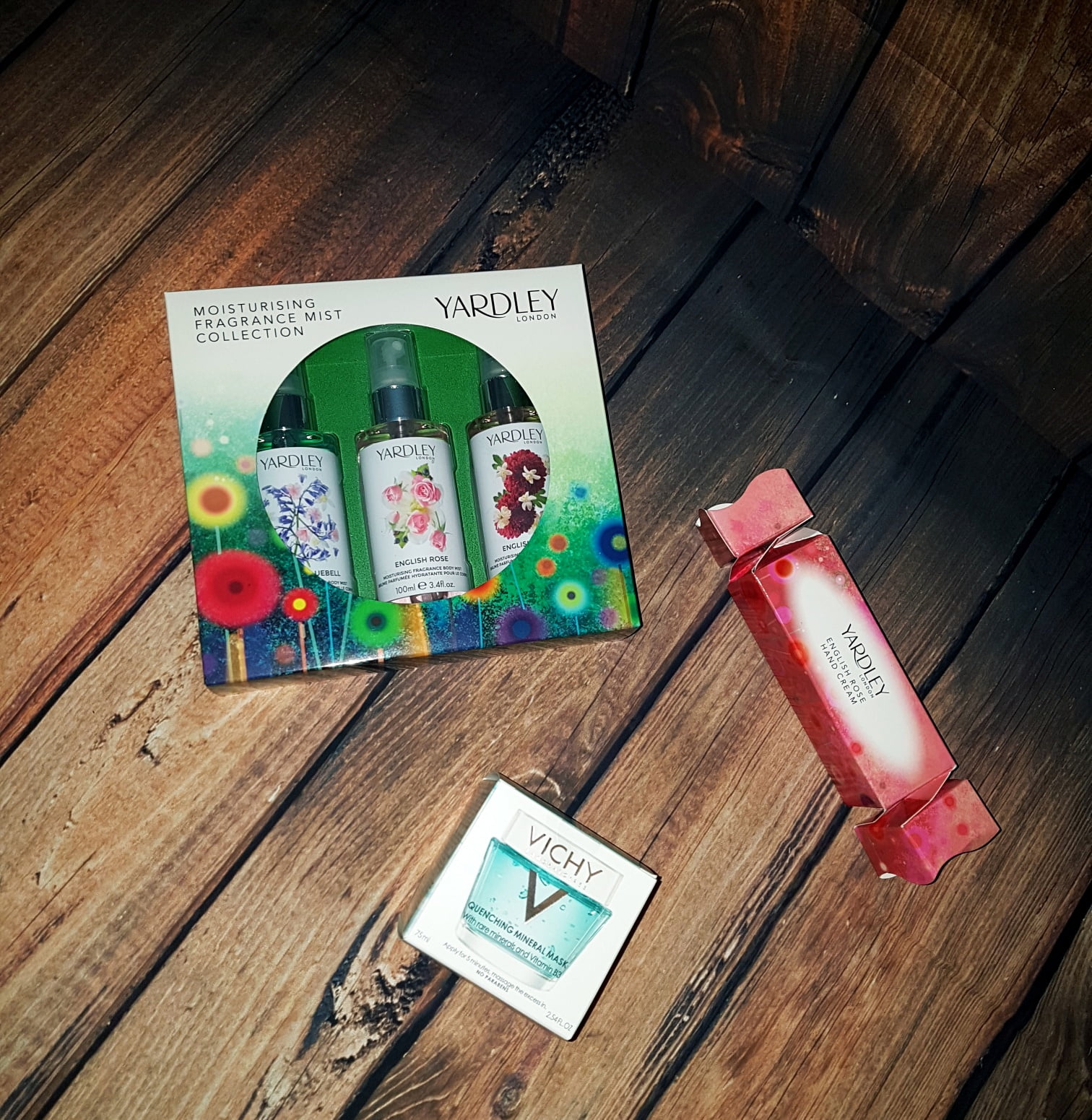 A  lovely gift for a mum-to-be would be this beautifully written and accessible book "Your Happy Child". It is a guidebook for parents to help them repair or maintain their relationships as a family or specifically with their children. Written traditionally but in a way we can all relate to and with particular influences drawn from uniquely, blending the up-to-date theory of positive psychology, neuroscience, and holistic practices.
Although equally useful for parents who have been 'in the game a while', this is a lovely book to help you understand parent-child relationships before you get there. A new parent could use this as a prevention tool and a way to gear them up for the role of being a parent.
The author's specialism in well-being and therapeutic work shines through in this book – a super tool for all parents!
For the kids
It can be so overwhelming trying to choose Christmas gifts for your children, especially if they haven't asked for anything specific. Portable toys are always a good bet at Christmas, especially if you are travelling or visiting family.
Pass the Pigs is a great game and you can now get the original travel version and this inflatable version too. Every little one loves a little friend to take with them, and now you can get this Sing-Along Mr Tumble plush. Little ones will enjoy watching and listening to Mr Tumble sing and move to his iconic 'Hello' theme song. Press hand to activate and enjoy singing and dancing with Mr Tumble. Brightly coloured, a great toy for all Mr Tumble fans and what's more it encourages hand eye co-ordination and sound recognition.
For toddlers, we are loving the Cat Buildin' Crew E-Z Machines® R/C- You are never too young to start playing with a Remote-Control vehicle. Designed for toddlers, the single button activation allows the child to drive the Cat machine forward when pressing the button or watch it spin in circles when released. Little ones can get quite frustrated with complex controls but these are ideal. There are two fun characters to collect including; Haulin' Harry™ and Rugged Randy™. Ages 2+ priced at £16.99, and available from SMYTHS, The Range, Toymaster and Debenhams. These are a great introduction to RC cars.
For babies, through to toddlers what about My Pal Scout or Violet? Aimed at children six months to three years, this cuddly toy is also a great learning tool. It will introduce children to words, counting and feelings though 14 activities. Both adorable friends come pre-loaded with five songs and parents have a choice of over 30 more lovable learning songs to personalise their child's puppy pal with.
With super-soft fur and five touch points that respond to every touch, My Pal Scout and Violet encourage children to interact and lead the way in learning and nurturing activities. The cutest part though…you can programme them with your child's name! Adorable! Available on Amazon, or from Smyths, Toys R Us, or Argos. This will be a firm family favourite in no time.
For slightly older children who love construction toys you can get the Cat Machine Maker™ Junior Operator – This line of Build-It-Yourself construction sets come equipped with all the pieces needed to build your favourite Cat machine! Very cool! The machine operator figure is included and fits into the driver's seat. Each model includes a chunky screwdriver and resuable carry case for storage. There are 5 models to collect; Excavator, Dump Truck, Bulldozer, Service Truck and Wheel Loader. Ages 3+ Retail price £11.99, available from Hamley's Morrisons, The Range, Toymaster an SMYTHS. With the carry case, these are easy to pack gifts and can be built over and over again.
If you have small children who like to join in with the older children and like to think they can be a bit more grown up when it comes to toys, what about My First Scalextric? A great introduction to the world of Scalextric racing for kids 3+, featuring an easy-to-assemble figure-of-eight track.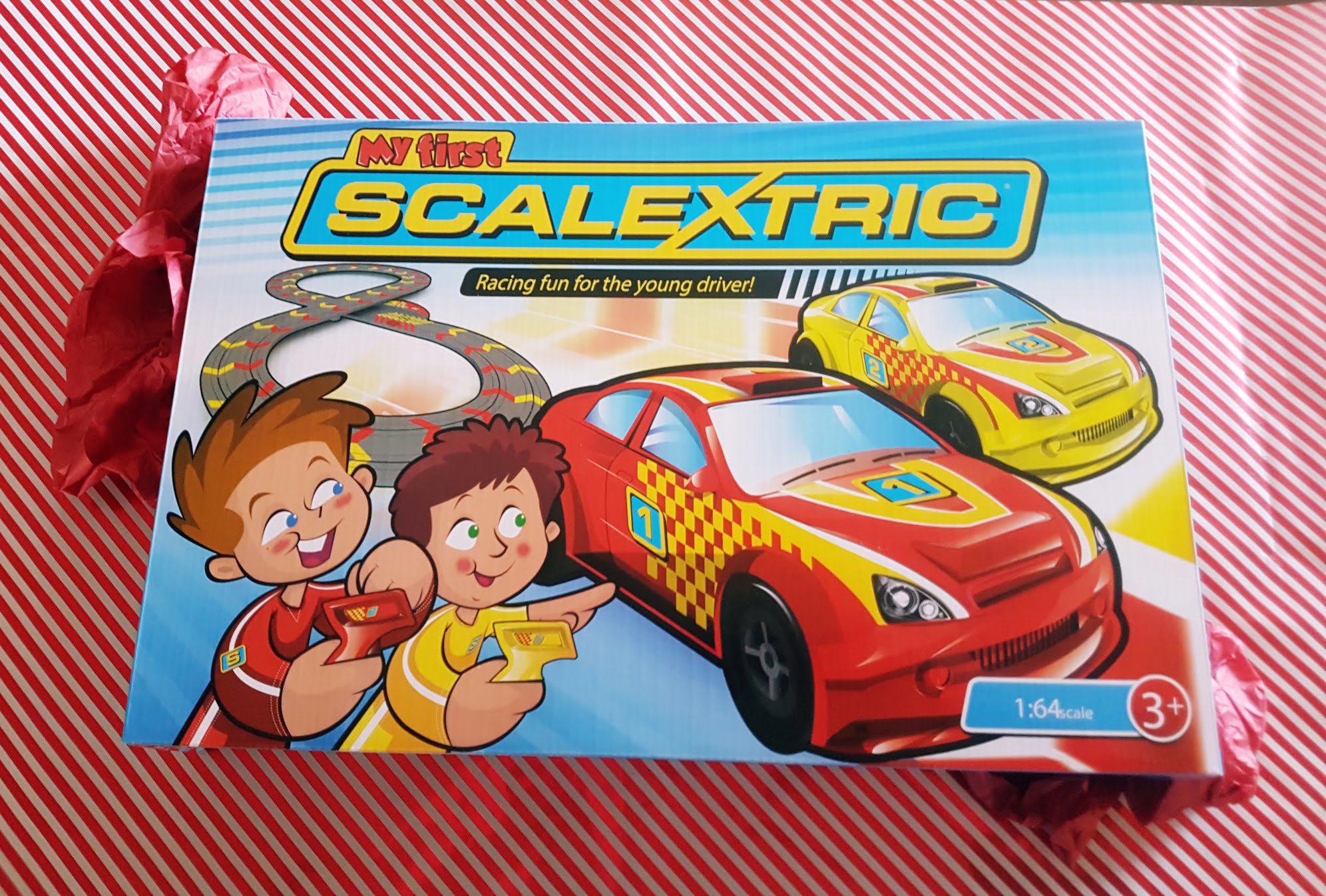 The two rally cars and adjustable power hand-controllers are colour coded in red and yellow to match chevrons on the circuit. The Magnatraction technology helps to keep the cars on the track, and variable hand-controllers allow the speed of racing to be adjusted depending on skill level.
My First Scalextric is fully compatible with the Micro Scalextric range of sets and cars, allowing you to extend your track and add new cars – the possibilities are endless! Priced at £39.99, this would be lots of fun on Christmas Day!
For children over the age of six there is a brand new collectable, Havex! Race. Transform. Battle…! Race your micro car into the battle pod and watch it automatically transform into an awesome land, sea or air vehicle, Havex Machines are here to #wreakhavex.
There will be seven unique vehicles to collect throughout the year, four of these launched in August including; Combat Bot with its advanced weaponry and powerful armour, Strike Chopper, which is perfect for attacks needing heavy firepower and the ability to avoid enemy fire. Lightning Sub is a mighty defence against a coastal attack. With its speed and firepower, Sonic Jet is the best at battlefield recon!
Priced from £11.99 and available from Toys R Us, Smyths and The Entertainer, kids will be able to #wreakhavex with Havex Machines. Although these are recommend for ages six and above, with supervision younger children could play with them. Ideal if you have more than one child of a similar age as they can play together.
If your children are into action figures you could pick up one of the new Ben 10 Deluxe Power Up Figures.
These are £17.99 each and each figure comes with it's own interactive features that allows your alien to get a burst of energy. The more you press the button, the more they power up. Or, little ones can hold down the button for an alien blast. There are three figures to collect and each character has unique phrases.
Ben 10 is the ultimate kid superhero. To celebrate the launch of these new toys just look out for the Ben 10 stand in all good toy shops. If you snap and share #ItsHeroTime you can be in with a chance if winning £100 Or Ben 10 prizes.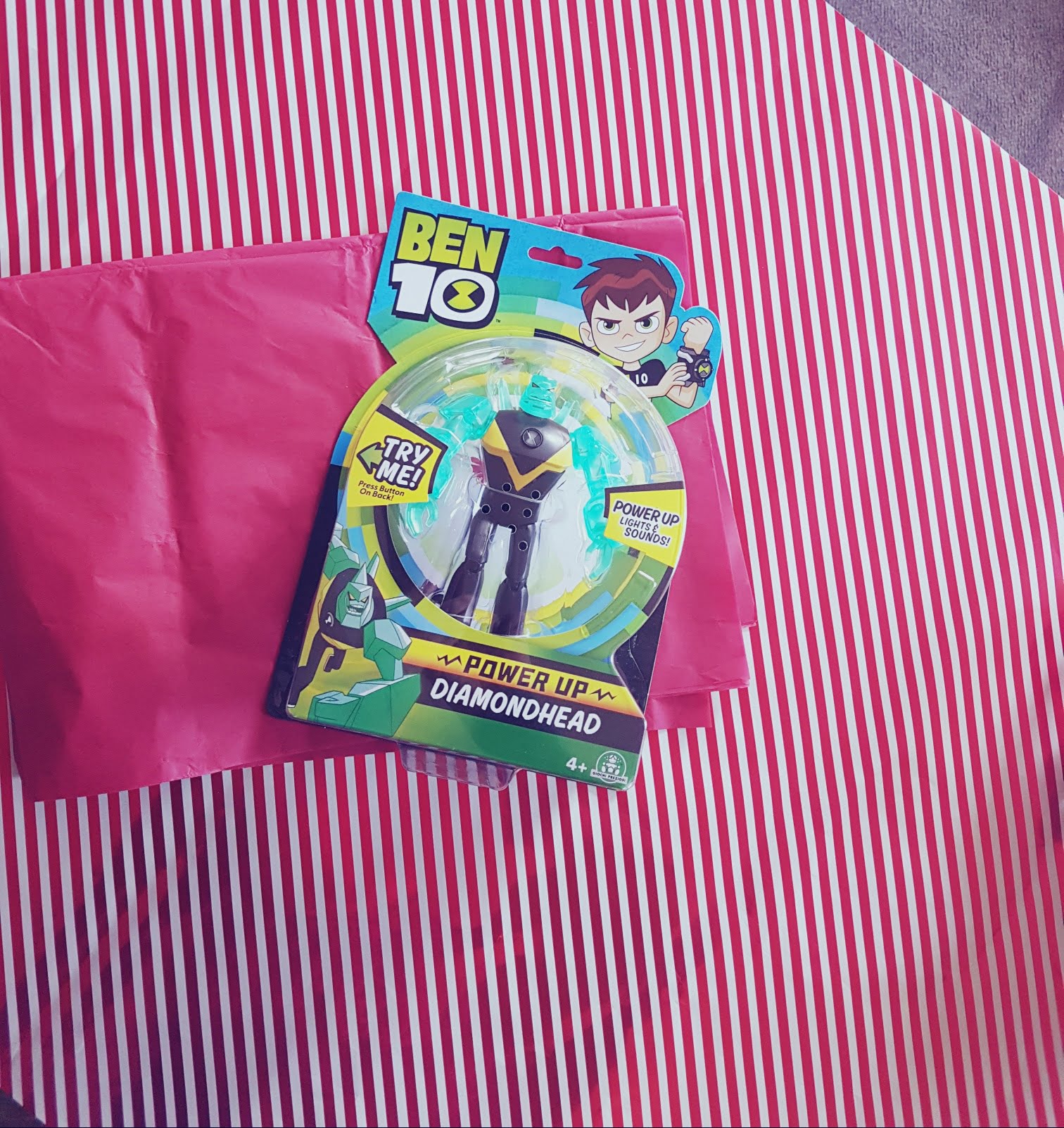 If you have any PJ Masks fans in the house, like I do (3 of them) this game is a must this Christmas. Work together as the PJ Masks to stop the mischievous Romeo from stealing the city's toys. You'll be flipping between daytime and nighttime, gathering and uncovering clues, but get ready, once the sun goes down, put on your masks and discover Romeo's plans! Use your memory and teamwork to save the day!
Ideal to play with siblings and friends, this will test their skill and imagination and keep them happy and in character for ages! One of the best games I've seen in ages.
If you are looking for educational learning games for your children, Orchard Toys are a must have this Christmas. They are adding to their wonderful selection all the time. We have tons of these already and the children love them. The Post Box game is a favourite, as is the Gingerbread Man game, but this year we are going to try out Slug in a Jug, for making silly sentences and rhyming pairs. I love how playing these games is so much fun but the children are constantly learning without even noticing. The other Orchard Game we love is Dotty Dinosaurs, superb for teaching colours and shapes!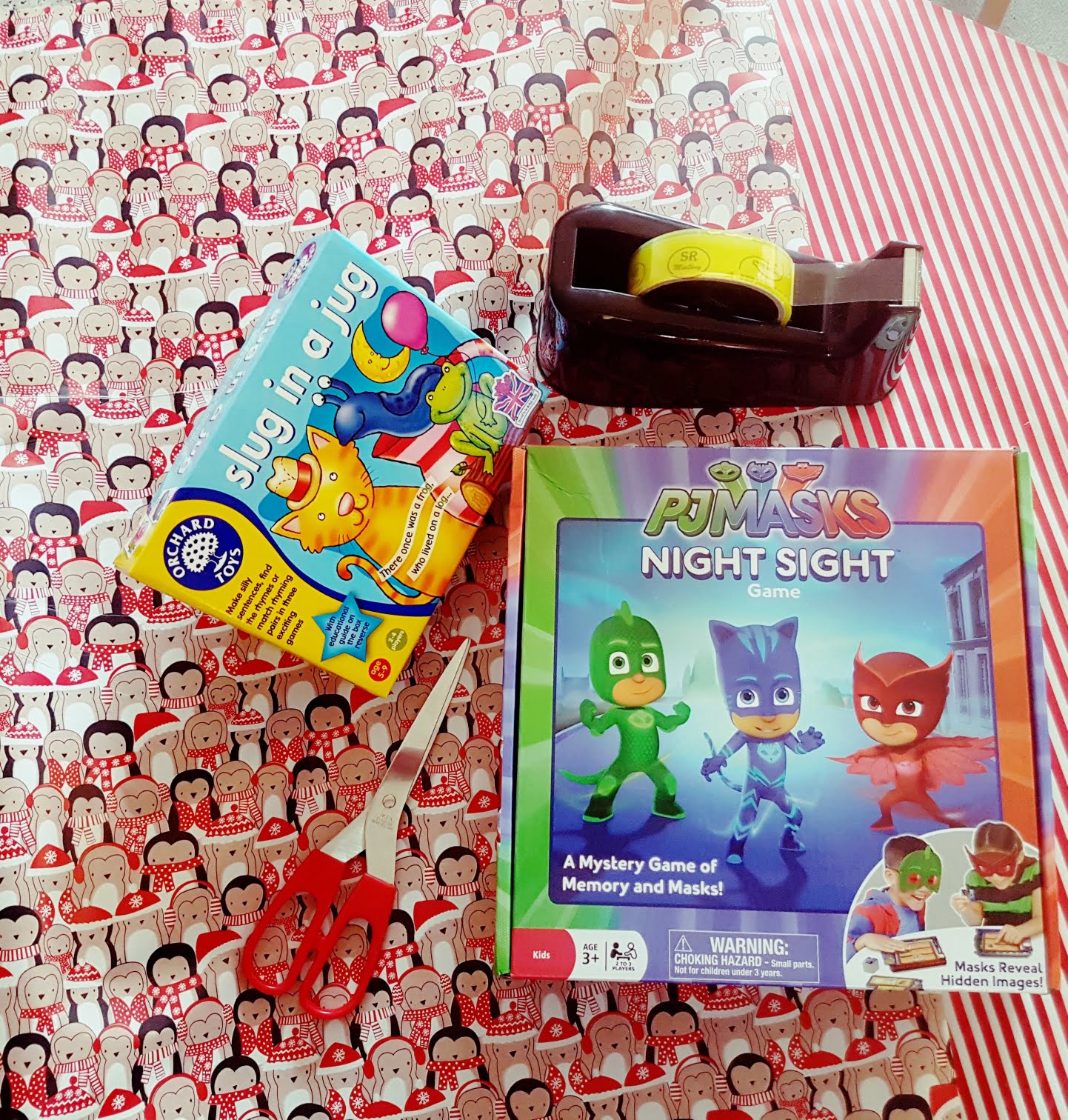 If your children enjoy battle play what about these little guys and gals? The fresh new take on little green army men raises the bar by infusing battle and game play with 100 unique characters to collect in Series 1, including four super rare figures in the green army and the blue army.
Each has their own expression, you can find the likes of Sgt. Juliett and Major Zoomie to collect, each boasting different stats – who can build the strongest troops to win the battle?
Awesome Little Green Men come in Blind Boxes, Starter Packs and Deluxe Battle Packs, with Battle Packs containing everything you need to start your mission. Fans can even join the troop too with their very own dog-tag for each character and a new recruits collector's sheet to track your collection.
Prices range from £3.99 to £24.99 depending on what you purchase. Each figure comes with Dog Tags to enhance the role play – who can build the strongest army?
These are available to buy in Smyths, Toys R Us, and Tesco.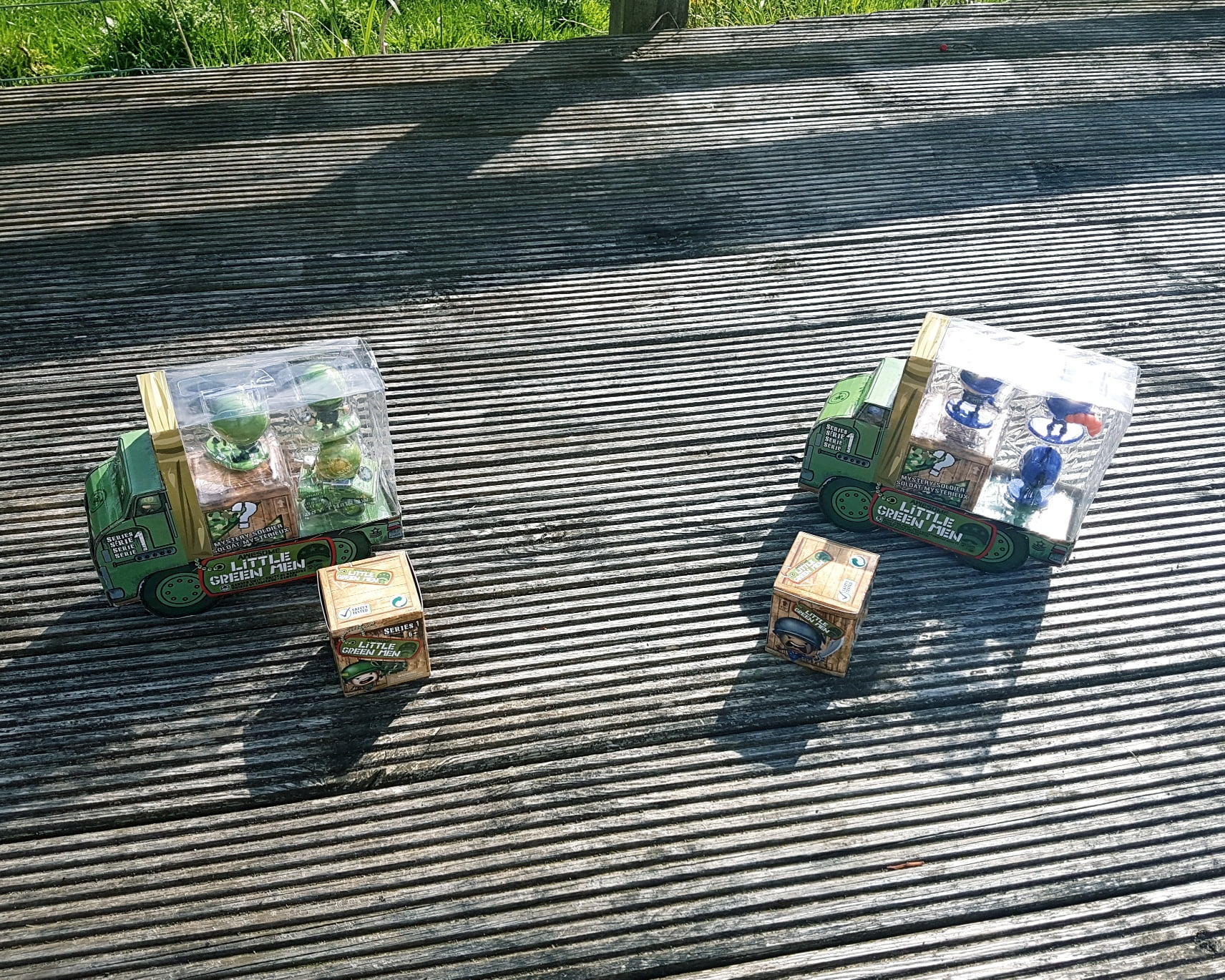 Is your child learning to swim? Fancy getting them something a bit different that could help? Olympic swimmer Rebecca Adlington has teamed up with 'Baby Annabell Learns to Swim' to reveal her tips on giving youngsters confidence in the water.
Rebecca Adlington says: "Learning to swim is an important milestone, helping to instil confidence from an early age as well as being a really fun bonding experience between a parent and child. If your little one is nervous it can be a challenging process – expect plenty of tears and tantrums, however initial fears can be overcome by slowly building confidence and trust."
Babbling happily, the Baby Annabell Learns To Swim doll splashes, moves her arms and legs when she comes into contact with water, and floats on her back. Set to be a must-have toy for Christmas, the little water baby includes a towel and inflatable water wings with cute sheep design – we love this idea, anything to help children build confidence in the water!
Baby Annabell is the no.1 selling large doll brand in the UK. Promoting imaginative role play, Baby Annabell encourages the development of key nurturing and social skills from a young age.
The doll is priced at £49.99 and available from all good toy stores.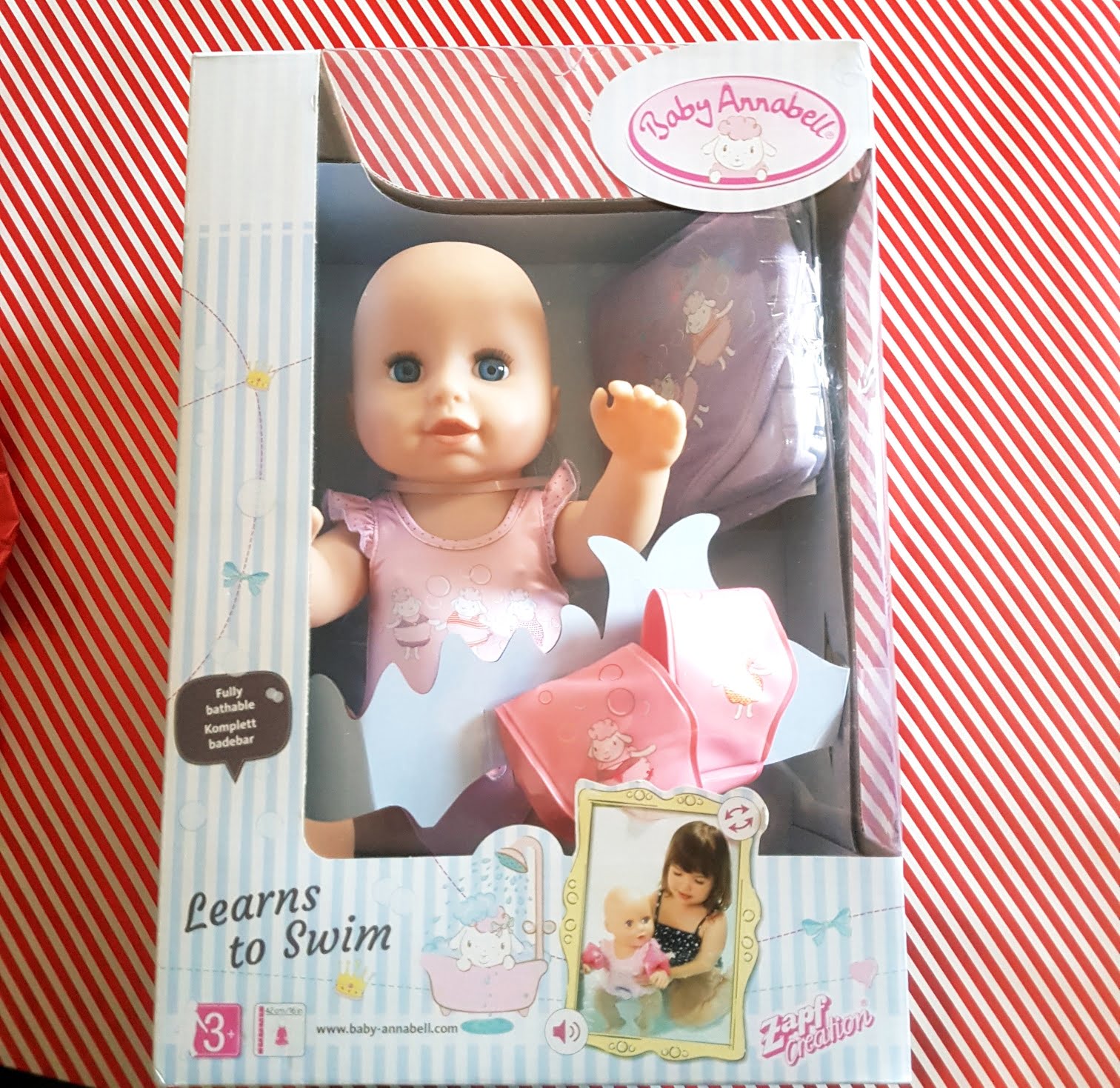 Do you long to bring your children new experiences? Perhaps you have a dinosaur lover in the house – imagine if you could take their creative play with plastic dinosaurs and turn it into virtual reality. Imagine how amazing that would be, how educational!
Utopia 360° 4D+ Augmented and Virtual Reality bundles are super fun and provide a sensory experience that makes learning come to life. Each bundle – Animal Zoo, Space Exploration, and Dinosaur Experience – includes a VR headset, a deck of AR flashcards and is jam packed with fun and educational features. Get a glimpse for how awesome this toy really is through the video here.
You can get these on Amazon for £39.99 at the moment – a very cool Christmas present indeed!
Who doesn't want to see dinosaurs come back to life? To see how they move and what they looked like? This is as close to time travel as we might get. Never mind the children, grown ups will LOVE this!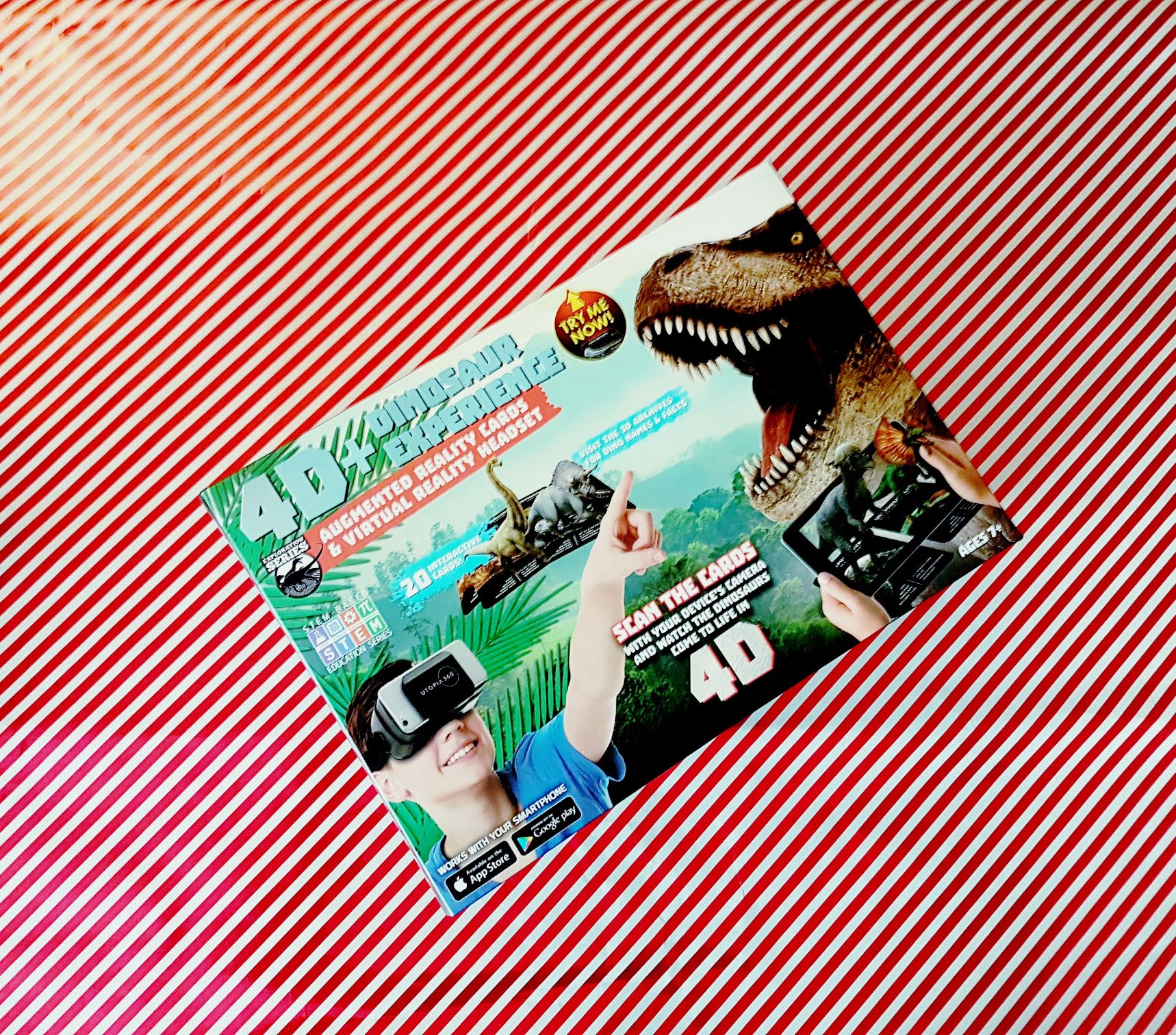 On the subject of educational gifts, if you have a pre-schooler or a new school starter who is learning to write, why not create them a bespoke book that they can use to help them develop their writing skills.
You can get a personalised handwriting gift box in time for Christmas. It features a thoroughly personalised wipe clean workbook which has 18 progressive exercises to help a child to learn to write their name. The child's photo is featured on the front cover and throughout. You can choose the colour of your workbook and whether cursive or manuscript.
The gift box also features a personalised certificate for the child to write their name onto as a permanent keepsake of this significant milestone. There are reusable stickers and also a high quality dry wipe pen. All encased in a premium gift box, making this a gorgeous, unique gift for a little one.
The gift box retails at £39.99 plus p&p and there is time to get yours before the festive season!
If you are looking for something extra special for a child for Christmas this year, what about a personalised book from Little Elephant Books? There are nine books available for little ones that are suitable for a range of ages from 1+ all the way up to 9+, with more being released in the coming weeks as Christmas approaches.
It is so exciting for children to discover that they feature in the stories they are either being read, or reading themselves. What I love about Little Elephant Books is that they cater for older children. There are quite a few companies that I have come across that create personalised stories for younger children, but this is the first time I've seen them for older children.
This is the 9+ story called The Treasure. Every teenager's desire is to experience a great adventure. In this story, your child and their friend will look for an ancient treasure in the city. However, they will get sidetracked when their new classmate turns out to bully everyone around him. How will they cope? Will they find the treasure?
With a charming chalk illustrated hardcover, this would make a stunning gift for either a total book worm, or help to engage a reluctant reader.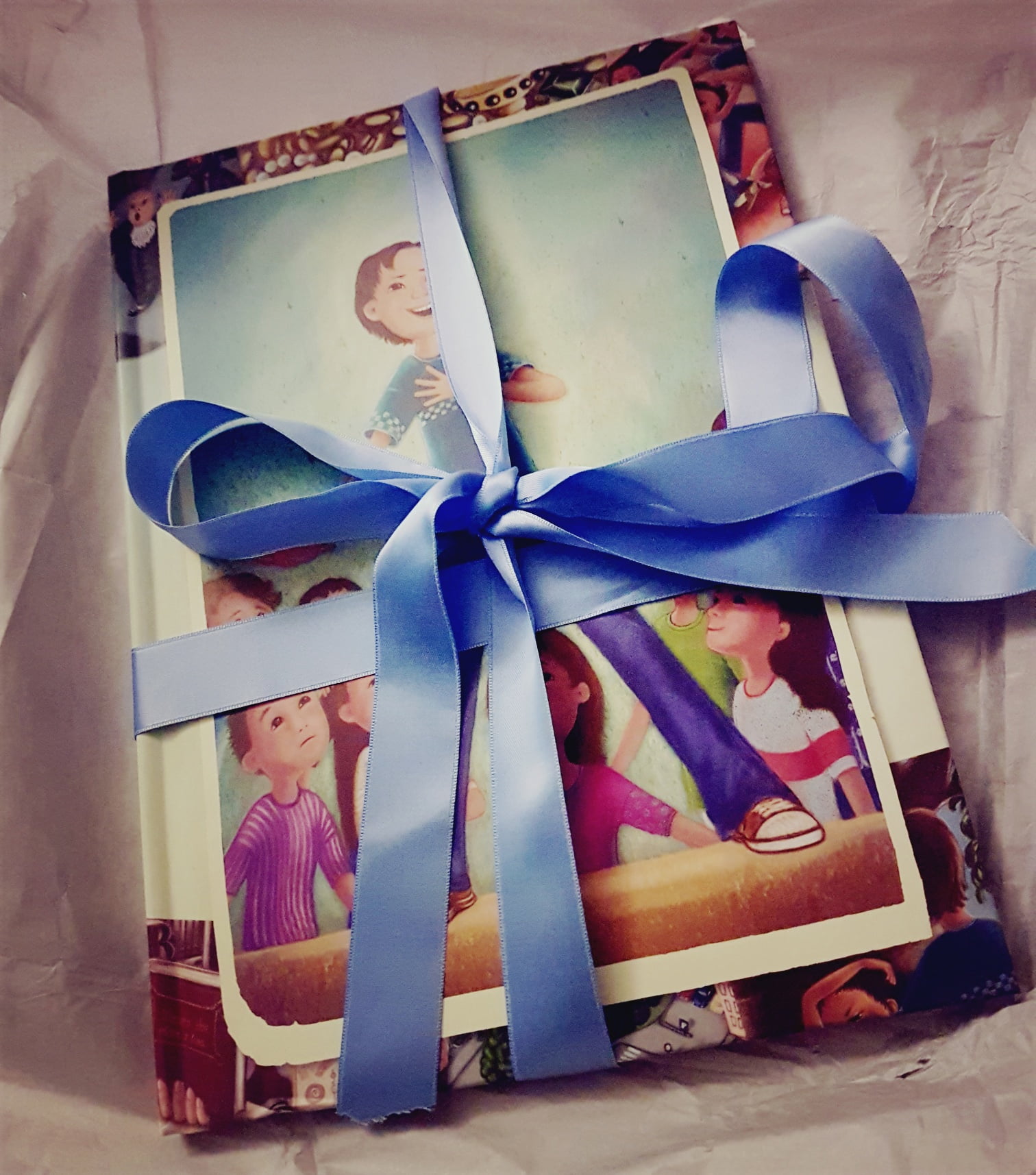 For everyone
Christmas is a great time to introduce the family to a new game. It's a great Christmas tradition to develop and a family games night is always a good alternative to a movie night.
This year why not try out the brand new game Link It from PikyKwiky. This is a rapid thinking card game designed for families to enjoy together, so perfect for either gifting to another family, or purchasing for your own family to enjoy together this Christmas. You can play with up to eight players and each game lasts around 15 minutes.
If you are travelling this Christmas this game is also ideal as it packs away into a small tin so you can play anywhere.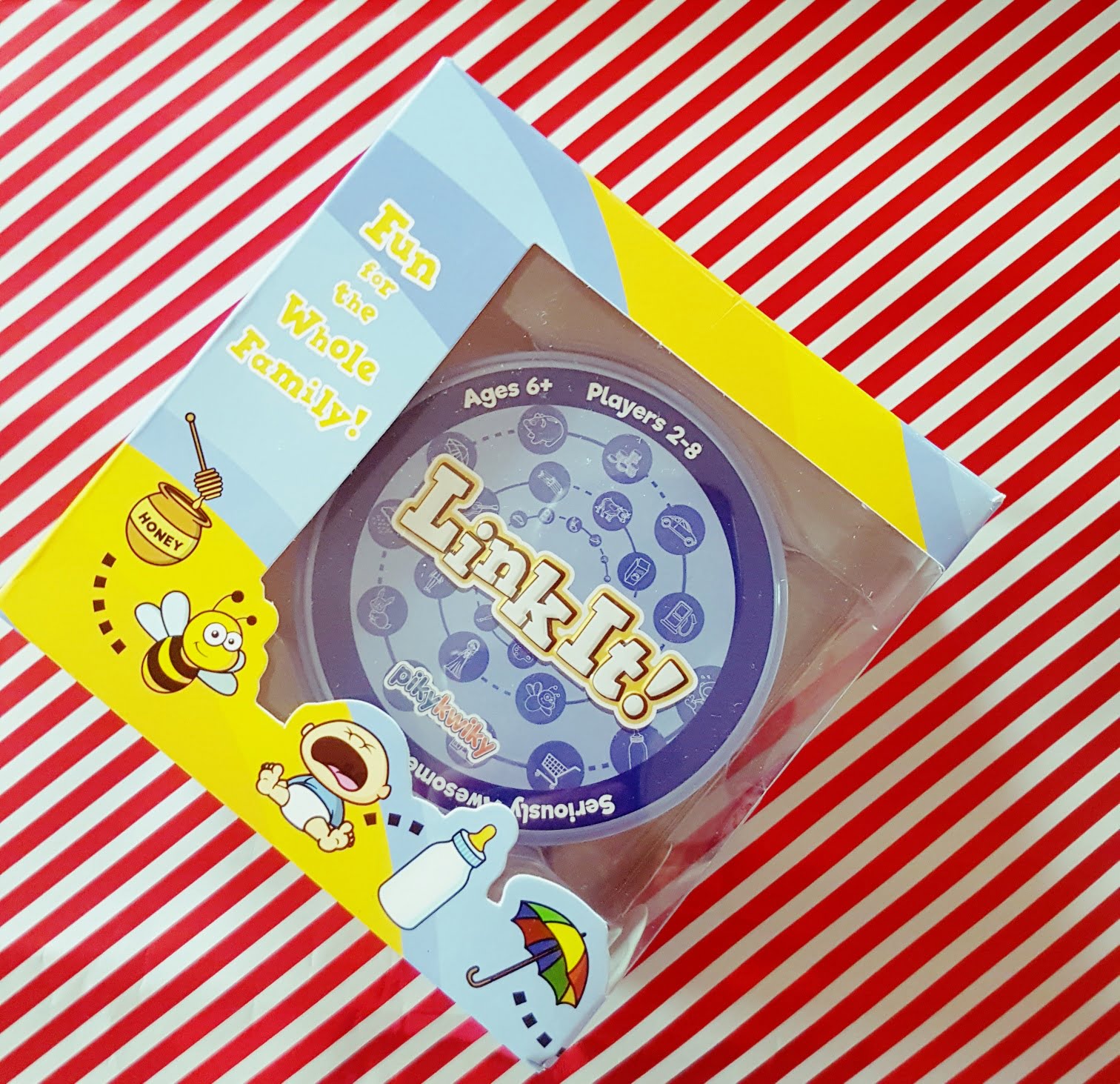 For the stockings
Stockings in all honesty are the part of Christmas I love the most. The children get more excited about their stockings than anything else. They take it in turns to open something from their stocking and get as excited about each others' as they do about their own.
Who wouldn't want to find one of these guys or their friends in their stocking (or even a Christmas Eve box) this year? Warmies® plush toys feature a delightful collection of adorable, lavender scented characters who make the perfect playtime companions by day and wonderfully warming little snuggle buddies by night.
These are £12.95 each and there a loads of cute Warmies to choose from, including lots of Christmassy ones like this cute reindeer. Adults and children will love these. Feet up, fire on, hot chocolate in hand and snuggled with one of these lovely characters! Christmas bliss!
If you are thinking about 'grown-up' stockings this year here are a couple of things you could consider.
If you know someone who is missing their summer glow, you could give them the St. Moriz Advanced Pro Velvet Gel. This will give you that gorgeous sun-kissed, summer glow throughout the gloomy winter months and keep skin hydrated in the cold weather with the moisture rich formula. Available from Superdrug, £8.99.
Along the same lines, how about appealing to the inner diva and popping a Fab Divas lipstick in a stocking or secret Santa this year? The Fab Divas message is to encourage every woman to 'Bring out their Diva' because looking fabulous on the outside, gives you inner confidence and poise. These lipsticks are priced at £12.99 each and have real staying power. These are great long-lasting lipsticks that won't be all over a glass after the first Christmas drink!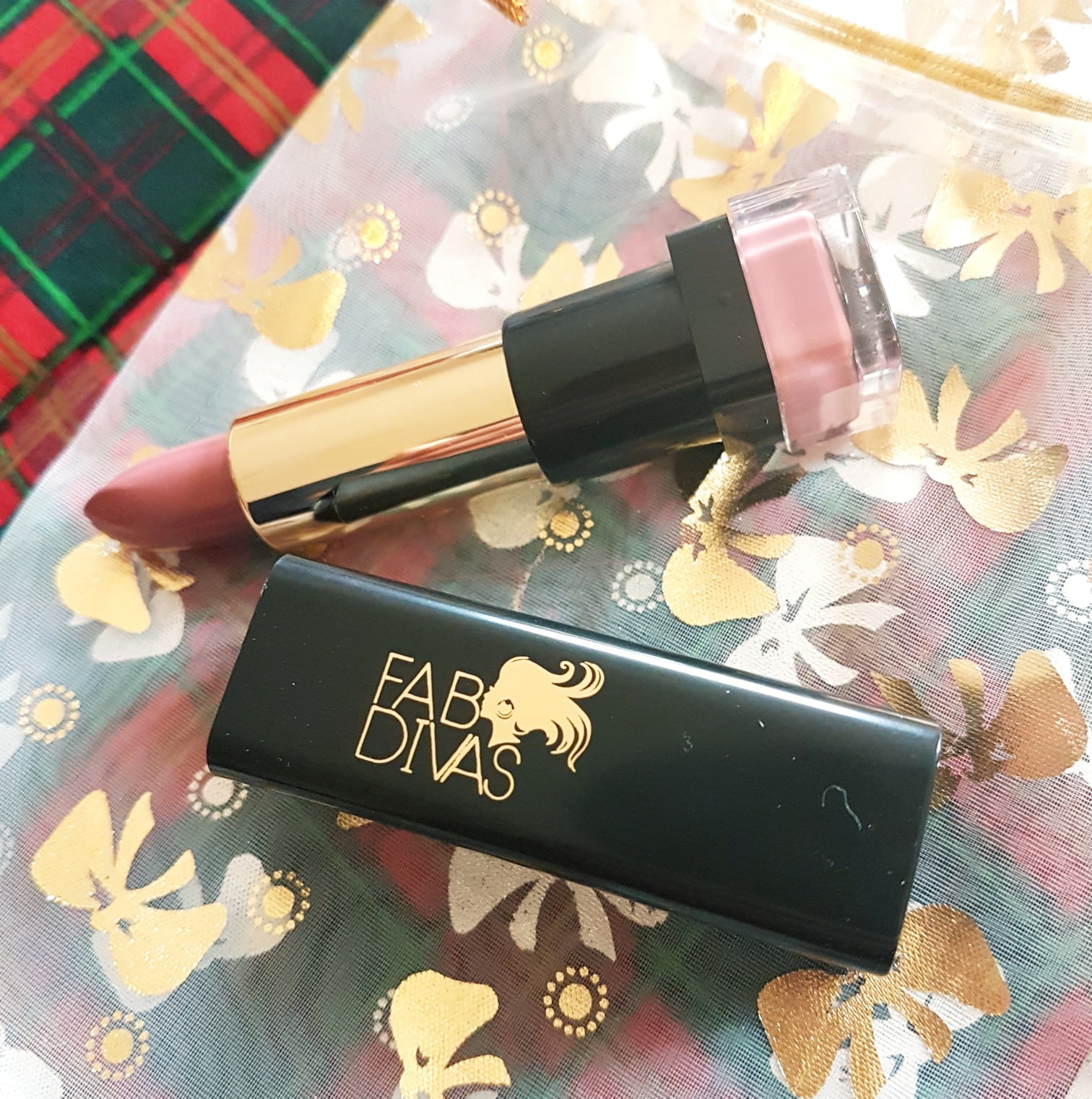 If someone you love is after some pearly whites this Christmas, why not treat them to some products from smilelab. They've got everything from toothbrushes to toothpaste, to teeth whitening strips, to help get that Hollywood smile. These are thought to be the fastest teeth whitening strips ever, working in just 15 minutes! Perfect for busy parents.
These are fast, comfortable and you can pop them on and carry on with whatever you were doing – a multitasking must have for a bright smile.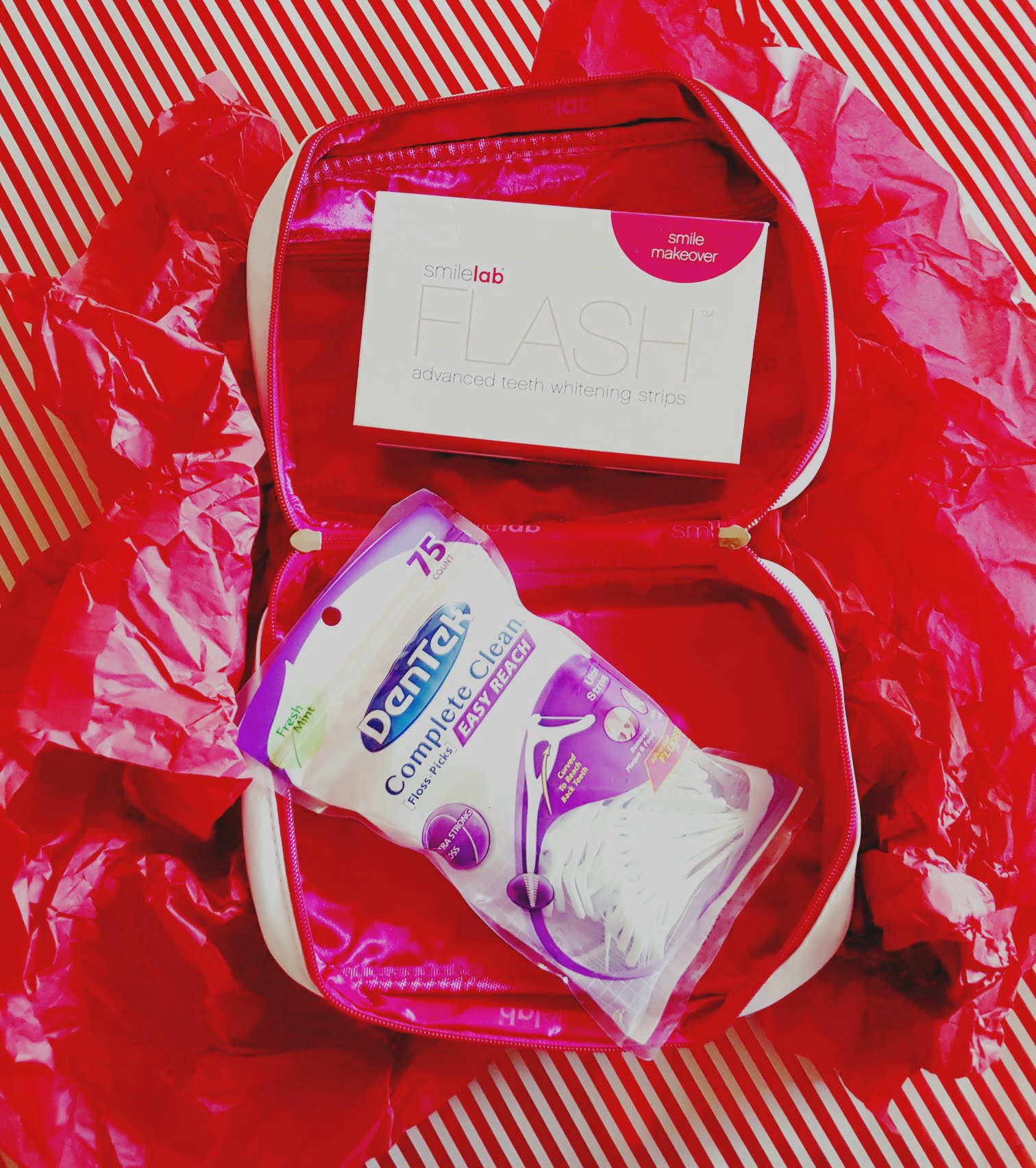 If you know someone who travels a lot, why not get them the Sonic Chic Deluxe. SONIC Chic DELUXE is available in a sleek metallic Silver or Rose Gold finish. This stylish sonic powered toothbrush is dual speed, has a quadrant timer and is rechargeable via a USB cable (included).
With a speed of up to 32,000 strokes per minute, SONIC Chic Deluxe cleans deeper than a regular toothbrush head by penetrating the hard-to-reach areas. Ideal for the busy travelling professional or the social butterfly!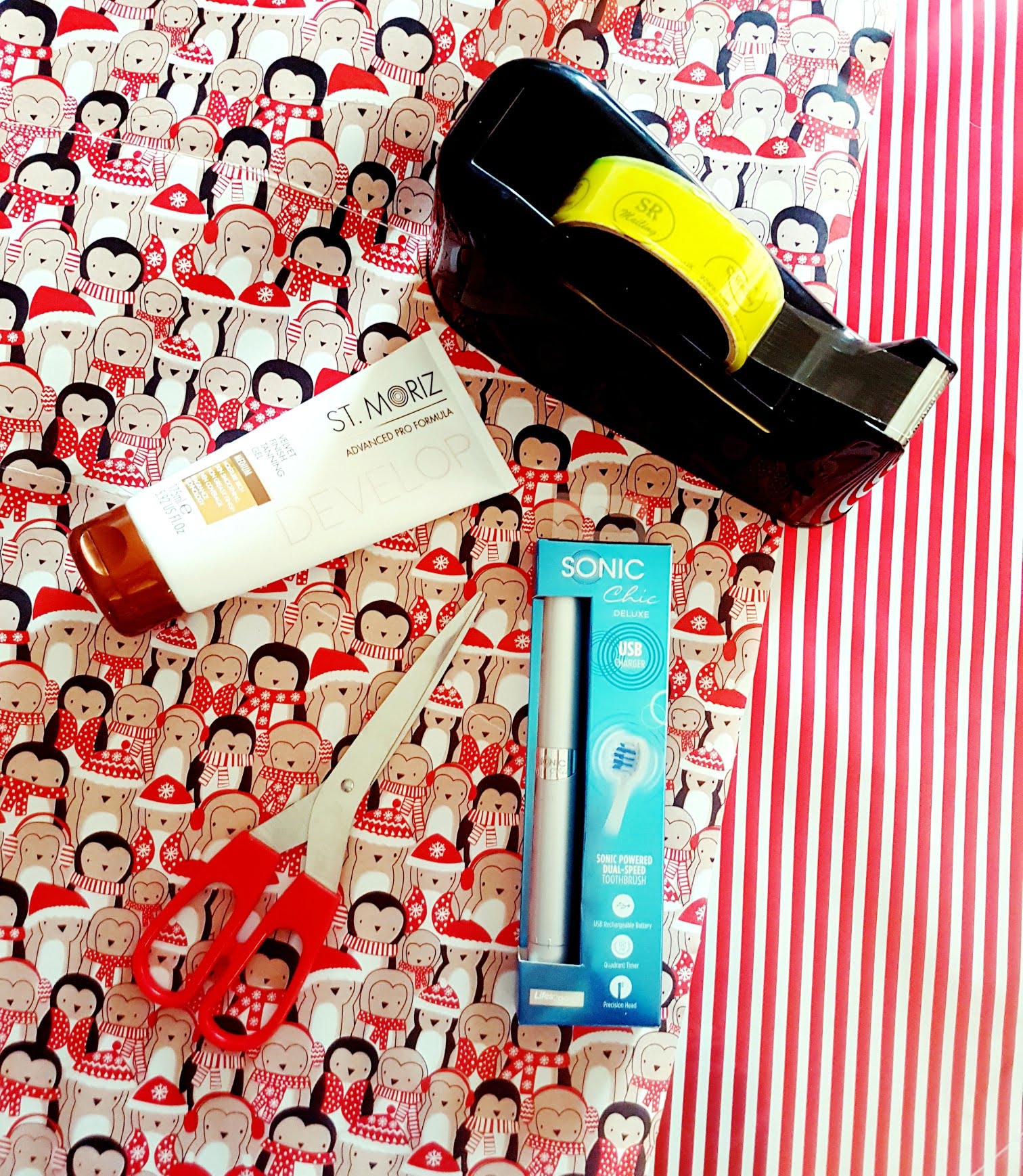 If you know someone who needs a nice treat in their stocking, whether it's a little one, an expectant mum, sports enthusiast, or just someone who likes to pamper their skin Weleda have some gorgeous things that would make great additions to the stocking this year.
Weleda's exclusive limited-edition Christmas gifts offer a unique present for every budget. The Weleda range is certified all-natural, harnessing plant-based actives that are sustainably sourced in harmony with nature, making each gift the perfect feel-good offering for the organic beauty lover.
Know any chocolate lovers? How about some stocking fillers with a feel-good factor on a couple of levels? Fairtrade chocolate perhaps?
Buying Fairtrade chocolate makes a big difference to the lives of farmers and small business owners in places like Ghana and the Ivory Coast who work hard to produce cocoa. Through the Fairtrade minimum price and additional premiums, money is invested in families and communities which in turn, improving the well-being of those living in poverty.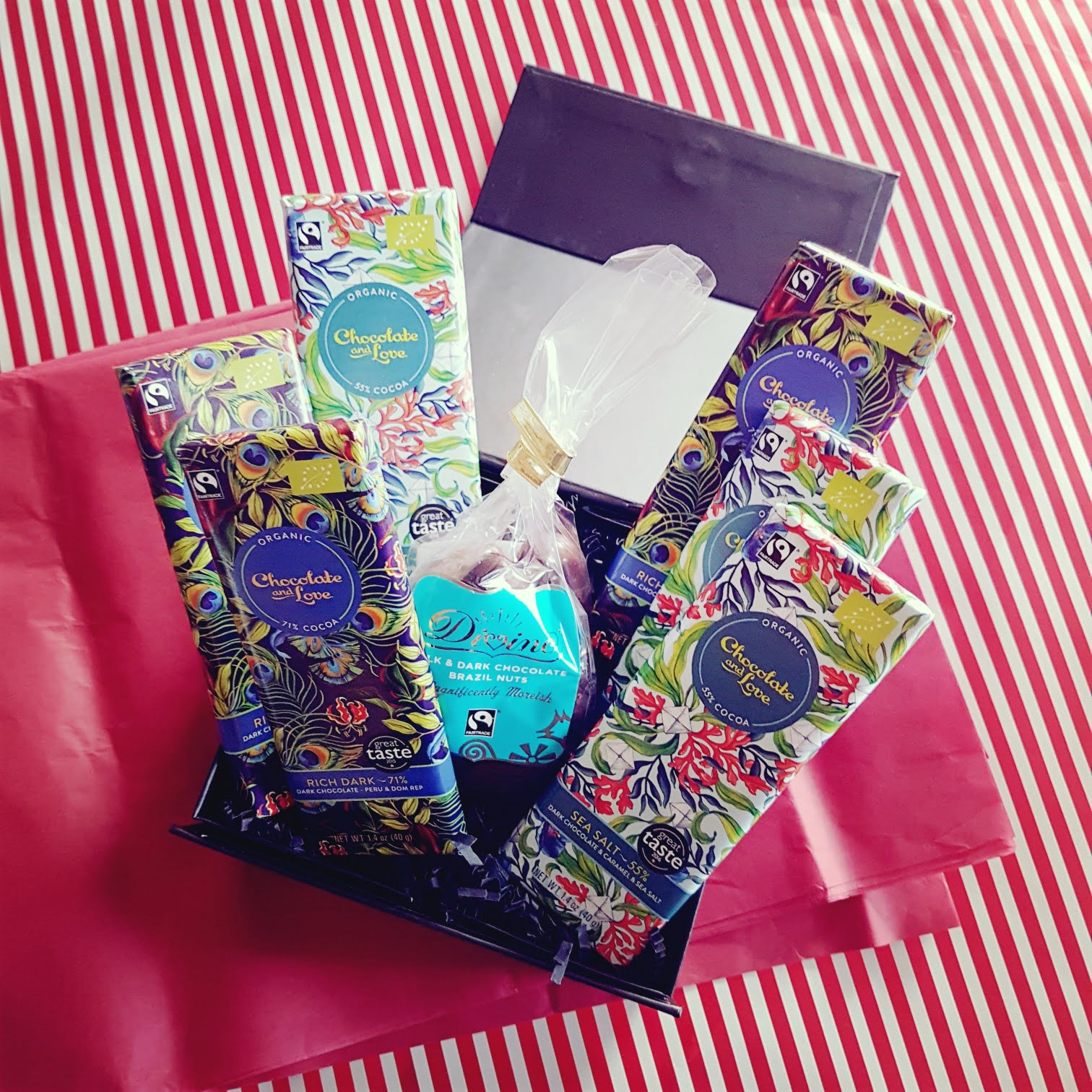 Chocolate and Love have a gorgeous selection of fairtrade chocolate to delight the senses and give that feel good factor. Divine Chocolate is also fairtrade. These chocolate-filled gift bags are a luxurious little treat for any occasion. Made using the finest Fairtrade ingredients, there is a delightful variety for all tastes but we love the nutty treats. Try Dark Chocolate with Caramelised Almonds, Dark Chocolate with Black Cherries or Milk and Dark Chocolate Brazil Nuts.
The Fairtrade almonds and cherries are grown on trees irrigated by meltwater from the Himalayas and harvested by Mountain Fruits co-operatives. The Brazil nuts are sourced from Fairtrade farmers around the South American Amazon River.
DVDs make super stocking fillers. There will be a number of new releases that would make great stocking fillers this year including, Despicable Me 3 and Cars 3. In addition to this, BBC Worldwide has released a super array of new DVDs for children from hit CBeebies series' Hey Duggee, Go Jetters, Something Special and Sarah & Duck, just in time for the festive season. These would make great additions to stockings this year.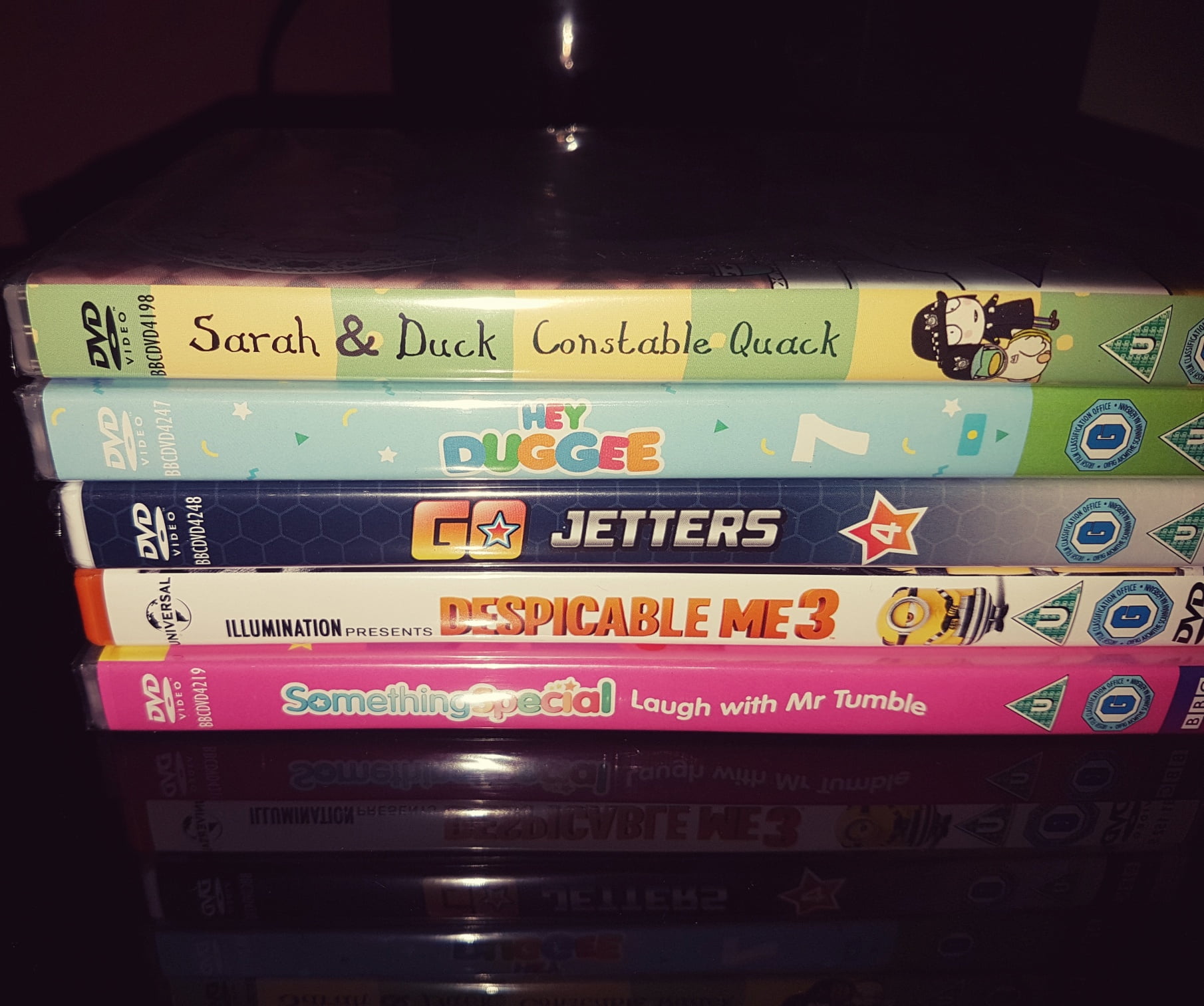 Your children will all have their favourites, but one the favourites in our house is Go Jetters. The all new Go Jetters – The North Pole and Other Adventures DVD is not only entertaining but truly educational. The amount of geographical knowledge that children can pick up from this show is wonderful. As a parent that feels like an extra bonus. They are also a ton of fun Go Jetters toys available too, as well as collections from all your childrens' CBeebies favourites.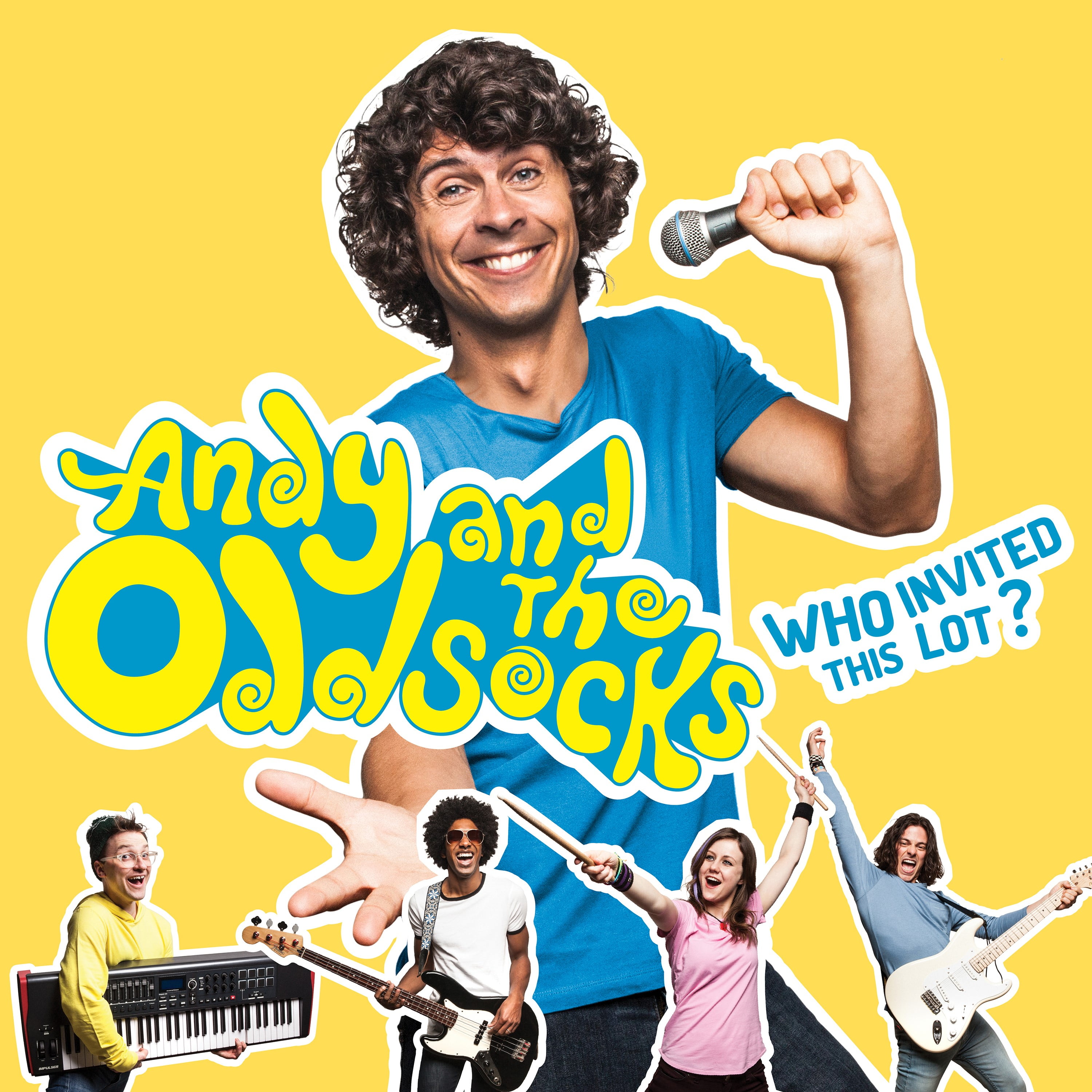 If music is more their thing, how about a copy of the new album from Andy Day? Andy and The Oddsocks  is available to pre-order on Amazon, and is out on full release Friday 24th November. If your children loved his Dinosaur Stomp, they will love this!
What have you seen for your loved ones so far this year? Any gems of gifts to share with everyone? In the meantime, how about a Christmas jumper to get everyone in the mood for the festive season?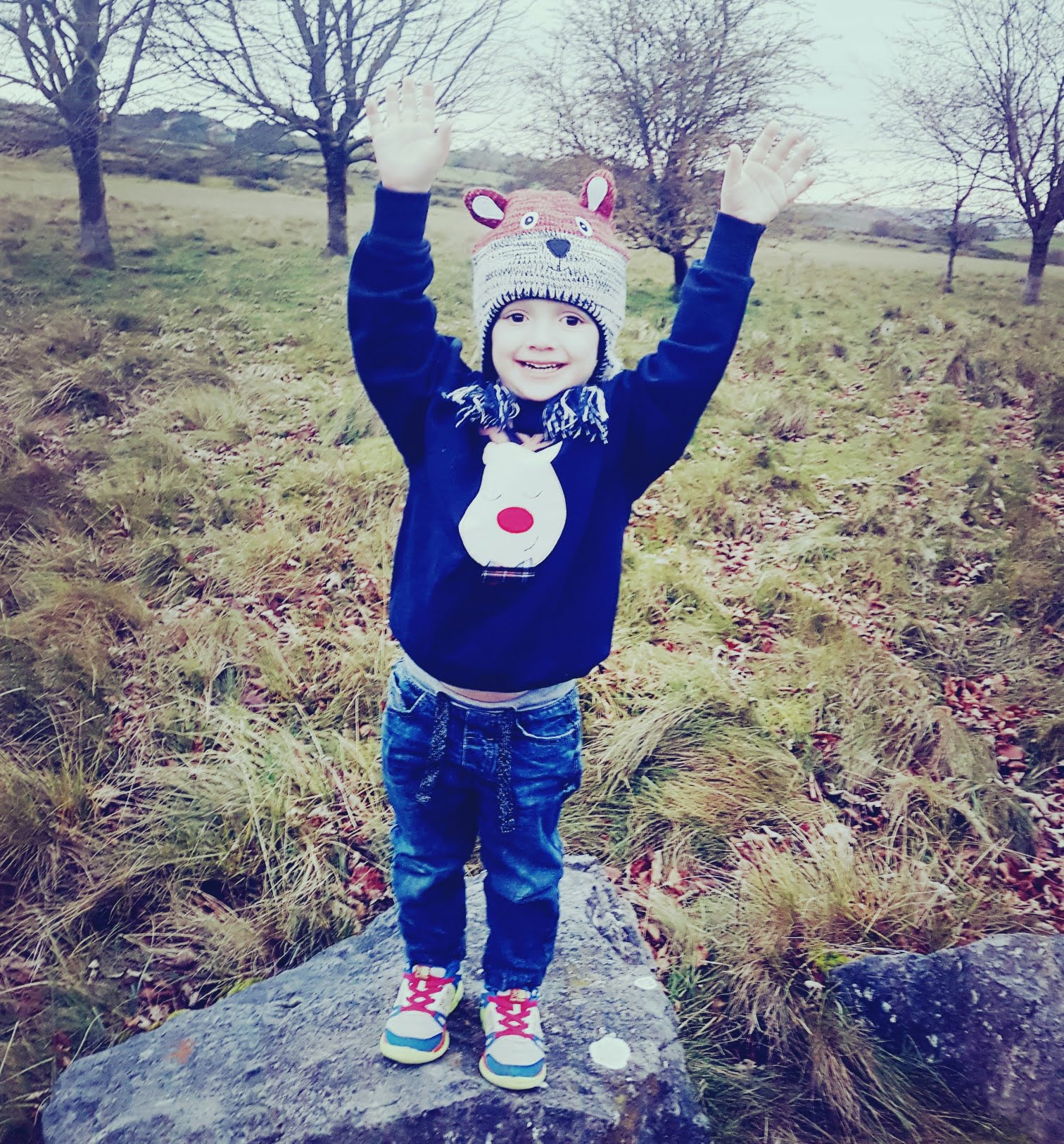 These ones are from not for ponies, superb quality, wash brilliantly and so much more practical for little ones than any itchy Christmas knitwear. What's more, they make them for grown ups too!