Travelling with children can sometimes make you feel like you need to take the kitchen sink with you. When you look at all the paraphernalia around you, its hard to believe that you could exist without it all.
We have never been able to travel particularly 'light' but now we are out of the baby stage we are gradually taking less and less with us, making it easier to mobilise a bit faster.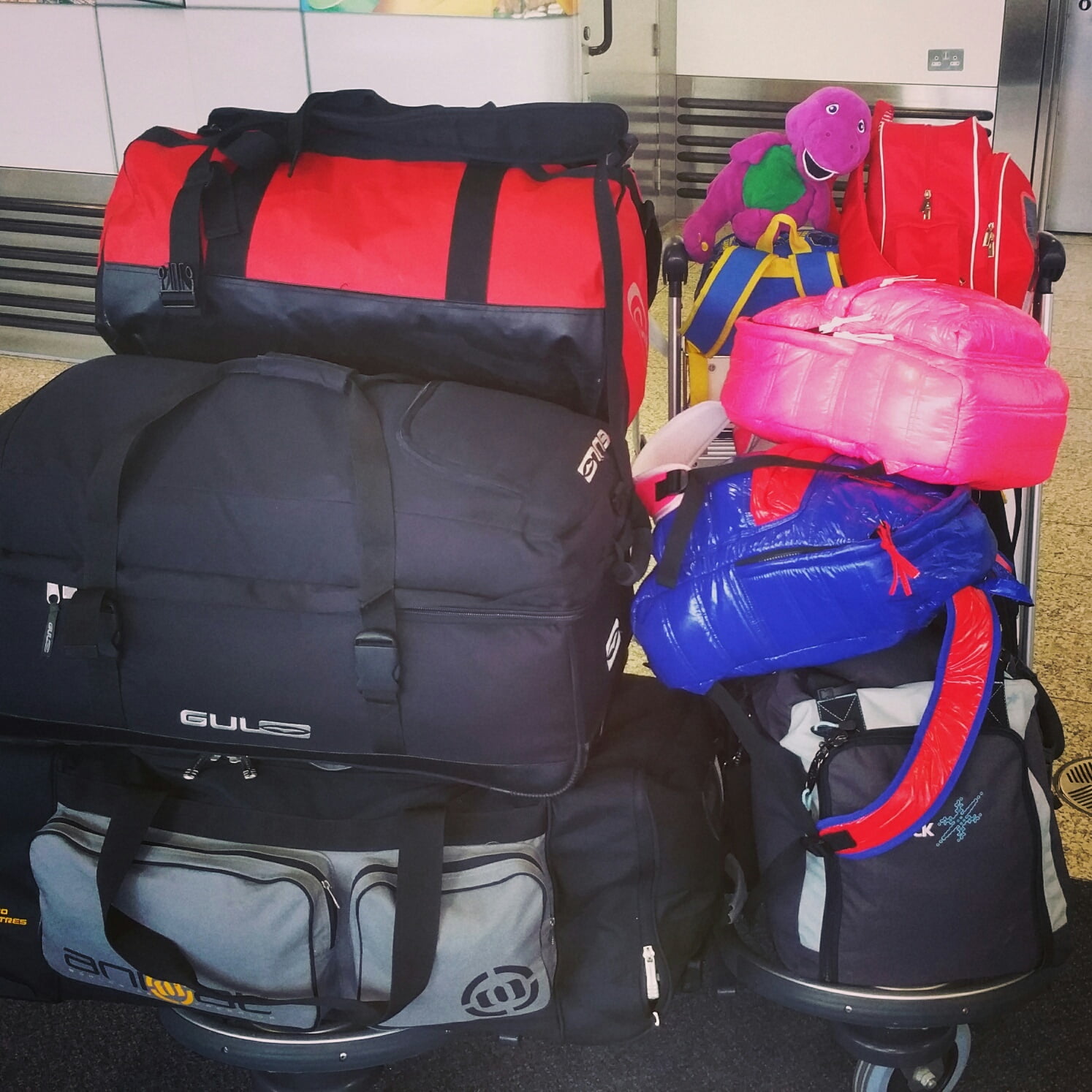 We do know people who seem to be able to manage with not much 'stuff' at all, and then equally we know families who pack for every eventuality, and then some. It often depends where you are going, how long for and what you will be doing whilst you are there of course.
Baby monitors
Even though we are out of the baby stage we always pack the baby monitors. There have been all sorts of situations over the years when having the monitors has made life that bit easier.
Adjoining rooms in hotels, rental properties, ski chalets, and even staying with friends and family. It's just made things easier. Whereas maybe at home you'd be able to have the doors open and check on the children as often as you wanted, sometimes when staying with others that can be more problematic. Having the baby monitors can give you that added piece of mind without disturbing others constantly.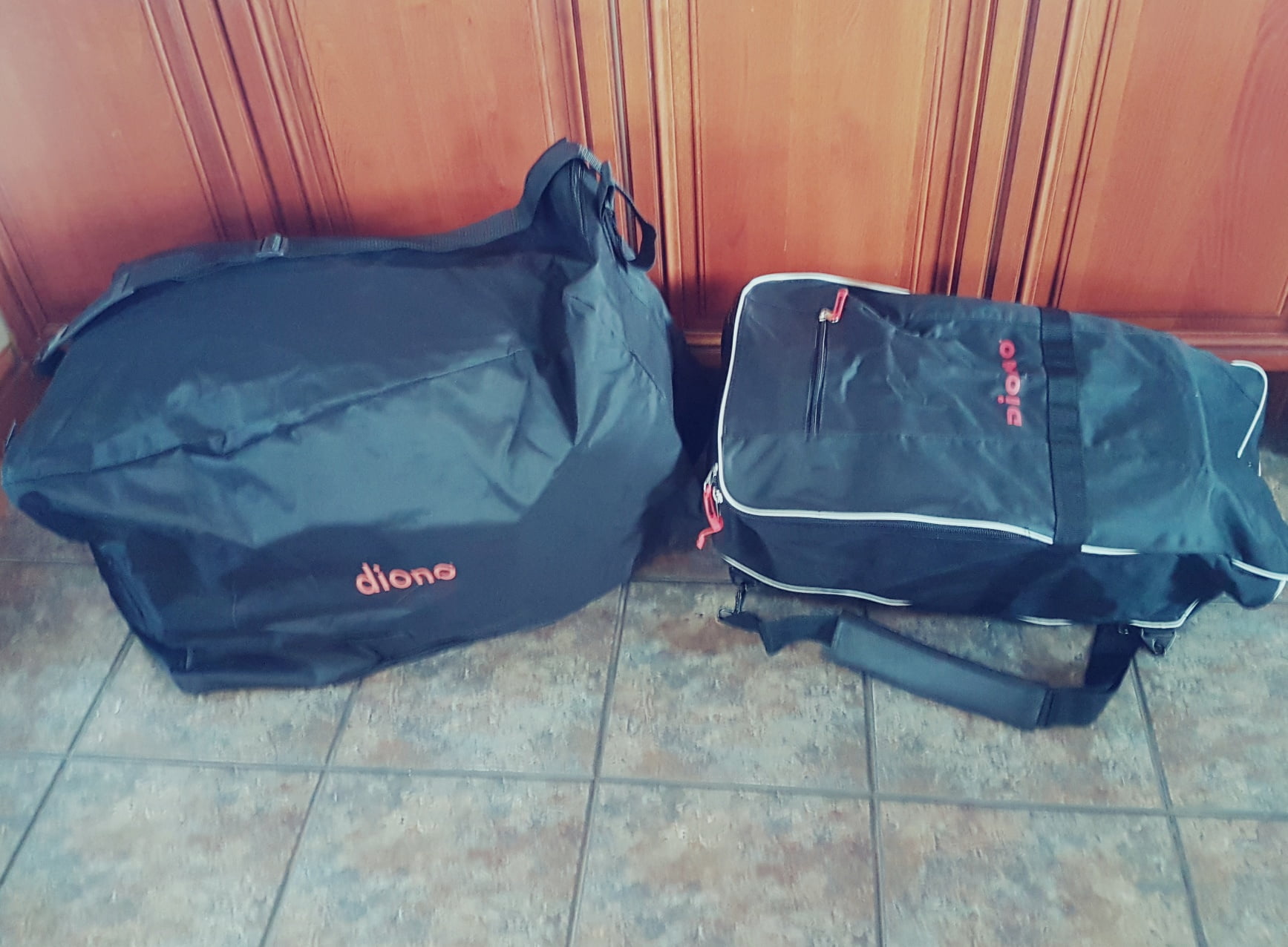 Car seats
Obviously if you are going away on a road trip you'll have your children's car seats with you anyway as they will be sat in them no doubt! What if you are flying though? How many of you still take car seats with you?
Most rental companies will hire car seats out so if you are flying you can rent them at your destination. If you do this, I'd advise you book before your departure to ensure they haven't run out when you arrive. I have heard horror stories from friends over the years who have done this and then the car seats have been rubbish, not safe, dirty and so on.
If you are worried about that, then the other option of course is to take your car seats with you. If you've got older children who just need a simple booster seat then I'd say go for something like a Bubble Bum. We've used these for years and they are perfect for travelling as they take up hardly any room and can double up as a pillow for the plane journey.
If your children are four and under and have bigger, bulkier car seats then Diono make the perfect travel bags so you can pack your seats safely and take them with you.
They make one that you can carry on your back as a rucksack, The Diono Radian Bag is really hard-wearing and ideal for slimline seats. It will also hold up to two Isofix car seat bases, and is heavy duty enough to hold that kind of weight. There is a double zip for easy closure and the fabric is rip stop.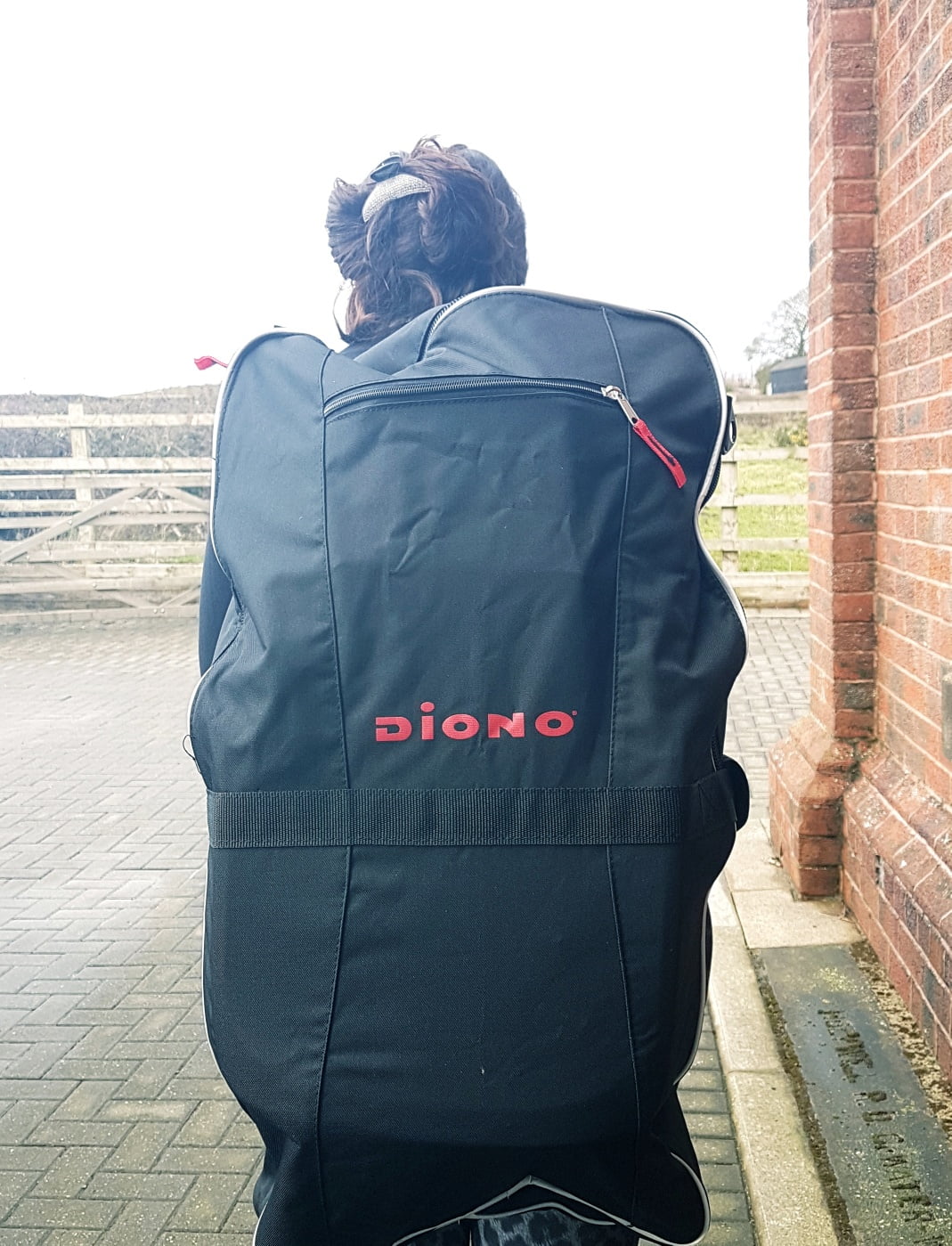 The other bag they make is the Diono Travel Bag, which could be used for all sorts of child-related items you might need to take, but it works really well for car seats. Whilst it isn't as heavy duty as the Radian bag, it is ideal for lighter weight, or bulkier car seats. It is really quite large and as an example can fit two Maxi Cosi Pearl seats in at the same time. The best way to pack them is to invert one so it sits inside the other.
If you are planning on taking car seats, check with your airline that there are no additional charges first.
Sun protection
Whether you are off on a skiing holiday or off to the beach you will need sun protection either way. Don't pack the left over sun cream from last year, get new cream each year, as that gives you the best protection.
We like Childs Farm as a couple of the children have very sensitive skin, and one has eczema. This gives great protection without irritating the skin.
Swimwear
A bit like sun cream really, we never travel anywhere without the swimwear for everyone. Obviously if it's a beach or pool holiday you need the swimwear everyday, but lots of hotels and resorts have pools too, so there are sometimes unexpected opportunities to swim or paddle or splash. Lots of cities these days have spray fountains children can play in too, so we always consider swimwear one of those essential items.
For the children, I always try and encourage sun suits if they are going to be outside as they are much safer in the sun. With a competitive swimmer in the family we always pack a 'proper' costume for our big girl in case she can get some training in somewhere.
I've made no secret on the blog about the fact that I loathe the thought of swimwear for myself and I don't jump at the chance to get in a swimming costume. So when needs must, it has to be something that aims to flatter the parts it covers up at least.
The new Anita Comfort Collection is a vibrant mix of vivacious creativity, unique design and timeless elegance.  There are ten series within the collection.
The themes range from clear graphic designs – contrasting and modern – through to maritime classics, romantic floral and abstract leaf prints right over to shimmering animal and feather prints. You will see retro styles and modern patterns, edgy prints and classic designs, so there really is something for everyone. I'm more of a plain black, minimal fuss swimwear kind of person. Nothing that attracts any attention – perish the thought.
3D decorative elements provide an especially exciting highlight: with exclusive plaited details featuring a printed look achieved by double layering as well as  subtle finishing touches with high-quality decorative elements.
Elaborately produced but completely worth the effort – the new designs have a unique look, flatter the figure and appear to be practically free of seams.
I love the gathering on this swimsuit as it makes it feel like it hides a few lumps and bumps at least. You can't go wrong with classic black either.
Technology
Traveling with children often means there are 'those' moments when you just need to distract them, or keep them entertained. Tablets, iPads and other gadgets can be a lifeline for parents when things are either not going to plan, or when you just need five minutes to gather your thoughts and check your packing etc.
Headphones are also useful in these situations – no one wants to listen to Peppa Pig or Paw Patrol blurting out. We love extra comfy and snuggly headphones for travelling. Snuggly Rascals have created comfortable headphones especially for children that both look great and sound great! They are ultra-comfortable with a snuggly, soft fleece fabric enclosing adjustable flat speakers that make the headphones perfect for travelling. Machine washable and size adjustable, they are suitable for any size child's head and with loads of funky designs available.
The comfort factor with these makes them suitable for younger children who struggle with regular headphones.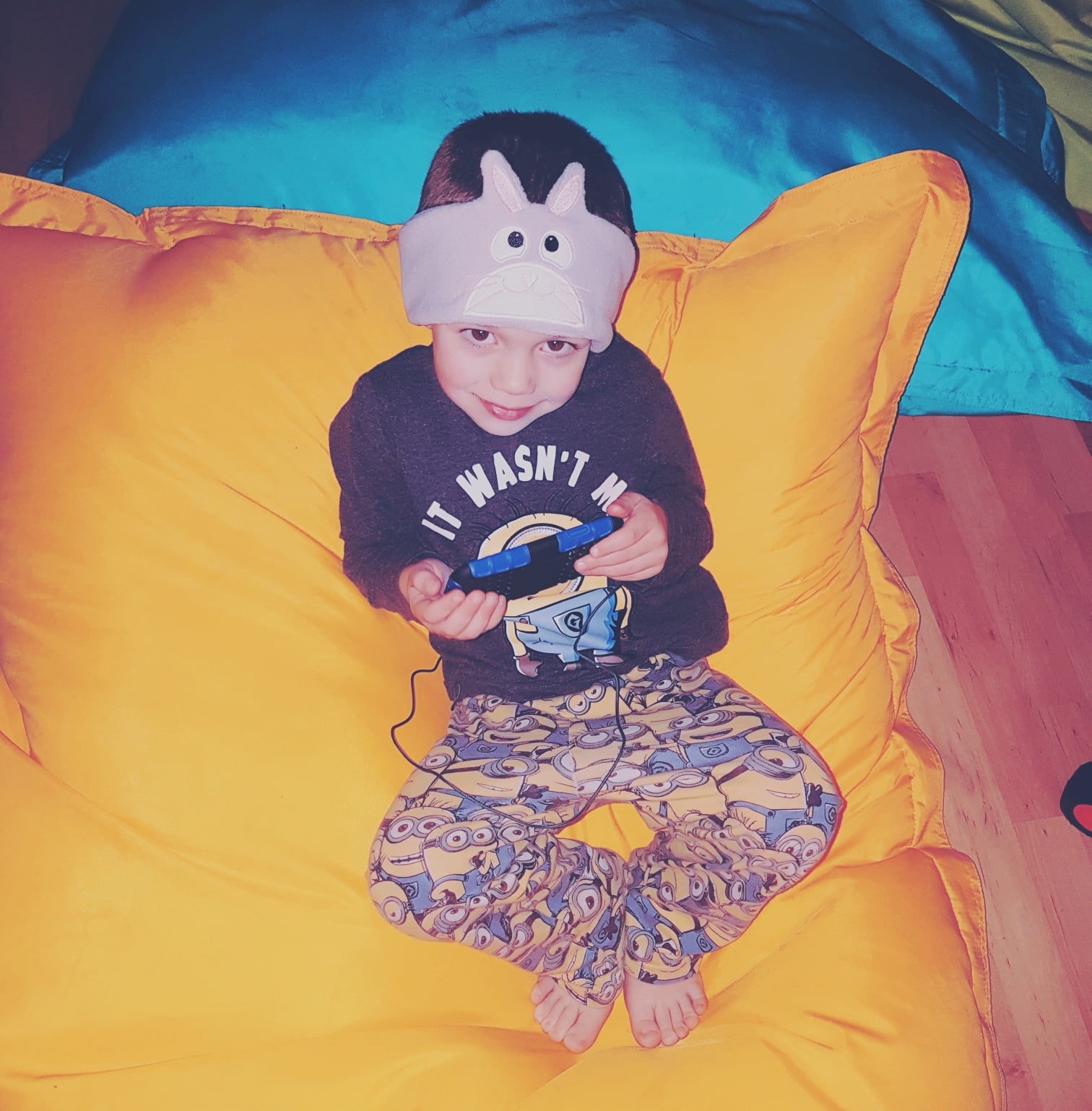 What are your family travel essentials?