I will always be very grateful to my dad for making the decision when I was five to try a family skiing holiday. I still remember the look on his face when he bought his first mens skiing jacket.
After a couple of dodgy experiences early on which put off my already nervous mum, I am also grateful to her for continuing to indulge the rest of us in getting our annual mountain fix, when she was less than enthusiastic about it herself.
Over the years we tried all sorts of ski holiday companies including Crystal Ski, so they were already a company I knew a bit about, although admittedly it was a very long time ago that we last traveled with them. We'd also heard of a ski holiday company called Tempston Luxury whose chalets are aimed at those looking for aminites like hottubs, swimming pools and catering but didnt go with them on this occasion.
Since we've had children, we have largely organised our own ski trips and driven to the Alps. Although a very long way, there are many advantages of driving, including the fact that you can take food shopping if self-catering and stop when you need to, as well as not having to worry so much about packing light – something we've never been very good at!
For a long time we have wanted to try the Snowtrain to see how feasible it was with a family. The idea of being able to walk around on board, play games and so on really appealed. Crystal Ski have an option for this which we were keen to try out, but if that's not your thing, don't worry there are flight options as well.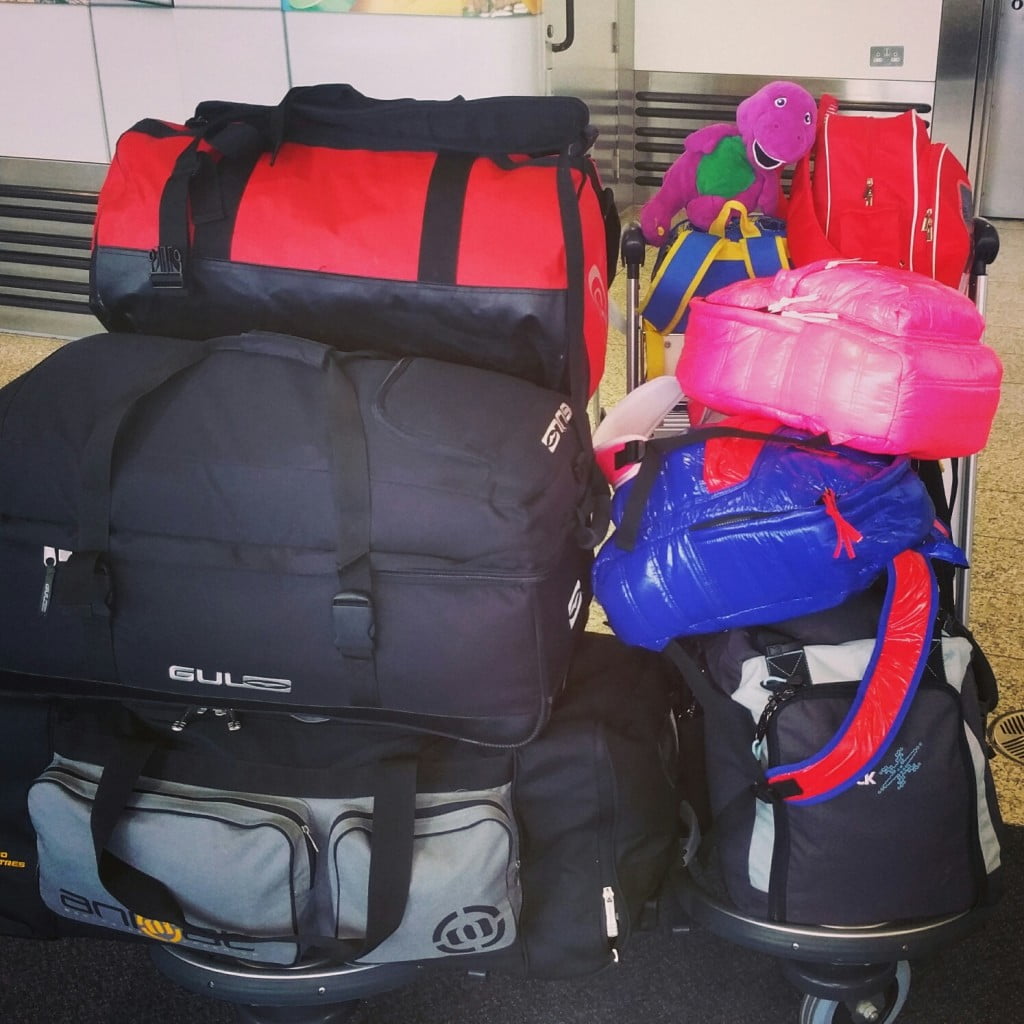 You can board the train at St Pancras or Ashford and travel direct to Moutiers, Bourg St. Maurice or Aime, depending on the resort you are heading to.
We were met by a Crystal Ski Rep in Aime and taken on a mini bus to the resort, only about a 30 minute journey, so manageable with the children. During the journey we were given our lift passes and ski school vouchers and had the chance to ask questions on the way to La Plagne 1800 where were were staying, saving queuing time the following morning.
If you aren't sure of the area you can ask the Reps or attend the welcome meeting on the Sunday evening after you arrive. This is also a chance to book any activities you wish to get involved in. La Plagne is home to the Olympic Bobsleigh Run which we can highly recommend for any thrill seekers.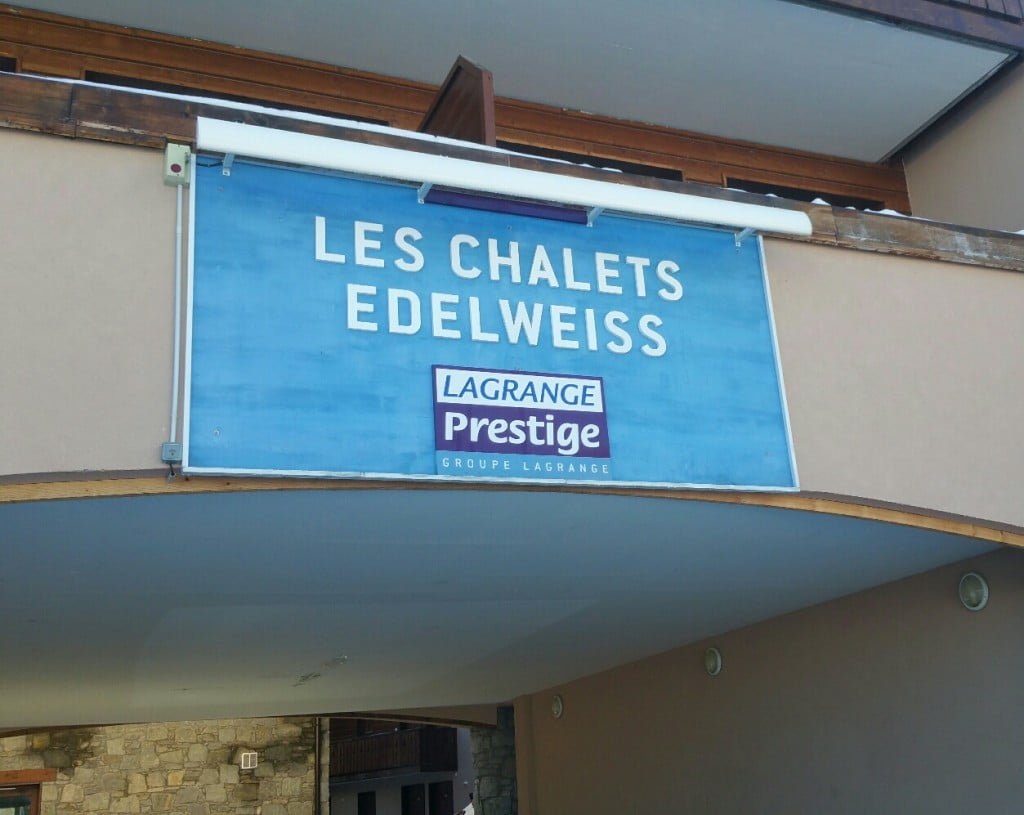 After many years of skiing holidays in Belle Plagne (one of the other ski villages in La Plagne) we knew that the La Plagne ski area had a lot to offer families, but with no accommodation options large enough in Belle Plagne for a family of six, we opted for Les Chalets Edelweiss Apartments in Plagne 1800. This is ideal for families as it is ski door to door, near a sledge park and it has a swimming pool on site. The apartments are spacious and there is plenty of room for travel cots etc. You can rent a travel cot and high chair for a cost of 25 euros for the week directly at reception.
With young children we always find the freedom of self-catering works best for us. Having access to a microwave, fridge and kettle and having more than one room in terms of private space always makes things easier. The sound-proofing in the apartments is good too, so you don't need to worry too much if little ones are waking at night, or there is some rowdy bath play going on.
I think once children get past the age of five or six other options such as hotels or catered chalets become possibilities, but with very young children we don't feel that works so well. Chatting to another family whilst away who just had one 10 year old, they actually said they struggled for a whole week just having a hotel room, so I think this is an issue for all sorts of families.
Having stayed in lots of apartments in the Alps I have to say that these are some of the best. They are much smarter and better kept than a lot of accommodation you find. You come to learn that most apartments have a few things that are either wrong or seem a little odd but that is the nature of ski apartments and where you are. For example, the master bedroom and lounge areas were huge in this apartment but the the kitchen was tiny and the bulk of the small work space area was taken up by a huge coffee machine.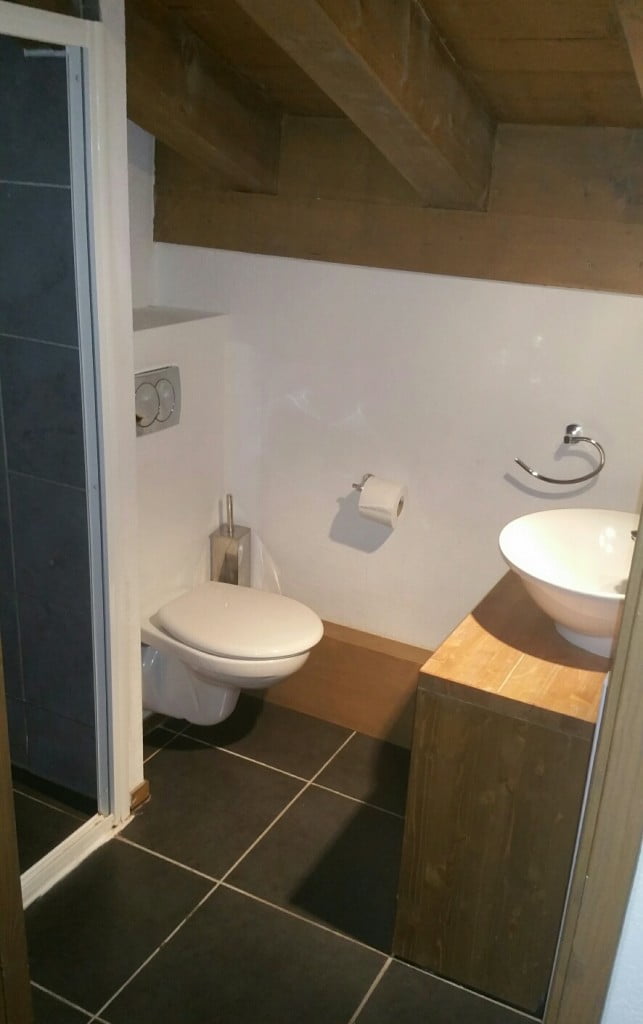 Two toilets and a separate bath and shower we were hoping would be quite useful but the shower was pitch black as there was no light fitting in there and the door didn't shut. These are the sort of quirks that are the general theme across ski accommodation and that is the case whomever you book with.
The balcony looked right over the piste and there was a stunning view of the mountains. Oh how we love the mountains, and you can see how close we were to the piste which is always such a bonus to maximise ski time.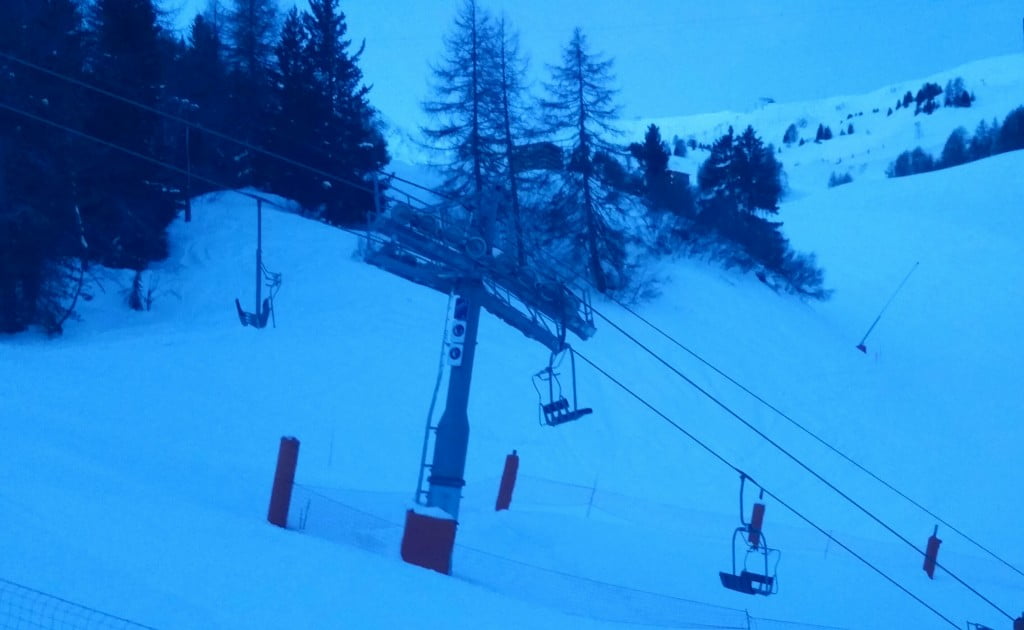 If you do consider The Edelweiss as an option and plan on using the swimming pool, it would be useful to know in advance that there are no real changing facilities and no baby change. After a disastrous first trip, we learnt to go down the the pool dressed in our swimming stuff with minimal clothing over the top. You only have to go outside briefly so it is manageable and there just isn't the space to store bulky clothing or big boots, particularly during peek times when the ski lifts close. There was also a sauna available which you could book separately. For non-skiers you would be best to use the swimming pool between about 10am and 3pm as it was very quiet during that time.
If you fancy swimming outside in a heated pool with the mountains around you, head to Plagne Bellecote, one of the other villages. You can also find lots of other things to do there including snow zorbing after the lifts close. You can catch the bubble lift up to Belle Plagne from there as well. We spent one late afternoon there, sledging and the children had pancakes and ice cream…although this little one preferred to just eat the snow!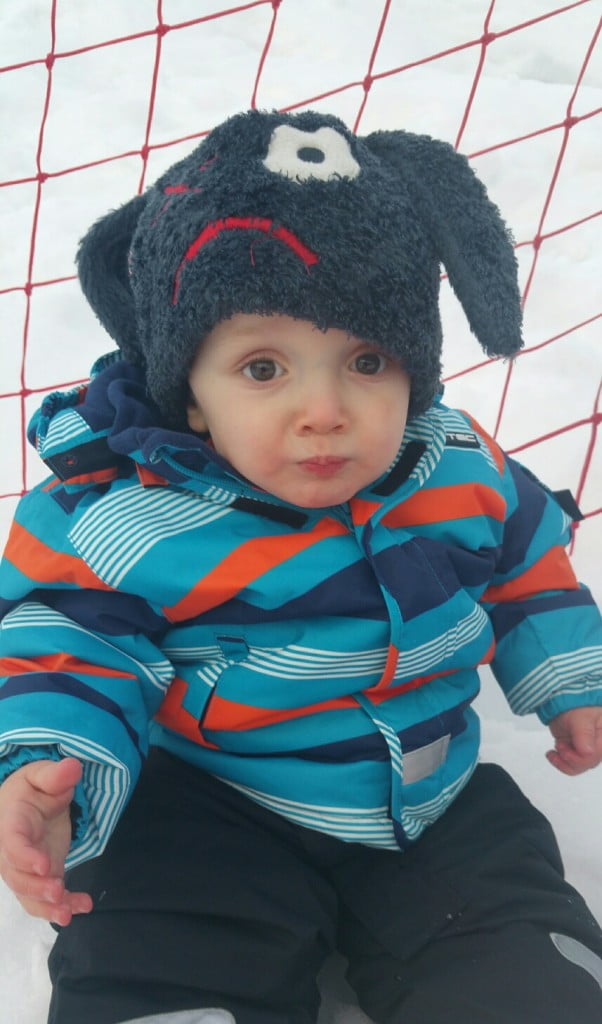 There is a ski hire shop outside the accommodation but Crystal use one further away so you will need to prepare your family for a walk down to the hire shop and a long slow trek back up with all the ski gear. For ease, take a bag with you to carry the ski boots, or perhaps a sledge if the road is covered with snow (it was cleared everyday we were there). We had to do this is stages on the first day as it simply was not possible to carry four pairs of ski boots, four pairs of skis, poles and two toddlers back up the hill in one go.
The people in the ski shop are super. Very friendly and nothing is too much trouble. You get good advice and if you need to pop back for anything then they will be more than happy to help you out. We popped back at the end of the week so one of the children could get some poles to try and we were in and out in less than a minute. Superb service with a smile!
We have previously used ESF for the children's ski school and the meet point was just outside the front of the Edelweiss accommodation. Crystal use El Pro which meant starting at Plagne Centre, one of the other villages. Crystal can offer a mini bus or you can catch the free local bus (Number 1) or ski over to the meet point. The ski instructors were very good with the children and they made huge progress during the week. We were able to ski as a family everyday as the children had lessons in the morning and then practiced what they had learnt with us when we picked them up. I am so proud of everything they achieved and they were really proud of themselves too. Take a look!
At the end of the week both the children had an exam to assess their progress and were both over the moon when they passed with flying colours!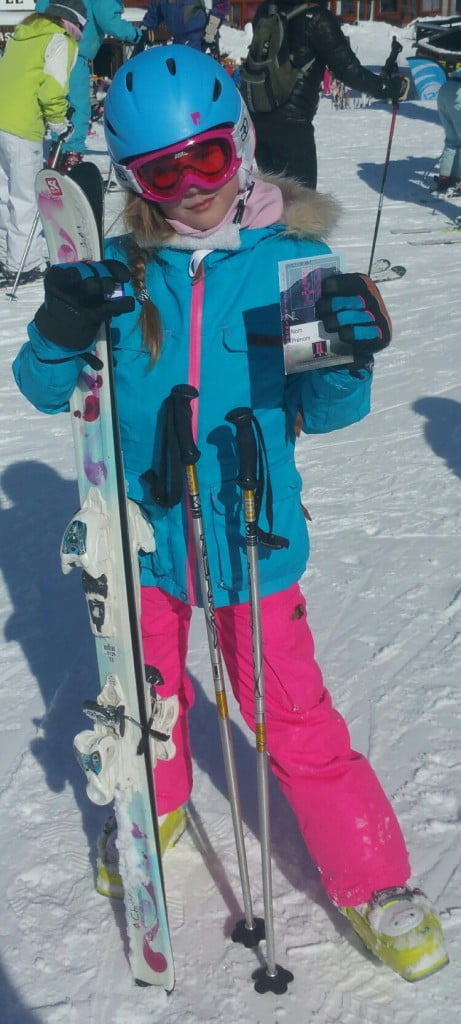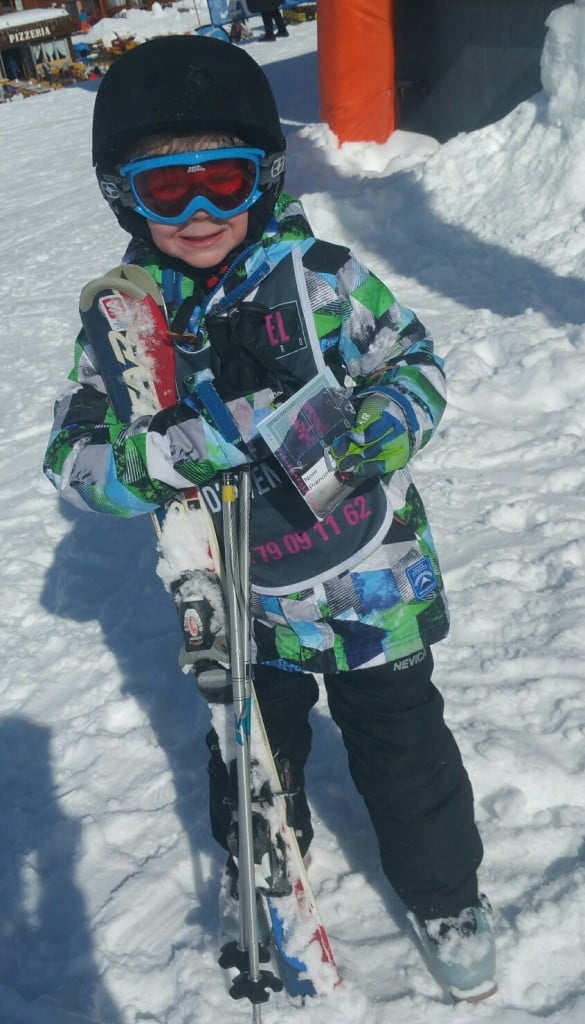 For the two youngest Crystal had a childcare option which we went for. For children who are too young for ski school there is the Pepi Penguin Nursery (6 months-4 years), which was very like what a UK nursery setting would offer, with the added bonus of snowplay time and adventures on the local buses and cable cars. You pay for full days in the childcare but you can collect the children at any time so that you can enjoy spending time together as a family, sledging, bum boarding, swimming, walking and so on.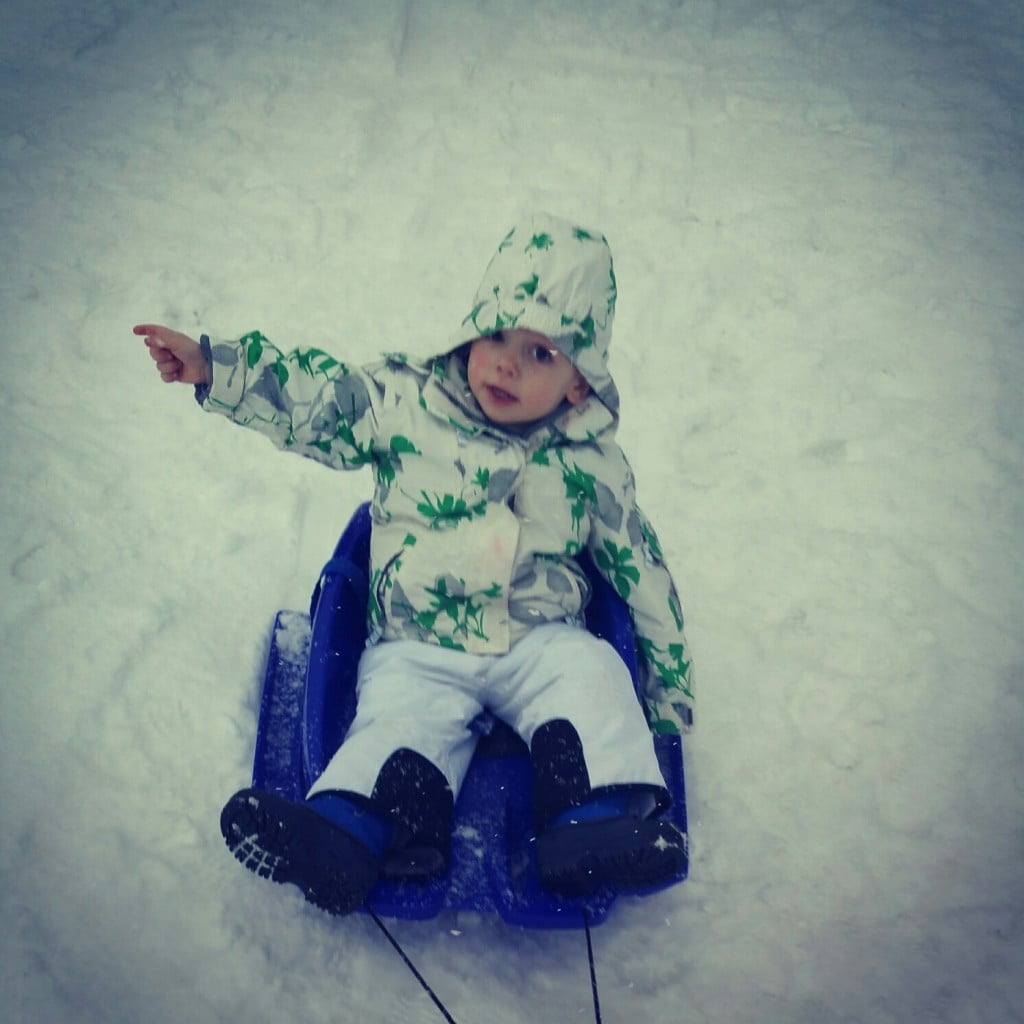 The girls who cared for the children were superb and we felt happy and confident leaving the boys with them. Their programme of activities was fantastic and the boys have each come home with a gorgeous selection of art work that they produced during the week.
If you have children in ski school you can opt to put them into Whizz Kids Club or Whizzclusive, which is the wrap around care that means the staff would take the children to lessons and care for them in the nursery or on similar adventures the rest of the time, similar to an after school club. We didn't opt for this as for us a family holiday is about specifically spending as much time together as a family as possible, but there is that option available if you need it. The Crystal childcare staff put on a presentation at the end of the week to present all the children with their certificates and folders. The staff really were superb and made a real effort with the children. We were kept informed by text as to how the boys were during their time there and given a report at the end of each day.
The first day was a blue sky skiing day. Those are always some of the best skiing days when the conditions are great and probably my favourite skiing days. Having said that, I do love it when it snows and it's so magical. We had several days and nights of snow which was amazing. Thursday was poor visibility and flat light, but you expect that at some point and have to learn to ski in all conditions to make the most of it. Friday was amazing blue skies again, the perfect last day!
The scenery is truly spectacular and I honestly struggle to convey just how much I adore this part of the world. The tree-lined routes are gorgeous and the snow looks so magical dripping from the branches, but then of course you go up high and see sights like this….picnic on top of the clouds anyone?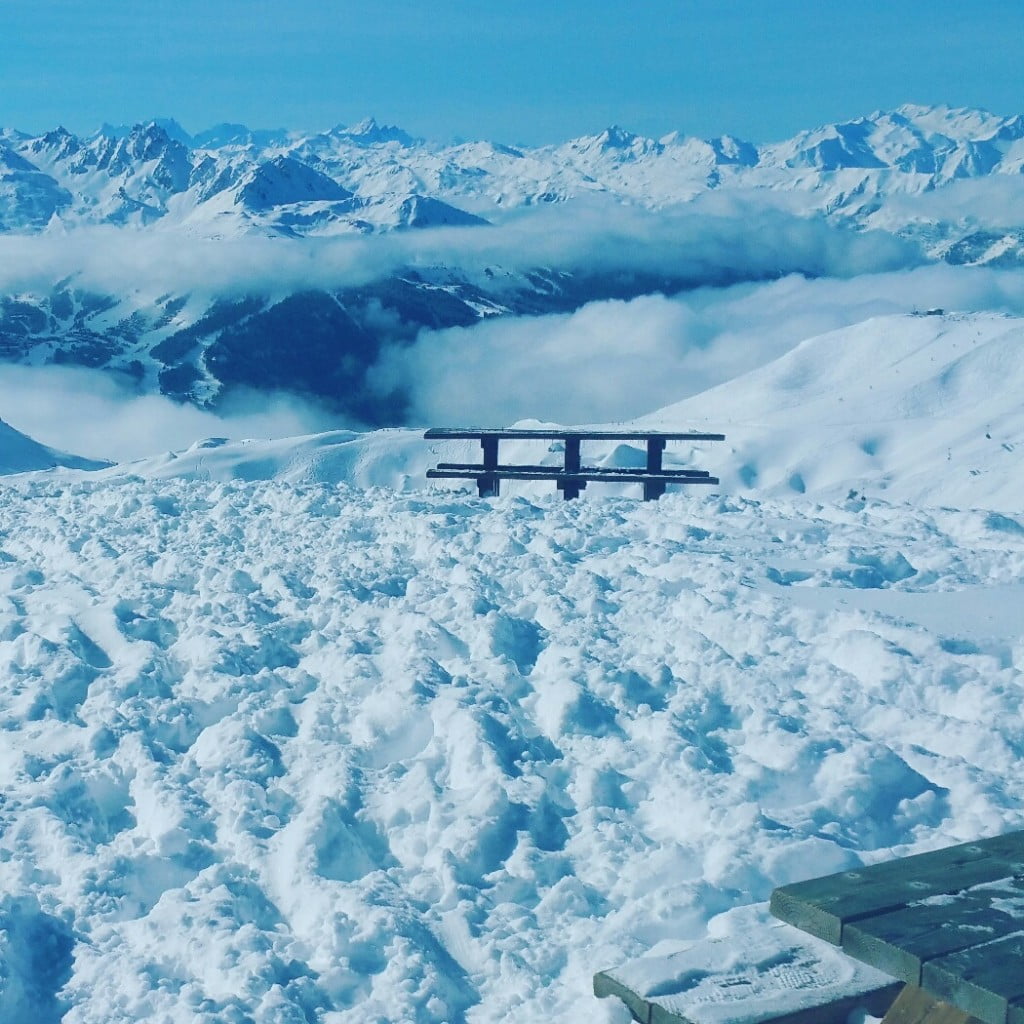 The temperatures were far milder this year to anything we have ever known before. Years ago when we went one January temperatures were as low as -20 in Belle Plagne. This time temperatures barely made it into the minus figures. I hope that doesn't affect the rest of the season too badly for all the other holidaymakers still to travel, as this obviously has an effect on the snow.
I don't think I've ever known so much variation of snow in one run. Halfway through the week we headed down a black run back into Plagne 1800 where it was powder at the top, ice in the middle and slush at the end.
By the last day the temperatures had dropped quite a bit and that was much better for the snow. Blue skies and cold crisp conditions…bliss, but of course colder for the little people.
We never want to leave the mountains and say goodbye to the snow and this year was no exception. For families, skiing is an incredible holiday and one I'd choose over and over again for us. Skiing holidays are also hard work for families and require a lot of planning and coordination. Work out how long you need to get everyone going in the morning and add on a contingency of about 1h30!
Before we left home to head for the mountains we download a super app that Crystal have developed with a whole range of features including:
Maps of resort and pistes
Resort guide
Snow report
Ski tracking
My friends (so you can keep track of where everyone is)
Recommend routes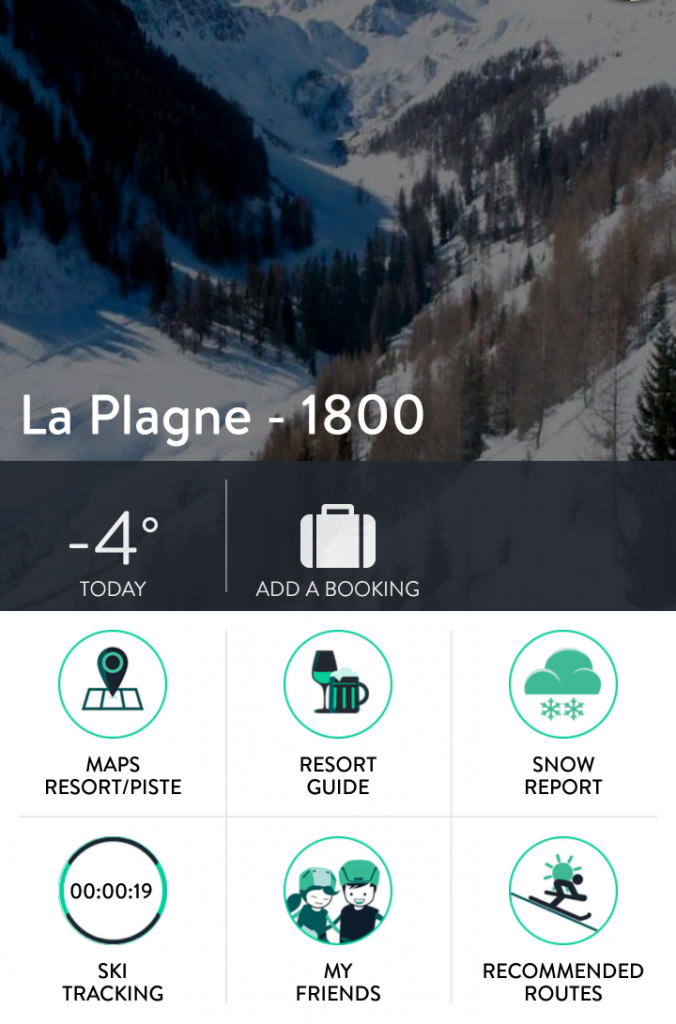 For groups, the 'my friends' part of the app would be really useful I imagine but the feature I used most was the ski tracking. I was able to see that I recorded a top speed of 64 km/h during the week and we covered around 25 km each day. This was a really good feature and very useful. I've never used anything like that before so it was really useful and informative. Well done Crystal!
Crystal have some great deals on for families which are worth looking at, you might still be able to pick up a bargain and get in some family skiing before the season ends. We've looked at all sorts of resorts over the years and tried skiing in lots of different places but still, so far nowhere quite compares to the La Plagne ski area. La Plagne is also connected to Les Arcs by cable car, making it one of the largest ski areas in the world.
Great for beginners, intermediate and advanced skiiers (and boarders if that's your thing) La Plagne is our 'Happy Place'.
Here's a little taster of what to expect!