It's years since I went on the Mersey Ferry, which is daft really as it is only 45 minutes from us. I asked the little boys what they wanted to do today and was told that they wanted to go on a boat. Serves me right for asking. Then I remembered about the Mersey Ferry and thought that would be ideal.
You can board from three different points, but I thought we'd head off from Seacombe as it has free parking at the ferry terminal and was really easy to get to for us. The weather was rubbish but it didn't matter as the boys were kitted out in their full waterproof suits and wellies.
You can book online, and print your tickets at home which saves £1 but with just the two little boys coming with me I only paid £9, which was just a ticket for me. The tickets are valid from any departure point for the whole day.
There are various different things you can do at the different terminals and places to visit around each area, but we just did the boat trip this time as that was enough for the boys. Next time though I really fancy Spaceport, which I never knew even existed until today.
Life goes on day after day
Hearts torn in every way
So ferry 'cross the Mersey
'cause this land's the place I love
and here I'll stay
People they rush everywhere
Each with their own secret care
So ferry 'cross the Mersey
and always take me there
The place I love
People around every corner
They seem to smile and say
We don't care what your name is boy
We'll never turn you away
So I'll continue to say
Here I always will stay
So ferry 'cross the Mersey
'cause this land's the place I love
and here I'll stay
and here I'll stay
Here I'll stay
[Gerry and The Pacemakers, 1964]
The Mersey Ferry has had a bit of a makeover and looks fabulous at the moment in these bright colours. The boys were so taken with how bright it was and found it all very exciting. Staff are friendly, the ferry is fully accessible and for reference the disabled toilet on board has a baby change and is so big your could fit around four pushchairs in it. Things like this make life so much easier for parents so high five to Mersey Ferries for that!
Seacombe has a lovely cafe in the terminal and a soft play centre just off the cafe. There is loads of seating, space and highchairs too. If you want to venture upstairs on the ferry and have a pushchair with you, just find somewhere on deck to leave it for a few minutes. We just parked ours up so the boys could explore a bit more upstairs. Whilst up there, we passed a huge cruise liner that was docked, so they found that quite exciting, especially counting the little orange lifeboats that were hanging from the side.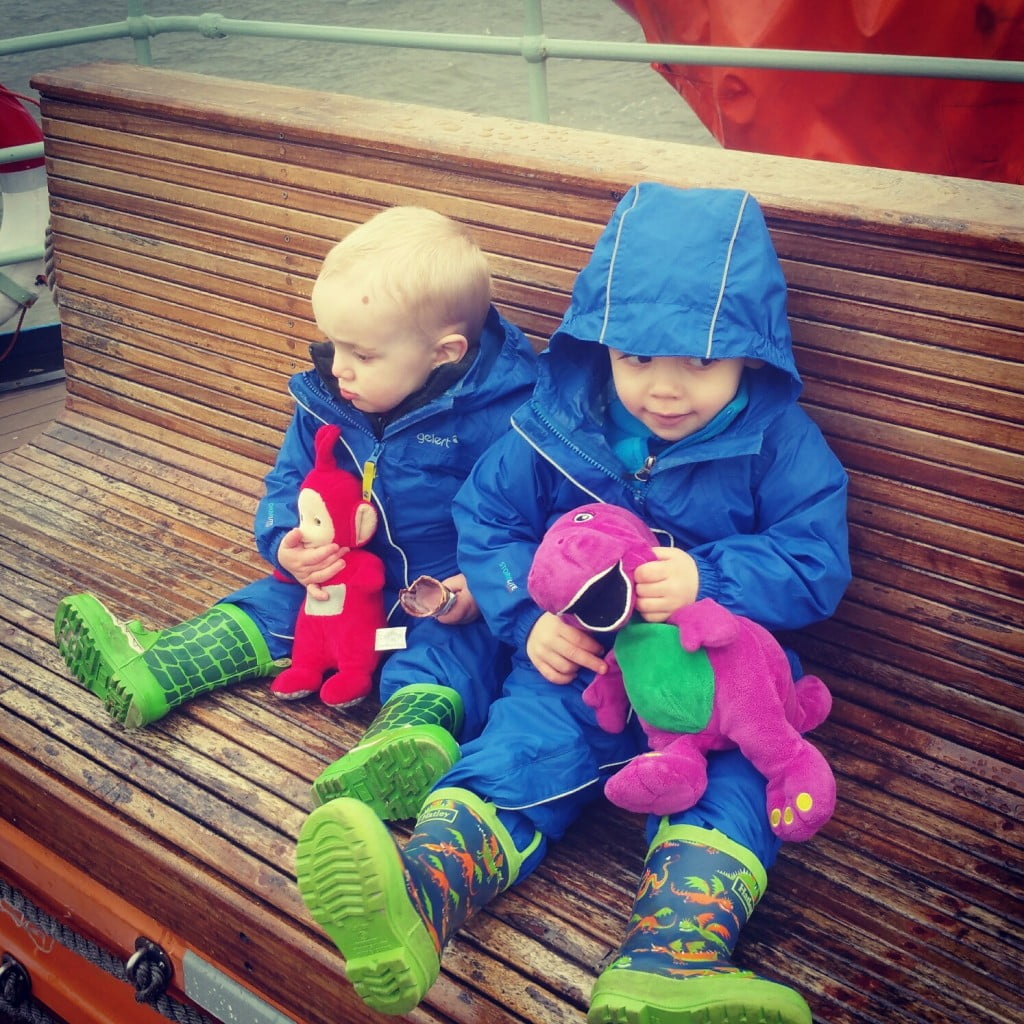 If you haven't been on the Mersey Ferry I really would try it out. I'm cross with myself that I haven't thought about it before but now we've sussed it all out I think we will be regulars. Here's a little video of our trip.