If you are a regular reader of the the blog you will know that we will be at Camp Bestival this weekend. I have to say that one of my biggest anxieties around heading to the festival with a family of six has been around feeding and hydrating everyone.
From a lot of what I have read people seem in general quite relaxed about this. Many commenting on the amazing food you can buy there and how much choice there is, but when you have a large family, and a few fussy eaters relying on that isn't enough really. Aside from the cost of the food outlets (which some people do highlight), there are also the queues. When little ones are hungry, they are hungry right at that second, not 40 minutes later when you reach the front of the queue.
Then there is the issue of keeping things cold. Many of the people who talk about taking their own food are those staying in caravans and motor homes – the people with fridges!
There are a few people I've come across who talk about making sure all your freezer packs are as cold as possible and that you've frozen your milk beforehand and so on. All great tips…if you live within a couple of hours of the festival. After our 5.5 hour trip everything will have melted.
I have bought some long life milk, knowing full well one of the children will flatly refuse it, and I will freeze some in the hope that will at least start us off. I've ordered a range of things that we just need to add water to and lots of things that don't need refrigerating and then a few things that we can hopefully just keep chilled at least for the first day. I guess it will partly depend on the weather too. After that, I'll be winging it.
As long as the children are fed and happy I'm OK, so I've focused on packing a range of things that will keep them fuelled. They would all rather 'do stuff' than have a huge pause for food anyway, so lots of on-the-go snacking will be in order I think. This approach also helps ensure the fussiest of the eaters actually eats something.
The bulk of the Goodies Organix range is packed, with all the favourites, such as the Gingerbread Men, rice cakes and Blackcurrant and Apple Stars. I'm happy that even if the children snack on these things all day, there are no nasties in them. They are snacks they recognise and love and they are really practical snacks for camping, and popping in a bag to carry around during the day.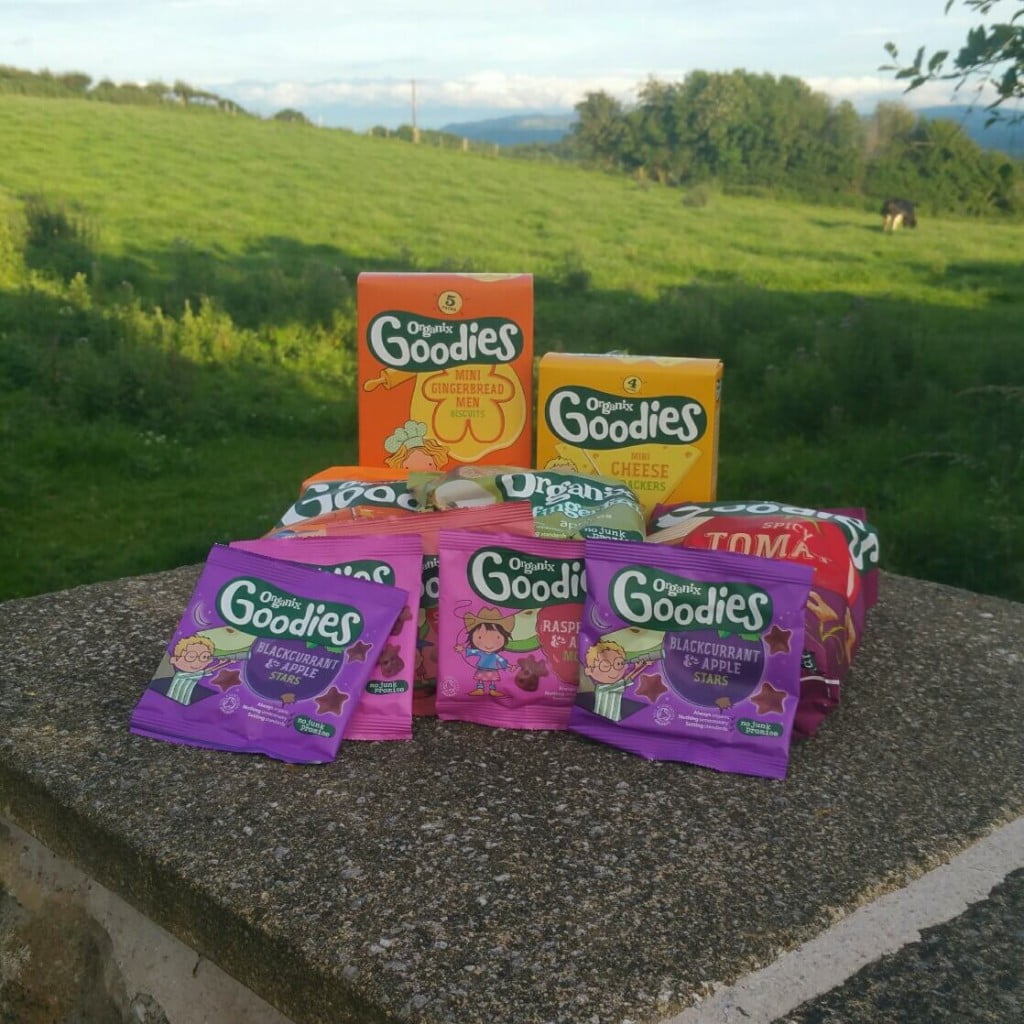 Organix have actually just launched a new range called Punk'd which we are really excited about. This is aimed at older children which is wonderful as it means the big kids don't think they are eating 'baby snacks' and I can relax in the knowledge that Punk'd also offer that No Junk Promise to parents.
Punk'd responds to research that shows parents are struggling to find good snacks for children as they grow up and are being forced to make a choice, to enforce health or save the battle on snacks.
Punk'd are kicking off this new range with two types of cereal bar. Punk'd oaty bars are soft baked, packed with real fruit and wholegrain oats, portion sized for kids and available in two tasty flavours – Cocoa & Orange Crash and Strawberry & Vanilla Smash.
You'll find fewer ingredients in these bars than in many other children's snacks, no hidden cheap ingredients, no flavourings or colourings – "natural" or otherwise – no artificial sweeteners and no added salt. They've nailed the packaging on these, as they look super cool and enticing.
We'd love to see them develop a range of savoury snacks and crisps aimed at older children as well – but for now we are loving these and hoping they will keep the big kids fueled at the festival this weekend.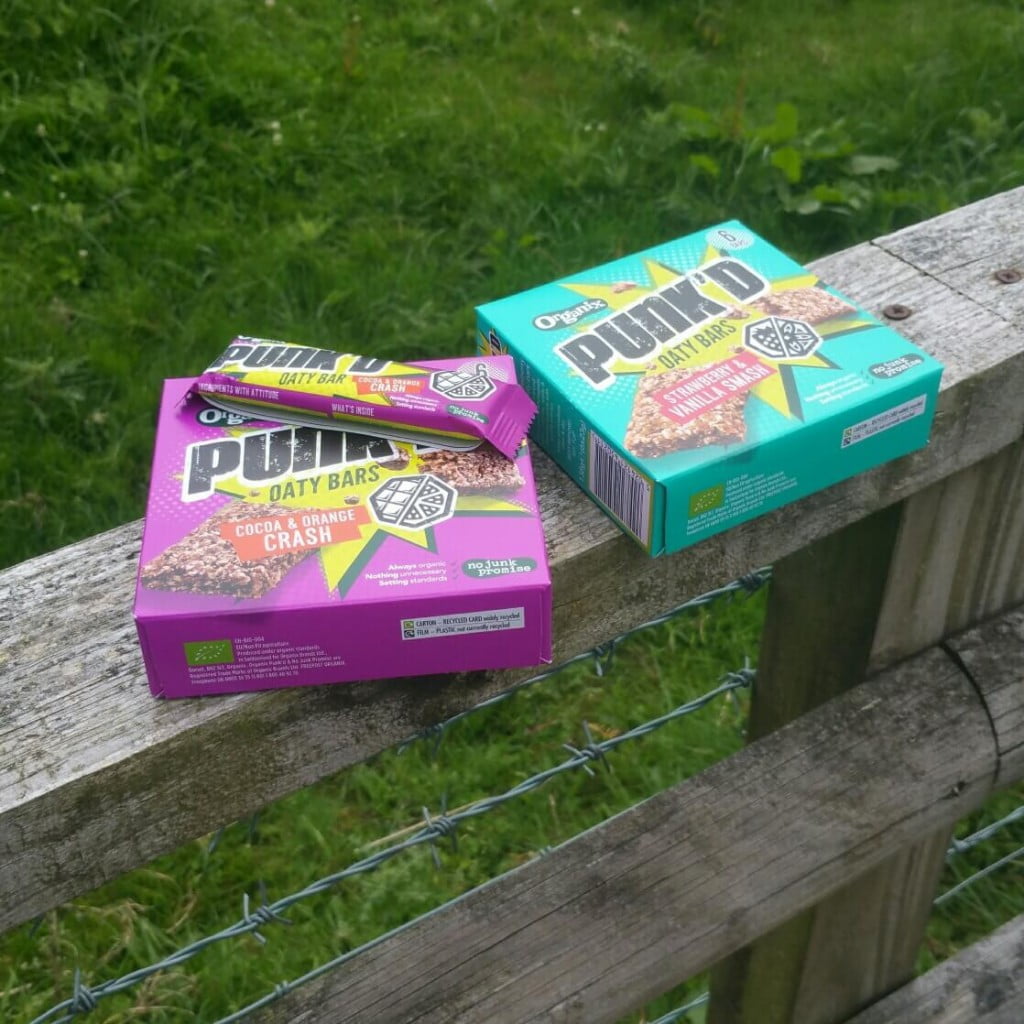 Lots of children love jelly, mine included. Naturelly is something really worth taking to a festival because it makes a great snack/drink anytime. It doesn't need to go in the fridge, so you can take it anywhere, anytime and it comes in these handy pouches which is a real bonus. Naturelly is a naturally fruity and fun refreshing jelly juice drink and snack made with fruit juice and a special gelatine free wibbly jelly. This jelly juice naturally helps fill up little tummies until meal time and helps stop those cravings for sugary snacks. It's a school approved product and also approved by the vegetarian and coeliac societies too.
I've packed a stash of all flavours, so I'm hoping this will go down well at the weekend.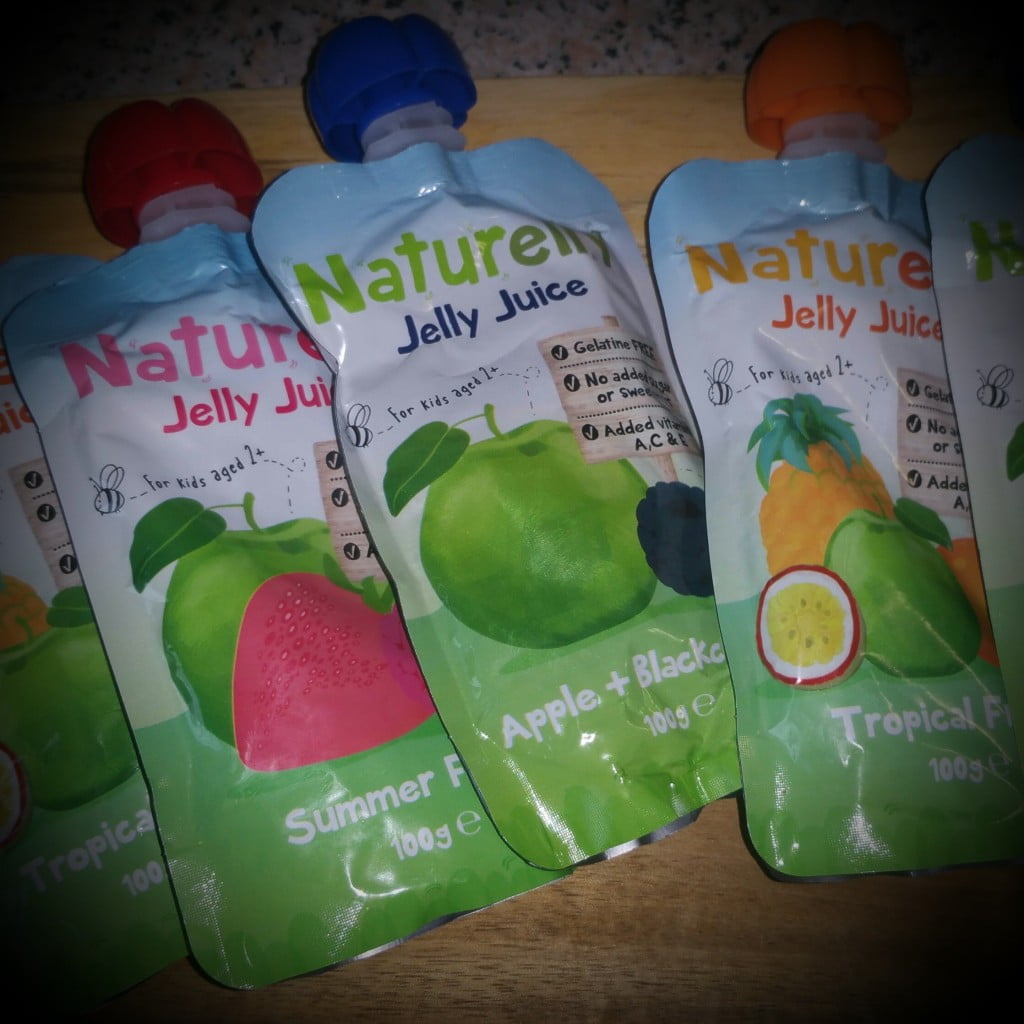 The children all like cereal, but given my concern over the milk situation, I am approaching cereal from a different angle for the weekend. The children will all eat dried cereal, and as we will be on the go a lot, I've packaged up BEAR Alphabites, the crunchy alphabet letters made with absolutely no added nonsense into little paper bags that we can take around with us. I thought they could snack on these whilst watching performances and so on.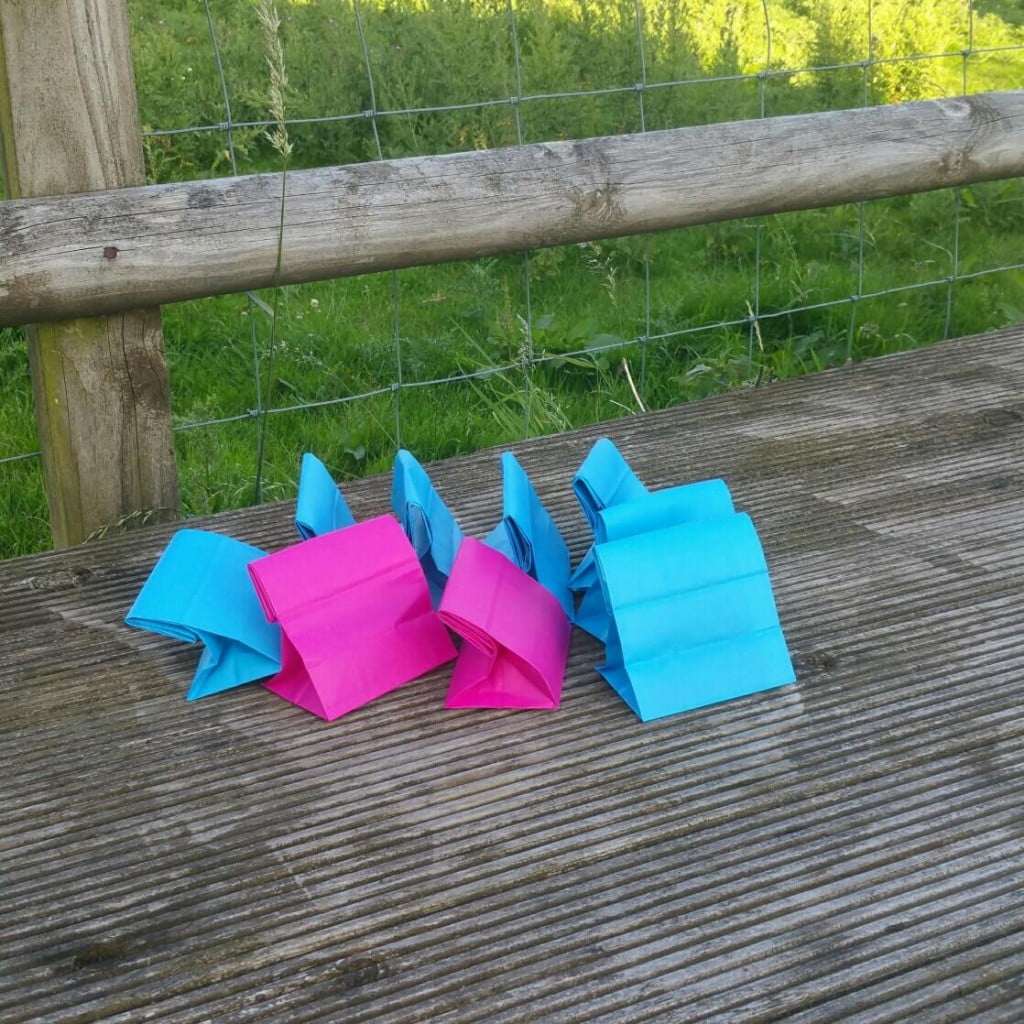 I've also been thinking ahead about any potential expensive popcorn or sweet outlets. I'm happy for the children to have a few treats and popcorn is actually a really good snack, but when you've paid a small fortune for some at an event and one of the children promptly drops in or it gets knocked out of their hands, it's not the best moment.
I've thought one step ahead this time and packaged up some individual bags of popcorn and sweets.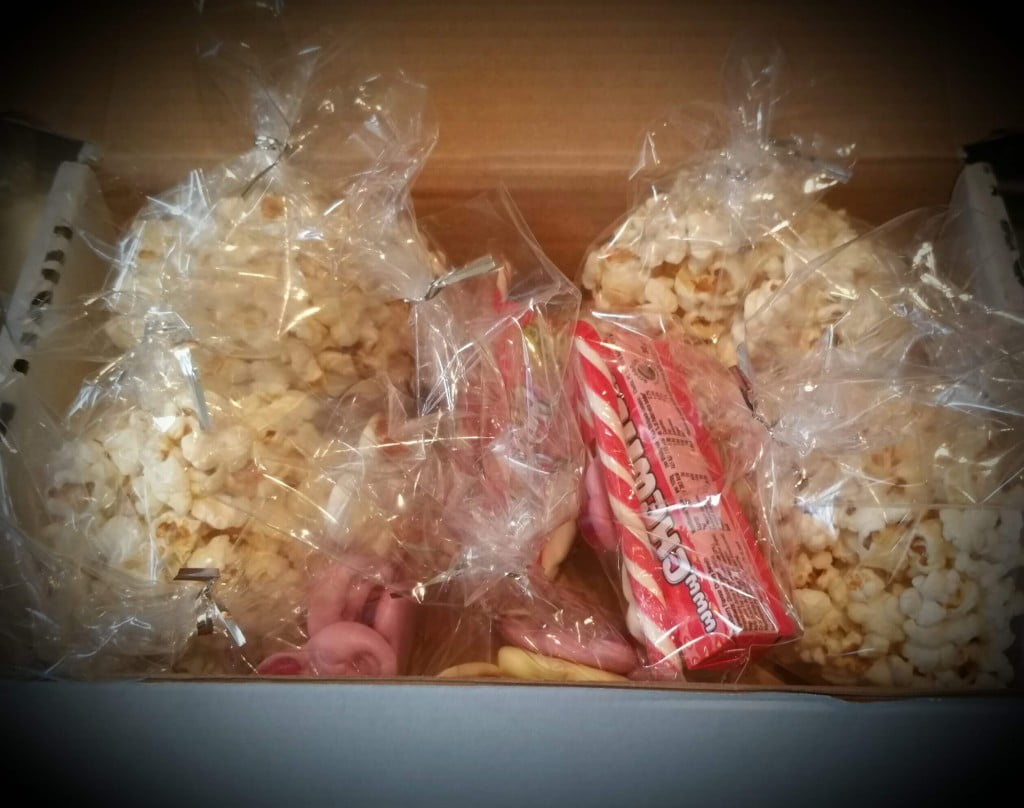 Have you been to a festival lasting a few days? How did you approach food?