When I was little 'playing' with food was something that was really frowned upon. I remember vividly my dad saying "stop playing with your food" – granted this normally related to me pushing it around my plate when I wasn't 100% keen on what was in front of me, but still, playing with food was not the done thing.
Since I have become a parent, I think rather differently. In my view, being creative and playful with food is great for little ones growing up as they try new foods for the first time and start learning to feed themselves. The challenge for parents can be how to introduce variety and come up with new ideas to present food that will help make it fun for their little ones.
Experimenting with different tastes and textures is an important part of learning and trying new things, and I have always encouraged the children to do this.
It seems that I am not alone in my thoughts: in a new survey from Organix, mums rated the top two things to encourage a positive attitude towards food as making mealtimes fun for your child (76%) and allowing your child to play with and experiment with their food (75%).
Finger foods are a great way of offering variety to your child, as they provide a whole new world of exciting tastes, textures, shapes and colours to your baby, in foods that are easy for them to grab and get hold of so they feel more in control of their choices.
We use foods such as rice, pasta and noodles for sensory play as well, and for me this is all a part of learning for the children. This morning we played with noodles and after making a spider, Theo ate some of the noodles and said they were "nice". This, for me is a good result, and now he likes noodles!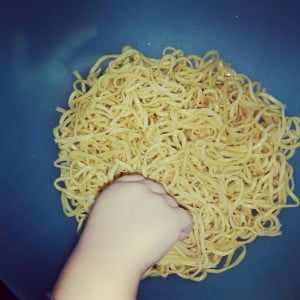 Mixing up textures, shapes and colours and encouraging little ones to play and experiment with food helps them gather sensory information and learn how to accept new foods.
From chewy pasta, to crispy rice cakes, melt in the mouth corn puffs, crumbly baby biscuits and squishy strawberries, you can offer lots of texture choices to help develop your baby's curiosity about food and build their confidence and enjoyment.
Unlike in the old days when parents told their little ones off for playing with their food, many modern parents see the positive benefits of encouraging little ones to play with their food and have fun:
• 86% feel it's important for babies to handle and play with new foods before they taste it.
• 93% feel it's important to let a baby play with and experiment with food.
• 93% recognise that the first year of a baby's life is about fun – playing with food and developing skills.
Why not add some fun with a creative finger food plate, you can mix up purees with finger food so your baby has a choice of tastes, textures and shapes to explore.
Our little ones love all the corn puffs and rice cakes and even the older children still eat these! When the snacks come out, the big kids will frequently have their hands in the rice cake bags, so I now buy these in bulk!
Try these fun ideas: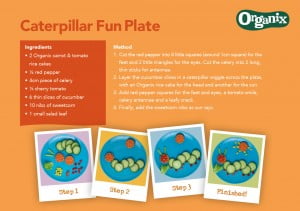 Do you let your little ones 'play' with food?