Many couples are choosing to get married after they've had children now, and this enables them to celebrate their big day with their children. If you're planning a wedding, and you want the children to take centre stage, here are some ideas to consider.
Show-stealing outfits
Your wedding day should be all about you, but if you have children, they're bound to want to share the limelight. You can set them apart from other guests by choosing show-stealing outfits. Mini tuxedos and smart 3-piece suits are excellent options for boys while lace dresses or cute tutu-style skirts work brilliantly for little girls. If your children are old enough to take an interest in what they wear, take them shopping with you. They can help you pick out some accessories, such as shoes, ties, and child-friendly jewellery. If you have older bridesmaids or ushers, choose complementary styles, so that the bridal party looks the part, but the children stand out.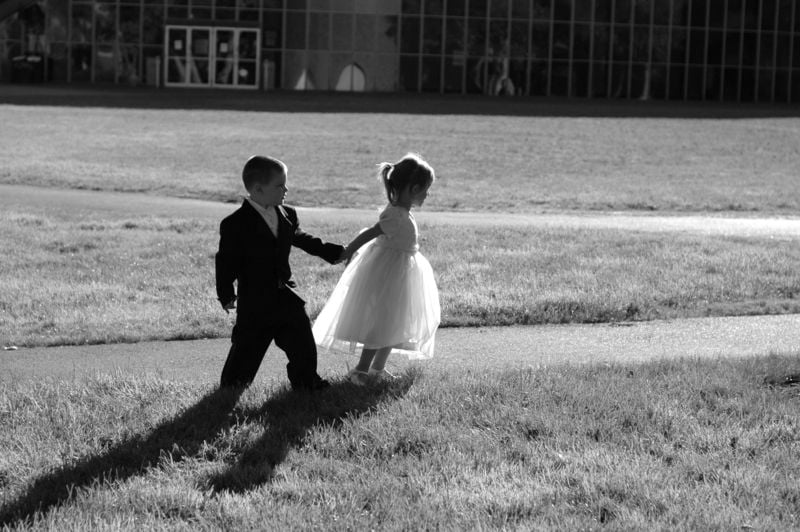 Jobs on the day
Most children are always keen to take on jobs, especially if they're fun. There are all kinds of roles and responsibilities you can entrust to both young and older children. Fill some confetti sacks or boxes and ask the kids to hand them out as the guests leave the ceremony, or ask older children to look after your titanium rings. When the time comes, they can present them to you. Other tasks children can take on include giving out thank you gifts after the speeches and making sure everyone has an order of service. If you have teenage children and they're confident about speaking in public, you could ask them if they'd like to do a reading.
Family first dance
Your first dance is a perfect opportunity to enjoy a special moment together, but most couples are desperate for other people to join them on the dance floor half way through. Once you've had your moment in the spotlight, invite the children to join you, and swing each other around the floor. Have fun, sing, laugh, and most importantly, take in the moment. These are memories that you'll treasure forever. If you've booked a photographer for the ceremony only, ask a friend or relative with a good camera to take snaps of the first dance for you.
A special mention in the speech
Most grooms will include their children in the speech. Your children are an important part of the life you share together, and giving them a mention will make their day.
If you have children, and you're getting married, it's highly likely that you want your little ones to be involved in your big day. No matter how old your children are, there are plenty of ways you can include them in your plans and ensure they have a memorable day. Give them roles on the day, mention them in the speeches, and let them help you choose their outfits. Invite them to join you towards the end of your first dance, and have fun throwing shapes together.