Well, with the snow about to hit the UK, I know a lot of you will be getting worried about your garden furniture. All that beautiful new stuff you bought in the summer looked resplendent just a few short months ago – but who knows what state it is all in now? As we all know, keeping your furniture in good nick is a tough task – especially when you have little ones to look after.
Rust, mildew, cracks appearing in wood – it all happens rather too quickly unless you can afford the time to give it all a little care and attention, but finding that time can be impossible. The good news is that it doesn't take much to keep your garden furniture in good order – you just need to bear a few things in mind.
Buy it treated
If you get the offer of having your garden furniture treated, always take it. Sure, these little extras are the way that furniture suppliers make the vast majority of their profits, but in this case, it's worth it. Proper treatment can last several years and many different weather conditions, so bear this in mind when you are planning your budget for new furniture.
Read the instructions
Manufacturers of garden furniture will tell you precisely how to care for your stuff in the right way, and following these guidelines will help them last for many years. Let's be honest though,  the vast majority of us will put our new garden pieces out, throw away everything else, and forget about maintenance within approximately ten minutes. Try not to do this, as most instructions will be simple enough to follow, and only involve a minimal amount of work every month or season change.
Invest in rattan furniture
Rattan is a great material for garden furniture, as it is durable, comfortable, and pretty much looks after itself, too. It's worth taking some time to get out there and see some for yourself at your local garden centre. While prices will be lower online in the vast majority of cases, it's always advisable to see if the furniture suits you regarding looks and comfort. Bear in mind that you will need somewhere to store any cushions or material additions over the winter, and your rattan furniture may require a cover when the weather is particularly harsh. Other than that, it's a simple clean every now and again – the perfect choice for any busy parent.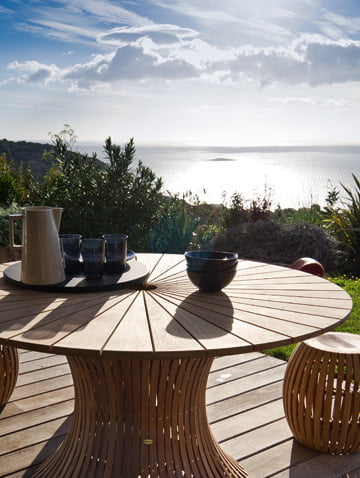 Clean often
OK, so part of the problem with cleaning garden furniture is that we all leave it for months – maybe years – before we clean it, and by that stage, it looks like it is going to take hours – maybe days – to fix up. Spending a half hour every month is all it takes to ensure your garden furniture is clean, presentable, and looking great at all times. Only half an hour, folks – and only once a month. We can all find that time, right?