Quick shower or long bath?
Whether you are having a quick shower before the school run, a longer one to recover from work, or the odd long bath on your own (I know, we can dream right?), it's lovely to have a few nice things to use.
Some nice smelling bath and shower products have the power to lift our mood and make us feel pampered. Never under estimate the power of a nice body scrub or bubble bath.
What are your favourite bath products?
It's the same for the children. Mine love the smell of a nice shampoo or bubble bath and as much as they love getting mucky, they also love spending time in the bath or shower, but when the products to get them clean look appealing and smell delicious everything is so much easier.
Watch the eyes
Of course, little ones hate anything that hurts their eyes and it's surprising how many things designed for children are still harsh on the eyes.
Johnson's have launched a new haircare range to help parents tackle little one's hair after a day of fun.
Did you know kid's hair is thinner than adult's hair and doesn't fully mature until they are in their teens? Children's hair contains less melanin than adults and lacks a central core, making the strands more transparent and prone to breakages, not to mention pesky knots and tangles, which is why JOHNSON'S® has launched a new mild hypoallergenic Kids' haircare range – developed especially for the delicate nature of their hair.
Whether they're a superhero, doctor or pirate for the day, a child's imagination knows no bounds as they develop and grow. To help parents style their little one's pop-star inspired do, or de-tangle their mane after a day of den-building, JOHNSON'S® gentle and effective Kids Haircare products with unique NO MORE TEARS® formulas, are specially developed for children's delicate hair.
The new range is called Shiny Drops and is specifically for getting that shiny and silky soft hair. Products range from RRP £2.49 to £3.49.
The heavenly scented JOHNSON'S® Shiny Drops range leaves children's hair looking silky soft, shiny and full of life by using gentle and mild ingredients that are kind to little heads. Containing a drop of argan oil and a touch of silk proteins, JOHNSON'S® Shiny Drops boosts hair's natural shine and leaves hair looking silky smooth and healthy.
This is much improved on the previous traditional formula I feel, and the smell really is amazing. The addition of argan oil brings a high shine to the hair.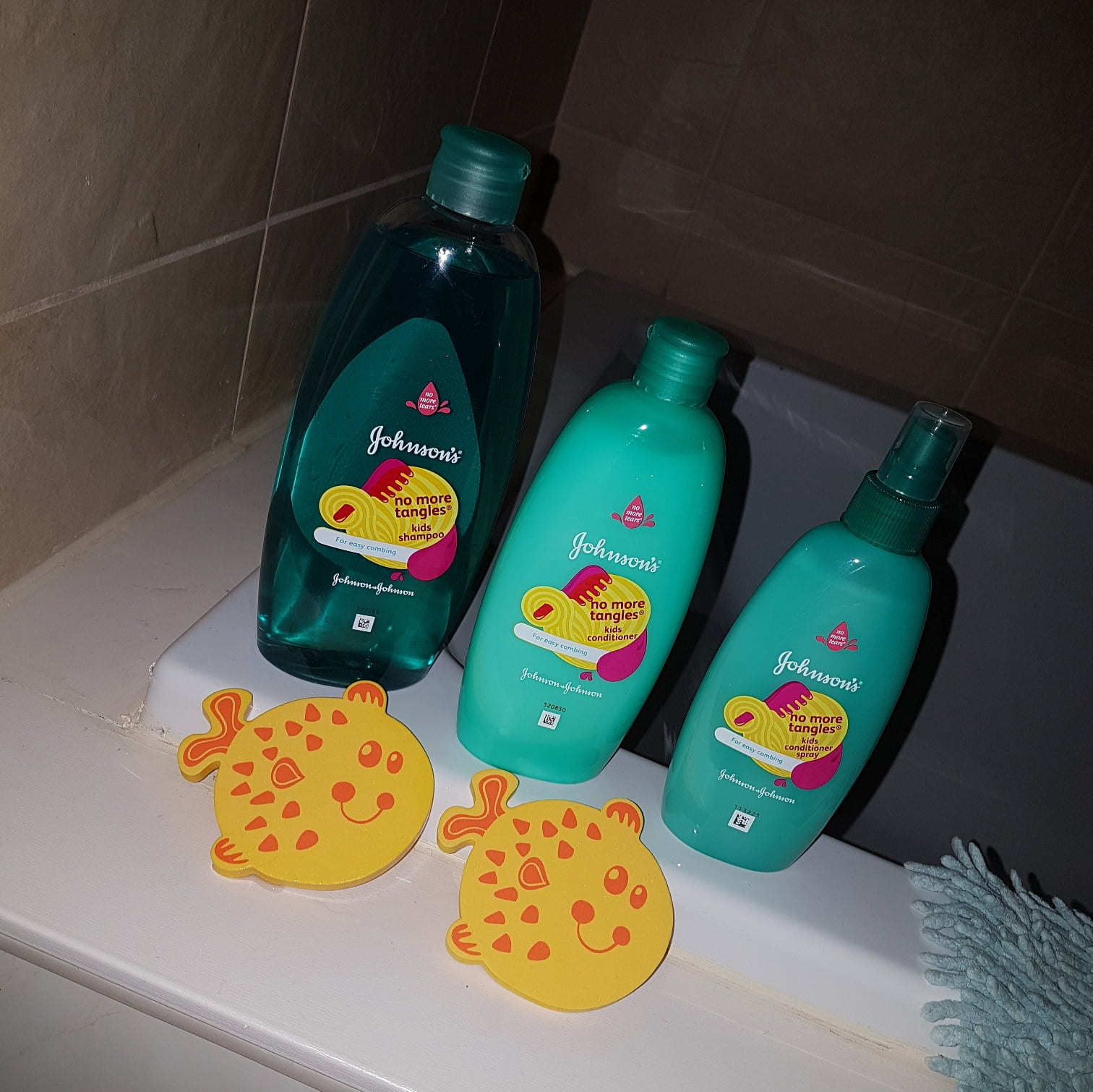 What about the grown ups? 
As I have got older, and more knackered from all the lack of sleep and general racing around, I really appreciate having a few nice things in the bathroom. A good shampoo and conditioner, a nice bubble bath, some delicious shower gel and a good body oil, for example can make a world of difference.
I'm loving the Kind Natured range at the moment and also pretty much everything from Tropic skincare.
This Coconut and Passionflower Body Wash is gorgeous. It smells amazing and the hydrating coconut means skin is left softly cleansed and gorgeously happier.
The Tropic Vitamin Toner – pore refining mist is so refreshing and lovely to use both day and night. Bursting with organic rose water, aloe vera and cucumber juices, this instant skin refresher is infused with vitamins and amino acids that help to balance pH and reduce pore size.
My personal favourite is the Tropic Body Smooth Refreshing Polish . I do love a good body scrub but this is just gorgeous with the cute little wooden spoon it comes with. Enriched with vitamin e and lemon myrtle, it buffs your skin to perfection and leaves you feeling unbelievably smooth and soft.
I'm not normally a fan of moisturising creams, I prefer oils, but the Tropic Body Love Firming Buttercream is actually really lovely. With green algae and pink peppercorn actives to help combat cellulite, this firming moisturiser is a must-have skin treat and leaves skin silky soft.
A love the Tropic Soothe the Senses Luxury Body Oil, this feels really luxurious. Treat your skin to the luxury it deserves with this instantly hydrating, indulgent frangipani and golden everlasting flower body oil. With a blend of argan, apricot kernel and rosehip oils, this versatile, hydrating skin essential leaves you feeling nourished, velvety soft and smelling delicious.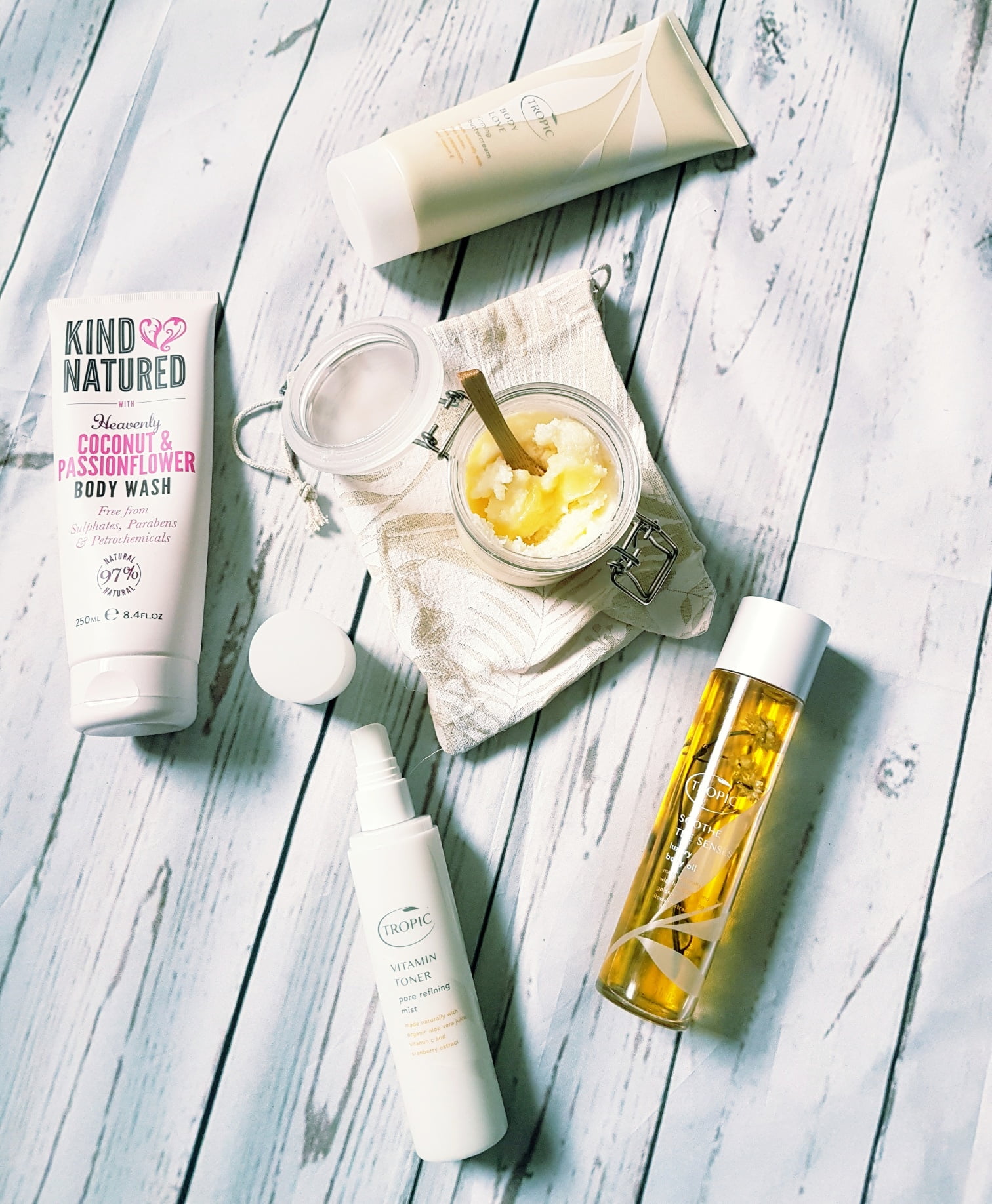 Products to share?
Have you ever smelt the products your children use and thought, damn that smells so good I might have to try it? Some of my favourite children's products which I've also used as well are from the kids Kind Natured range and also the Daniel Galvin Jr range.
Mostly I think it's because these products smell soooooooo amazing. If you don't use them on yourself you run the risk of eating them!
There's the Jam Doughnut Detangling 2-in-1 shampoo from Kind Natured that won a prize in the 
JUNIOR DESIGN AWARDS
 2017. It's a super gentle 2-in-1 detangling formula expertly blended to leave hair clean, beautifully soft and knot free. Bursting with a strawberry aroma, this gentle 'tear free' formula is a treat to use and enjoy for both you and your kids. They also do an Apple Smoothie Gentle Care 2-in-1 Shampoo, also a winner at the 
JUNIOR DESIGN AWARDS
 2017.
To keep things fruity Kind Natured also do a Tutti Frutti De-tangling Spray for £2.99. Bursting with a zingy orange scent, it gently de-tangles hair, allowing easy combing. Added conditioners help boost smoothness to leave hair feeling soft and silky. I use this on my hair when it gets knotty and it really helps. It's also a great product for attacking boys 'bed-head' in the mornings!
All the Kind Natured products as free from silicone, parabens, sulphates and petrochemicals, tested on people, not animals, DEA & MI free.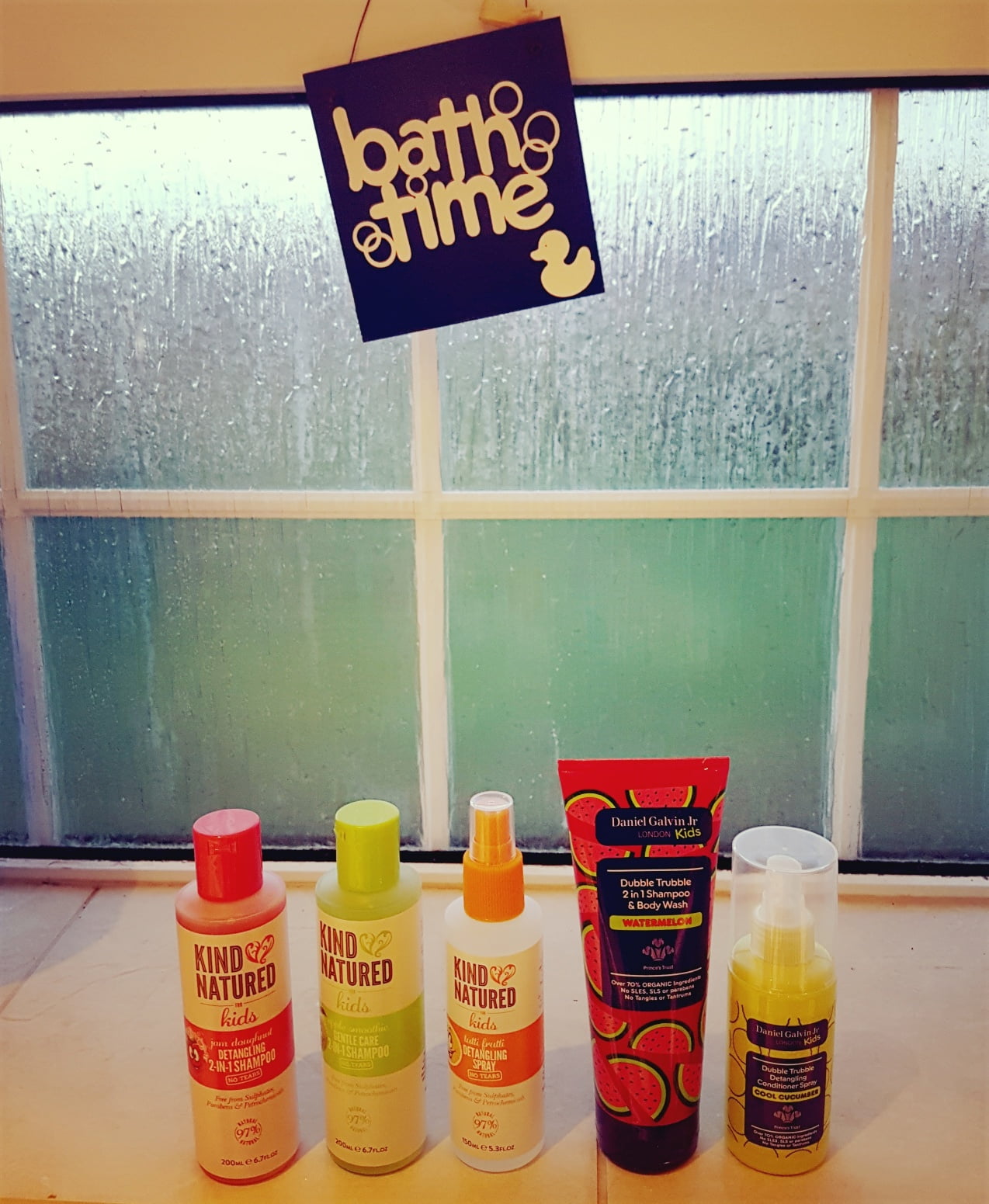 Celebrity hair colourist and Prince's Trust Ambassador, Daniel Galvin Jr, has indroduced a fantastic children's range Dubble Trubble, a collection of five pH balanced Hair & Body washes and a Detangling mist, all utilising organic botanical extracts.
My children struggle not to eat these products they smell so good and regularly sit in the bath just sniffing the shampoo and body wash! I love it too.
The Watermelon 2 in 1 Shampoo & Body Wash is bursting with nourishment, delivering over 70% organic ingredients in one tube. It is jammed with Aloe Vera & Watermelon extract to help nourish the hair, scalp and skin. This product is phytonutrient-packed with Watermelon, which is gentle on the body and hair, yet rejuvenating at the same time. After shampooing try using  the conditioning Detangling Spray to soften the ends to ensure no tangles or tantrums. Formulated to be gentle on delicate skin, this product is completely SLES, SLS and paraben free.
What are your favourite bathtime products?