As COVID-19 doesn't seem to be going anywhere fast, loungewear remains a frequent purchase of people at the moment. So many people are ditching those fancy outfits in favour of comfy and cosy numbers to wear at home, because we won't be going far for a while will we?
When someone mentions loungewear what do you think of? Something comfy, baggy, something you wouldn't go out in perhaps? Do you think of that awful t-shirt you'd never wear out but just throw on at home where you can't be seen? Or those tracksuit bottoms that are two sizes to big and trail on the floor?
Loungewear is not nightwear. I mean, it's just not. It's meant to be comfy, absolutely, but that doesn't have to mean it's not stylish. You can absolutely feel good in loungewear these days, there is so much out there to choose from.
Whilst it's nice to be cosy in the colder months at home, lots of us put on the heating and the fire and it can actually get quite warm inside. You don't always want something fluffy or fleecy, but you always want something comfy.
What's your favourite kind of loungewear? Do let us know in a comment below.
Two Piece Outfits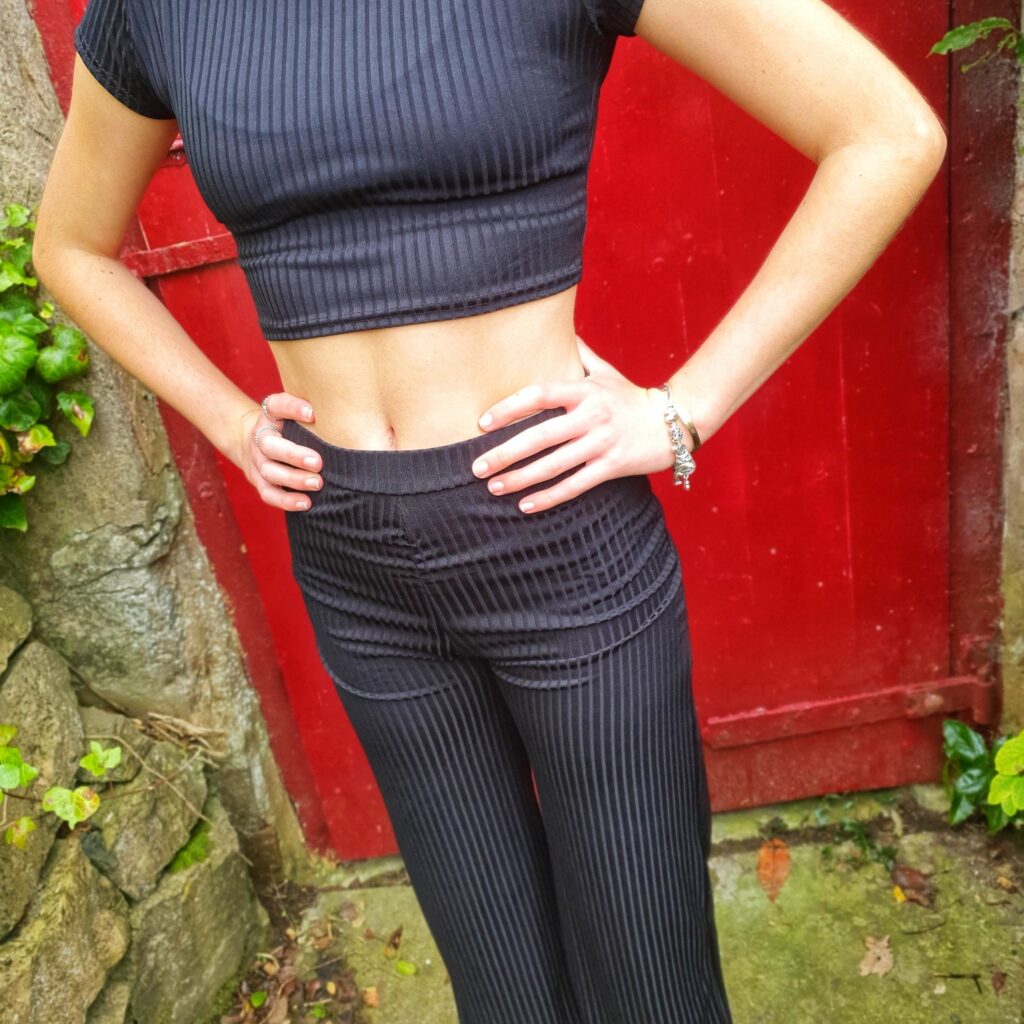 A nice two piece outfit can serve as loungewear. It doesn't have to be bulky either. You can 'lounge' in anything you like, and if that's something cropped, with a wide leg trouser then so be it. This ribbed two-piece from Femme Luxe for example. Super cute but super comfy too, for when you are spending time at home.
These two-pieces come in several different colours too, so you could have a few to choose from. The ribbed fabric doesn't crease, so even if you've been having a relaxing day, you aren't going to look like you've just rolled out of bed.
Of course, when you aren't relaxing in this and a pair of fluffy sliders at home when the pandemic is finally over, you'll be able to dress this outfit up and head out to meet friends.
Jumpsuits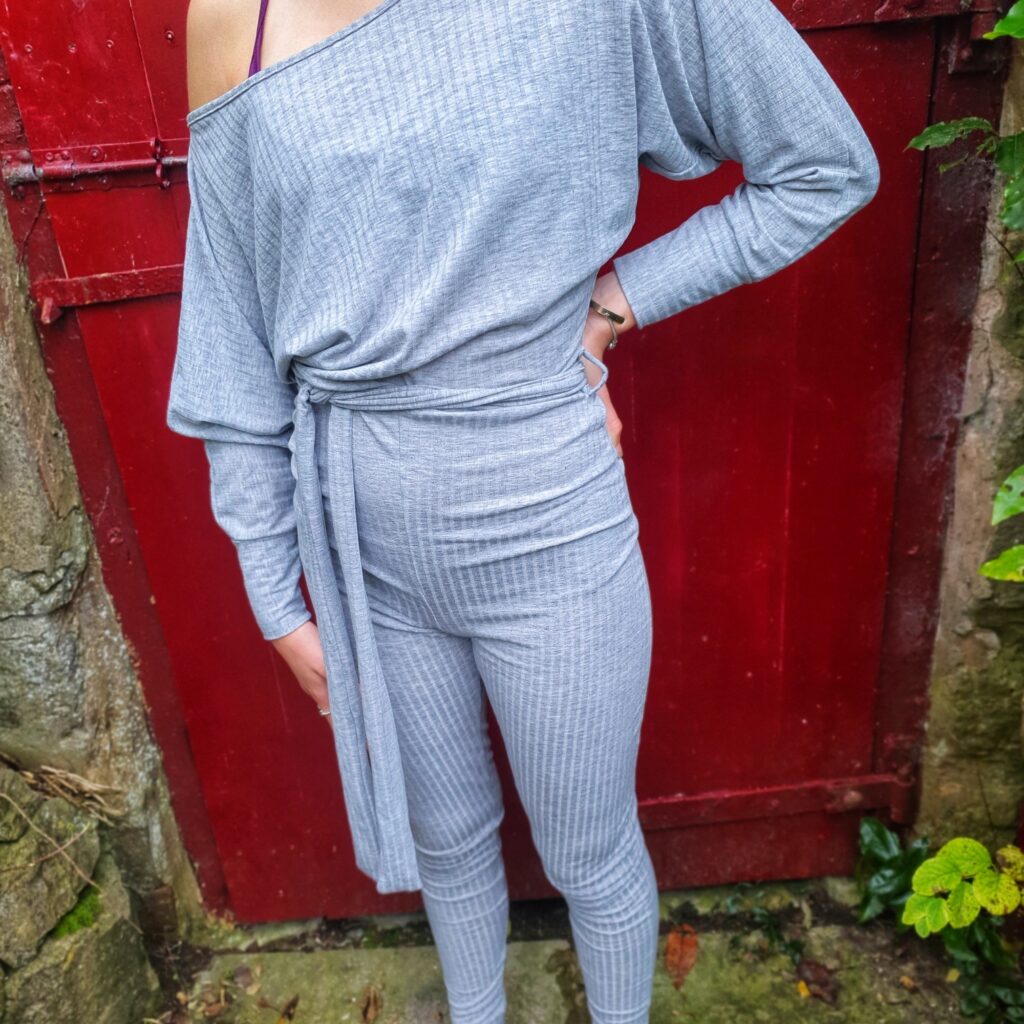 This is so comfy it's unreal, yet, with the one slouchy shoulder going on it also feels a stylish. Comfy never looked so good. This grey ribbed off-the-shoulder jumpsuit features a neat ribbed design with an off the shoulder top and a cuffed leg, this jumpsuit is an essential for that off-duty cutie vibe. Team with a pair of fluffy sliders and a messy bun. The tie around the waist means you can blouse over the top part of the outfit which is baggier. This is available in sizes 6 to 14.
Tracksuits
If you are looking for something long sleeved, but don't want to opt for a baggy, shapeless tracksuit, what about something like this black loungewear set?
Nothing solves your nothing to wear problems like a black loungewear set. Work and study in one, nip to the shop in one, exercise in one, answer the door in one – no problem.
The cuffed sleeves and ankles and the matching band around the base of the top and waist of the bottoms make this outfit look quite smart. The fabric on this is not that stretchy, so you may wish to size up for comfort.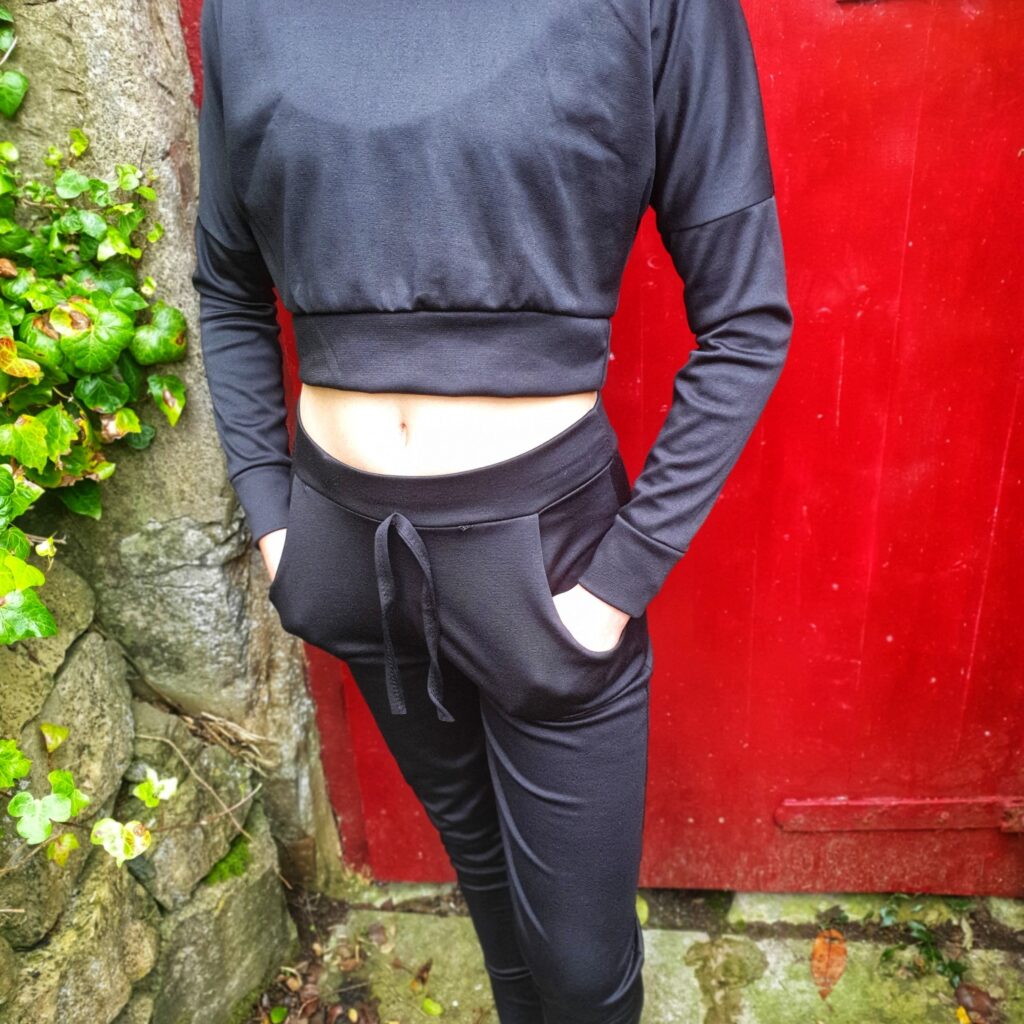 2020 has been a year where people who have never even considered loungewear before have suddenly been rocking all sorts of loungewear outfits. Loungewear is the new party dress right? It seems this might be the case for a while yet with the pandemic raging on so ferociously. Now could be the perfect time to stock up on a few nice loungewear sets and get your comfy on – I mean, these days many of us don't need 'proper' clothes anyway, it's perfectly acceptable to Zoom in comfy clothing.
What are your thoughts? Have you worn more loungewear this year than you normally would? What sort of loungewear have you been wearing? Do you have a favourite combo?
These outfits here show that comfy doesn't have to mean boring and you don't have to be stuck in a huge baggy tracksuit to be comfy either, there is a balance to be had and I think these kinds of outfits are it.
This is a collaborative article.