Welcome to the first in our series of articles around 'Mini Chefs'.
All the children love to cook and bake and we spend a lot of time in the kitchen. We use cooking as a form of sensory play as well as making things to eat.
Spending time as  mini chefs gives the children a lot of skills:
Improves motor skills
Teaches them about taste and texture
Teaches them about the dangers of the kitchen
Teaches them about food
Teaches them about hot and cold
Improves co-ordination
Broadens their experiences
Gives them skills for later life
…but most of all, being mini chefs is lots of fun!
It doesn't matter what you cook or bake and it doesn't matter what it looks like at the end, it is really all about the fun of taking part and the learning process.
It can be messy and things will go on the floor but try to relax and go with the flow. Remember that mess will clean up and focus on what your children are getting from being involved in the kitchen.
Today we made chocolate covered raisins and cranberries with leftover Easter eggs .
We melted the chocolate and added the fruit.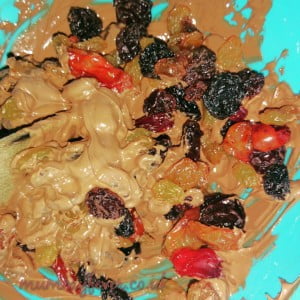 We gave it a good mix and made sure all the fruit was covered and then spread it on a tray and placed it in the fridge.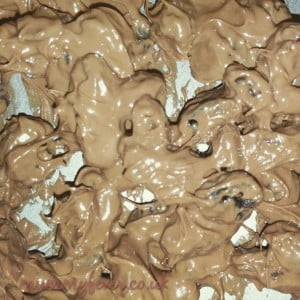 When the chocolate had set, we scraped the fruit off the tray and placed it in a plastic tub for snack time.
Of course, the best part was tidying up the leftover chocolate!