I love it when everything is clean, there is just something about the smell and look. It doesn't last very long though with 4 children around…a few minutes perhaps but it is nice while it lasts.
I love Milton products and use these a lot because I trust them and associate them with safe cleaning. Their wipes and spray are great for cleaning the highchairs and if you need to sterilise something you can use the tablets to soak your items, just watch the solution doesn't splash on your clothes as it will bleach them.
There are a number of items that should always be stored in your cleaning cupboard; you would be surprised how much cleaning time is wasted looking for the right tools for the job. Rubber Gloves – Essential for protecting hands and getting stuck into dirtier jobs; Apron – Originally made popular at the turn of the 20th century when clothes were a precious commodity, the apron is currently enjoying a renaissance as a retro-chic fashion accessory and is essential to protect your clothes while cleaning; Cloths and dusters – Buy a pack of good strong cleaning cloths and dusters to help keep all the surfaces in your home sparkling and free from dust and dirt; Mop & bucket – Invented in the 1830s the mop and bucket has fully cemented itself into our cleaning cupboards. Use the dry mop to pre-clean by removing surface dust, before giving floors a good wash to kill germs and remove dirt.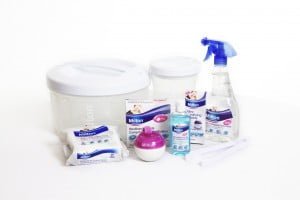 Find out more at: www.milton-tm.com