Are you planning to renovate your children's playroom? If yes, then here's a flooring option that you should definitely consider – luxury vinyl flooring.
It is an ideal choice for children's playrooms, as it is durable, soft, easy to clean and replace, and comes in a variety of designs.
Unlike hardwood or carpet, which can easily get damaged with rough play and spills, luxury vinyl flooring is an excellent option for high-traffic areas like playrooms.
Resistant to Scratches and Stains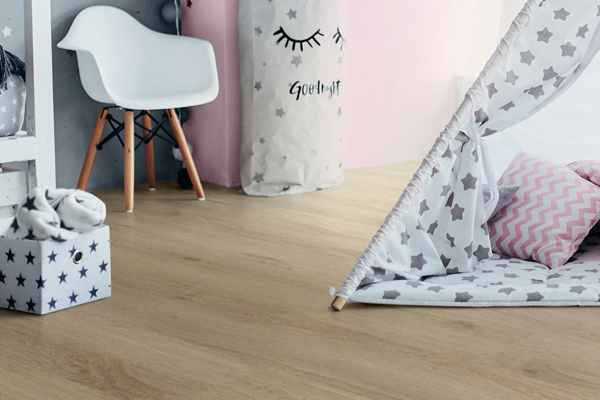 Distinctive flooring is not like the traditional vinyl tiles. It's made up of multiple layers of vinyl, with fibreglass reinforcement for additional durability.
With this kind of construction, it's highly resistant to scratches and stains. The ultra-tough top layer of luxury vinyl flooring ensures that it can withstand the toughest of spills, including food, drinks, and paint.
Moreover, its resilient nature means that it won't be affected by the wear and tear that comes with children running around and playing in the area.
Soft and comfortable
Luxury vinyl flooring is made with soft materials, making it comfortable for children to play on. Unlike other flooring options, it won't hurt their knees, and it has cushioning that can soften falls.
Easy to Clean
The stains and spills of a playroom can seem never-ending. Since this is the place where your little ones will be spending most of their time, keeping it clean is a priority. The good news is that distinctive vinyl floorings are easy to clean.
Spilled juice, paint, or even food – all it takes is a damp cloth or mop to wipe it clean. So, instead of worrying about staining your expensive carpet or hardwood floors, you can rest assured that luxury vinyl flooring can be cleaned in a jiffy.
Design variety
Another advantage of luxury vinyl flooring is that it comes in a variety of designs, making it easy to find one that aligns with your playroom's décor.
Whether you're going for a colourful playroom or a more subdued one, you'll find a wide range of styles, patterns, and colours to choose from.
The designs could be a great way to spark your kids' imaginations. You could even get creative with a two-tone floor to create a more playful setting.
Long-lasting Durability
The great thing about luxury vinyl flooring is that it lasts a long time. The durability of the material means you won't have to worry about wear and tear anytime soon.
In addition, it will continue to look attractive and withstand wear, even as your children grow into teenagers. Furthermore, the materials used to make vinyl flooring are eco-friendly. You won't have to worry about harmful toxins that could be affecting your child's health.
Cost-Effective
If you're concerned about the cost of renovating your playroom, know that vinyl flooring is an affordable option. It ranks lower than other flooring materials in terms of cost.
You can save money while getting a durable, long-lasting, and effortless flooring solution. Plus, it will last a long time, which means fewer renovations down the line.
So, if you're planning to renovate your children's playroom, consider luxury vinyl for durable, fuss-free flooring.