With half term upon us we have been doing lots of craft, and with Halloween fast approaching much of this has been themed around that.
We seem to have had a run of bad luck on coloring things lately. Crayons snapping, pencils constantly breaking and felt tips drying our far too quickly.
This week we've been using the Stabilo Woody Pencils and the Scribbi and both are so much better. We love the chunky pencils, as they are easy for little hands to grip and the Scribbi Pens come with their own loop to hold them all together.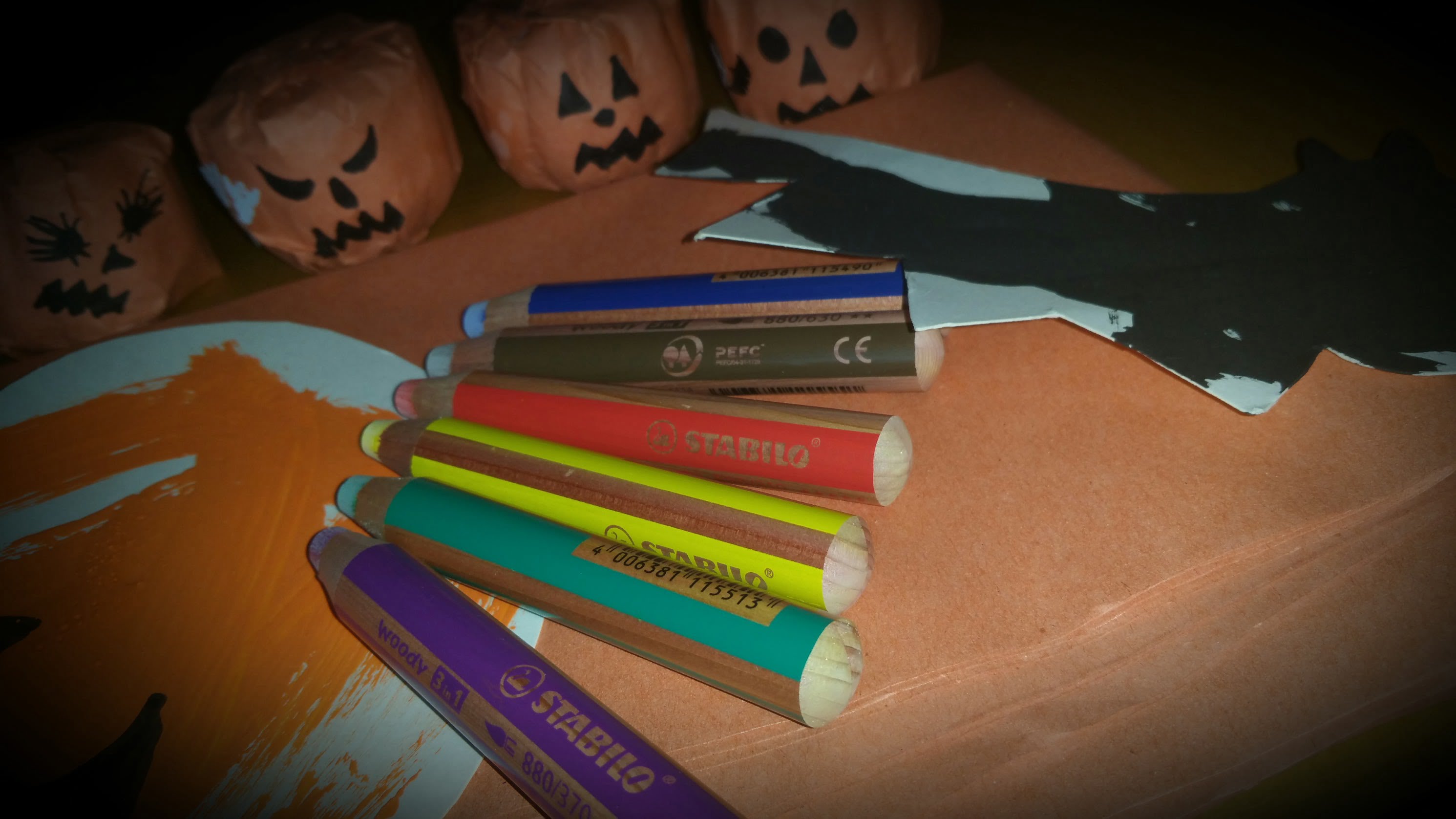 Here are a couple of ideas for kicking off your Halloween crafting:
Bat
1 x toilet roll tube
Black paper
White paper
Black colouring pen
Scissors
Glue/Tape
1. Cover the toilet roll tube in black paper or, you can colour the tube in black using your STABILO Scribbi.
2. Draw round your child's hand onto black paper and cut it out.
3. Glue/tape onto to back of your bat to make the wings.
4. Cut two triangles out of black paper and glue to the top for ears.
5. Cut two triangles out of white paper and stick them to the front of the bat to form the teeth.
6. Cut two circles out of white paper, draw black dots in the centre and stick them to the front of the bat to form the eyes.
Pumpkin Mask
Orange card
STABILO Woody Pencils
Scissors
Elastic
1. Fold your orange card in half.
2. On one side, draw half a pumpkin shape. Be sure to include a triangle in the centre for the eyes.
3. Carefully, cut around your template and cut out the triangle.
4. Unfold the mask and add your detail using your STABILO Woody pencils.
5. Thread each end of the elastic through the holes and tie a knot in each end to secure in place.
Happy Halloween!