Unless you have frequent, free and on the doorstep child care from willing grandparents or other family, date nights once you are a parent are few and far between.
It's one of the things you hear parents complaining about a lot, but in reality we know this when we go into parenthood. We shouldn't expect everything to be as easy as it was before. Parenting is a juggle in every sense of the word but it's what we sign up to.
That doesn't mean that we should never have date nights, just that we shouldn't expect to have them all the time.
Having a date night 'out' occasionally makes you appreciate it so much more and the people who are facilitating it.
There is the option of course to intersperse these rare nights out with date nights at home. If you are really lucky to have great sleepers and have most evenings to yourselves then you can probably manage this once a week. If, like us you have children who think sleep is for the weak and have full calendars of various commitments from one or more of you then it might be more of a once a month thing.
It could be something as simple as going to more of an effort to cook something different
It could be a takeaway and a movie
It could be games night
It can be anything you want as long as you are focused on devoting that time to something you can enjoy together
If you are stuck for ideas then why not enlist the help of Plan Our Date, the latest exciting subscription service. Essentially an exciting, fun date delivered to your door in a box once a month for you and your partner to enjoy. You don't have to come up with the ideas of what to do, all of that is taken care of, you just need to show up.
No expensive babysitters, no putting grandparents out, no pricey taxis or overpriced drinks. Just a bit of fun at home, but different from your regular movie and food night in.
There are a range of subscription options and prices depending on how long you commit for, one box, billed monthly is the most popular at £24.99 – you can cancel this at any time.
An example of what comes inside is: something to make together (pancakes); a task to complete (painting); a game (who knows most about each other); something to nibble on (yummy skinny popcorn).
If you are stuck for ideas then this will certainly help with that. If however, it is time that you struggle with you might be disappointed as I'm yet to find several more hours in the day inside a box.
The boxes would also make a lovely gift for someone, perhaps you could buy a subscription for someone else?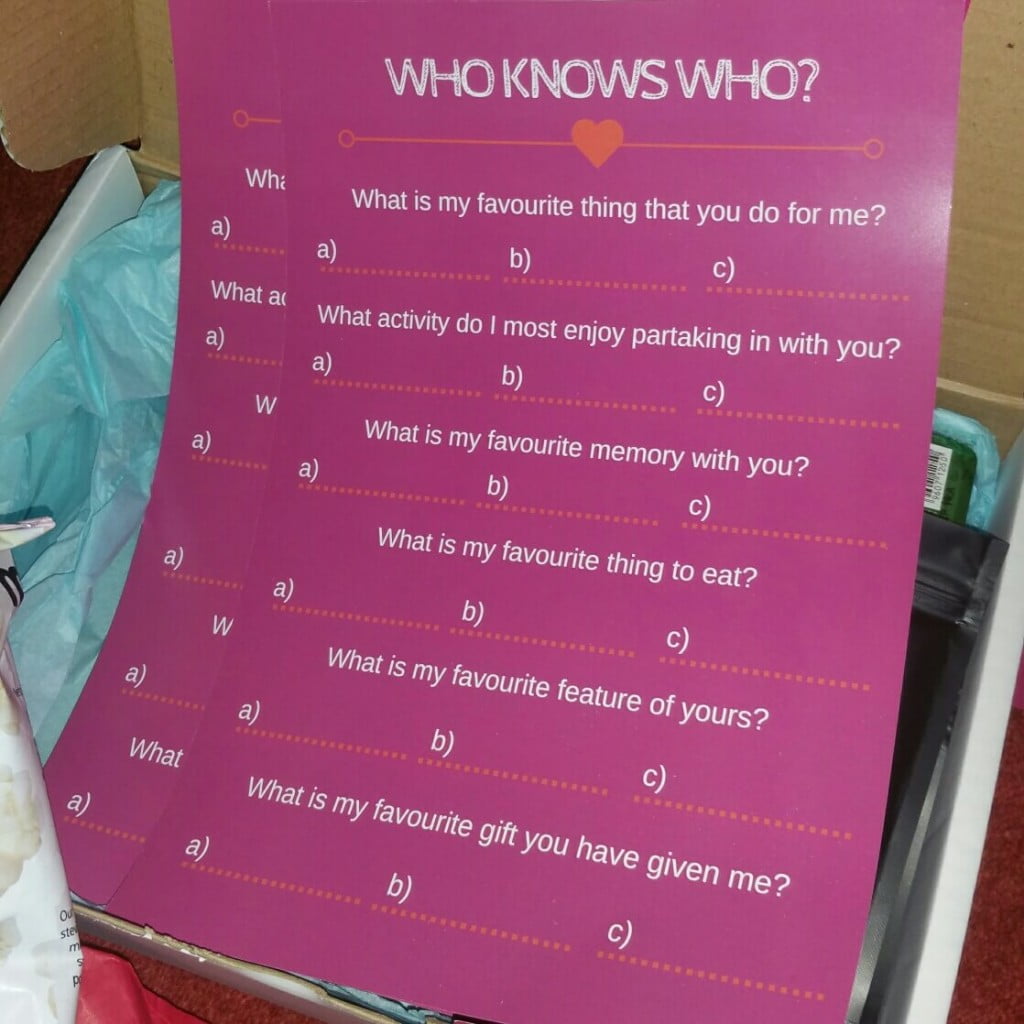 They arrive nicely wrapped with all sorts of bits and bobs for you to enjoy together.
We are excited to tell you that we have a competition to win a 1 month subscription AND two DISCOUNT CODES. You can use CHARLOTTE50 for 50% off your first box and FIRSTMONTH for your first month free when signing up to a three month or longer subscription.
To enter the competition just use the widget below.
UK entrants only please.
Good Luck!
Win a one month subscription to 'Plan Our Date'