It all went a little bit dinosaur crazy when Jurassic World was released earlier this year. I'm yet to watch the movie but I do love the original three and am a bit of a secret fan so I'm hoping to do that over the holidays.
As if that wasn't enough, it's time to go dinosaur mad all over again with the release of The Good Dinosaur, which has been nominated for a Golden Globe!
For the new Disney Pixar film, TOMY has created a toy line that will enable children and fans of all ages to re-create their favourite moments from the movie or use their imaginations to invent new adventures. TOMY have a creative play range that includes a core figure set of key characters, feature plush, a Galloping T-Rex Butch AND an Arlo Mask.
As TOMY is such a quality brand, you can be guaranteed you are getting beautiful quality toys with this range.
Arlo Mask
Children can recreate their favourite scenes from the film with this innovative Arlo mask. The mask has a strap to go around the back of the head, and another strap that secures around the chin. The mouth moves when yours does, opening and closing as you roar or chomp just like your favourite Apatosaurus Arlo! Suitable for ages 3 years +, RRP £13.99
If your little ones love dressing up and getting into character then this is the gift for them. The mask is adjustable and a comfy fit for little heads. This is a really fun toy for role play and super cute as well of course! There will be plenty of photo opportunities with this one!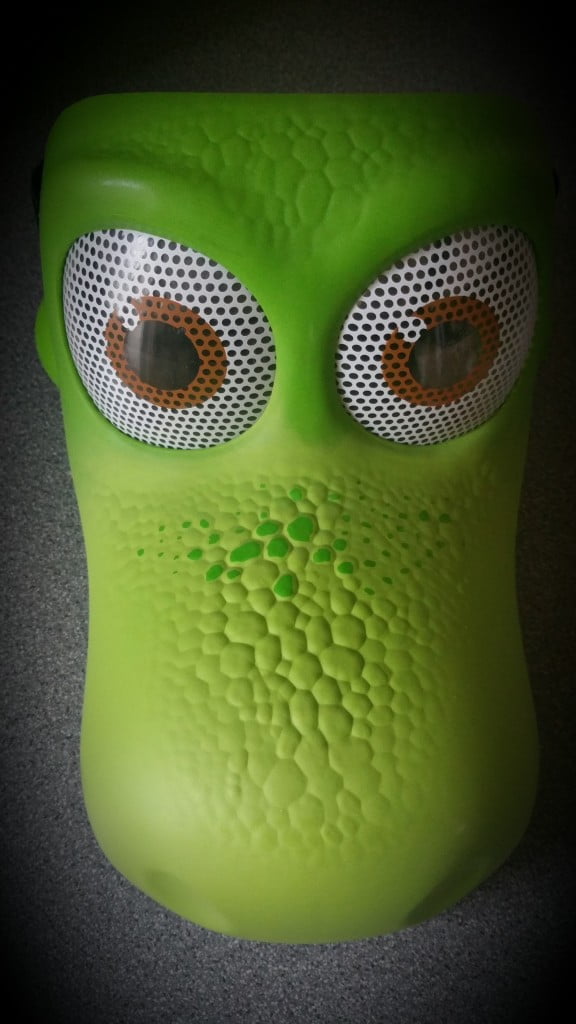 Galloping Butch
Watch out! It's rough and tough Galloping Butch! A rugged Tyrannosaurus Rex that you should not mess with! Galloping Butch towers over the other dinosaurs at 8" tall. Hold down the button on his tail and watch him as he turns his legs in a galloping action. No longhorns can outrun this T-Rex! You can also hear his mighty roar and watch his jaw open in biting action when you push Butch's arm. Suitable for ages 3 years +, RRP £34.99
This is an impressive toy – well made, with lots of cool features this is bound to create that jaw-dropping expression on your little ones face when they receive it. A great Christmas gift if you can get your hands on one.  This is quite a large toy so don't expect Butch to fit in your regular toy box – this is one you will want to have the spare batteries in for! This is currently on offer in Smthys, reduced to £27.99.
Have you got any dinosaur fans living with you?