If your child eats a free from diet it can be tricky sometimes to find tasty treats that they can have. This can leave children feeling excluded and as if they are missing out on something, which can have a knock on effect on their behaviour and their understanding or appreciation of their intolerance or allergy.
Parties and party bags can be areas of difficulty and I always like to include tasty treats for children who have an allergy or intolerance, so that they are not left out.
We've recently come across Moo Free Chocolates – now although the name suggests that they are dairy free, they are in fact also gluten free, wheat free, lactose free, casein free and suitable for vegetarians and registered vegan.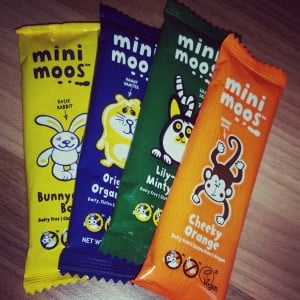 You can buy these in a range of places (check the website for details) but as I buy quite a lot from Holland and Barrett it makes the most sense to get them from there. You will find them in places like Boots and Sainsbury's though and online at Ocado as well. The bars are £0.85 per bar which I thought sounded quite a lot but when you look at the price of some chocolate these days it is comparable really.
Taste is absolutely NOT compromised with these bars and you get more than just a boring bit of free from chocolate. One has honeycomb layer on the back, one has minty bits and one is a yummy chocolate orange. These were devoured in a few minutes and the shouts of "Mummy have you got any more?" were enough to tell me that these are a winner with the children.
Thank you Moo Free for creating a free from product worth shouting about!
Do any of your family eat a free from diet? How do you manage?