Everywhere you go at the moment someone is coughing and spluttering. I took my eldest for a flu vaccine the other day as she doesn't get one at school and we waited in the same queue as all the people collecting prescriptions. It was almost the length of the shop! We were desperately trying not to come out with anything 'extra'!
It's certainly that time of year when you need to give your immune system a little helping hand, and that goes for the whole family of course.
Bioglan has over 30 years' experience providing high-quality products with first-to-market products and unique formulations. Bioglan offer a health solution for everyone, delivering high-strength, effective formulations which really make a difference. I've used Bioglan products for a few years now and really rate them as a brand.
Make the smart choice
Bioglan SmartKids, features seven chewy and delicious supplement formulations to support healthy, happy kids. The gummies are formulated to provide children with essential nutrients – hidden in a delicious format – 4 of which are vegetarian!
The biggest difference with Bioglan SmartKids is the taste. There are so many kids supplements out there, but have you ever tasted them? Some of them are vile, it's no wonder children are sometimes reluctant. I thought for years, seriously, how hard can it be to create something that is both tasty and nutritious? Something that children look forward to having and parents feel reassured. You get this with the Bioglan SmartKids range.
My nine year old says they are "better than sweets" and my eight year old thinks they are "so yummy". My teenagers also want to take these! You can view the full range here.
The biggest win for me is the Iron supplement. I really wish these had been around six years ago when one of my children had anaemia. It was so hard trying to find supplements he would take. These gummies would have been ideal to boost his iron, he would have had these without question. The Bioglan SmartKids Iron gummies are the first of their kind in the UK – thank goodness for these! Whilst there is less Iron (2.5mg) than in some supplements, there is also vitamin c in each gummy, which helps the iron be absorbed into the body. This, combined with the fact that you don't have to wrestle your child to have them, or, risk them being sick because of the taste, makes them a winner in my eyes.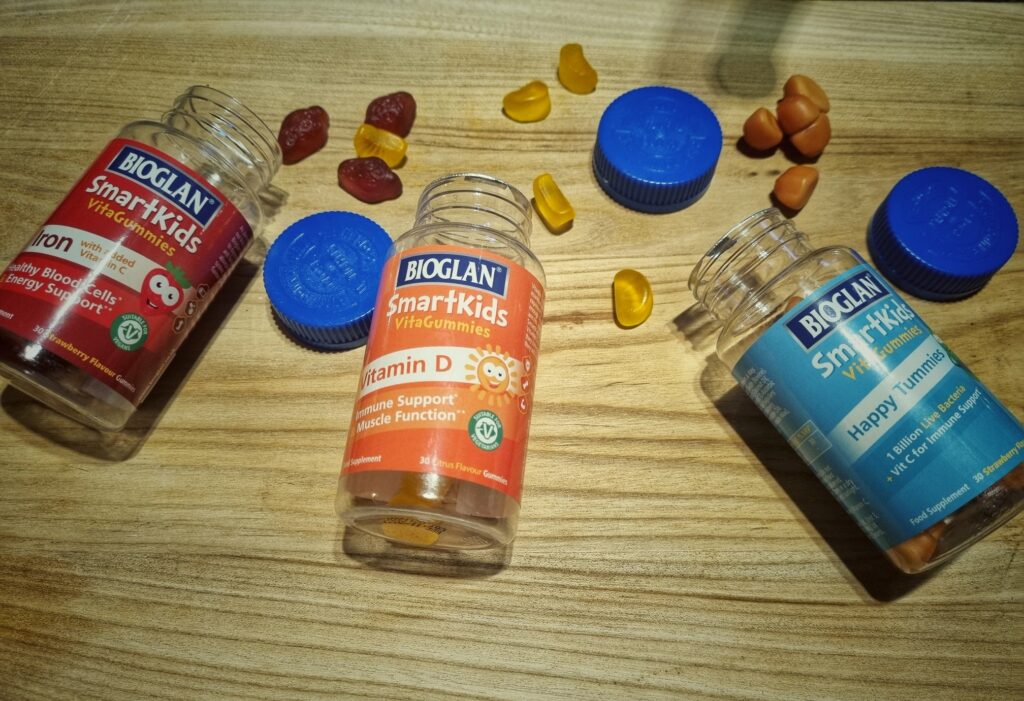 Another really good product is the Bioglan SmartKids Happy Tummies VitaGummies – these are a fun and delicious way to help boost your child's live culture intake and provide their tummies with the good bacteria they need. So much of the immune system is located in the gut, something that lots of people aren't aware of. By focussing on keeping your children's gut heathy and well-balanced, you are in turn, supporting their immune systems. Each yummy strawberry flavoured gummy contains millions of good bacteria, together with Vitamin C to help support their immune health.
To complete this winning trio of supplements try your little ones on the Bioglan SmartKids Vitamin D VitaGummies. Vitamin D, also known as the sunshine vitamin, is an essential nutrient which the body makes upon exposure to sunlight. It is important for children to get enough Vitamin D, especially in countries where they are not exposed to enough sunshine. Bioglan SmartKids Vitamin D VitaGummies provide 10μg of Vitamin D to protect your little sunshines. Best of all they come in a delicious citrus flavoured gummy which they will love! Vitamin D plays and important role in the immune system by boosting immune cells' production of microbe-fighting proteins.
Have you tried the Bioglan range before? I really can't recommend them enough.