Everyday play can do wonders for little people's development and learning.  You might have read one of our recent articles about the importance of learning beginning at home. This discusses the development of learning sacks which can be used with little ones and suggests some different themes which can be used.
You can read more about that here.
There are some great learning and developmental toys around at the moment. It can be hard to choose the ones to go for and it is easy to get carried away. Suddenly, you can realise that your children have hardly played with things. If your children are given gifts from others at birthdays and Christmas this can become even more of an issue.
How do you choose which toys to go for and what you think with engage your children?
There are some toys I have bought over the years that I thought were great but the children haven't really played with. Equally, things that I maybe wasn't keen on, they have loved.
It can be a bit of trial and error and some guess work. I love toys by Tiny Love and Sassy, mainly because of the lovely colours.
Sometimes it is helpful to tap into a particular interest of your child at the time, a favourite TV show perhaps? I wrote recently how useful this could be for engaging your children in reading. You can read more about that here.
One of our little ones is a bit of a Cloudbabies fan – for anyone who doesn't know about Cloudbabies, they are the little people who look after the sky. This is Baba Blue.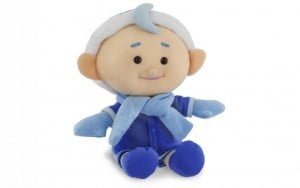 This is a new to the UK, developmental toy for children 18 months plus, although I think this would be fine for children from 12 months, possibly even younger.
It is a soft plush toy called "My First Baba Blue" – this comes in other colours as well. He crinkles, crackles, rings like a bell and is soft and snuggly too. He certainly looks just like the 'real' cloudbaby from the sky!
A good developmental toy for me, appeals to more than one sense at a time. This toy is focussed on appealing to touch and hearing.
Which developmental toys do you like?