This is a collaborative article. These items were gifted for the purposes of a review. All opinions are mine and those of my dinosaur mad five year old.
Playmobil brings back some pretty good childhood memories for me. I remember having the pirate set bought for me as a birthday gift and I loved it. I looked after it and my little brother played with it years later too.
Fast forward a few decades and Playmobil has really moved on with some amazing sets available for children to play and enjoy. These are the perfect toys for creative children with good imaginations, who can immerse themselves in play and get lost in their own adventure.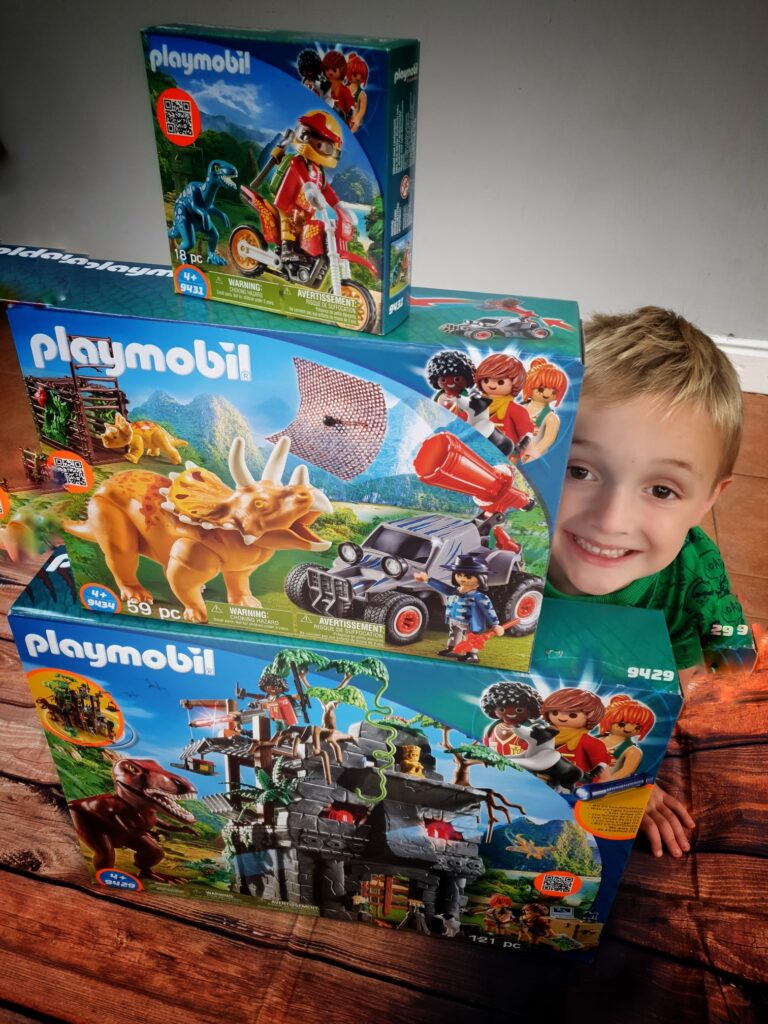 The dino range
I have a dinosaur mad five year old, so imagine his joy when we discovered that Playmobil now have a whole range of dinosaur toys to assemble.
We received three different dinosaur sets and they've all combined so well to make one huge dinosaur world. Here is a bit more about the set we have been playing with.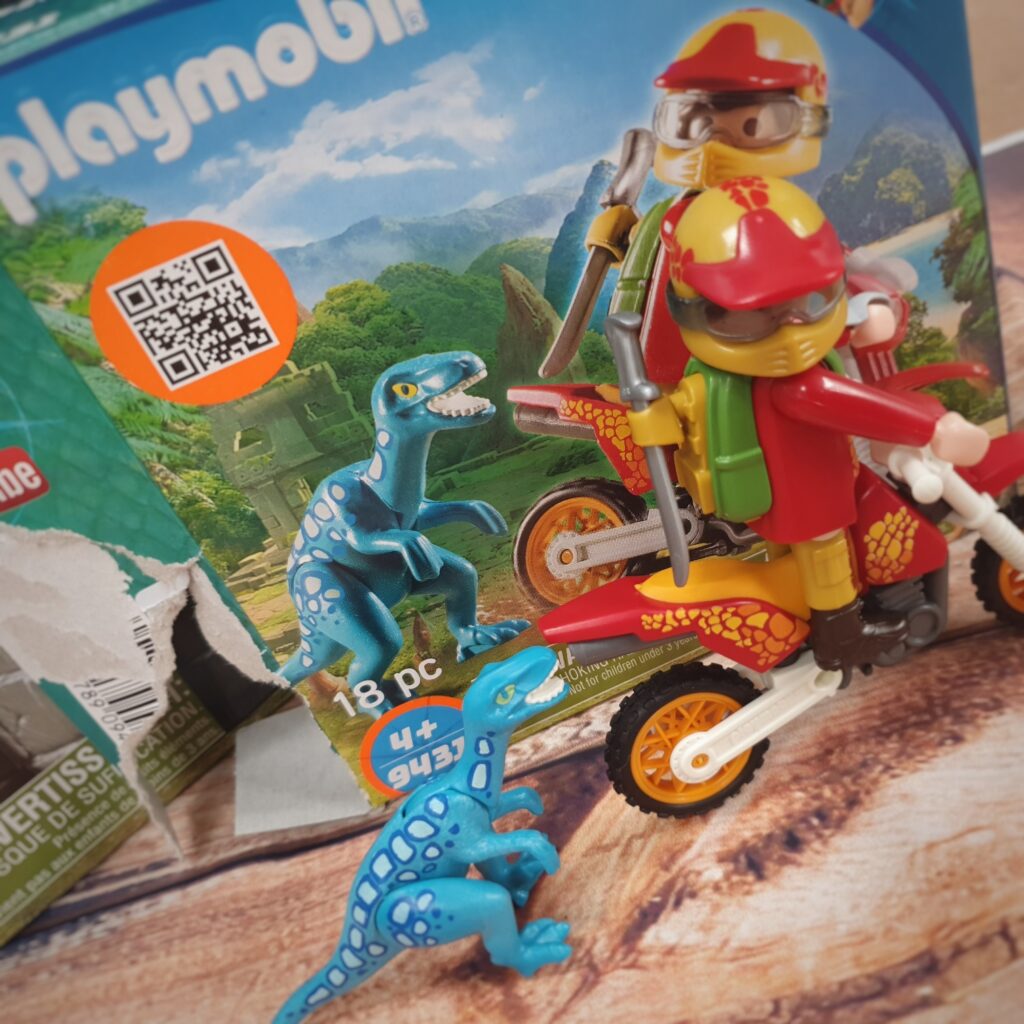 This is a small set with RRP £9.00 – ideal for a small gift or starter set. There is a motorbike, a small raptor and a Playmobil figure complete with helmet and gloves and a removable backpack. Everything you need for a high speed raptor chase!
This is a fun little set that encourages learning through interactive play. Suitable for children over three years.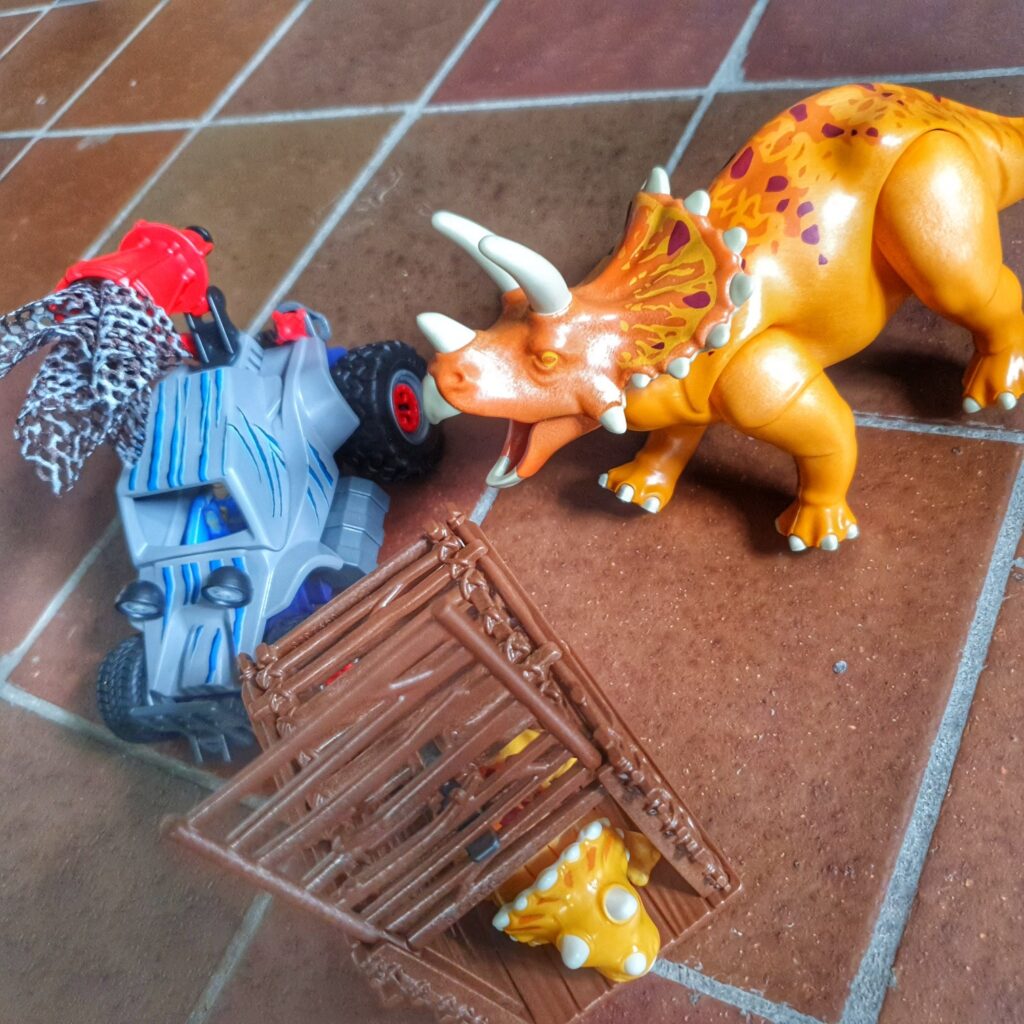 This is a medium sized set with RRP £33 (available in Argos, along with the other sets and tons of other Playmobil for that matter).
This comes with a large Triceratops figure which is already constructed. This figure can move its head to create different expressions. and is super impressive as a stand along toy.
This set also comes with a quad with sprung off-road wheels which adapt to any surface and a cage. The quad roof is removable and the cage has a trap door which can be latched at any height.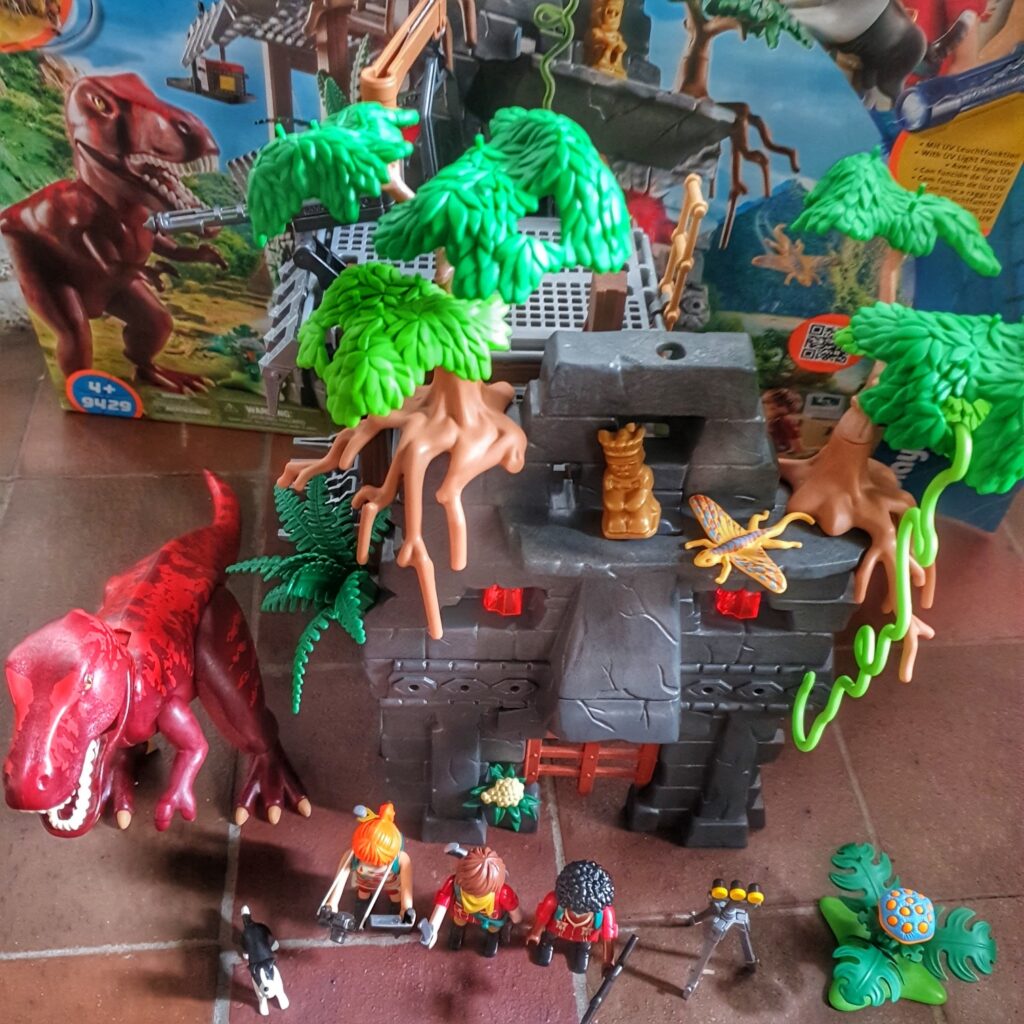 This is a large playset with RRP: £50. This comes with a large pre-constructed T-Rex which, like the Triceratops is an impressive stand alone toy. I can see already that both these figures will be well played with in our house by my budding palaeontologist. The T-Rex has movable arms and head.
The set is action-packed with a T-Rex, which can be defeated with lasers. The team have lots of accessories to help them on their journey such as a goods lift, a functioning torch, a ladder to reach the lookout tower and a winch. There are lots of things hidden in the ruins, which makes this a really interesting set to play with over and over again. It combines really well with the other two sets as well.
This includes a functioning UV torch, a rotating laser gun with LED light and a plant with closed leaves which opens to reveal a hidden mushroom.
Crystals, jungle plant and test tube are made UV-active plastic which can be lit up in the dark with the torch, adding a real sensory play element to the set.
The verdict
As a parent I am really impressed with all these sets. They are very well made and provide hours of creative play. They seem really robust and able to withstand enthusiastic play.
My only criticism as a parent is that the bags are not numbered so it is initially a bit confusing with the larger sets as there doesn't seem to be any reason for certain parts being together.
Once we realised this however the sets were not difficult to construct and my five year old was able to build a lot of the set on his own, with some pointers from his big brother along the way.
From a child's perspective these sets are "awesome" – they are fun to put together, not frustrating and the fact that the large dinosaurs come fully assembled was very welcome. These fully support imaginative play and have rapidly become firm favourites here.
Overall, it's a massive thumbs up from us. We've not bought much playmobil in the past but I will be looking more closely at what is available from now on.
I think that these are the kinds of toys you can save and put away for the grandchildren in years to come, much like a well loved train set.