When renovating a home, the entire focus can often be on your bedroom and living room, despite the fact that you probably don't spend a huge amount of time in there. For us, the kitchen is a really important room in the house, for me it's always the most important, as it's the place everyone congregates. It's the busiest room in the house, always!
This was the same when I was a child and throughout my life really. I can't recall a time when the kitchen wasn't the heart of the house, or where everyone congregated. It has never mattered on the size of the kitchen either – even in the smallest of kitchens everyone has still ended up huddled in there.
Is this the same for you? Which room of the house does everyone normally congregate in?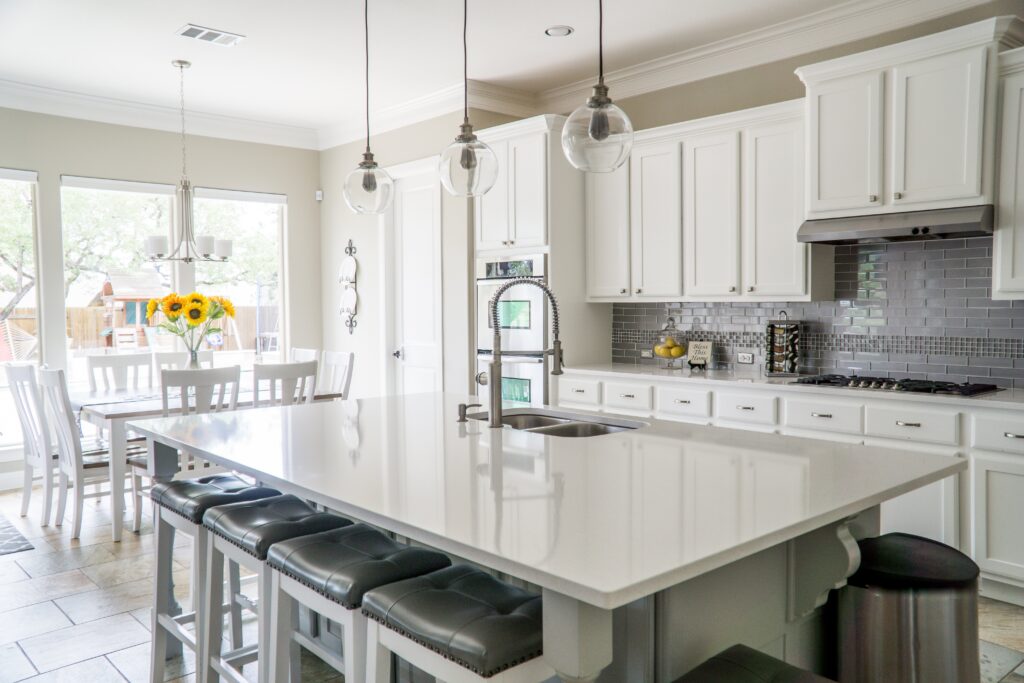 Your kitchen transformation can be hugely expensive of course, but it doesn't always have to be. Take some time to understand the space and think long and hard about what you are trying to create. Whether you decide to give it a vibrant or a sophisticated modern touch, you don't necessarily require a huge budget.
You can pick and apply exciting designs to make your cooking zone elegant and classy without burning a hole in your pocket. One way to do this is simply by using the colour white. Imagine a white theme for it, and you will be able to figure out other things eventually.
It's possible to re-vamp your kitchen space, it doesn't always have to be a total gutting and re-build. Simply painting the cupboards can give it a whole new lease of life. It is possible to create a whole new look on a small budget.
The charm of white
A modern kitchen is nothing without an open plan and minimalist features. It doesn't mean you have to stick to basic choices. You can select a simple design with superior functions. Placing such features in the backdrop of white walls, cabinets, and countertops can create a great balance. Try adding a white faucet to your kitchen with a white theme. The whole space will instantly brighten up, making your kitchen look bright and clean.
If you are someone who changes things with trends, white is the way to go as white has hardly been out of fashion. No matter which era it was, white kitchens always had a moment. Also, it's easy to give white things a facelift when they need it.
White can easily be built upon, it looks clean and bright and it works for all seasons. You can simply swap in a few seasonal accessories to change the look and vibe of your kitchen throughout the year.
Remodel the sink area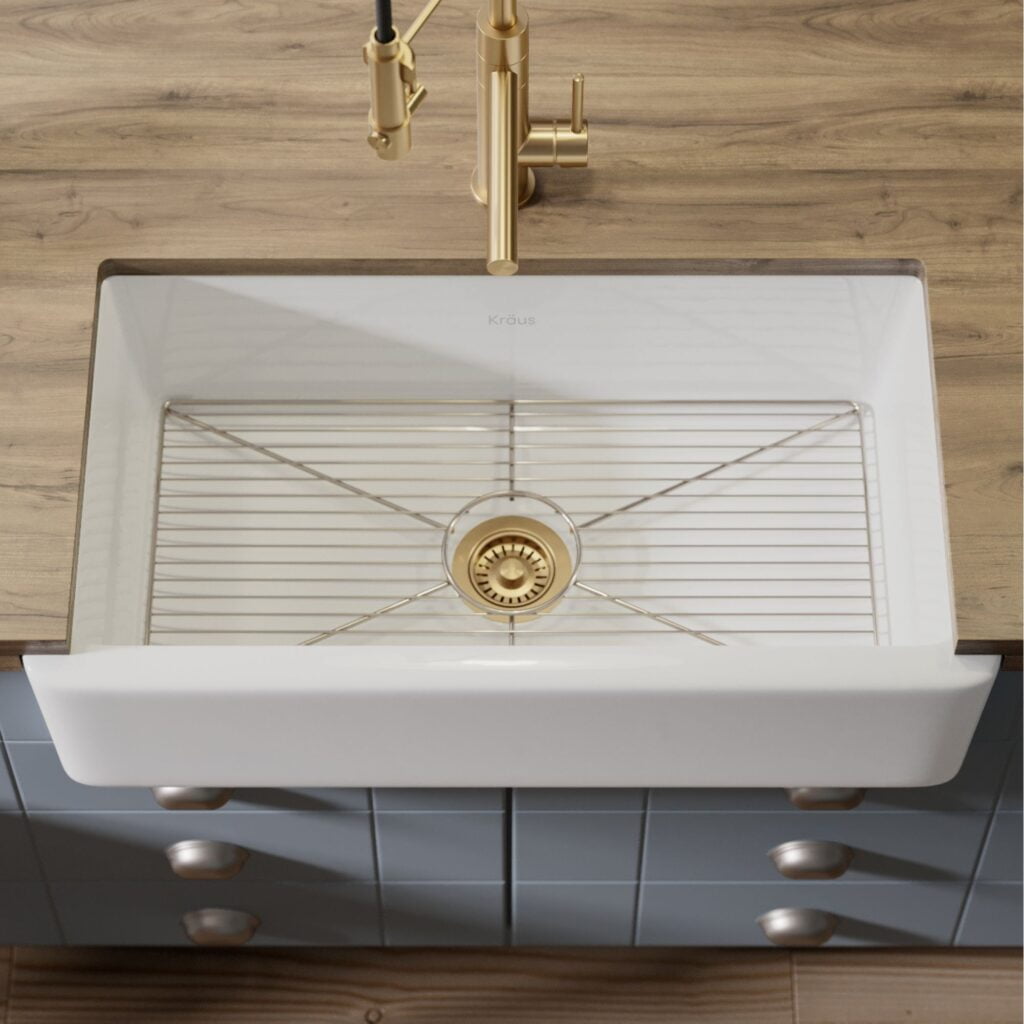 A good kitchen needs a good, functional sink area. As hinted above, a white sink faucet can do the trick even if you don't opt for massive upgrades. If you have a white farmhouse sink, you can make it more appealing by matching it with a white faucet with a chrome spout. While the white body will merge with the background, the shiny chrome finish on the tip will allow it to maintain its presence.
To avoid any hassle, you can choose a pull-down model. Its tall neck and overall design can match any oversized sink easily. Think carefully when choosing taps as the ones that look really nice are not always necessarily the most practical option. However, with a big deep sink like this style you do have more choice as any spray from the taps is better contained.
I have loved these types of sinks for as long as I can remember. I've always wanted a big deep sink like this. My mum always called these Dublin sinks but they are often known as Belfast sinks, farmhouse sinks, or Butler sinks.
Plan other elements in your white kitchen
Whether you are ready to spend on a kitchen renovation or not, you have to take care of the lighting. There is nothing more annoying than not being able to see what you are cooking in the kitchen. Likewise, it's very difficult to get a kitchen properly clean if you can't see what you are doing in there. Think very carefully about how you will light this space. Do you need spot lights, uplighters, downlighters, or even a combination? Although long pendant lights look great, they might not always e the best choice for your space.
While white background tends to be bright, you may still need to make space for natural light in the kitchen. It makes your area bright and spacious-looking. Since most modern kitchens tend to suffer from space crunch, you will have to be particular about this aspect a bit more.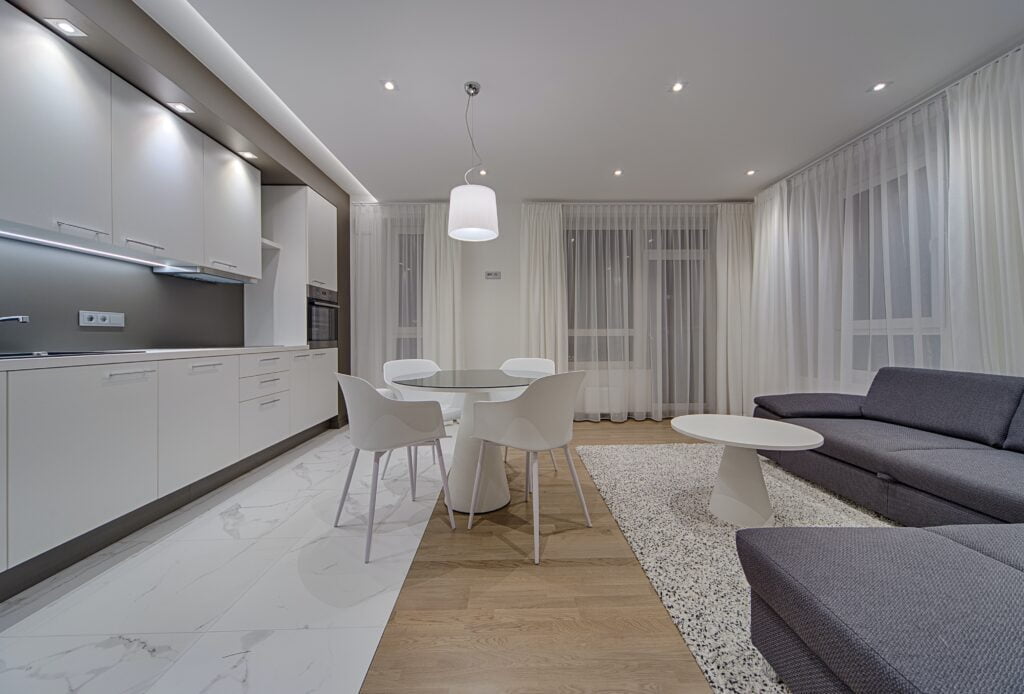 Some people add bold shades in their white kitchen themes for a funky twist. It helps them infuse liveliness in the space. For this, you don't need to redo your white cabinets and countertops, though. You can fulfil this by getting colourful cookware and chairs. It will look quite stylish. When the open shelves showcase the brightly coloured utensils, your kitchen's white theme can come across as more attractive. With this, consider adding pendant lights also.
In essence, there is a lot that you can experiment with your kitchen, whether you have a big budget or not. Play around, have fun and see what you can create. There are tons of wonderful ideas, tips and tricks on Pinterest, so it's worth starting a board to collect a few ideas and build your perfect kitchen from there.
Many households have started opting for small upgrades ditching the extensive ones due to busy schedules and limited funds, and those who are fond of the white theme know a few periodic modifications can also be helpful.
Have you upgraded your kitchen? I'd love to hear about what you've done. Let me know in a comment below. Was it a full kitchen renovation or just an upgrade?