Heading off on a skiing holiday with children requires lots of thought and lots of planning.
Skiing is a wonderful way to spend holiday time together but with children in tow the potential for complications is high.
Many people assume that if you are heading off on a skiing holiday that you have to fly but that isn't the case. There might be an option to drive? Which is something we have done numerous times and if you are heading to the French Alps what about considering the snowtrain, by Eurostar?
We've wanted to try the snowtrain to the Alps for a very long time. We've had this idea for a while that it would be quite a nice way to travel with the children and we really wanted to test out our theory.
So what is the reality? How family-friendly is the Eurostar snowtrain?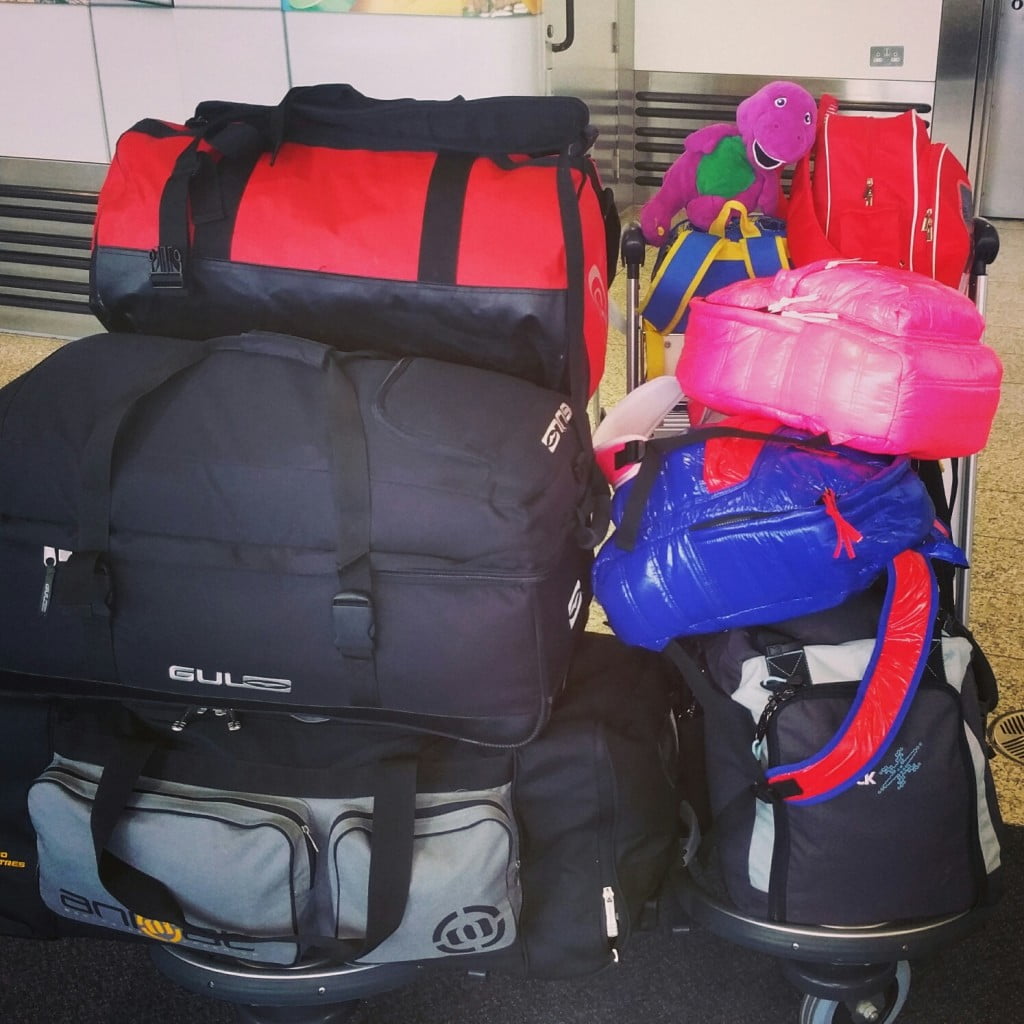 We boarded the train at Ashford, but it is possible to board at London St Pancras. It will really depend what will work best for you but for us living in North Wales it was much easier to drive to Ashford the night before and stay somewhere before driving to the station and going straight to the drop off. We parked in the multi story car park right outside the station, which for us was better than trying to negotiate London with four children and a whole lot of luggage.
We used the drop off facility, picked up a couple of trollies, unloaded the bags and made our way to departures. The whole thing couldn't have been more straightforward.
Many of you will no doubt have had awful experiences boarding places and going through security. This was so easy in comparison.  There were no queues and all the staff were really lovely. I negotiated tickets and security with four children and a large trolley of baggage. There was no where near the stress or urgency as there often is at an airport. It was all a breeze.
Once in departures, the first thing you arrive at is a children's play area and some toilets! Perfect! The children were quite happy there until we left.
Boarding the train was a little more complicated, as all the luggage racks were already full, but once we figured out that some of the seats in our carriage were reserved for people to put their luggage on that was fine.
I think I expected the interior of the train to be a bit smarter, but I guess the trains are all quite old now and they are in the process of upgrading all the trains, which will also include WiFi. The most surprising factor was that there were no power points to charge anything. We weren't the only passengers surprised and disappointed about that. One passenger from our carriage left his phone with the lady at the bar to charge it in the end. I'm assuming that these might be a feature of the upgraded trains.
During the train journey it was family friendly from the point of view of there being a separate baby change facility and the fact that you can walk around and get out of the carriage if you need to. All seats have tables which is useful so you can pack lots of games and drawing, safe in the knowledge that your children will have some space to do those things on board.
You are able to take your own food and drink on board which is where there is a massive advantage over flying. You would be wise to pack plenty to keep your family going over the duration of the journey though as the bar/cafe on board isn't much use to families.
Grown ups can get hot drinks, beer, champagne and wine but aside from pots of pringles and the odd chocolate bar or cake, there isn't really anything you would buy to keep your family going. Rubbish is collected regularly on train journeys which helps hugely.
You can't even purchase cows milk on board, so we just had to buy some from the petrol station closest to the train station and hope it didn't get too warm whilst on board, just so we could fill the little boys' bottles.
In general people aren't too sensitive or aware of what it takes to get a large family from A to B, so when it comes to getting off the train expect lots of pushing and shoving from people with one bag and a huge sense of urgency. You just have to hope the train doesn't leave before you get all your children and bags off.
We arrived into Aime station and we're due to leave from Bourg St Maurice but that got changed to Moutiers on the morning of departure. We were dropped off with a few other passengers about three hours too early and then had to try and pass the time with the children. In Ashford that wouldn't have been too difficult because of the space and play area but there is nothing like that in Moutiers.
Moutiers station is totally different to Ashford and the whole boarding process was very different, disorganised and unclear. Once through security and the marquee (departure lounge) you are straight onto the platform which is less than ideal with toddlers so you need your wits about you.
Overall we would certainly choose the train over flying to the Alps. Ashford have is spot on and it would be great to hope that other stations could move in that direction. Once the improvements have been made to the Eurostar I think that will make quite a difference.
I do wonder if they would benefit from having a carriage dedicated to families, so other passengers can relax a bit more, although having said that one of the carriages full of adults was more rowdy than the one we were in!
A few sensible and thoughtful additions to the bar/cafe would make life much easier for families as well and Moutiers would benefit from baggage trollies in the car park NOT on the platform as you are about to board.
Have you used the snowtrain? How did you find it?