Travelling with children requires preparation. If you prepare well, there is no reason that you shouldn't be able to enjoy your time away. Of course there will be a few tantrums and tears along the way (and that's just the parents) but that's normal life anyway, it's not unique to travelling with children.
One thing that can help when travelling with children can be taking a good selection of travel toys. We aren't talking about the whole playroom or toy cupboard here, but a few good toys that can work well whilst travelling.
Here are a few we think are good.
BRIO
If you have a train fan, a few BRIO trains packed inside the BRIO, My First Take Along Train Set might be a good bet. If you want to include a bit of extra track as well you can do as there is space in the carry case.
This is aimed at children aged 18 months +and works really well as a travel toy, if you are travelling by car and can fit it in. It's probably too large to take away if you are flying, but if you are off on a road trip, this could be a really good choice.
All the BRIO trains are compatible, so adding in a few more from your child's collection shouldn't be a problem. This is so handy if you are staying in a hotel, as it might just keep them occupied whilst you jump in the shower. Or maybe you are going away to friends for the weekend and they don't have children – you just want to take a few bits and bobs without taking over their child-free space?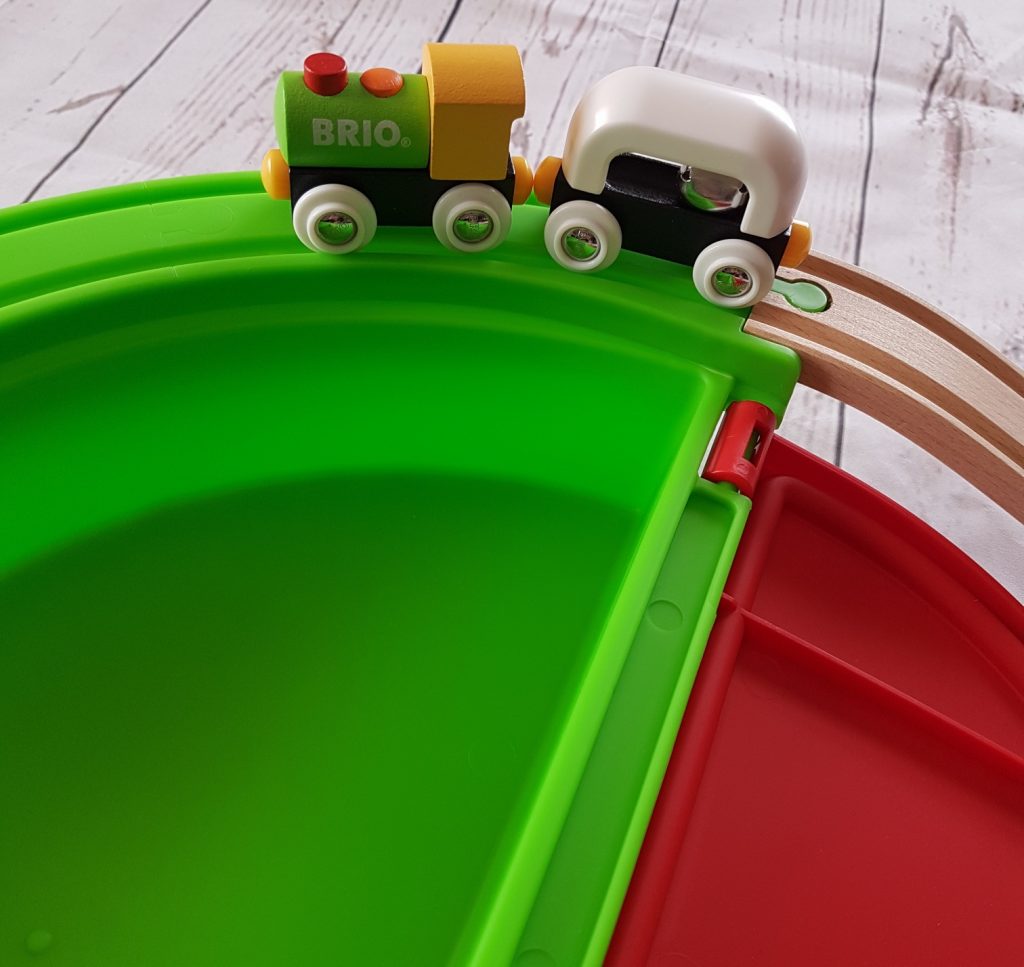 You can pick these up for £29.99 and when you aren't on the move, these are really easy to store at home as everything packs away neatly. Inside the carry case.
Aqua Doodle
We love Aqua Doodle and have had a set for years at home. You can also get AquaDraw from Tomy, which is an ideal product to encourage your toddler to get creative without making any mess. Perfect for travel, your child can use the magical Aquadraw pen to create masterpieces which fade away for use again and again.
This brightly coloured, soft padded case opens out into a dual sided drawing toy, which could easily be taken on a plane, or played with in the car.
Perfect for on-the-go, no-mess creative play, children can use one side for their creative masterpieces using the magical Aquadraw pen which is stored inside the carry case.
Crayola Colour Wonder
This is a genius product in my opinion. Mess Free Color Wonder delivers the fun of creative expression without the mess. The magically mess-free color only appears on special Color Wonder paper—never on clothes, furniture or carpet, making it ideal for travel. You don't have to worry about them getting pen on the person sat next to them on the plane, or car seats, or hotel bedding!
Children can create with Mess Free Color Wonder coloring pages, stamps, markers, paper, paint and more.
These are a great low cost travel item for children and fit well into a backpack.
Little Drivers
If you are travelling by car and have a backseat driver you will love this range. Now little backseat drivers can literally drive from the back seat with the Casdon Little Drivers range of travel toys.
Casdon is much loved company that provides traditional role play and activity toys for children with over 70 years on the market they take every day play patterns and bundle them up into quality affordable good. We've told you before about some of the fantastic role play toys they make. The Casdon collection's are split into different areas and these include Little artists, Little Drivers and Little ones.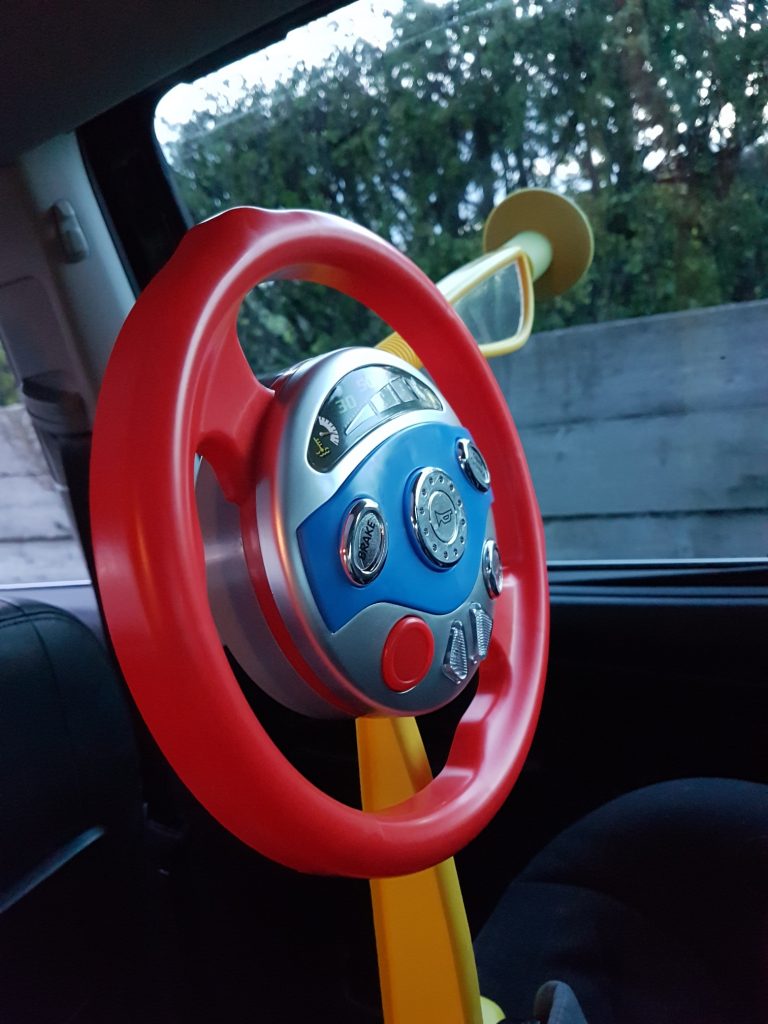 This is the Electronic Backseat Driver, priced at £15. You can get an non-electronic one for £12 and also a Sat Nav Steering Wheel for £15. Obviously not for plane travel, but if you are driving to your destination this could prove a good distraction.
Tablet
There is no doubt that the availability of tablets and iPads can make travelling easier. If you have a long haul flight to fill, or a tricky city to navigate around, it can really help to have a tablet to hand with all your children's favourite available at the swipe of a finger.
Just make sure you don't get caught out, have everything fully charged and a back up power supply at the ready.
Tonka Tinys
One of the other things we have a lot of in our house is toy cars – you can never have enough cars I'm told. Tinys Three Pack and Tonka Tinys Blind Garages are ideal travel toys, simply because of their size.
The Tonka brand has been around for years and for me has always meant good quality, durable and long-lasting toys. Now Tonka tough kids can collect their favourite Tonka vehicles in miniature, very cute and makes Tonka play much more portable.
The Tonka Tinys range is a collection of palm sizes vehicles that are perfect for taking on adventures on the road or in the sky.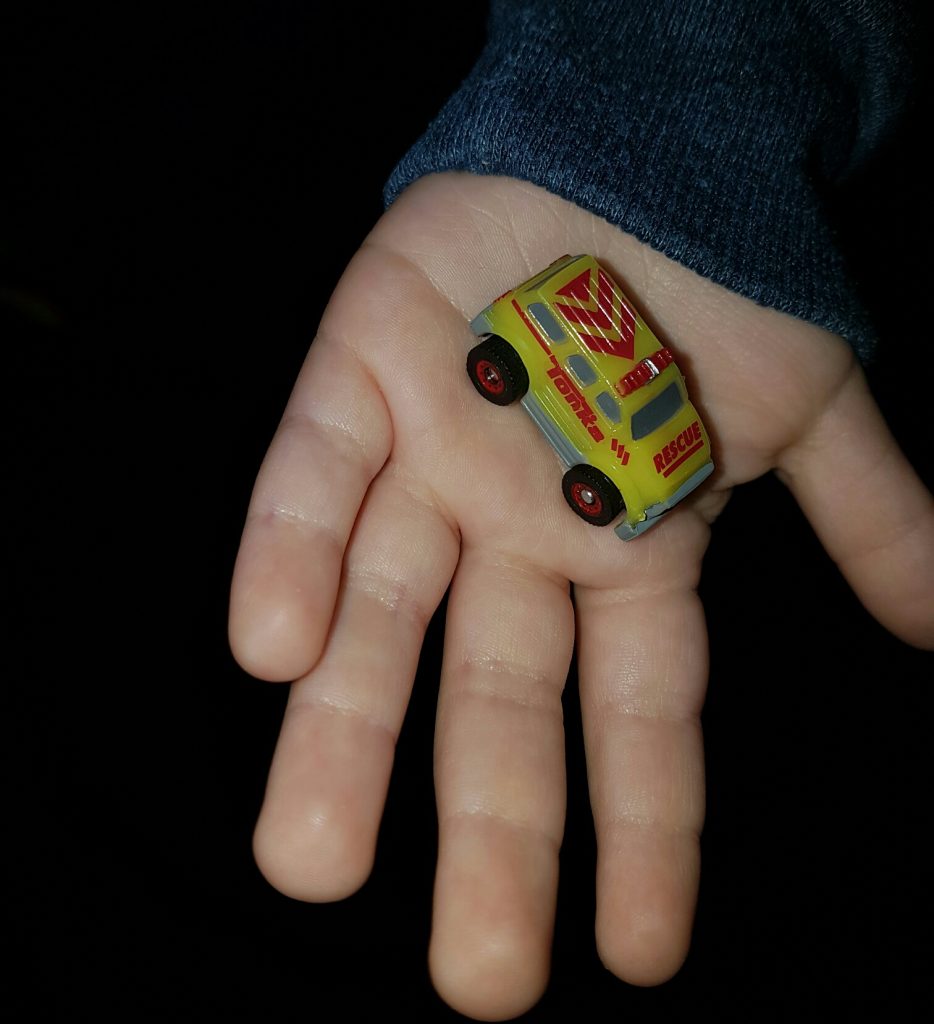 Children can collect Tonka Tinys one by one with the surprise blind box garages or in trios with the NEW Tonka Tinys Three Pack. The Tonka Tinys Three Pack comes with two on display vehicles and a third which is a surprise – and we love a surprise right? This range is new this year.
There are over 20 Tonka Tiny Vehicles to collect including police pickups, quarry dump trucks and even helicopters and new waves are on the way to extend the fun even further.
What are your children's favourite travel toys? We'd love to know.