Having recently expanded our family to a family of six we are on the look out for a bigger car!
We obviously need a seat for everyone but also need space for a pushchair and all the other paraphernalia that comes with having four children…including a guitar played by our eldest.
Part one of our hunt for a large family car focused on the Mitsubishi Outlander. Part two of this process involved putting the Grand Tourneo Connect to the test.
Here are a few details about the vehicle itself.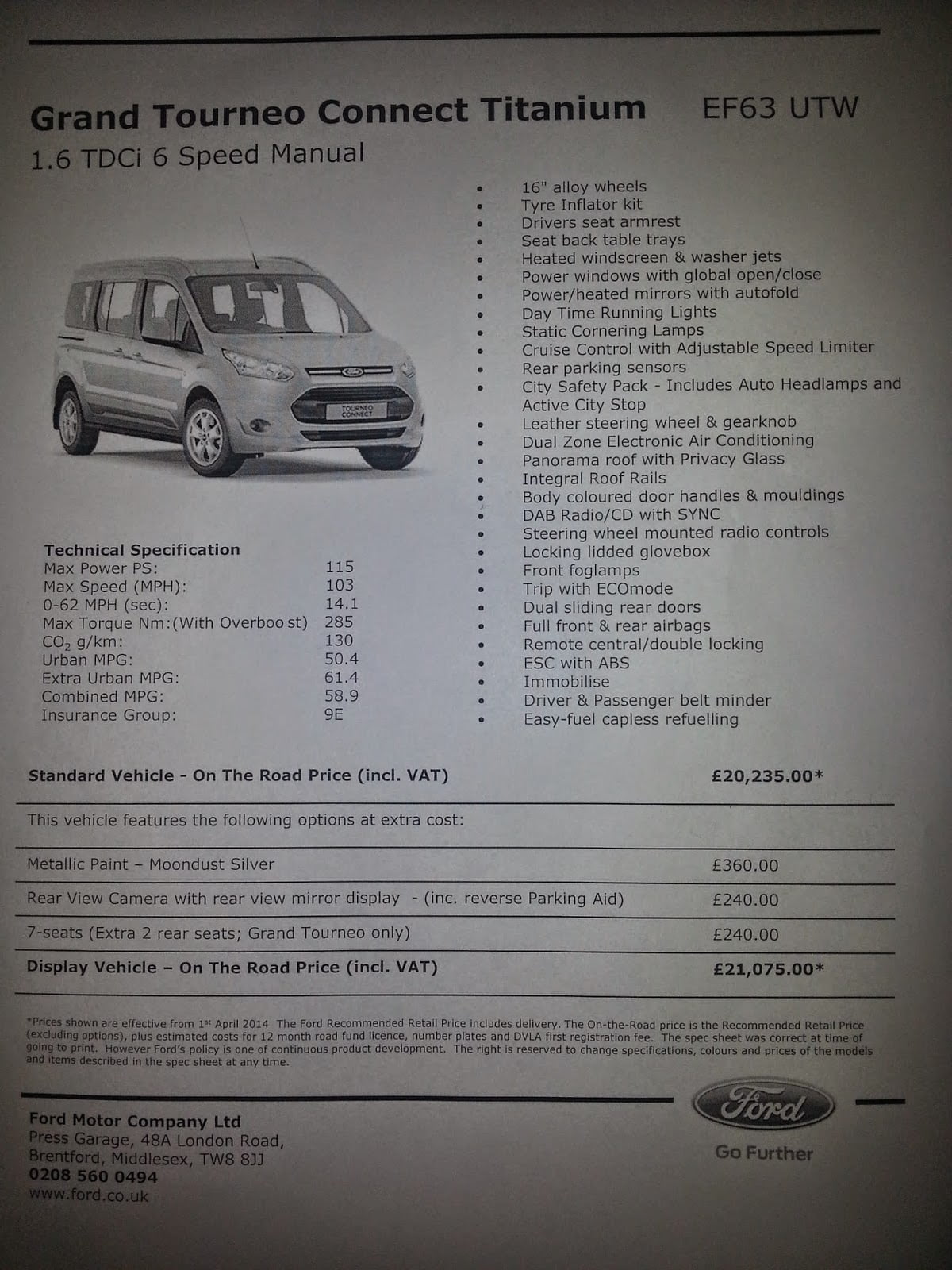 Now it has to be said that you won't be getting any yummy mummy awards for driving this around. It isn't the most attractive family car on the market. As you can see from the image below it looks like a cross between a mini bus and a van.
Even though this doesn't get any prizes for the way it looks there are some really fantastic features about this car and how it can work for a large family, and let's face it, it's not all about how it looks, because when you are a mum on the run you value practicality above all else.
As you can see from the photo below there are three full size seats in the middle row. This makes a huge difference to the space in the back. You could easily fit three adults across the back if you ever needed to and one person can comfortably sit in between two car seats and still have elbow space.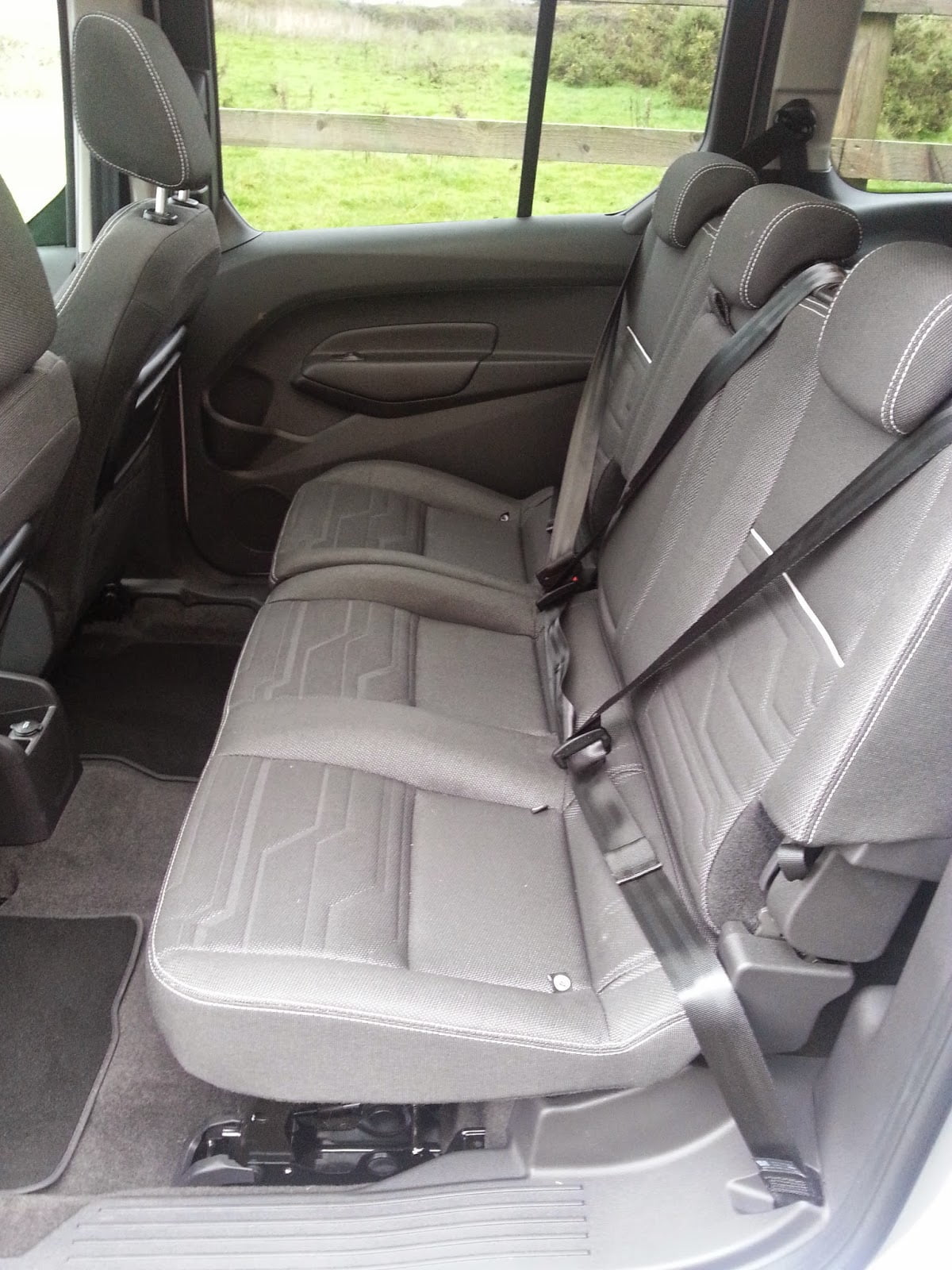 There is also some really decent legroom in the back, lots more space than we found in the Outlander – the seats slide forward and backwards to create a range of different seating options.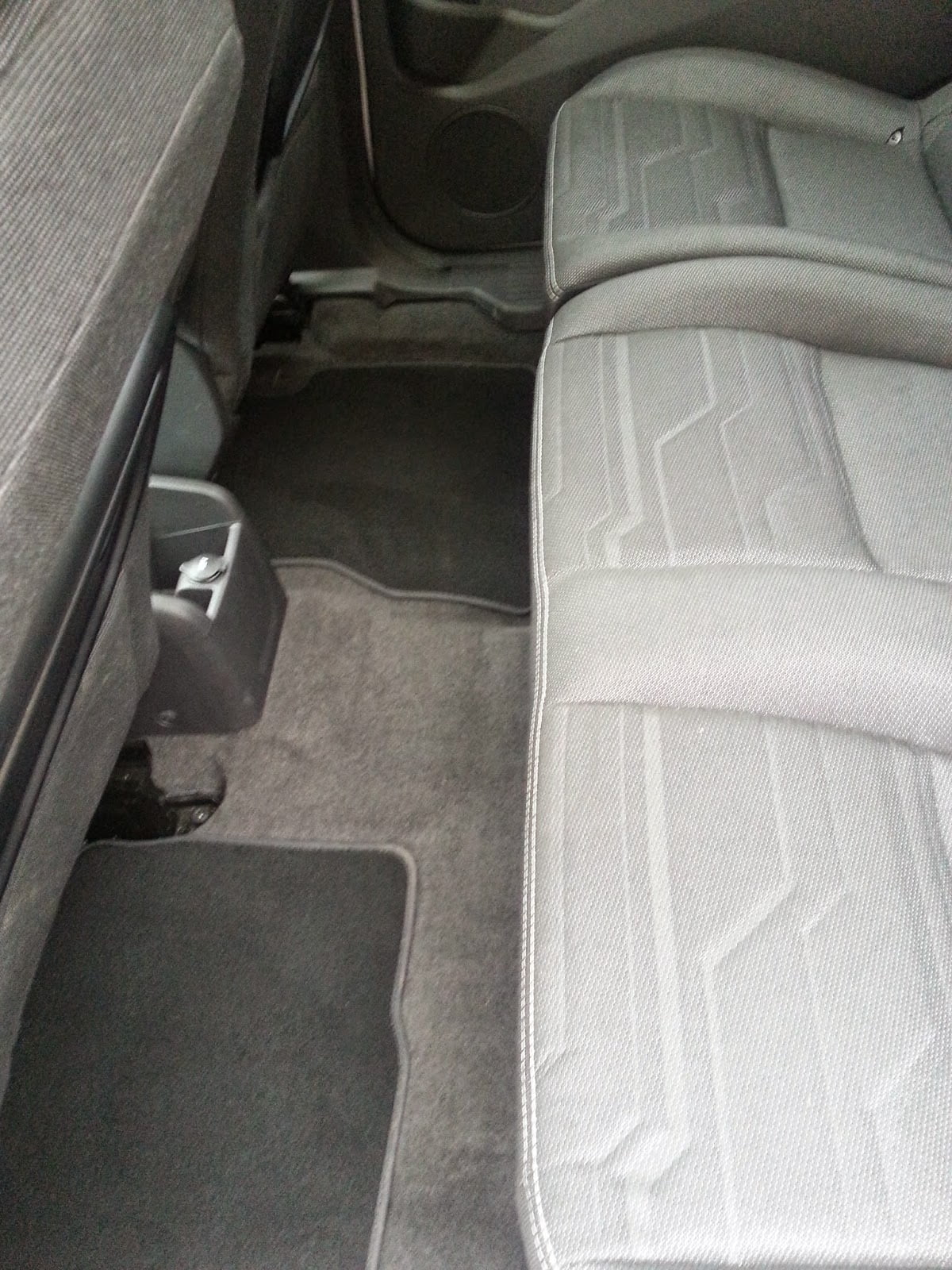 The boot seats are comfortable and have plenty of legroom as well as some cheeky cup holders. The seats are as wide as the middle row seats and have similar legroom. The leg room is far better than in the Outlander.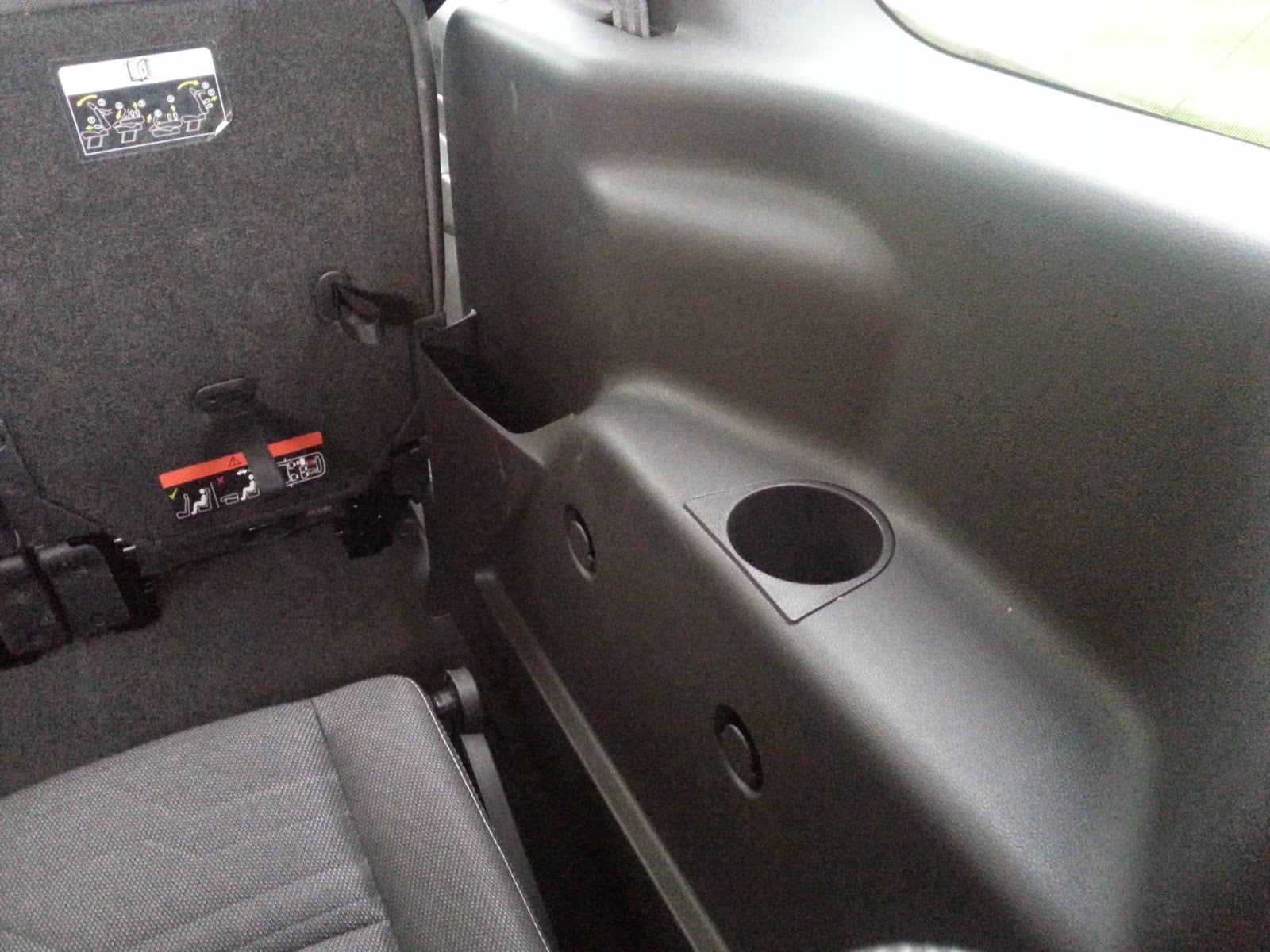 I could get a maxi cosi mura two piece pushchair in the boot, with one of the boot seats down. One of the good things about this over the Outlander is that I did not have to take the pushchair out of the boot to get the child out of the seat -there was space to climb past the pushchair.
There was still space for a guitar and shopping and other school stuff too!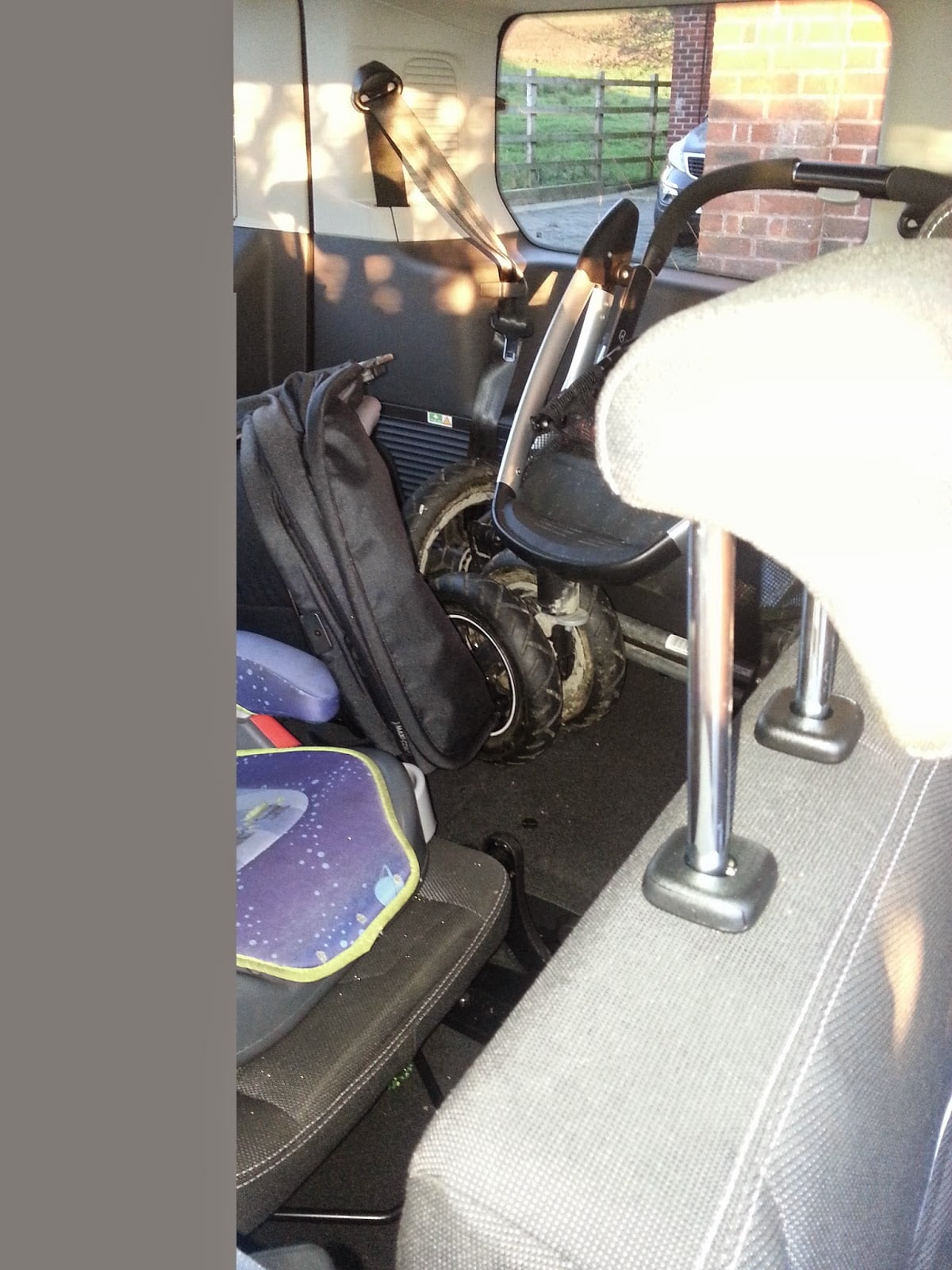 If you needed to transport anything large,children's bikes perhaps, then you can push all the back seats flat. However, even just with the back row of seats down the space seemed huge.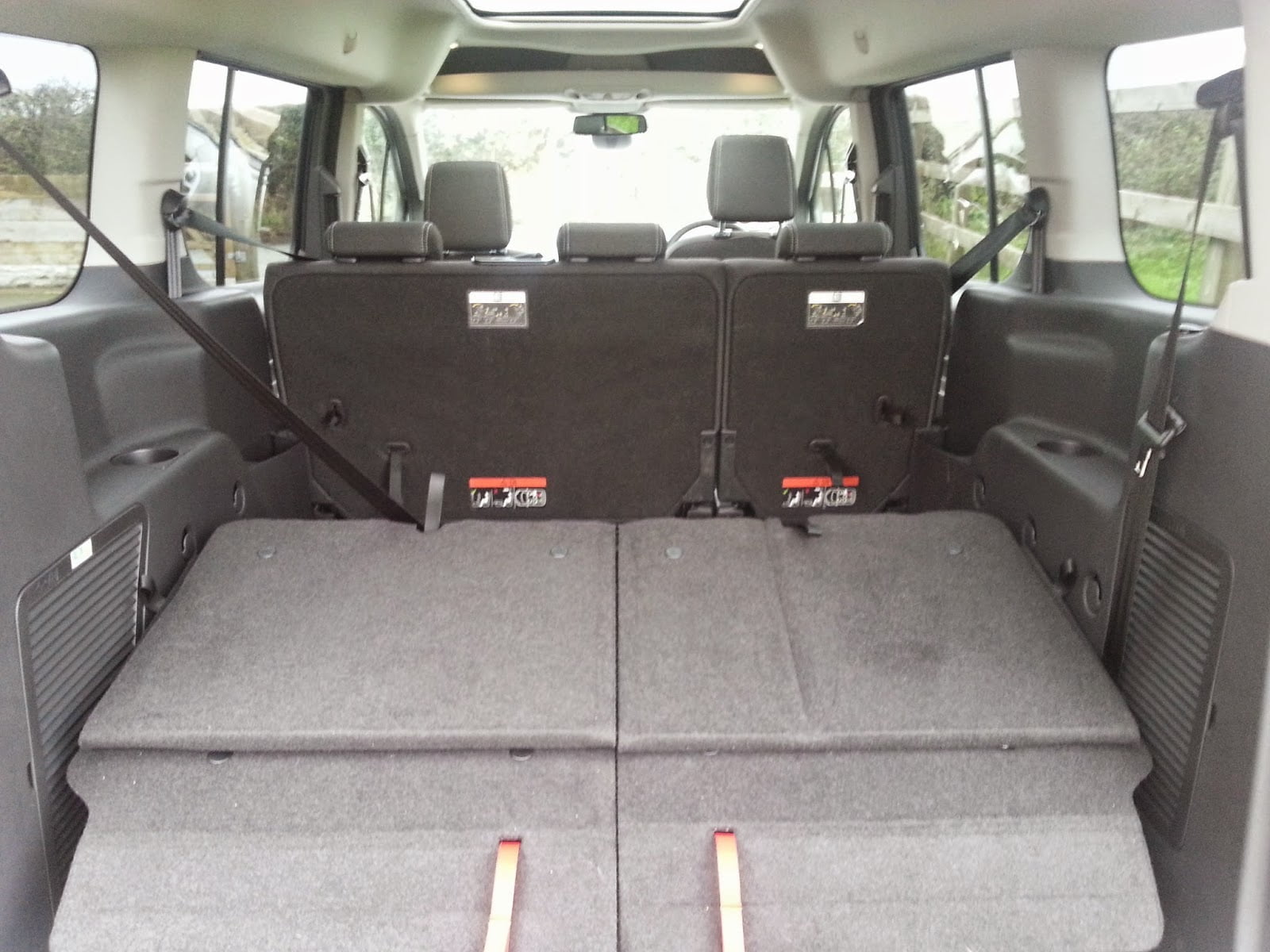 With all seven seats in use there was still a reasonable bit of boot space left – however, with all the seats up and in use our pushchair would not fit in so you would have to have a more slimline pushchair or stroller.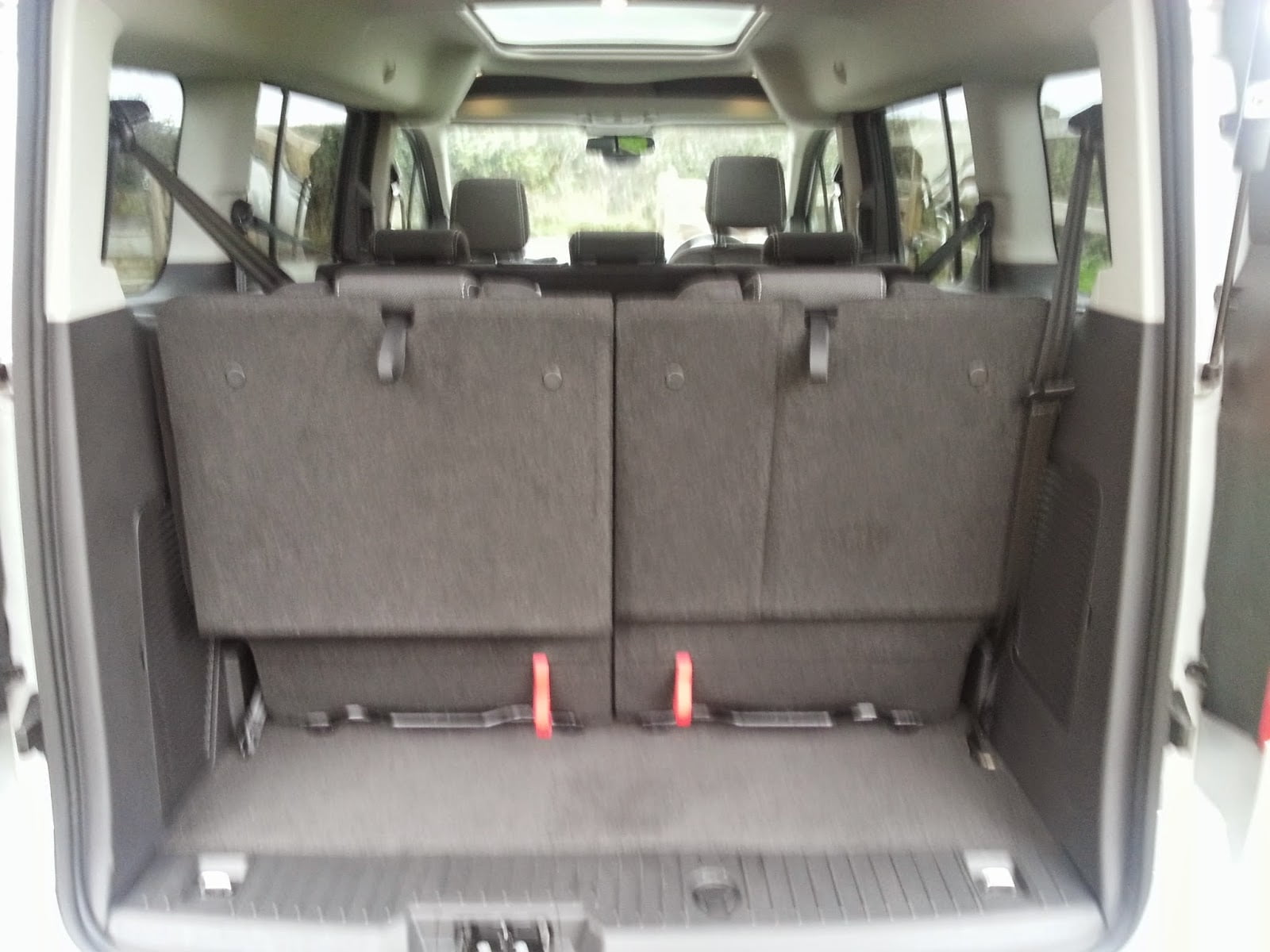 There was quite an overhang from the pushchair so I had to put one of the boat seats down.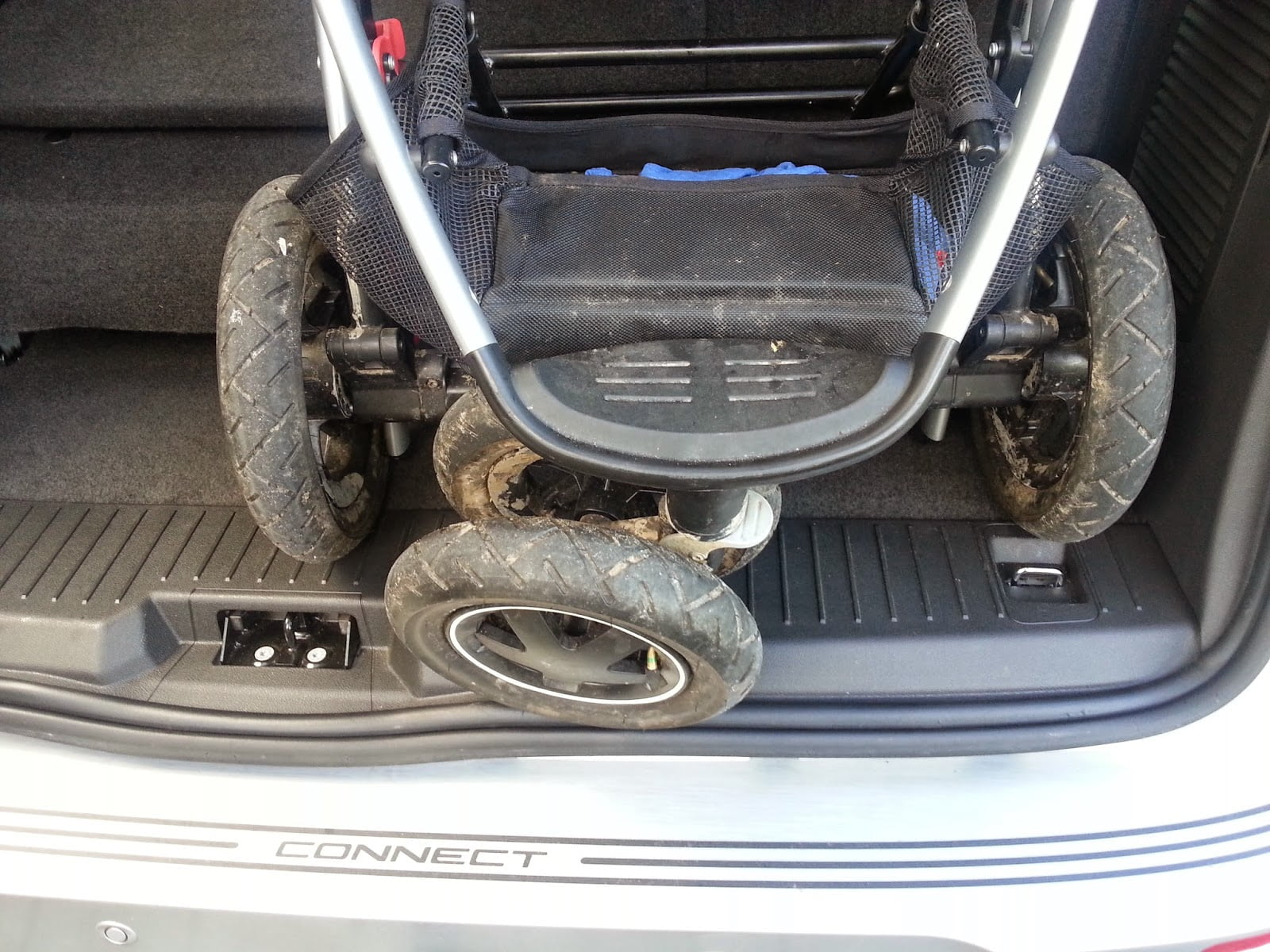 One of my favourite things about this car-van-bus combo was the reverse parking camera.It was on the rear view mirror which somehow made perfect sense. Not only does it bleep frantically at  when you are you are getting close to something BUT it also shows you where you are headed if you continue at that angle -genius !

Two isofix bases fit fine in the back but with no isofix fitting in the middle seat it makes the middle seat a little inaccessible – lucky my eldest is a skinny mini and could fit past. Having said that, it was much easier than the outlander to get out of.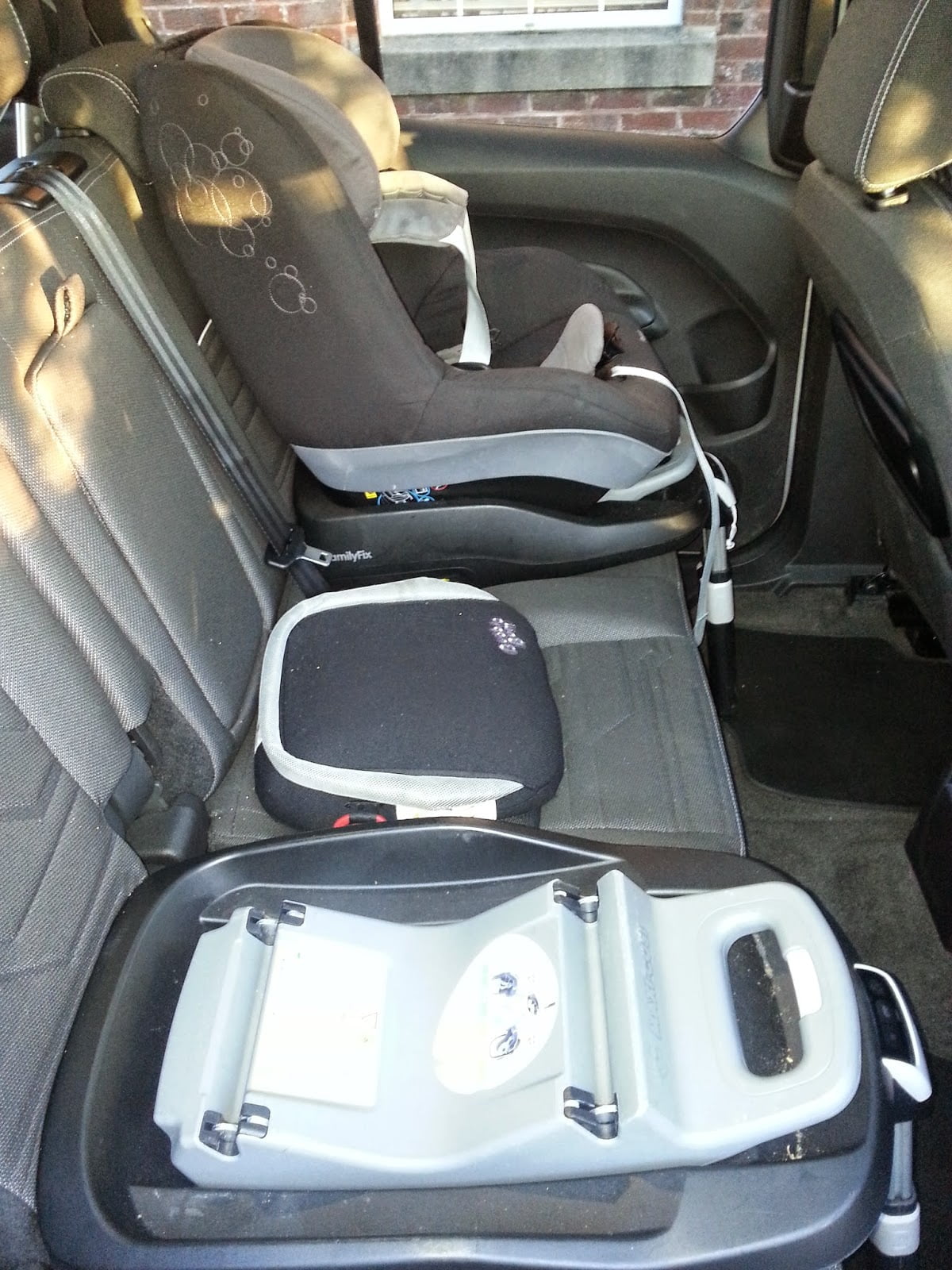 You can see from the image below that there is reasonable leg room even with the bases in the car.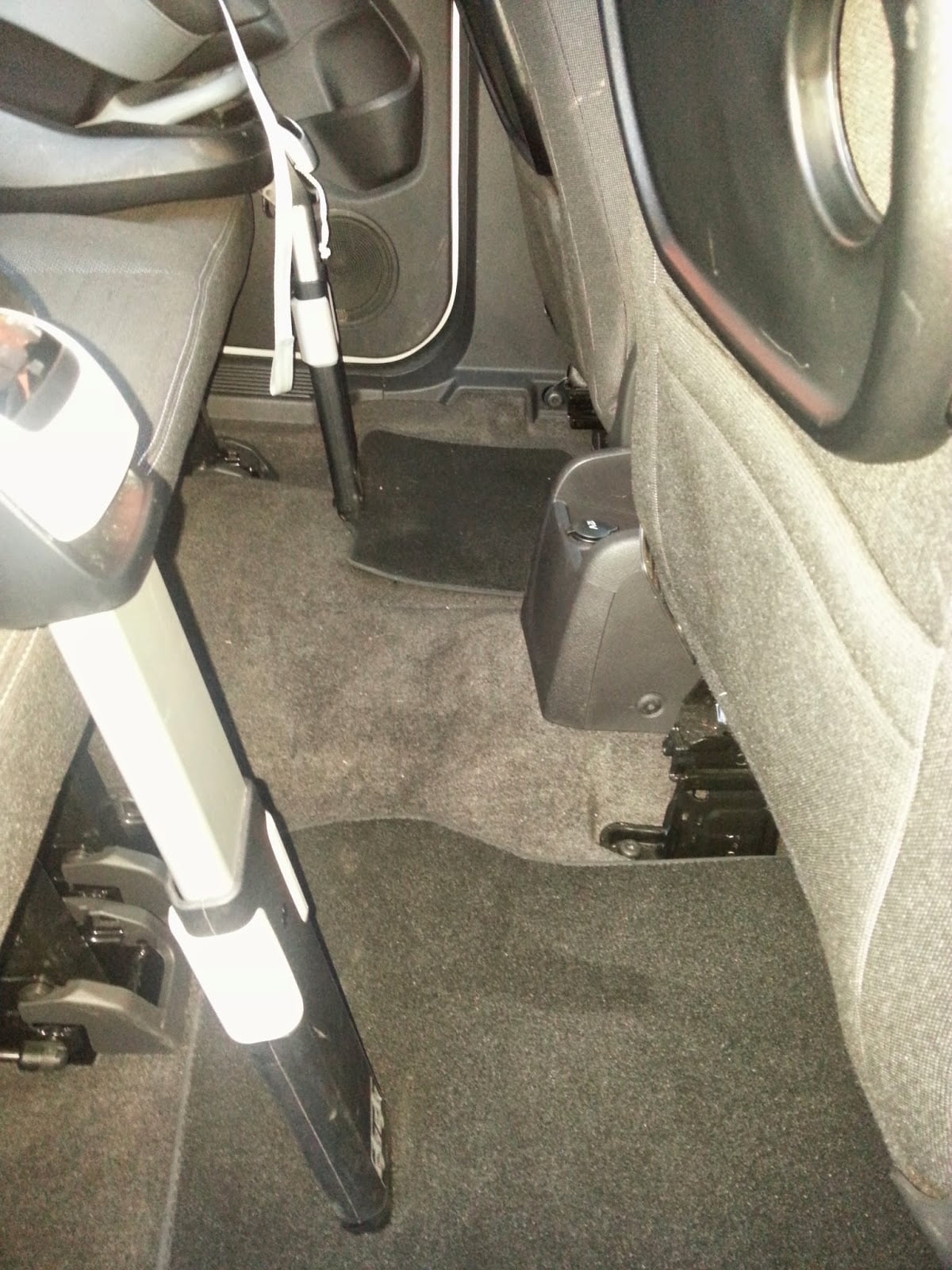 I have prepared a more detailed list of the pros and cons of the Grand Tourneo Connect as a large family car below:
Pros:
Comfortable and wide seats, even in the middle
Excellent visibility- loads better than the Kia Sportage and the Outlander
Good size mirrors
Generous boot space when the seats are down
Lots of cup holders in good locations
Decent height inside the cabin again better than the Kia Sportage and the Outlander
Deep door storage pockets
Comfy rear seats and boots seats with lots of legroom
Space for shopping and a pushchair when one rear seat is down
Superb reverse parking camera
Tray tables in rear seats
Overall very spacious
Three full seats across the middle
Isofix bases sit well on the seat and use minimal space in the footwell
Cons:
No sat nav
Not very attractive to look at
No isofix fitting  in middle seat
Cannot fit an average size pushchair in the boat with 7 seats in use
Poor turning circle – you need to get ready for the 12 point turn in the school car park!
No 4×4
feels like a van to drive
This has many practical features and I was quite impressed. We could probably manage with something this size day to day but having now tried two cars I really need to take the best bits of both and put them together!
Let us know if you have any questions!