Scotland is home to the stunning city of Edinburgh, the infamous Loch Ness and an abundance of whisky, beautiful landscapes and a culture like no other. Tourists flock to the country each year to experience all the country has to offer and over centuries artists have been endlessly inspired by the sights found here. If you're planning a weekend getaway or a longer visit to Scotland, we've put together a list of the 7 best hotel breaks Scotland has to offer below.
Inverlochy Castle Hotel

Located in Torlundy, Fort William, Inverlochy Castle Hotel has had some royal guests over the years including Queen Victoria who stayed in 1873. Describing it as a lovely and romantic spot, the queen's lasting impression of the hotel was widely shared by other visitors too.
At the foot of Ben Nevis, this luxury hotel is sure to delight. Guests can choose to be escorted to the hotel in a classic Rolls Royce as part of their stay and can take advantage of the valet service too. The gourmet chefs here offer a unique wildlife dining experience and the immaculate rooms are inundated with elegant features including waterfall showers as well as stunning gilt and crystal decor. As one of the highest rated castle hotels in Scotland, a stay at Inverlochy Castle Hotel is sure to create a memory to last.
Glenapp Castle

Are you searching for luxury weekend breaks in Scotland? Glenapp Castle is not only a divine example of 19th-century Scottish grandeur, but it also has hosted iconic guests such as Winston Churchill too. Perfectly situated in a secluded estate of forests, this hotel is just a stone's throw away from the largest forest in Britain.
The attentive staff here will ensure that every need is met from the beginning of guest's stay to when they check out. From divine dining experiences that can be enjoyed across multiple courses to decor that evokes opulence across wood panelling and marble tiling. For those looking for the best Scottish hotel breaks, Glenapp Castle certainly makes the cut.
Glengorm Castle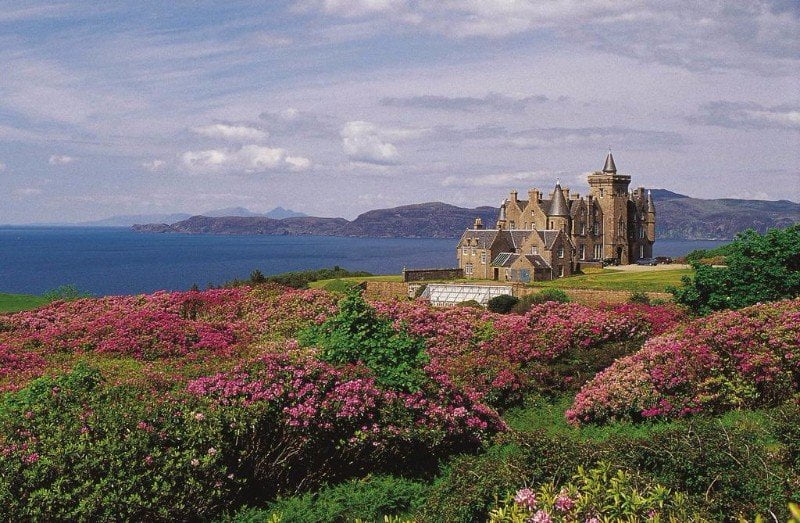 Glengorm Castle is truly unique and features an eclectic mix of furniture and paintings that sets this hotel apart giving it real Scottish prominence. With a range of whiskies at its guest's disposal, the castle is also adorned with cosy features inclusive of an open fire in the sitting room which makes it hard to tear away from and explore the surrounding area.
Built in the 1860s, there is much history that tells stories through the castle's decor, giving it a marvellous and authentic atmosphere all round. Overlooking the Sound of Mull, guests can take advantage of the glorious surrounds which offer endless landscape exploration opportunities. Hotel breaks in Scotland really don't get better than the luxuries found at Glengorm Castle.
Fonab Castle
Fonab Castle & Spa is for those looking to escape the noise of everyday life to truly relax amongst breath-taking surroundings. Drawing inspiration from its historical past, the castle hotel has been renovated in parts to reflect its roots. An exquisite example of the finest Scottish baronial architecture, Fonab Castle dates back to 1892 and today is loved by both locals and tourists alike.
A stay in the castle hotel is truly spectacular, guests can be treated to delectable dishes from a menu which highlights the best of Scotland's produce. After a day of exploring the surrounding hills which provide an example offering of walking routes for those eager to get their boots on, the hotel's spa is the perfect retreat. Relax in the castle spa's heated pool, sauna and steam room, for an extra slice of indulgence, a range of treatments are available too.
Fernie Castle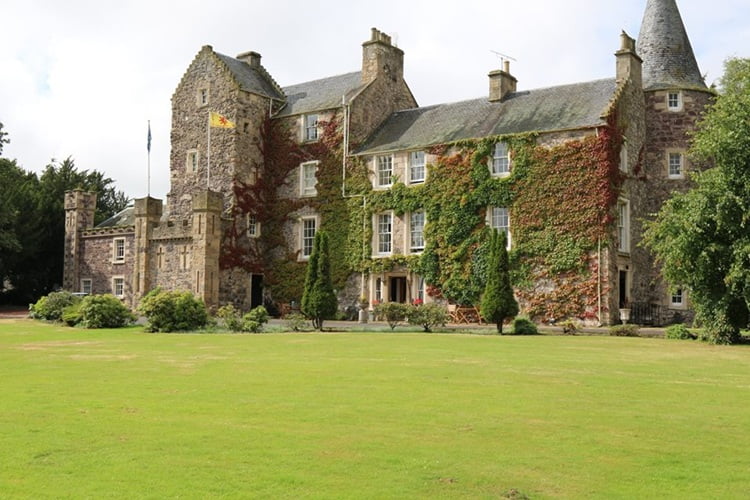 Once home to the Earl of Fife, Fernie Castle has a rich history dating back to the 14th Century. With 20 'bedchambers' each with their own classifications, the castle hotel carries a heavy theme of monarchy through its interior and exterior walls.
For those that want to create a stay of a lifetime while visiting Scotland, the hotel boasts an extraordinary tree house built between 6 Sycamores. This unique suite is magically adorned with woodland murals and its focal point – a bed constructed from elm wood offers a truly unique experience as they sleep soundly in settings that could be directly taken from a fairy tale book. For whisky fans, The Keep Bar located in the hotel dates back to 1530 and serves its guests various Scottish malts.
Dalhousie Castle Hotel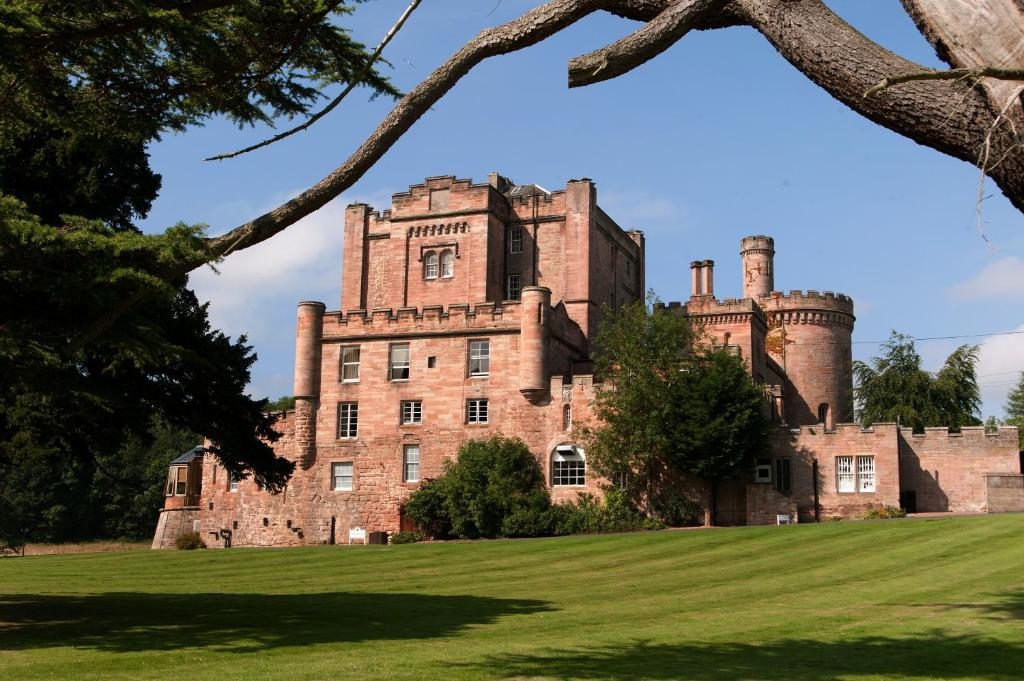 Dalhousie Castle Hotel is Scotland's oldest inhabited castle, which alone makes a good enough reason to visit. The castle's history has formed part of pivotal points in history including the withstanding a siege by Henry IV in 1400 and being later by Cromwell two centuries later.
While the moat and drawbridge no longer remain, many of the other original features still do such as a magnificent entrance hall and a faux Gothic ceiling. The old storage vaults have been lovingly converted into an ample spa which has a hydro pool and laconium for guests to enjoy during their stay.
Outside of the castle's breathtaking historical features there are plenty of reasons a stay here is certainly worth the money; just 10 miles away from Edinburgh, guests can enjoy the pleasantries of seclusion while still being able to access the country's capital with ease. Hotels in Edinburgh Scotland really don't get much more memorable than Dalhousie Castle Hotel.
Crossbasket Castle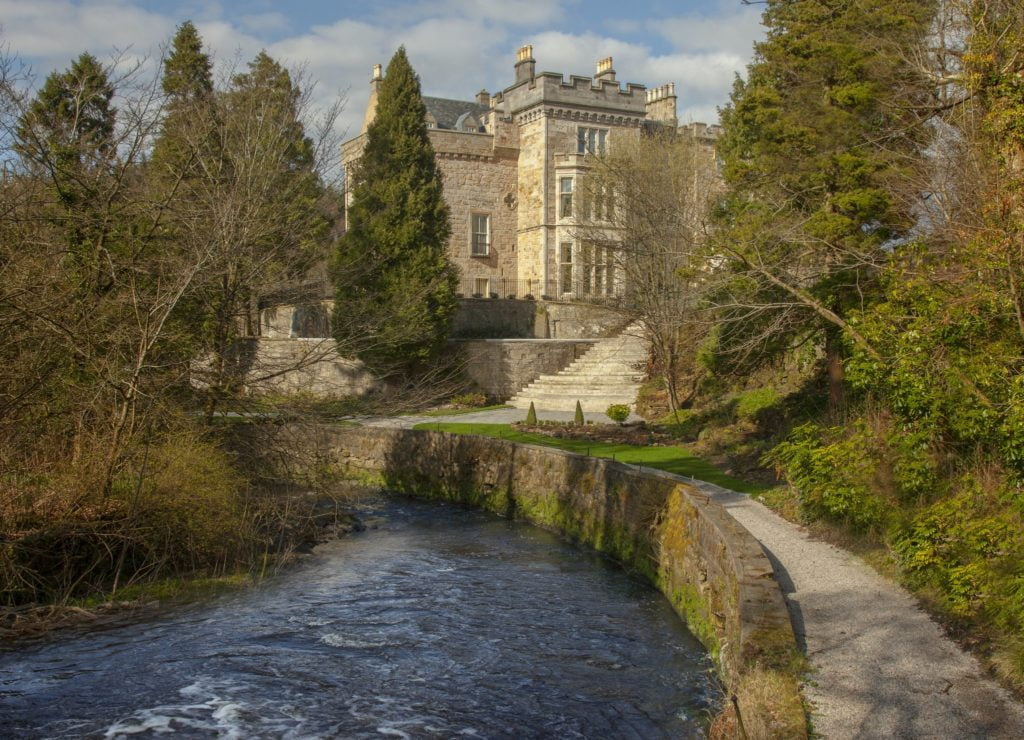 For those seeking out grandeur during their stay in Scotland, there is no better option than the remarkable Georgian Crossbasket Castle. Having been lovingly renovated thanks to a nine-million pound donation from local businessman and art collector Steve Timoney and his wife Alison Reid-Timoney, the castle stands as proud today as it did when first erected.
With 9 rooms each of which range in style, guests have the option to choose from a cosy double or a grand suite. No matter the choice in room type, every guest is treated with care from the moment they step through into the hotel's entrance.
The hotel also boasts an extraordinary menu overseen by French chef Albert Roux and his son Michel Jnr too. While the rooms at Crossbasket Castle have a high nightly rate, a stay is worth it as one of the best hotel deals Scotland has to offer when looking at cost and quality retrospectively.