Anyone who has ever been on a ski holiday will know what a pain it can be to carry your skis any distance.
We've always favoured the ski-in, ski-out resorts, which often mean minimal carrying of equipment BUT, if you are hiring kit, there's always a walk from your accommodation at the start and end of your ski holiday, and if you are skiing as a family then times that by 3, 4, 5, 6 pairs of skis and that's a nightmare right there!
If you aren't doorstep skiing, you may well have to carry your skis to a gondola or such like every morning and evening.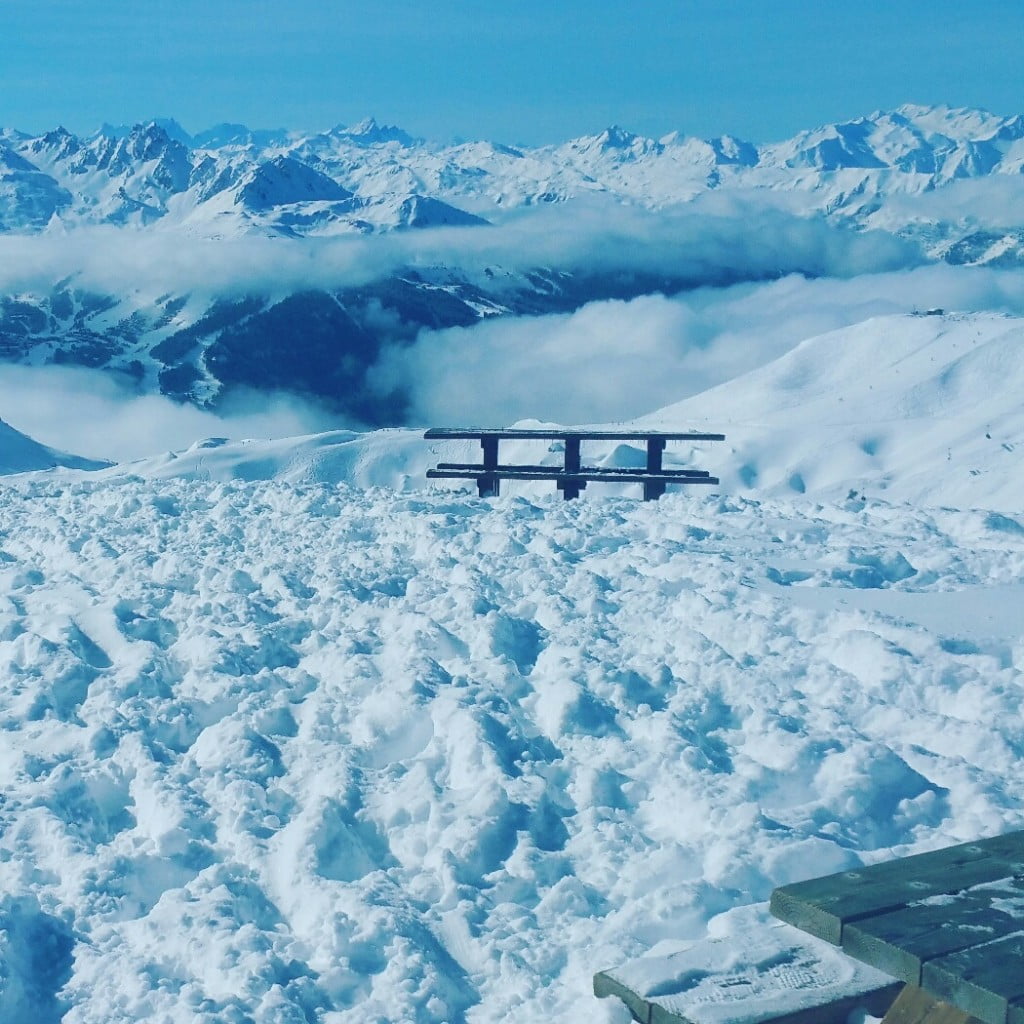 It can make or break a family holiday
Skiing, in my opinion is one of the best family holidays you could do, but you don't want that fun to be clouded by everyone getting cross because their skis are too heavy to carry, awkward, or just keep separating. This alone can alter the whole vibe of your holiday!
Years ago, when I was a child and first going on ski holidays with my parents my dad made these straps that he'd put around our skis so they didn't separate when we were carrying them – a couple of years later we started to see them in the shops, which amused my dad enormously.
Now skiing with my own family, I appreciate much more what a pain it can be to carry what feels like a million pairs of skis.
Carrying skis with ease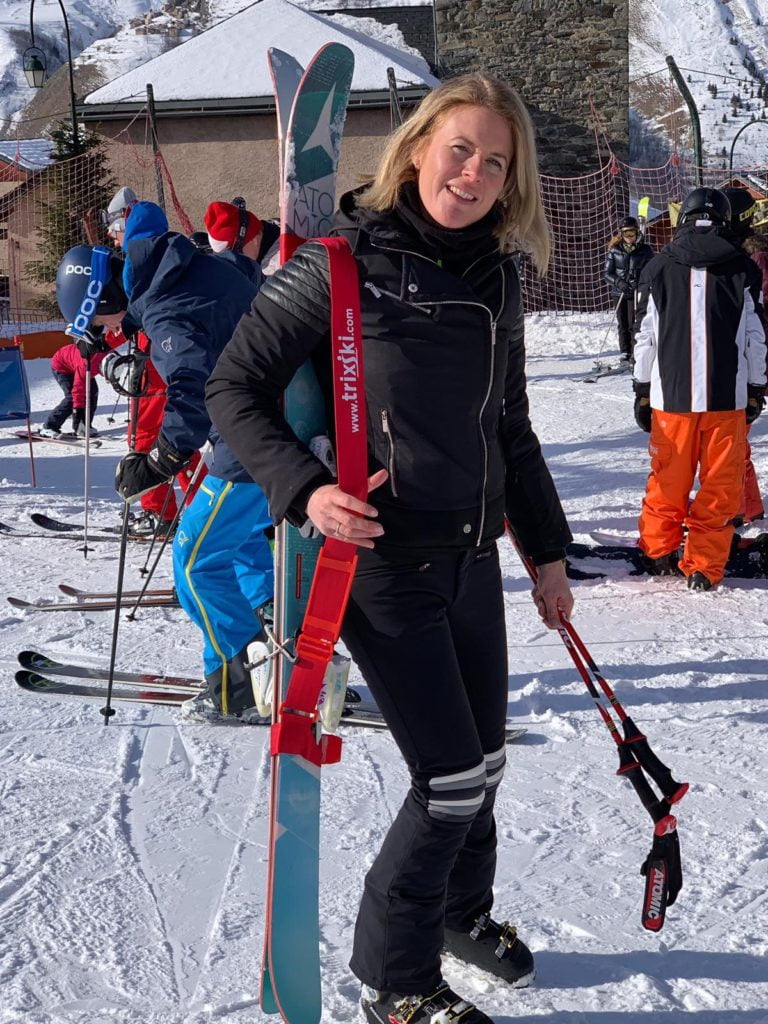 trixski was formed in 2017 by a partnership of two very keen skiers who love the slopes but who hate lugging skis. Having had a home-made ski carrier for many years, Tricia, known in the family as Trixie, decided the time was right to answer the call of other skiers, who constantly asked where they could buy a ski carrier like hers, and bring her ski carrier to market.
This was the start of trixski ski accessories, with the aim of increasing the fun for skiers of all ages from as young as five to eighty-five, including parents with young or teenage children.
The trixski Ski Carrier and Extension Kit were launched in September 2017 closely followed by the trixski Family Combo Pack, Snowboard Pack and in September 2018 the trixski Ski Helmet Cover with faux fur pom pom (which I love the look of) and a red trixski Ski Carrier designed in response to customer feedback.
Their black trixski Ski Carrier has been well received by partially sighted skiers because of the bright orange cuff pullers and they have developed alliances with disabled snow sports groups as a result. There are more products in the pipeline for the 2019/20 season to complement these high quality, well designed ski accessories. We can't wait to see what they develop next!
My daughter has recently come back from a school skiing trip, the first without us, and the first time she's had to carry her own skis. Fortunately, I was able to send her with a trixski Ski Carrier, as she was sent one to try.
So how does it actually work?
The Ski Carrier can go around the skis and poles – above and below the bindings (fix to the top binding first) or just the skis and carry the poles! Once you have adjusted the strap to your size you do not need to adjust again. The carrier fits anyone from a 5 year old child to a 6'6" man/woman. This is the factor I love the most.
Fits in seconds
Hands-free – skis carried vertically
Comfortable, non slip shoulder strap
Easy grip cuff pullers for quick release wearing gloves
Holds your skis and poles tightly together
Add the extension kit, and you can carry two sets of skis and poles or a single snowboard
Fits in your pocket while skiing/snowboarding
FREE SHIPPING ON ALL UK ORDERS
Is it worth it?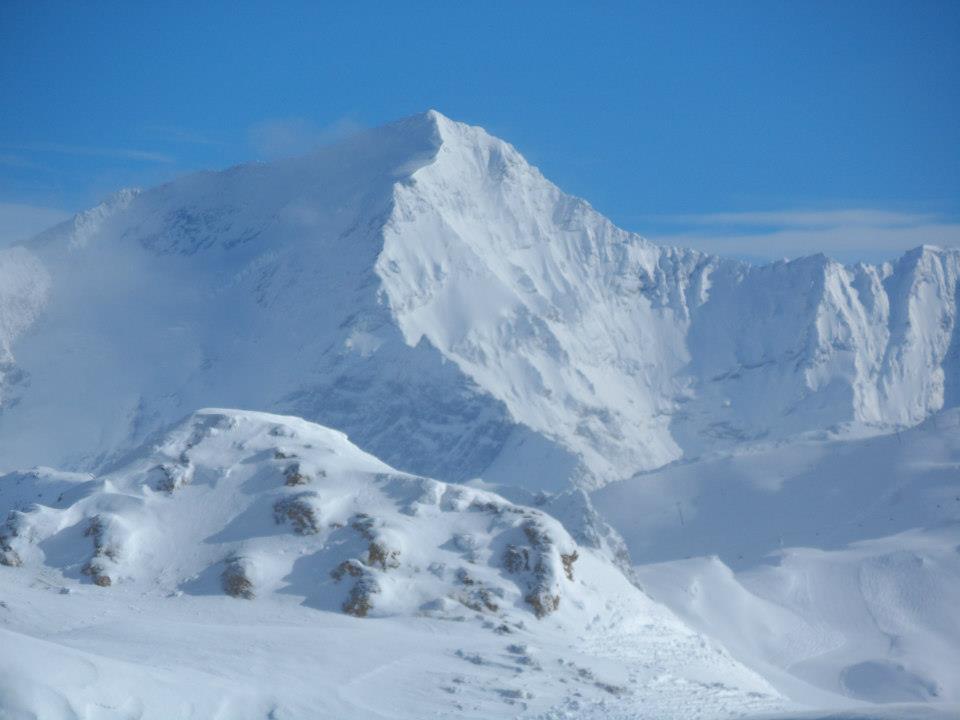 OMG YES! These are so worth it. My daughter was able to enjoy her week and not struggle carrying her equipment every day. It's so quick to put on, just strap on and off you go.
Why struggle when there is a great solution? We'll try out the extension kit next time we ski as a family, but basically I think we'll make sure we get us all one of these.