Where is your favourite place to go for a dining experience? You know, the places that are about way more than the food you are eating? I love a good teppanyaki restaturant, where the food is cooked in front of you in a 'show'. I also love taking the children to The Rainforest Cafe. If you haven't been to one check it out, so much fun, great food and a real 'experience'.
The children picked out a few dining experiences they wanted to try when we were in Orlando this summer. Here is a bit more about some of them.
Sugar Factory
Have you heard of the Sugar Factory before? I personally hadn't but the children had seen some of their demos on You Tube and picked it out as one of the places they wanted to try in Orlando.
It was certainly an experience. Very expensive, but obviously not something you'd do all the time so as a special treat it was ideal really.
If you fancy trying an outrageous milkshake, a fancy cocktail or mocktail or mini burgers in brightly coloured buns, then this is the place for you! We loved the fun-factor in this fancy watermelon mocktail, served at the table with dry ice, it looked pretty spectacular! Complete with water melon sweets on the side and in the base of the giant glass – this is one to share with someone!
Don't worry though, if you fancy something a bit more tame and not full of sugar they do a mean salmon salad too!
They have a sweet shop and ice cream parlour too in case you want to take a bit of the Sugar Factory with you!
Chuck E Cheese's
Another place the children had asked to visit was Chuck E Cheese's – in all honesty I'm not totally sure how I felt about this place as it sort of blew my mind, but the children really enjoyed themselves, which is what it was about anyway.
Basically it's a place to eat and play but the 'play' is all based around arcade games. You can buy passes for the arcade games based on time or tokens. If your children are young you are best buying tokens but older children can get around a bit faster so time is probably a better option.
Food wise the buffet is the best priced option and there are a range of pizzas, salads and deserts available.
If you don't want the buffet you can order other options, including gluten free pizza, not something I was expecting to see in there to be honest. It was very nice as well.
It's the kind of place the kids will love but the parents may breath a sigh of relief when it's time to go!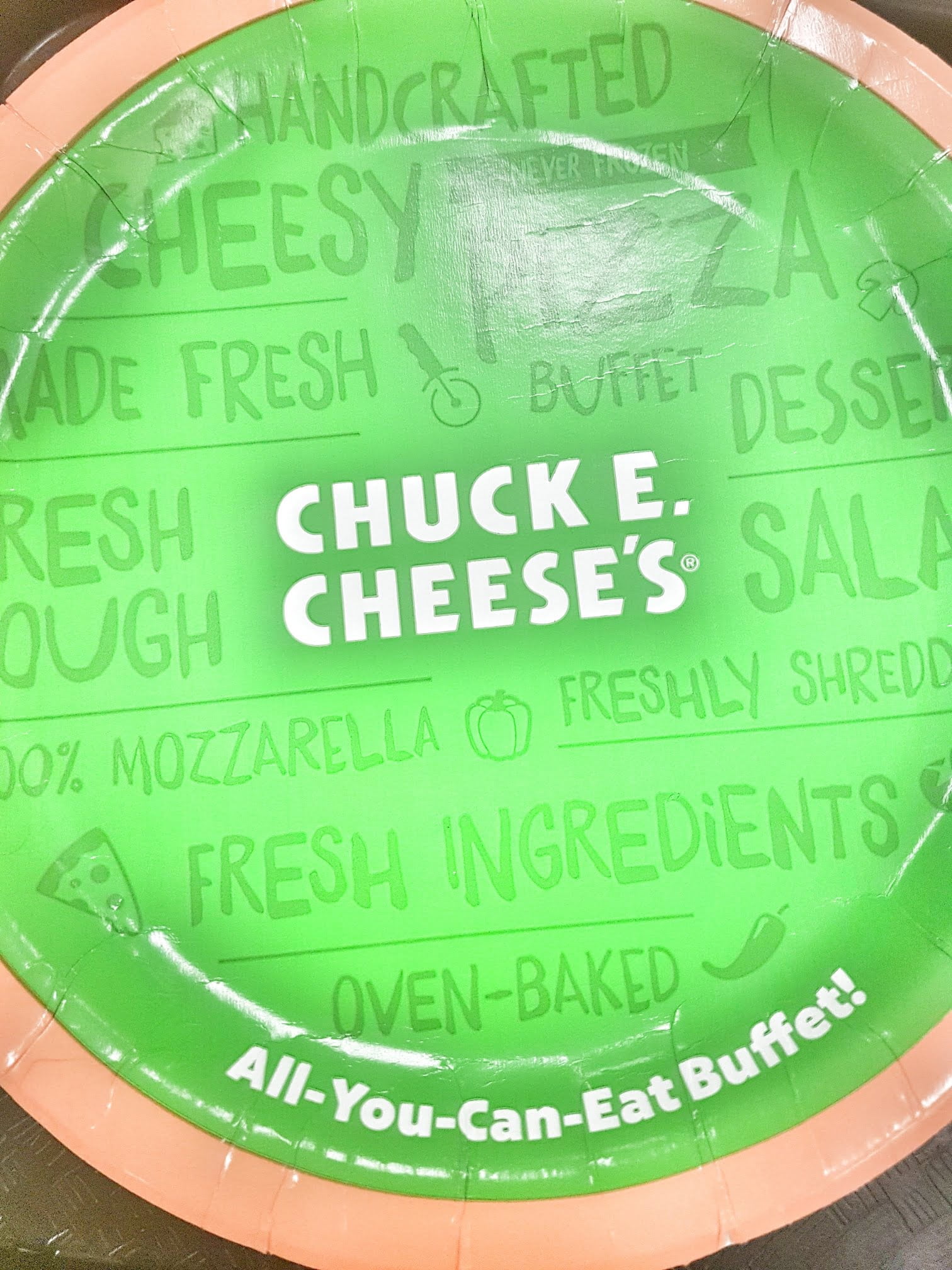 Medieval Times Dinner Show
Something that all of us really enjoyed was the dinner show at The Medieval Times. This is such an experience and entertained our children, who were at the time 3, 5, 10 and 11 – we loved it too.
You really need to book in advance for this as pretty much every show is a sell out. I can totally appreciate why having been ourselves. We were so impressed and so entertained, we'd happily go back over and over again.
The entire experience is very authentic and all the staff, including those on the ticket desks are in costume and role. I really think that makes such a difference and adds hugely to the whole experience.
You are assigned a knight to cheer for – ours was The Blue Knight – you then are taken to your seat and you sit with others cheering for the same colour knight.
Dinner is included in the ticket price, and my goodness is the food good. We LOVED the meal!!!!! You eat with your hands (not a problem for our tribe) and your are served the most delicious soup, chicken, corn, garlic bread, baked potato (beautifully seasoned I must add), bread rolls and a selection of soft drinks, which includes the most delicious old fashioned lemonade. They are even sensitive to food allergies, despite being medieval.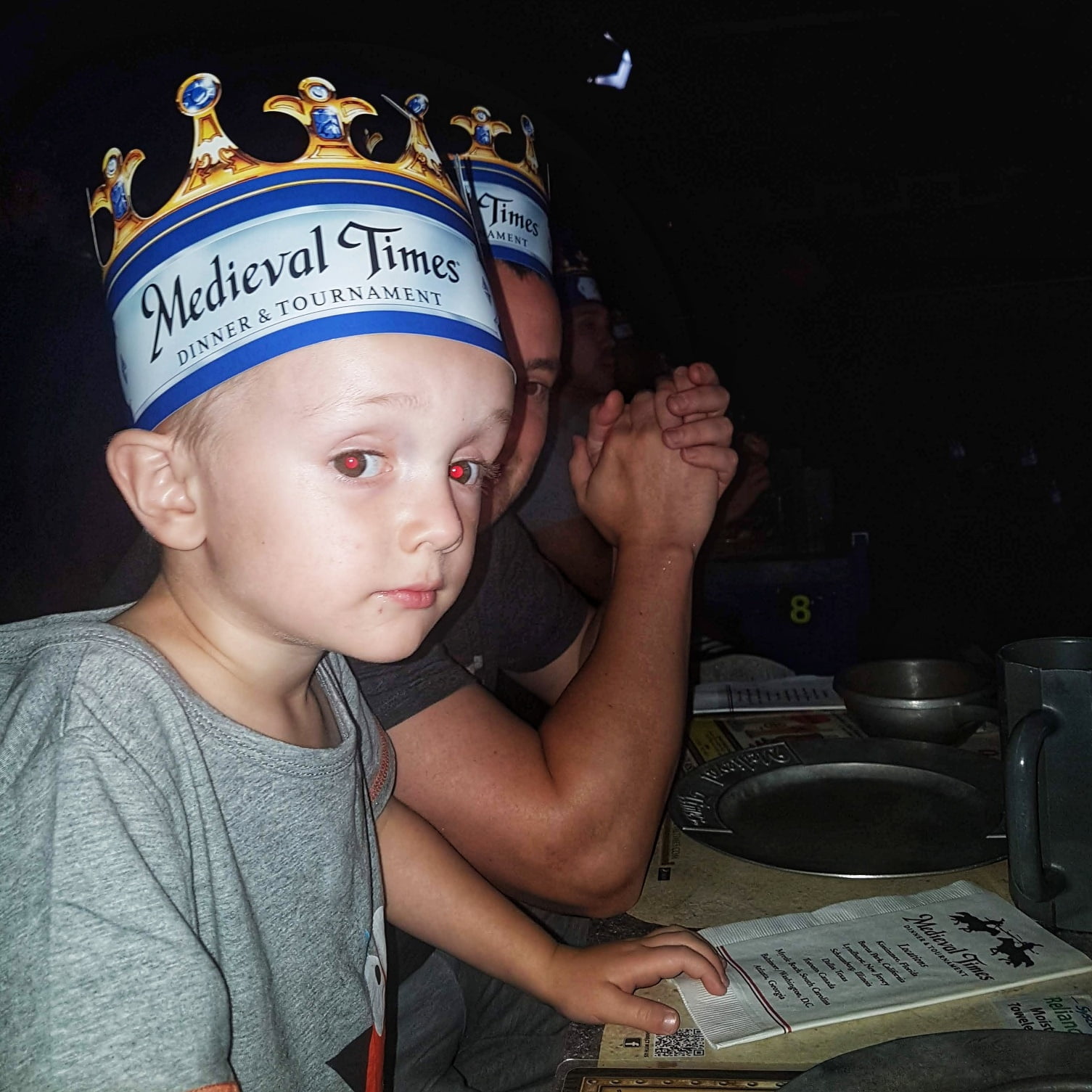 The whole dining experience feels very relaxed and the service is first class. Orlando isn't the only location, so if you are travelling elsewhere in the USA or Cananda, check out the site and see if there is a location near your destination.
Do these sound like places your family would enjoy? Have you ever had a dining 'experience' like this that you would recommend? We'd love to hear about it.