I love cold and crisp mornings and days filled with warm sunshine and blue skies, something we've had a lot of lately and its been really lovely.
This does however make it very difficult to know what to wear on a day-to-day basis. School runs in the morning are chilly, but then I'm roasting working at home in the day, hot and bothered on the afternoon school run and all the children come out school dripping and desperate for a cold drink.
Anyone else get jumpers and coats flung at them after school because it's so warm and they are all stripping off?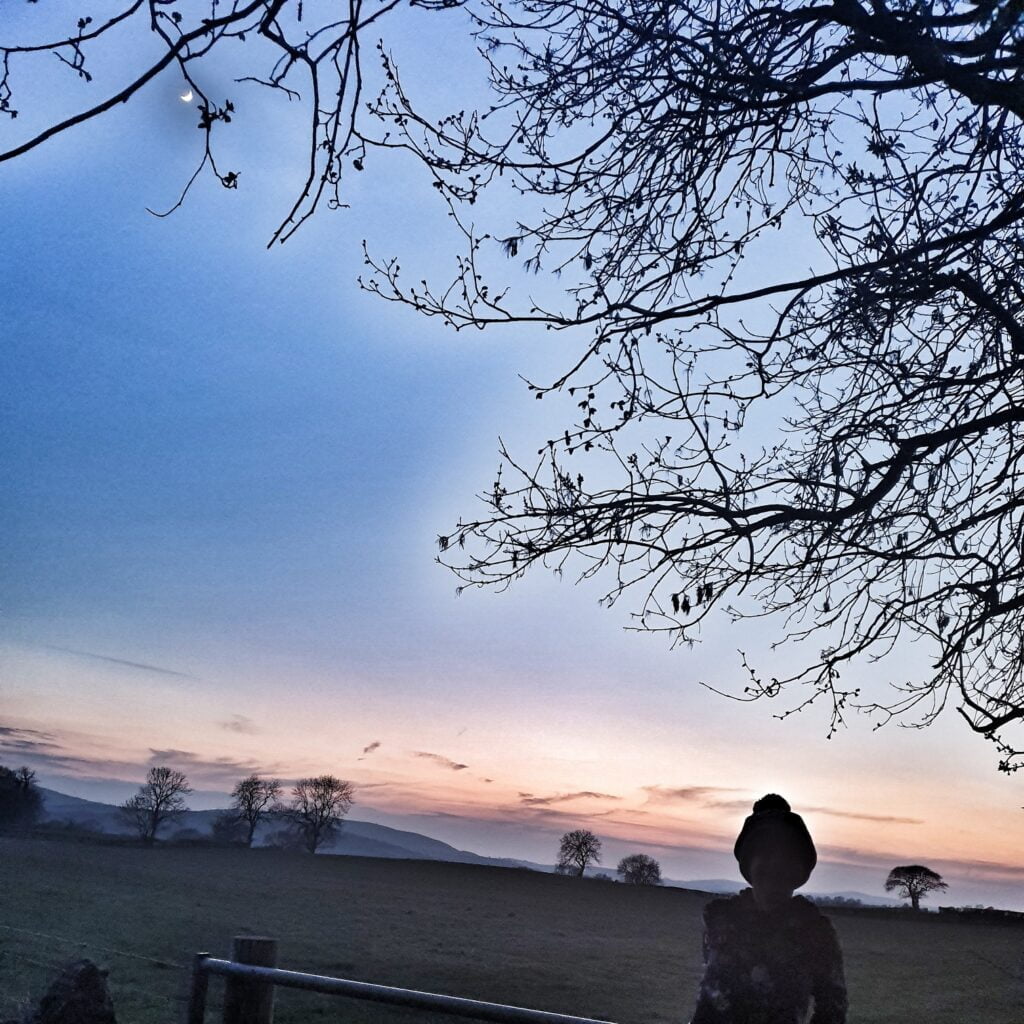 Some days it feels like what you put on in the morning is totally inappropriate for the afternoon – how do you keep up with that during this season of such changeable weather?
Pack away your winter wardrobe (with some exceptions)
Years ago, when the seasons were a bit more predictable, I literally used to pack away my winter clothes and get out my summer ones. I used to just put everything in a suitcase, whereas now I use vacuum sacs, which are just brilliant and save so much space. Before sealing them, I add in a tumble dryer sheet and it keeps everything smelling fresh until I bring them out again.
I don't remember at what point I realised that this was problematic, probably the year we had some random snow in May and I just thought, what on earth is this? – Whilst having nothing to wear.
I tried for a couple of years to just keep everything out just in case, but I hate clutter and my wardrobe just felt cluttered and crowded. These days I've reached a bit of a balance, in that I will keep out a few items that are for colder weather and pack away the rest.
If you are going to try this approach as well, make sure you choose colours that will go with most things.
Keep out anything that is cropped, or thinner fabric and just loose those big fluffy jumpers and knits. This dusky pink cropped hoodie and joggers is ideal for all year round as an example because the fabric is fairly cool and the cropped top keeps you cool too.
Go for thin layers
One of the things I've started doing is layering more. That way you don't have to change an entire outfit for the afternoon, you can just take off an extra layer. This sounds simple but it's really helpful.
Hoodies that aren't too thick and bulky are ideal I find. I often end up with one tied around my waist when I'm overheating and then pop it back on as it starts to cool down.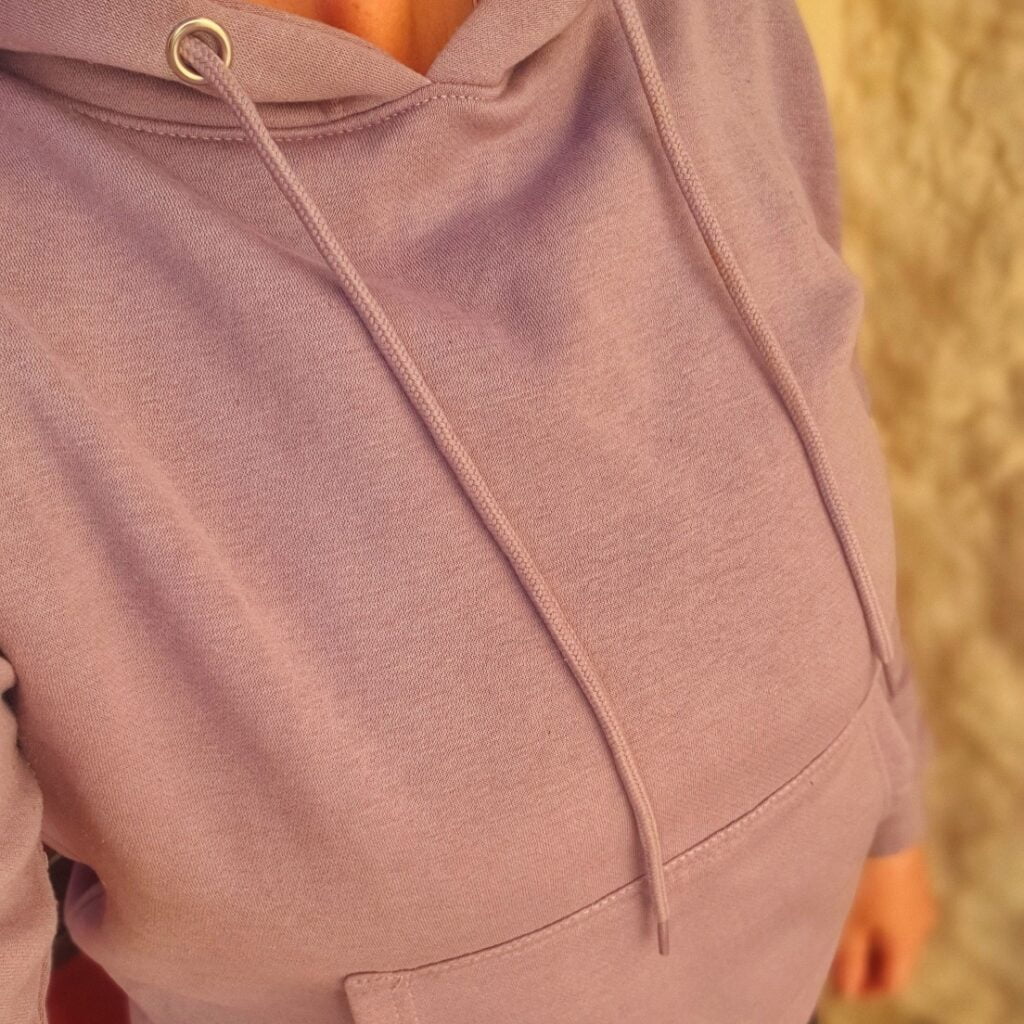 I love the hoodies from Femme Luxe as they aren't too bulky, but equally they can still keep you cosy. They are perfect to throw on when temperatures take a nose dive. These come in a range of colours including black, cream, white, khaki, brown – but I do love this lilac as it's a bit different from other things I have.
Go for legs or arms
During this in between weather, it isn't warm enough for sundresses or shorts necessarily, but sometimes it just feels too warm to be totally covered up. I find that just having arms or legs out is enough to cool down enough to be comfortable.
So, for example, if we go out on a hike in the sunshine I may walk in a vest top with a hoodie tied around my waist. Or, if I'm out and about I might wear a midi dress but with long sleeves. It's not warm enough to bare all, but one or the other can help you to keep cool when the sun is out but equally not freeze when it vanishes ten minutes later.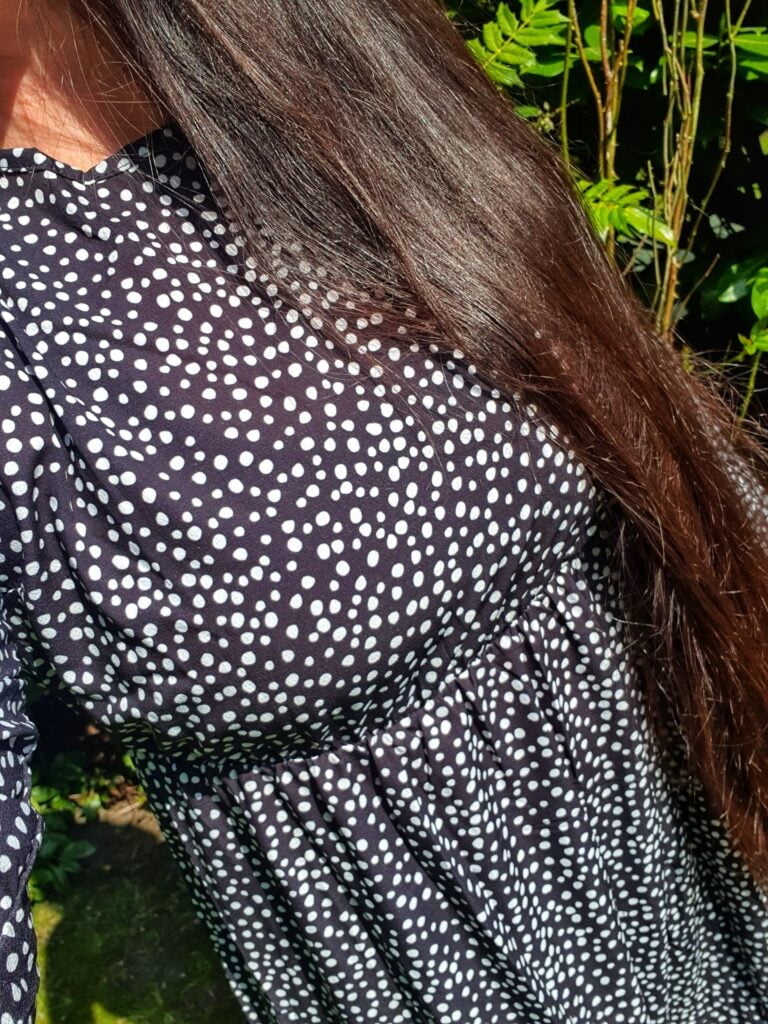 I love this polka dot midi dress because the fabric is thin but it has sleeves. It could be worn with or without tights and works with boots or sandals, so it's great for those in-between days.
What do you wear on those in-between weather weeks before the weather fully heats up? Do you pack away your winter clothes?
This is a collaborative article.