When you are a mum on the run, eating can be a tricky thing. Many mums either struggle to eat good stuff or forget altogether.
I have certainly been guilty of fitting into the forget altogether category in the past – not that it has helped with any weight loss mind you!
Trying to stay organised with a few healthy but quick options of things that you can eat on the run can help.
You might have read a recent article I wrote on 'Quick and healthy breakfast tips' – in there I made a range of suggestions for how you can breakfast on the go but eat well at the same time.
Many of those suggestions apply to the rest of the day, not just breakfast. Some other ideas for eating tips for mums on the run are:
Having a good stock of fruit in – apples, bananas and grapes are all good as they take little or no preparation (just don't leave bananas in a bag or in the car otherwise you might never eat another one again!) Grapes are good as you can snack on them a few at a time.
I am a bit of a crazy flapjack fan but I do try to swap this for a cereal bar or granola where possible. Britain's best-loved gluten free bakery brand, Mrs Crimble's, have created a NEW range of Cereal Bars, available in three flavours – Cherries & Berries, Sultana & Apricot and Banana.The bars form part of a NEW family of gluten free products called Gluten Free…and Good For Me which are calorie counted and designed to provide a convenient, great tasting and sustaining snack on the go. With no artificial additives, 150 calories or less and lots of fruit and oats, fibre and honey, the Cereal Bars are baked, rather than pressed, to give them a fabulous texture and a delicious flavour.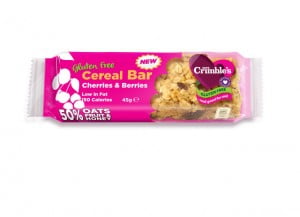 If you work from home or are at home with children, or both, pop a jacket potato in the oven before the school run. If you cook it on low it will be perfect by lunchtime. You could add a few beans or you could make up a batch of tuna and light mayonnaise at the start of the week and keep it in the fridge to add to your lunches.
Use a slow cooker – get into the habit of throwing a few things in the slow cooker first thing in the morning and you will have a yummy and nutritious meal for the evening all ready.
If seeds and nuts are your thing then you could by a large bag from a supermarket or health store, or even order them online and make up small pots or bags for you to take when you are out and about.
Do you struggle to eat well or forget altogether?