The clocks have changed, it's getting milder and we've even had a few blue sky days. It's possible, just possible that picnics in the garden and out and about won't be too far away.
A couple of weeks ago there was a family barbecuing at our local park. Whilst I was thinking "it's not that warm yet", I was also enjoying the wonderful smell and looking forward to that exact thing in the summer. Last summer we had a total of two barbecues, no where near enough, so we need to put that right this year.
As the weather gets warmer and we spend more time outside, it's important to remember to keep ourselves and our children hydrated, as well as have a few good snacks to whip out when they use up their reserves.
Staying hydrated
One of the drinks the children are LOVING at the moment are the 'More Drinks'. More Drinks bring you Get More and A Little More, two ranges of drinks that help adults and children get more of what their bodies need. Every product in the More Drinks range communicates a single, simple message that tells you what you're getting and why it's good for you.
More vitamins and minerals – to help you stay strong and healthy.
More flavour – because no matter how good something is for you, you won't drink it unless it tastes great.
More spring water – to quench your thirst and keep you hydrated.
More convenience – for nutrition on the go.
The children love all the drinks in this range, but especially the Vitamin C drink. Vitamin C helps children maintain a healthy immune system. It's also an antioxidant that helps to absorb iron, an essential mineral that carries oxygen round the body.
Vitamin C (100% RDA *)
Spring water
Natural flavours
No added sugar
4 calories per bottle
I'd love it if they developed a great tasting drink that had iron in it, as it can be so hard to get this into some children and all the supplements taste so bad many children will refuse them. Come on More Drinks, you can do it!
Staying positive
The warmer weather and sunnier days can have a huge impact on people's general mood, I'm convinced more people smile when the sun shines. However, stress can still be present and for older children, perhaps the warmer months also mean exam stress?
You could offer them a glass of water with a shot of HAPS in, making it into a superfruit, mood-boosting refreshing drink.
HAPS gives your body a boost of specific nutrients that positively impact your mental health and general wellbeing. The blend was carefully selected by a team of nutritional experts.
HAPS helps improve anyone's general wellbeing but is particularly beneficial for people experiencing low mood, stress, anxiety, seasonal affective disorder (SAD) or post-party blues, which mean it could really help any young adults worried about exams.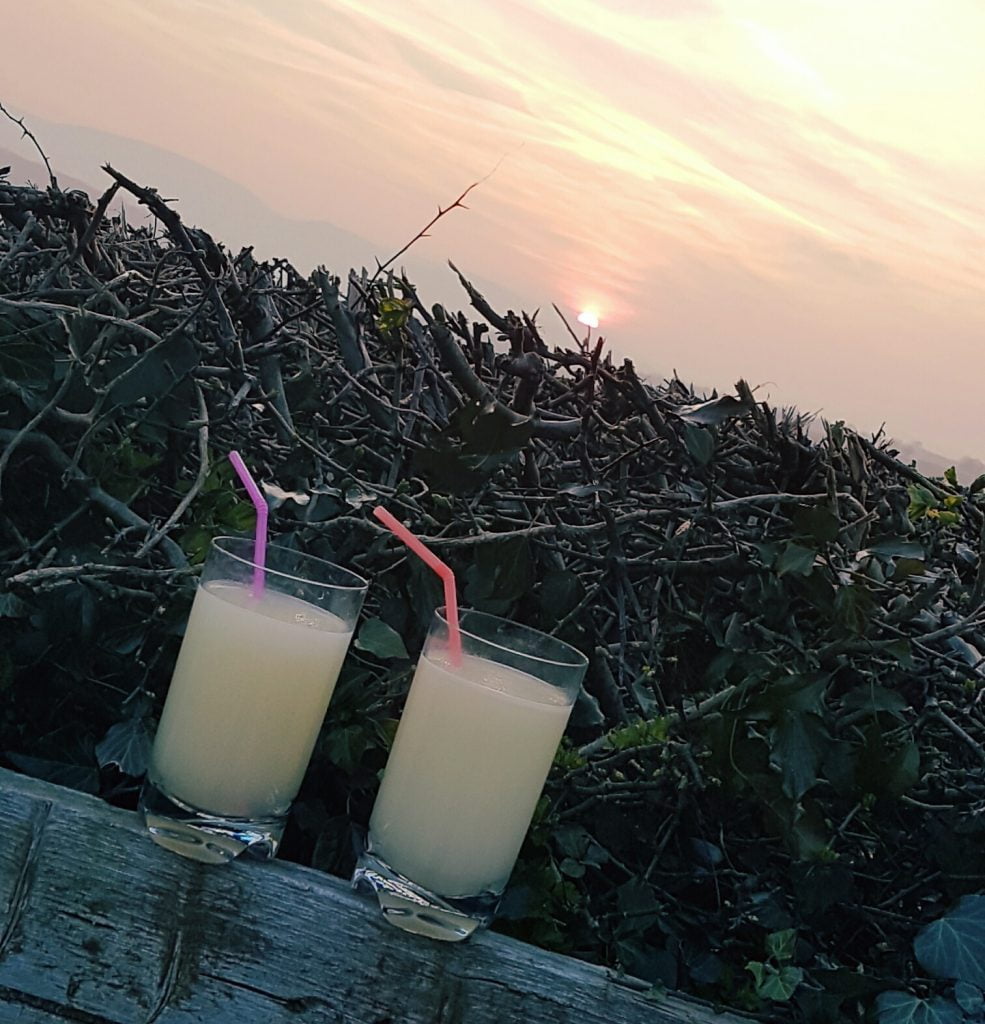 You can drink anytime, anywhere as the shots come in handy little sachets. You could pack one in a lunch bag even, to add to a glass of water at lunchtime, or sprinkle into a bottle of water and shake.
This tastes great, which helps and is a lovely refreshing drink, even without considering its other benefits.
Healthy snacking
We are big fans of things like chopped up celery sticks, carrots and cucumber at the moment. All really refreshing, as well as being a healthy snack. I never find fruit transports nearly as well, so freeze-dried fruit can be a really good option.
New brand GOOGLY FRUIT ORGANIC are on a mission to help kids make a lifelong friendship with fruit and vegetables. They make eating fruit and veg fun for toddlers, with their range of tasty and attractive 100% organic fruit and veg snacks.
GOOGLY FRUIT ORGANIC "Real Fruit made Crunchy" are 'yummy scrummy and super crunchy' snacks made from 100% fruit. Their secret is that they've been freeze-dried to turn the fruits into delicious crispy bites! Available in three nutritious varieties; Apple & Blueberry, Banana & Raspberry or Strawberry. All of which are super tasty and the children are fighting over.
Whilst these are great snacks for the toddlers, they make a great pre and post sport snack for the older children as well. The cute packaging is appealing, without being too babyish and the snacks taste great.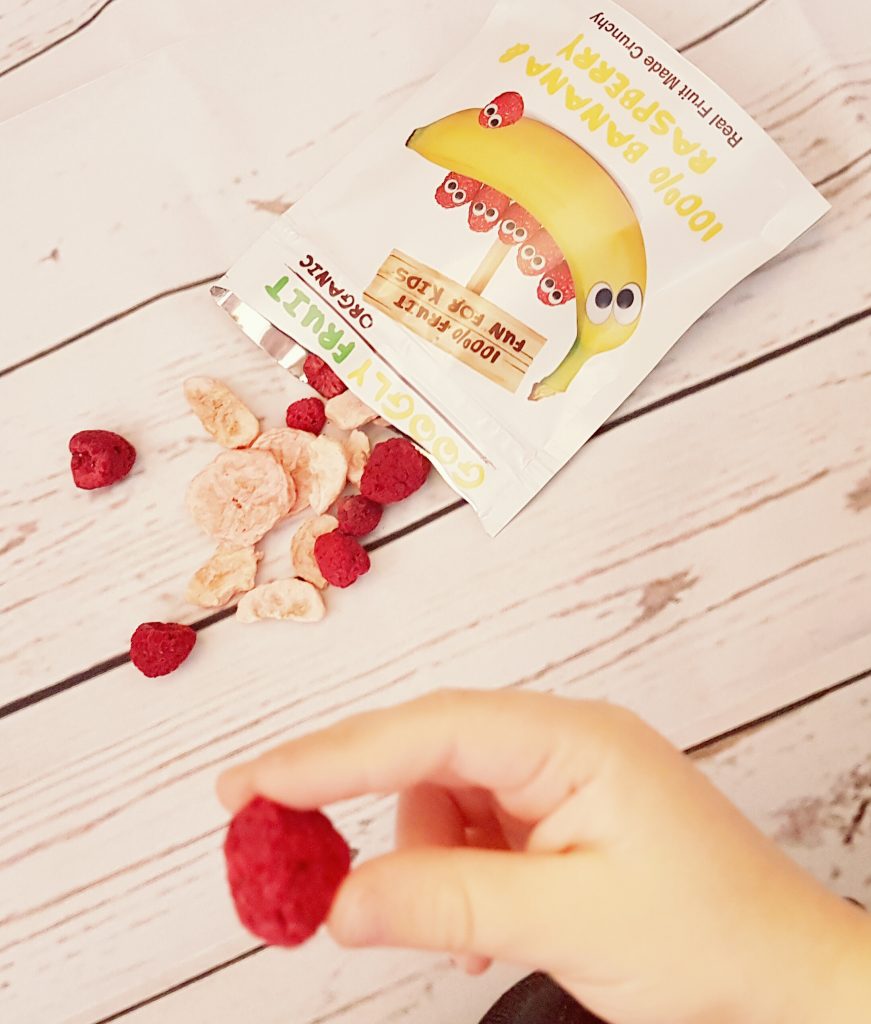 They also do GOOGLY FRUIT ORGANIC "Squeezy Pouches" which contain 100% fruit and veg fun. Like the other products in the range, they are free from factory nonsense and contain no added flavourings, colourings or preservatives. They count as part of your child's five a day in super handy and (almost) spill free pouches, ideal for on-the-go, just what we like!
Their branding is clever and designed to help make the ingredients more relatable to creative minds, featuring the likes of Bob Banana, Carl Carrot, Charlie Corn and Suzie Strawberry. On their website you'll find a host of fun activities starring the characters, such as printable colour-me-in sheets and spot the difference, alongside MISSION GOOGLY EYES.
These corn puffs are a better alternative to crisps. They do closely resemble another brand, but there is always room for more healthy snacks for children on the market I think. These tick three big boxes for me, they are organic, tasty and suitable for on-the-go.
How do you manage on-the-go snacking and hydration? What are your top tips, we'd love to hear them.