You might have read the first part in our series of articles on safer sleeping habits. If not, you can read it here.
I've never been a big fan of cot bumpers. They make me nervous. Tassels dangling and the potential for children to get stuck underneath them have meant that I've always looked for an alternative.
One option is not to bother at all of course, but the amount that my little people crash around in their sleep, I have always worried they would wake themselves up or potentially get a limb wedged in the railings.
I did find a mesh wrap that velcrowed around the sides of the cot bed. It was quite good as it was ventilated but it slid down below the mattress and had to be repositioned a lot.
In my search for a solution I have come across bump pods. We love bump pods instead of a traditional cot bumper. These ones from Baroo are gorgeous. The brightly coloured elephant design they call Ellefunk is so simple yet lovely in a cot or cotbed.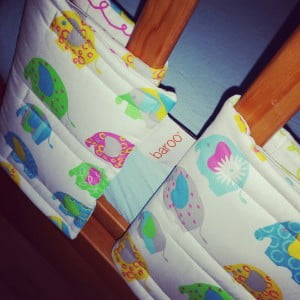 They wrap around the slats in the cot bed and secure with velcro. They provide some padding from the busy night time activity that occurs in the cot, they are easy to wash and dry and they look great.
They do move up and down, but because they are individual, they don't create the same problem as the mesh wrap.
Watching on the baby cam, it seems our little man has been playing with them like an abacus! That's a bonus in my book, an inbuilt entertainment system as well as protection!
For us, these do appear to be the best solution so far. If one or two get moved or pulled off there is nothing to get wrapped or tangled in. They don't fully prevent limbs sliding through the bars but they cushion the area and make it less likely to happen.
We think these are a good compromise between being safe and being comfy.
What do you use in you cots or cot beds?